There are so many social media trends and features emerging continuously. It's hard to keep up, right?
So, you're wondering whether Instagram Stories are worth your time?
Let me answer that for you: absolutely!
With the majority of active Instagram users watching and creating Stories every day, it's a no-brainer. But, creating high-quality, branded content can be time-consuming and nerve-wracking.
That's why we're here to show you how Instagram Stories templates can make your life easier and your Stories more fabulous. No more sweating over the "publish" button!
By the way, you can now say goodbye to the hassle of setting reminders and switching between multiple accounts just to publish a Story because Sendible's new feature has got you covered - scheduling Instagram Stories!
What are Instagram Stories
Before we dive into the details, let's cover exactly what Instagram Stories are.
Launched back in August 2016, Instagram Stories are short videos or photos that you post to your account's Story. You've got 15 seconds to play with for video content, and 7 seconds for images.
These Stories are similar to other social media stories (most notably Snapchat) in the sense that they disappear after 24 hours, unless you save them to your Highlights.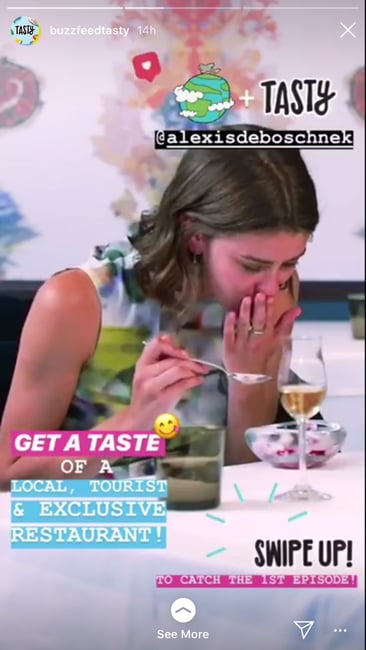 Based on its global advertising audience reach numbers, Instagram has at least 1.628 billion users around the world in April 2023.
Recent data from Instagram's self-service advertising tools reveals that their audience reach has grown by a whopping 12.2% in the last year. That's right, advertisers can now reach 176 million more users than they could at this time last year. Talk about a major expansion!
But what does this mean for you?
Other than an amazing possibility to reach a huge audience, this also has a downside - oversaturation. This means that you'll have to use all sorts of tricks to be present on your target audience's Feed.
One way to do this is by using trending sounds in Reels, and Carousels.
Another way is to stay above (yes, above) their Feed as much as you can.
Enter - Instagram Stories.
You can engage the audience already viewing your branded Stories by creating strong visuals that really capture their attention. The competition is fierce, however, so you'll need to put some serious effort into your Stories content to stand out.
That's where Instagram Stories templates can help you shine and be more efficient.
With the ability to drag and drop elements to create on-brand Stories each and every time, templates are a fantastic way to make sure you're always posting high-quality, branded content to your profile.
How to upload Instagram Stories
The criteria for uploading Instagram Stories is simple, simply log into your Instagram profile or create an Instagram account if you don't have one yet.
Once you've logged in, you can begin to upload Stories to your Instagram profile by swiping right while browsing your Feed, or tapping on your photo when looking at your profile.
You'll find something like this: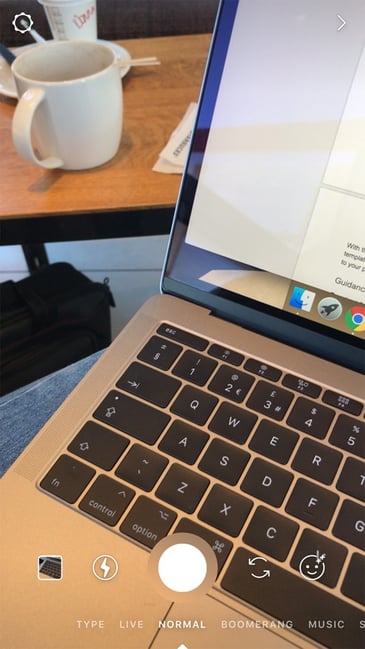 This is where you can create your Instagram Stories.
Simply snap a photo or hold the circle button to record a video, and hit "Send to", followed by "Your Story", to publish. ...Then you're done! Your Stories have been uploaded to your profile.
You can double-check this by visiting your profile and viewing your profile photo. If there's a colored ring around the image, one of your Stories is live: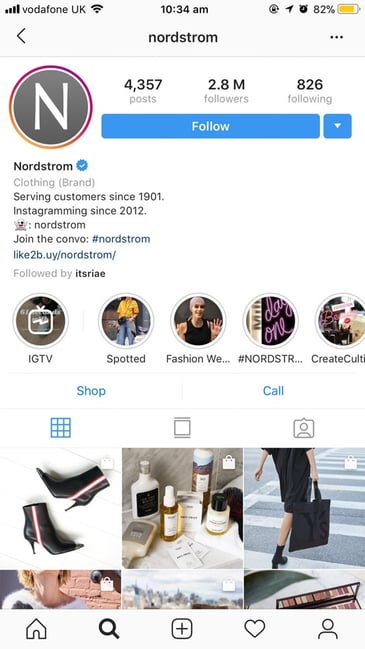 Seems simple enough, but if you want to take Instagram Stories to the next level, you'll need to follow these tips, directly from Instagram:
Experiment with adding your location and hashtags to increase reach.
Make full use of stickers, GIFs and emojis to make your images and videos come alive.
Mention another account by typing @ and selecting their username.
Test fun features like Boomerang to create looping videos.
Add filters to your photos and videos by swiping left once recorded.
Add music to your Stories by tapping 'Music' and searching for a song. (Only available on iPhone.)
Eliminate the headache and schedule Stories with your favourite social media management tool
But if you're handling multiple clients that publish a gazillion Stories daily, you might want to opt-in for scheduling and auto-posting Instagram Stories.
Not only will it save you oh so much time, but you'll also ensure there are no mistakes. Hopping from one account to another, setting alarms and reminders can be extremely challenging! So having a handy tool like Sendible to schedule out all your Stories is a true life-saver.
Not to mention that Sendible has powerful Canva integration, plus a built-in editor that will help you create picture (or video) perfect Storie every single time.
Why should you use Instagram Story templates
Are you ready to start using Stories to supercharge your business' presence on Instagram? Here's why templates can prove useful:
1. Templates will save you a lot of time
Did you know that 30% of marketers are prevented from doing the marketing they want to do because of a lack of time? The data, which comes from an Emma report, proves time still continues to be a huge source of frustration for marketers: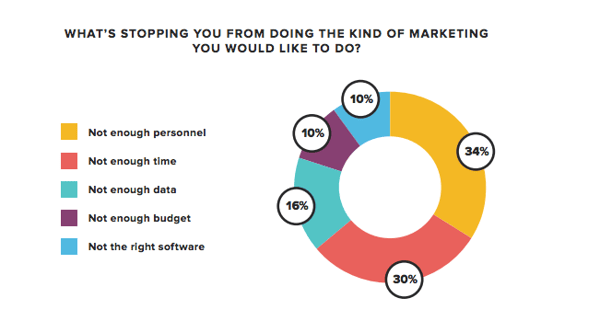 Luckily, Instagram Stories templates mean you don't have to feel the same.
That's because templates mean you're not starting from scratch every time you want to publish content to your Stories — you've got a solid basis to work from.
Long gone are the days of starting afresh every time you want to post a quick update! By using a streamlined template for your Instagram Stories you'll only need to edit a few minor fields before being good to go.
2. Templates will make your branding consistent
Don't limit your branding guidelines to your regular Instagram content. Start using your branded assets in your Instagram Stories to build the strength and memorability of your brand, overall.
According to a branding report by Lucidpress, "businesses who don't already have their branding on-point, see a 23% increase in revenue, on average, when making an effort with their brand consistency."
If you've got a template to reference that already has your branded elements--such as logos, fonts and colors—included, use it as a starting point.
3. Templates can help increase brand awareness
Consistency with the branded assets you're using through Instagram Stories templates leads to brand awareness, too.
Why? The answer is simple: People who're visiting your profile for the first time will get to know you, and recognise your brand elsewhere — which is awesome if you're using other marketing channels like email or Facebook advertising.
Plus, if you've got spare time to jazz-up your Instagram Stories templates with hashtags, locations and other stickers, you're in with the chance of supercharging your brand awareness through the Instagram platform itself.
What makes a great Instagram Story template
So, what makes a great template and how can you keep all of your Stories on brand? Consider that you might need to create various templates for each type of content you post to your Instagram account, like:
Announcements for new blog posts
Fan of the week
Company news
Product launches
Event streaming
1. Using the same colours and fonts
Did you know that 95% of the top 100 brands only use one or two colours?
That's right: Sticking to a handful of colours and truly making them your own (by incorporating them in all of your marketing material), rather than picking on depending on your mood, is bound to bring great results from your templates.
While it's not necessary to overhaul your current branding, take note that the colour of your branded elements play a huge role in your marketing.
That's why it's critical to use your brand colours throughout each template you're creating.
Here's a great example of how Benefit Cosmetics use their brand colours in their Instagram Stories: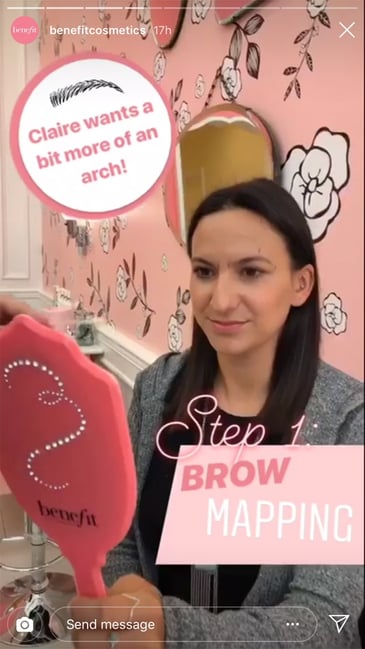 If you're familiar with the brand, I'll bet you'll recognize those photos as belonging to Benefit Cosmetics instantly.
That's the power of colours in marketing — but the same concept can be applied to fonts, too.
Although fonts and text styles don't have such a huge psychological impact, using the same text throughout each Instagram Stories templates means people can spot your content a mile off.
That's incredible for brand awareness.
2. Following a similar layout
You want people to view your Instagram Stories and immediately know your company is behind it, right?
A simple way to build this recognition is to follow a similar layout throughout each of your Instagram Stories templates — whether that's:
Showing your brand logo at the bottom of each image
Including a headline that's italicized
Adding a border to each image with a handwritten note
Take a look at how General Electric uses a simple layout for each of their Stories: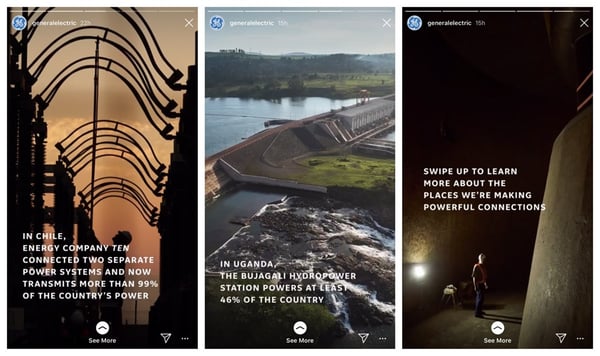 Simple, but effective, right?
General Electric's audience know what to expect when they view one of their Stories, and you could build the same recognition with your Instagram followers by sticking to a similar layout for each template.
3. Adding finishing touches, like stickers to engage your audience
When you're creating your Stories templates, it's wise to dedicate space for Instagram stickers.
These add-ons, which you can add to any kind of Stories before publishing to your profile, include:
Locations
Hashtags
Mentions
GIFs
Q&A boxes
Polls
But why do these stickers work so well?
The answer is simple: It makes your content more interactive. Your audience have to do something in order to take full advantage of your content — whether that's sending a question or clicking a box.
And, since interactive content generates 2 times more conversions than passive content, you'd be mad to miss out.
HubSpot uses this technique to engage their Instagram audience, too: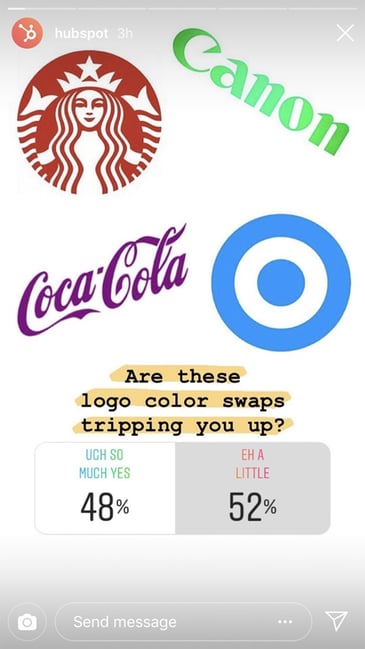 I'll bet you're much more likely to engage with quiz-style Stories, versus those who just bombard you with information, right? Your audience are the same — so use interactive content to your advantage!
Can I make my own Story template
Yes!
If you don't fancy splashing out on a new template pack or customizing a well-used template, tools like Adobe Spark, Photoshop or Canva allow you to create your own Instagram Stories templates from scratch.
The best part? You don't need too much graphic design knowledge.
But whichever program you opt for, remember the dimensions for image-based Instagram Stories are 1080x1980px, and the ratio for all content is 16:9 (or rather 9:16 since it's vertical).
Sticking to these guidelines will make sure each DIY template you create looks awesome when published to your profile.
Five downloadable Instagram Story templates to get you started
Now, if you prefer having something to work from, you can choose a premade template instead.
Here are four resources for downloadable Instagram Stories templates you can use — some are free and some are paid. Ultimately, it's up to you to decide how much you want to spend.
1. Easil's product reveal template
First up is Easil's product reveal template, which is fantastic for businesses who regularly announce new products or features through their Instagram profile: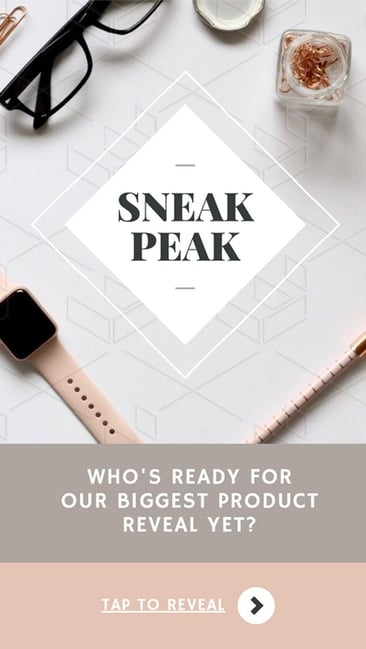 You're able to customize this template to add your brand fonts and colors, but I really love the "tap to reveal" button which builds anticipation and encourages people to click-through.
The best part about this template? It's free — meaning you can download immediately and start customizing!
2. Canva's selection of Instagram templates
Canva has a range of Instagram Stories templates, already made to size, that you can edit using their online photo editor:
To get started, head to their collection of Instagram Stories templates and select one of their images. The graphic will then open in their online editor for you to customize.
Don't worry about the colors, fonts or shapes each template uses.
Their editing feature allows you to change almost every element of the template, and save a new version of your image to your online account to edit again in the future.
Bonus: Sendible and Canva integration
Fancy saving even more time with your Instagram management?
It's not easy for marketers to schedule content to Instagram, but Sendible's Canva integration and workaround for scheduling Stories is a fantastic way to combine how you create and upload your content.
3. Animated Stories templates
If you're looking for a collection of Instagram Stories templates, rather than a standalone template, the Animated Stories templates are definitely worth investigating:
In the package, you'll get 16 Stories templates that are customizable with Photoshop — each included standard text you can swap-out for the occasion.
Remember: Since this is a paid template, you'll need an extended (also known as 'commercial') license to use them on a company's Instagram account. It's $190 for this set of Instagram Stories templates, and it can only be used for one project or account. Learn more about Creative Market's licensing here.
4. Animated Copper Instagram Stories
Another great option if you're open to paying for a template pack is the Animated Copper Instagram Stories: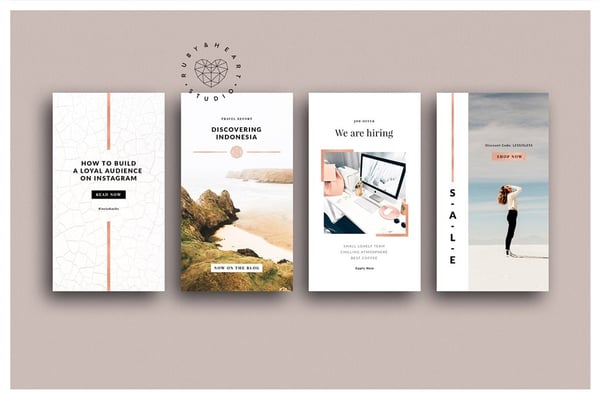 The pack of 20 templates is fully customizable and compatible with Photoshop, meaning you can change the fonts, colors and text used in each template.
The extended license for this pack of Instagram Stories templates is $260, but definitely worth the cash — especially considering you get 20 high-quality templates for both video and photo content.
5. Template.net's Instagram Story templates
Another platform where you can fetch unique Instagram Story templates and designs is Template.net.
This platform offers you creative, interactive background designs that you can use to create engaging stories, such as Q and A, Quizzes, and Polls.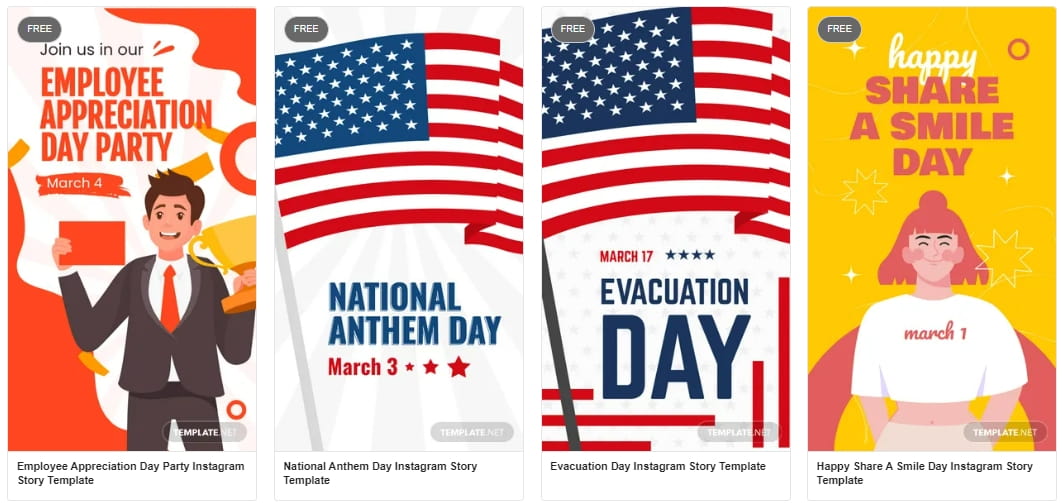 On the other hand, Template has a library rich with templates that you can use for your seasonal social media campaigns, such as Independence Day, Halloween, Christmas, and many other, globally celebrated holidays.
Final thoughts
Now you're fully in-the-know about why you should be using templates for your Instagram Stories, it's time to get to work and start creating your own!
Whether you're using the templates we suggested or opting for a DIY approach, remember to make every template consistent — in terms of the colors, fonts and logos you're using.
It might seem like a huge time investment to get started, but once you've got a solid basis to work from (and a template to reference when you need to publish content pronto), you'll wonder why you didn't use them before!
And in case you ever feel uncertain about how well your content is doing in terms of achieving your business goals, don't hesitate to check out our Instagram audit template. It's a useful tool that can provide you with valuable insights and help you make informed decisions.