So far in this series, we've looked at some overarching ideas and a couple nuts and bolts practices for making your Facebook page a viable part of your marketing strategy. In this instalment I'm going to give you two tips which get down to more specific strategies which can be easily overlooked in the big picture. Get ready for the mobile experience.
5. Optimize For Mobile
The desktop interface is all but dead. Well, maybe I shouldn't go quite that far, but the fact is that with the growing mobile space eating away at desktop and laptop use, the third screen of mobile is very quickly replacing the second screen of computers.
Making sure that your page is easy to read and navigate from a mobile device like a smartphone or tablet is no longer a secondary consideration for your online strategy. The viewership of social sites and the web in general, is quickly moving to mobile for the majority of people. Once your Page is setup and optimized for viewing from a computer, you need to then check it from a mobile device. Make sure that your cover image is easily discernible on a smaller screen and that your layout is adjusted so that anyone viewing from their phone or tablet has as good an experience (or better) than those viewing from their desktop or laptop.
You should also make sure that you can be found through a mobile search. 91% of people who search locally say that they use Facebook to find local businesses online. That's another statistic you can't ignore.
6. Use Check-ins
Check-ins all started with the rise of the Foursquare app, but they have been adopted since by most other widespread social sites and apps, including Google and Facebook. Twitter just bought a Foursquare competitor as well, so don't think that check-ins are a fad that has passed. In fact, they may only be getting started as newer strategies are employed for their use.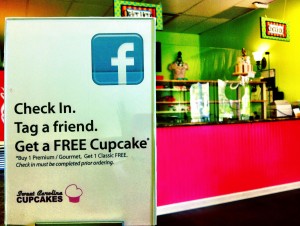 Facebook check-ins are already popular, and they are used more with every passing month. Just like mobile optimization, this is something you would be remiss to jump on now. Even though check-ins are several years old, at this point in the evolution of social media using them still puts you pretty much in the category of early adopters. Yet they are do have some time and experience behind them that proves that they are effective as marketing tools.
Encourage your fans and customers to check in at your business, if it's applicable. Word of mouth advertising is the kind of recommendation that millennials trust above all others, and, as mentioned in the beginning of this series. They are the largest group of consumers now and will be for years to come.
Put these two practices into play right away. Go forth and conquer the social space before your competitor does. Track your progress, grow your fans and monitor you competition using a comprehensive social media management tool.