Since posting to Instagram manually is a time-consuming process, we've developed a workaround that lets you schedule your Instagram posts, monitor streams and check analytics.
The other bit of great news is that if Instagram does open its API or release new features, we will be one of the first to know and implement it. We are recognized by Instagram for our Community Management as we help bring new solutions for interacting with users and analyzing data on their network.
In case you aren't aware of this social media network, we have written an article on how to use Instagram for business. If you're savvier and are looking to improve your social media strategy, we also have a list of seven handy tips for marketing on Instagram.
How to schedule posts to Instagram with Sendible - Instagram post
The Sendible Instagram Posting service allows you to schedule your Instagram updates in advance, add images or video to a Queue to be posted at an optimal time, or send updates to Instagram at the same time that you update Twitter, Facebook, Pinterest and your other social network accounts - saving you the hassle of needing to update Instagram separately. To help guide you through this, we've created a step-by-step guide on how to schedule Instagram posts with Sendible.
As mentioned above, instead of your scheduled posts being published directly, you'll receive a push notification on your mobile device and an email from Sendible with the picture attached at the scheduled time. This makes it easy for you or the members of your team to update your Instagram account directly from your phone at the right time.
Managing streams
After adding the Instagram service, you'll be able to locate your Instagram stream next to other streams in the Engage section of the dashboard. You can use the stream to manage comments and like photos. This stream will allow you to view all of your posts and reply to comments. From here, you can also repost your Instagram posts to other social media networks like Twitter and Facebook.
Monitoring keywords - Instagram Search
If you are not already monitoring trending and industry relevant hashtags on Instagram, you may be missing out on many opportunities to extend the reach of your brand and engagement. Similar to Twitter, you can first track the hashtag for your own brand name and other campaign specific hashtags.
Setting up the Instagram Search service lets you search for posts and monitor a particular hashtag within Instagram. If you already have a brand or keyword monitoring service set up, Sendible will search through Instagram news feeds for relevant matches.
Instagram Analytics - Reports Hub and Report Builder
Sendible allows you to create custom reports using data retrieved from your Instagram account. Analyzing your marketing efforts is increasingly important, especially for the sake of proving the ROI of your activities. Our reporting modules can give you insight into how well your content is performing and whether your follower base is growing. Some of the reports include Followers over time, Following over time, Photos and Comments.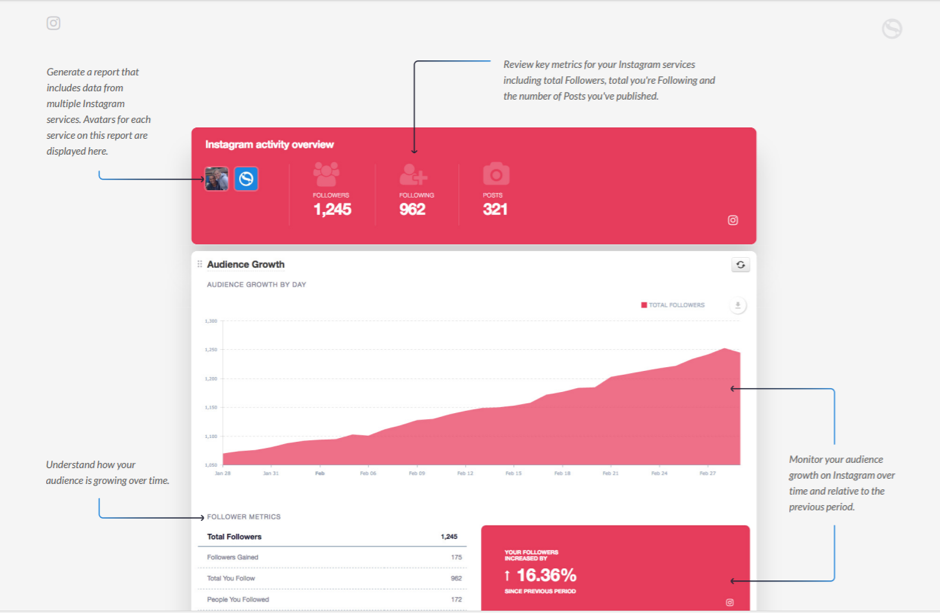 Feedback?
We would love to hear what you think of our Instagram features. Here at Sendible, we're constantly striving to make our users' lives easier so, if you have any ideas for improvements to the Sendible dashboard, please leave them in the comments. We read each and every one of them!
Social media management software for agencies and businesses
If you don't have a tool to help you schedule social media posts to multiple social media networks just yet, you can give Sendible a try completely free for 30 days!