Big news alert: You requested - and our team delivered. Replying to Instagram comments from your Social Feeds is here!🥳
Fostering a strong community and creating genuine connections with your Instagram followers is one of the leading social media trends - and one of the most significant challenges community managers face.
We all know that community management is a mix of customer service, customer support, and sales. This is why promptly responding to public comments under Instagram posts can:
Make or break a deal
Convert unsatisfied user to a loyal customer
Promote the brand in the most human way possible
Nevertheless, hopping from one Instagram account to another to check comments leaves space for errors and, more importantly, missed opportunities to connect with your audience.
But this nightmare has finally ended, as Sendible now supports replying to Instagram Comments! 🎊
Check out our video for a detailed walkthrough. 👇
Managing multiple Instagram profiles can be quite a challenge, but responding to all comments from a centralised dashboard will help you:
⏰ Save time. Switching back and forth between various Instagram accounts when responding to comments is now a thing of the past.
🧑‍💻 Improve workflows. You can now have a smooth, coordinated workflow with your team members and clients, ensuring that your community management strategy is top-notch.
💌 Improve response time rate. Responding promptly and genuinely to public comments under Instagram posts helps you foster a strong community and collect valuable feedback.
✅ Minimise errors while actively building your brand. Say goodbye to confusion with the help of our centralised inbox in the Social Feeds. You can now be sure you're on brand while replying to comments under posts on various Instagram accounts.
✍️ How to use Instagram Comments in Sendible's dashboard
Simply navigate to your Social Feeds from the Activity tab.
Select the Instagram Business account of your choice.
Click "Add Comment" under the post where you'd like to leave a response to spark more conversation.
Hit "Reply" under the user's comment and type the @username of the account you are responding to, to ensure they'll receive a notification.
Limitations: Replying to Direct Messages is still not possible at this time. Responding to Instagram comments is only available through Social Feeds and not the Priority Inbox. Stay tuned for further updates from us!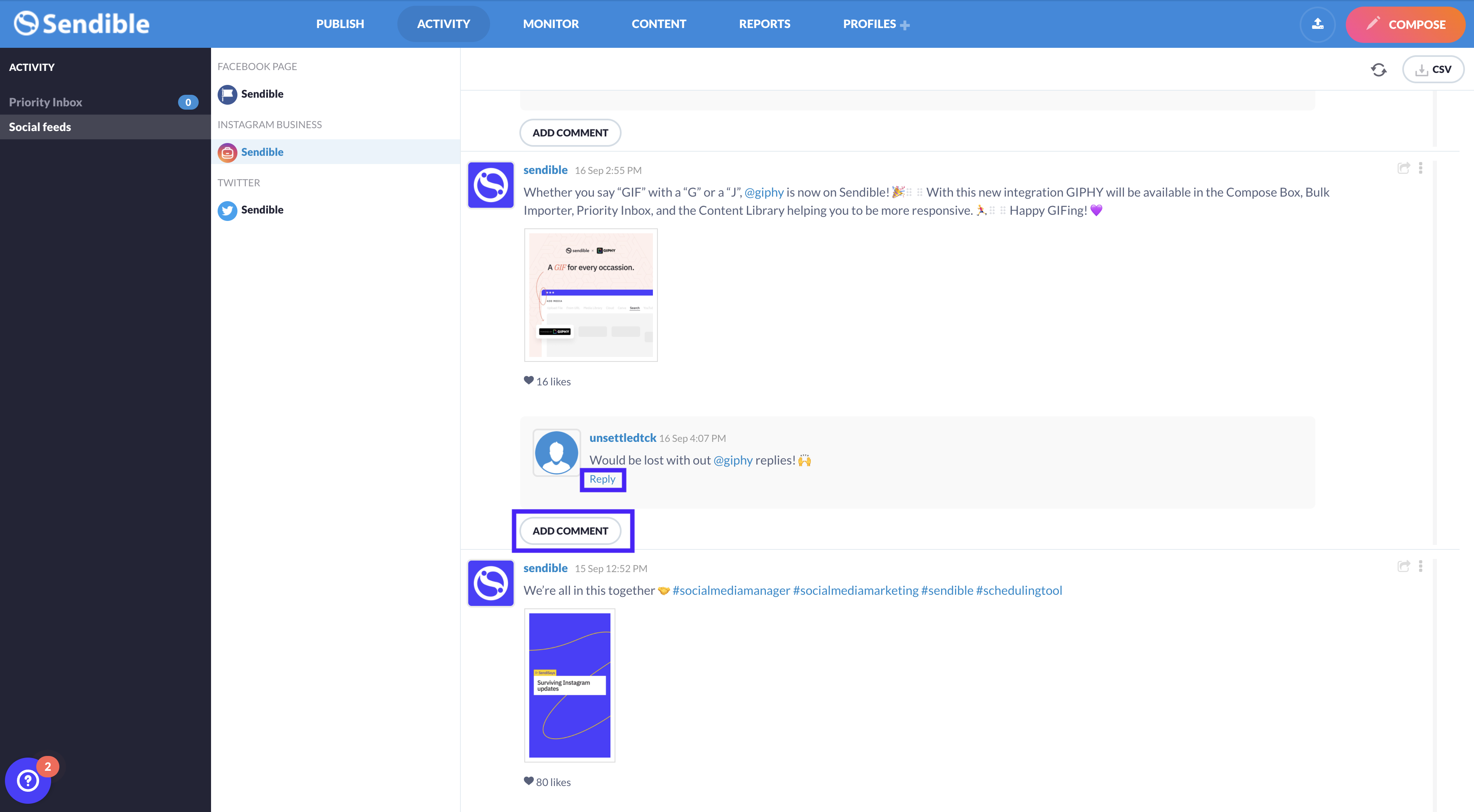 🧠 Helpful resources to optimise your Instagram marketing strategy
🤓 Need some help?
Managing multiple Instagram accounts can sometimes be overwhelming, but don't forget - you're not alone!
Our team is always here to help you, so feel free to contact our support team. In case you'd like to suggest a new feature (or vote for the existing request), please head over to our Feeback Portal and let us know.
Until next time - happy Sending! 🙌
Want to receive a notification when our next release is live? Subscribe to our product updates: