Some things in life belong together.

Just like rock & roll, or Batman & Robin, partnerships between SaaS companies and the agencies that use their tools are a perfect match.
When SaaS companies and agencies come together, a partnership is born. But what do agency partnership programmes consist of, and how can they be lucrative for the agencies who decide to get involved with them?
We'll be exploring exactly that, as well as filling you in on the details of Sendible's agency partner programme, so keep reading.

What is an agency partnership programme?
An agency partnership programme is often set up by a SaaS business with the intention of nurturing agency customers and generating leads from their clients.

As part of the programme, the software provider will supply training, resources and expert consultation on their tool to an agency. In exchange, the agency uses this tool exclusively, and acts as an advocate and brand ambassador, recommending it to their clients to buy.

The result is mutually beneficial for both parties, who stand to gain credibility and business growth.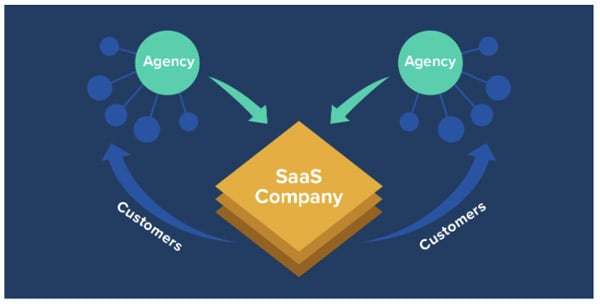 How do partnership programmes help agencies?
Whether it's a social media management tool like Sendible you're after, or a CRM platform, there are lots of perks to be gained from your agency partnering with a SaaS tool.
Increased trust
Joining an agency partnership programme helps to build trust for your agency, due to being backed by a big industry name.
New leads and clients
Being a part of an agency partnership programme can help with attracting new leads and clients, particularly if the programme lists your agency in a directory.
More credibility
Agency-software partnerships often involve earning a certification or badge which agencies can gain and then place on their website. This can bolster your agency's credibility, reassuring potential clients of your skills.
Extra revenue
Being part of a software partnership programme can provide an easy way to generate extra revenue for your agency. By upselling the software you use to your clients, you'll see the benefits in your agency's pocket.
Increased mentorship
Joining an agency partnership programme can result in your agency receiving extra guidance, nurturing and resources from the software company. This could include having early access to new features or beta versions of the tool, extra product support and more comprehensive onboarding.
Community
Agency partnership programmes offer agencies the chance to become part of the community that surrounds the software. That could mean having the opportunity to network with and learn from likeminded agencies who are also part of the programme, as well as attend events set up by the SaaS company.

Which SaaS companies offer an agency partnership programme?
There are lots of brilliant SaaS companies that offer lucrative agency partnership programmes to their customers. Here are some of the best:
Hubspot
Hubpot's Solutions Partner Programme is pretty legendary. It offers customer-centric agencies support with growing their businesses. By joining, partners can get access to specialist consulting, as well as hands-on services in the areas of marketing, sales, or customer service.
Slack
Slack's Agency Partner Programme focuses on helping users get the most out of the team messaging tool. They offer a broad range of tools, services and solutions to help companies deploy Slack across the organisation.
Databox
Business analytics platform Databox provides customers with a free Partner Directory which offers to help agencies to acquire, retain and grow accounts.
Google
The Google Agency Partnership Programme is renowned amongst marketers. As a Google Partner, you receive training, support, and rewards that help your company and clients succeed.
Shopify
Shopify Partners offers freelance and agency businesses the opportunity to become Shopify experts. Help with building your portfolio, delighting clients and becoming an authority on e-commerce is the aim of the game with this programme.
BenchmarkONE
Up-and-coming BenchmarkONE is an all-in-one CRM software for small businesses. As an agency partner, BenchmarkONE gives you the resources you need to continue growing your retainer business.
Does Sendible offer a partnership programme for agencies?
Yes we do!
Our Agency Partner Programme is designed to help you build trust and credibility with new and existing clients, by providing your own, bespoke branded software solution, powered by Sendible.
What are the benefits of using our co-branded solution?
Joining our agency partner programme makes the success of your agency, our priority. You'll get a leading social media management tool for you and your clients to use, as well as many additional benefits.
By joining, you can expect:
To elevate your agency's brand
Co-branding allows your brand's aesthetic to stay front and centre. Your branding stays, while you work from your very own dashboard running on your subdomain.



To attract and nurture new prospects


Recommend your co-branded dashboard as the go-to social media management tool instead of losing leads and revenue to competing tools.

To tailor your social media packages for each client


Control what your clients see on the platform and upsell them on additional services like in-depth reporting when they are ready.
What's included in the package?
Personalised onboarding
You'll be assigned your own Customer Success Specialist to help you make the most of your partnership.
Direct technical support
World class tool support for you and your clients.

Access to our research panel
Make product suggestions and have your say on the future of Sendible.
"Sendible is by far the most efficient way for us to manage social media for our clients. Bonus! It's affordable and the support team is amazing, even though we are on different continents." -Cecilie K, Agency owner
Over to you
Joining an agency partnership programme like the one we offer at Sendible has many benefits, including increased exposure and opportunities for lead and revenue generation.
So, why go it alone if you don't have to?

Apply to become part of our agency partnership programme today!