Buying a car is a big decision - a new vehicle isn't exactly something people choose overnight.
There's a lot of evaluating that goes on and a lot of research that takes place before a buyer finally takes the plunge (and that's before the test drives begin).
In fact, there are even entire websites like Carwow that are dedicated to comparing cars and providing information for car shoppers, including test drive videos and articles.

For brand dealerships and used car dealerships, it's important to foster customer relationships and be there at every step of the buying journey if they want to stand out, beat the competition, and attract customers.
There's a lot more that goes into purchasing a car than the actual car itself. Dealerships that have competitive features like a good location, extended warranty for their vehicles, and insurance discounts should shout about these from the rooftops.
But even if you don't have these features or are working with a brand that is just starting out, social media can help build trust and attract new buyers.
Why car dealerships should be on social media
Who isn't on social media today? According to recent data, 4.48 billion people use social media, which means your prospective car buyers are almost certainly there (so, if you haven't already clocked, that you should be too!).
In fact, 62% of car buyers find their car online, not to mention a lot of pre-purchase research takes place from behind a screen. Add to that the fact that social media influences 71% of consumer buying decisions and it's a no-brainer that car dealerships should create a presence on platforms like Facebook, Twitter, and Instagram.
Simply having a presence on social media can:
Increase the proof and trust factor
Increase brand awareness
Attract new customers
Instil customer loyalty
Drive traffic and sales
Increase social proof
"The biggest competitor of a car dealer of a specific brand is not another auto brand, but a car dealer serving the same brand in the same region. So our client has a good standing in their area," says Rolf Jeger, Agency Director at VOIMA.
Tips for car dealerships looking to build their social media presence
1. Choose the right platforms
Where you hang out is important. If you choose a platform that your target audience isn't on, you're going to have a hard time reaching the right people. Instead, find out where your target customers are hanging out and make sure you have a presence there. You can do this by digging into your competitors' social accounts to see what kind of cars they're selling on those platforms, the price range, and the potential buyers they're reaching.
Instagram and Facebook are good bets for car dealerships since they are heavily photo-focused, but there are lots of other brands seeing success on the likes of YouTube with long-form videos.
You don't have to be everywhere at once. Spreading yourself too thin across numerous different channels can have the opposite effect you want and can muddy your social media efforts. If you don't have the resources to consistently post on certain channels, then veto those in favour of the ones you do have the resources to populate.
Find out which channels are best for your brand's marketing goals here.
2. Set your goals ahead of time
Think about what you want to achieve with your social media efforts and create goals around this.
When you have measurable goals in place, you can easily track what's working and what's not in order to optimise your strategy.
For best results, set:
Monthly or Quarterly KPIs (Key Performance Indicators). For example, generating # number enquiries via social media or traffic to the car dealership site.
SMART goals. Goals that are specific, measurable, achievable, realistic, and timely. For example, the biggest win for car dealerships is usually enquiries, booked test drives, or physical visits to the dealership location, so you could claim one of your goals as "increase test drives by X% each month".
3. Experiment with different content types
Each platform is best-suited for specific goals and different types of content. What works for a young car crowd on Instagram might not work so well with an older audience on Facebook. Try experimenting with different types of content to see what works best with your audience on your chosen social media platforms.
Here are some ideas to get you started:
Videos (Brighton Audi shows off their latest models on Facebook through video)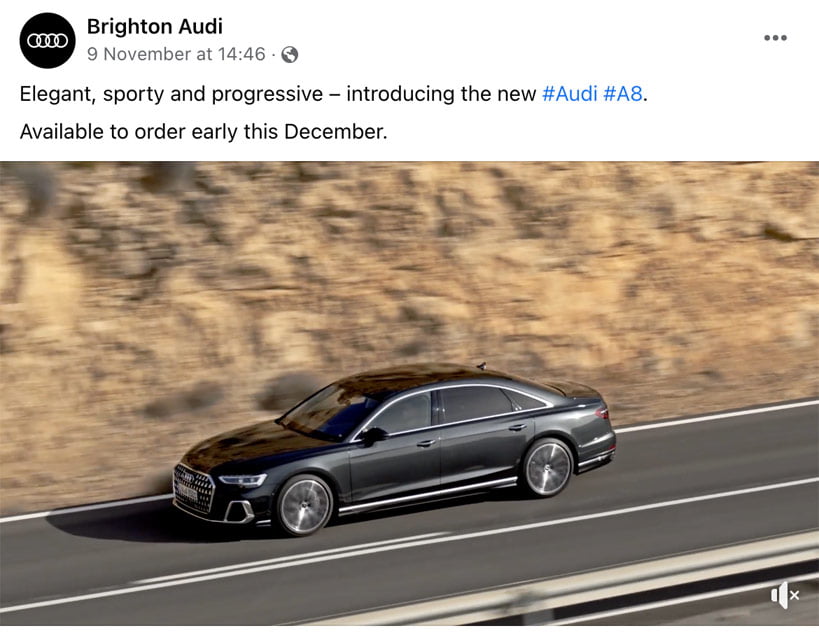 image source: Brighton Audi on Facebook
Stories (Car Hunters regularly posts Instagram Stories of their latest models)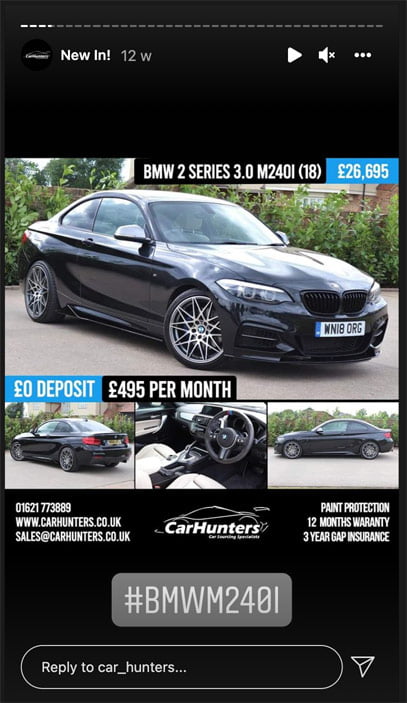 image source: @car_hunters on Instagram
Image posts (Northern Sky Group shares stunning photos on their Instagram feed to capture user attention)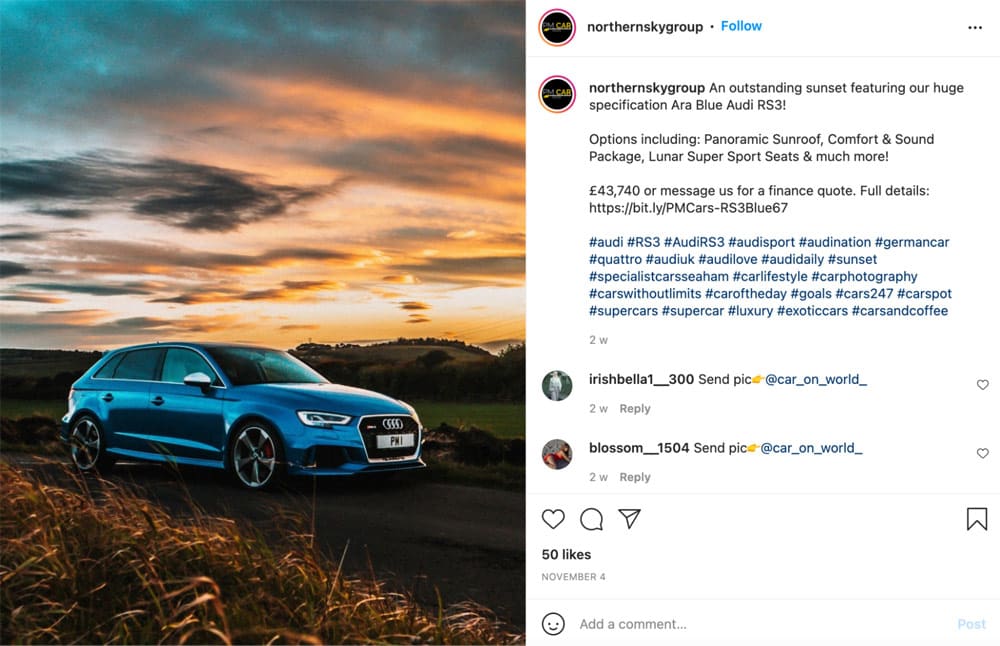 source: @northernskygroup on Instagram
Text posts (share information via text on platforms like Facebook and Twitter)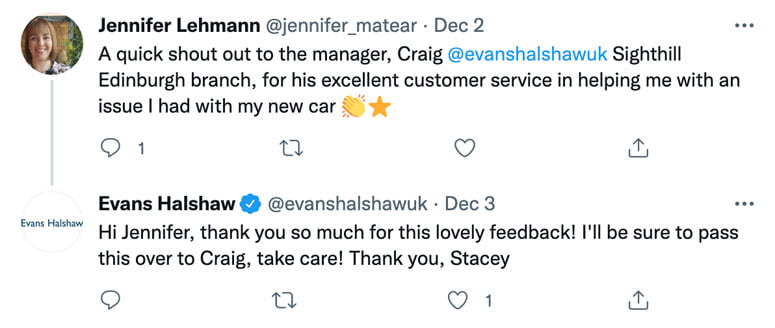 image source: @evanshalshawuk on Twitter
4. Make use of the unique social media platform features
Each social media platform comes equipped with its own unique range of features. For example, people tend to look for ephemeral content like Stories and Reels on platforms like Instagram and TikTok, while Facebook lends itself to longer text and video content. Make the most of these by creating content for each specific feature you plan to use rather than simply posting the same thing on every channel. If you don't have the budget for this, repurposing content for different channels can be just as effective.
If you want to get bookings or site visits, it's important that you give customers the information they need to come down rather than posting the same picture or piece of content across your channels.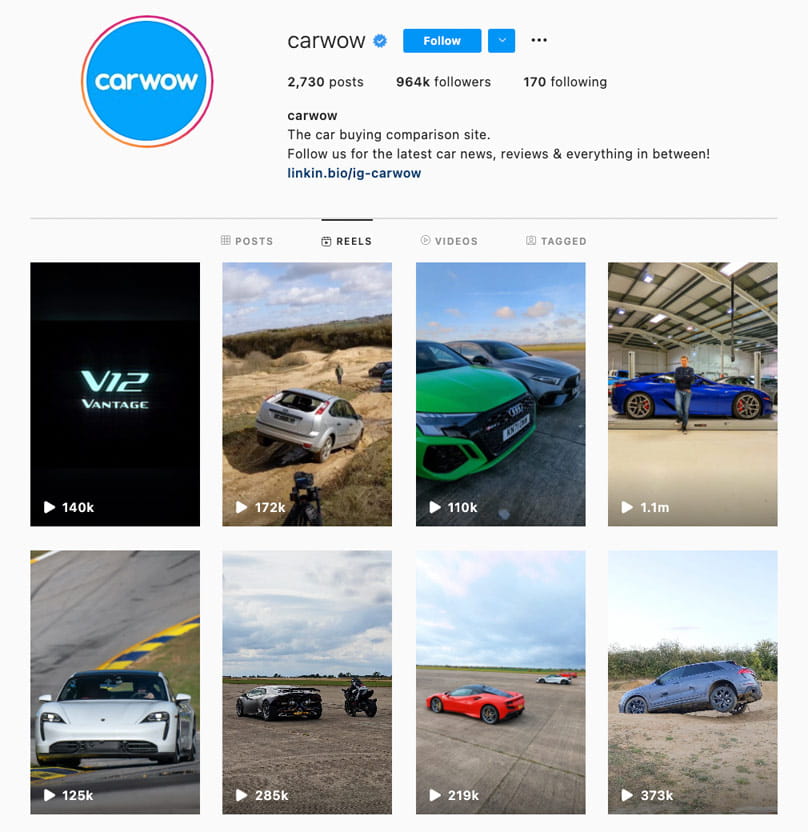 image source: @carwow on Instagram
For example, Carwow posts Reels to its Instagram account that showcase car-related content, but on their Facebook Page, they post photos and text-based content.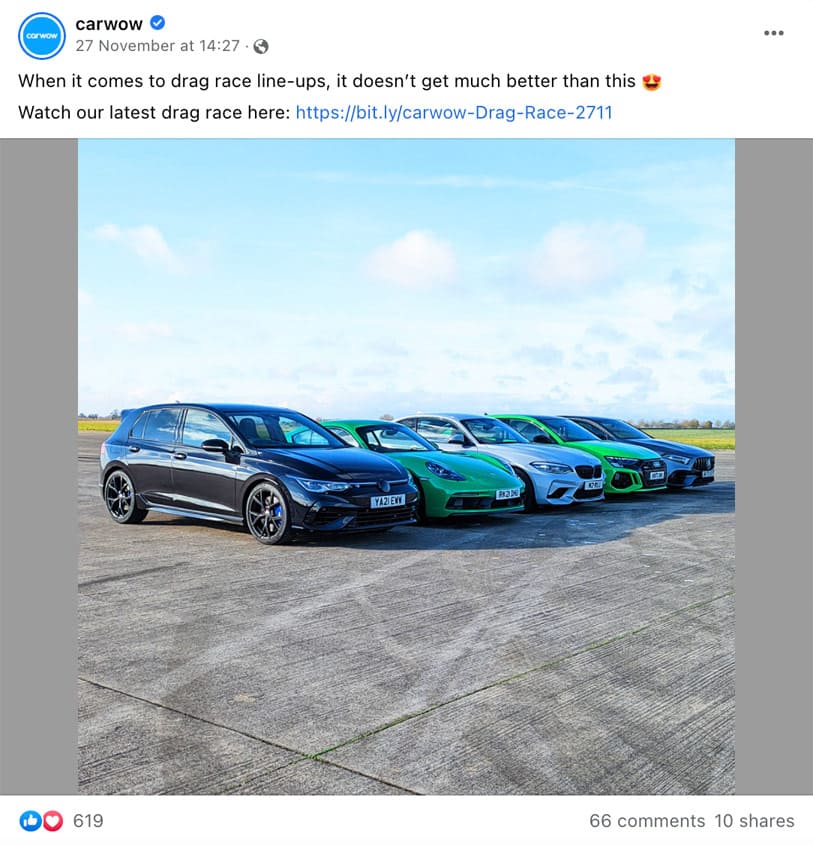 5. Leverage user-generated content
User-generated content (UGC) is content created by customers and can include things like customer photos, videos, and reviews.
You can collect customer photos and feedback by creating a designated hashtag where your audience can share their experience or simply by asking customers to send a picture of a review of your dealership after they've made a purchase. You can then use the UGC collected to share on your social channels to build credibility, add social proof, and stand out.
NK Motors has a Stories Highlight dedicated to feedback from their customers. Here, they share reviews and testimonials from customers who have already bought from them.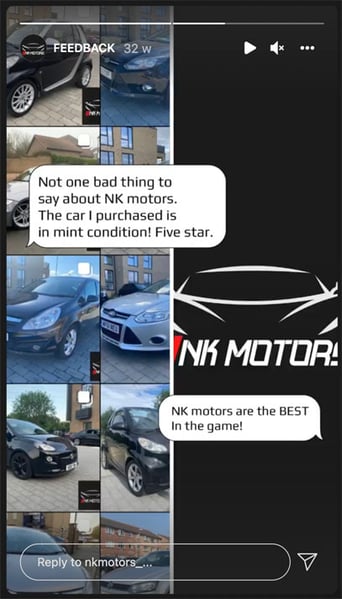 image source: @nkmotors_ on Instagram
6. Use social media as a TOFU activity
Social media is a great way to grab the attention of consumers at the top of the funnel (TOFU). This is essentially people who know they have a problem that needs solving but have only just started researching a solution - i.e. people who are aware they need a new car but have only just started their search.
You can use your social channels to share tips for buying a car, information on how to look after a car and, if you're selling cars with known issues, you can highlight that and educate customers on how to check for an issue while showcasing the car in question on your lot.
The idea isn't to just funnel people to your site with car listings, but instead create an entire user experience for customers at every stage of the funnel.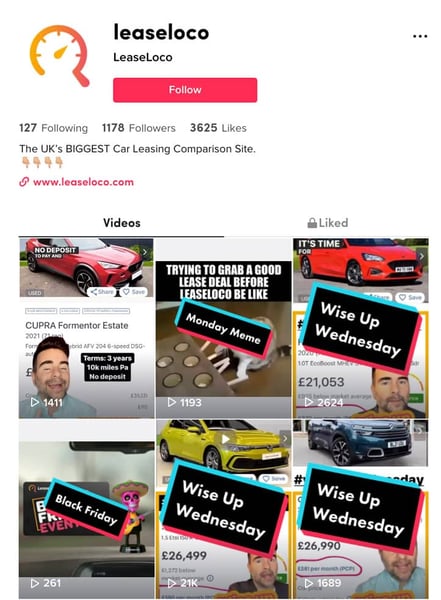 Elsewhere, LeaseLoco creates TikToks that give potential buyers information about buying and renting cars.
Read our guide to content pillars to spark inspiration for your TOFU social media efforts.
7. Get personal where possible
Consumers crave personalised experiences. They want to feel valued and understood by brands, especially when making large purchases such as a new car. Tap into this by using a person's name where possible, answering comments and questions you receive on social media, and creating a connection with potential buyers to build trust.
P&D Sales Car Dealership calls out recent customers by name on Twitter to create a personal experience.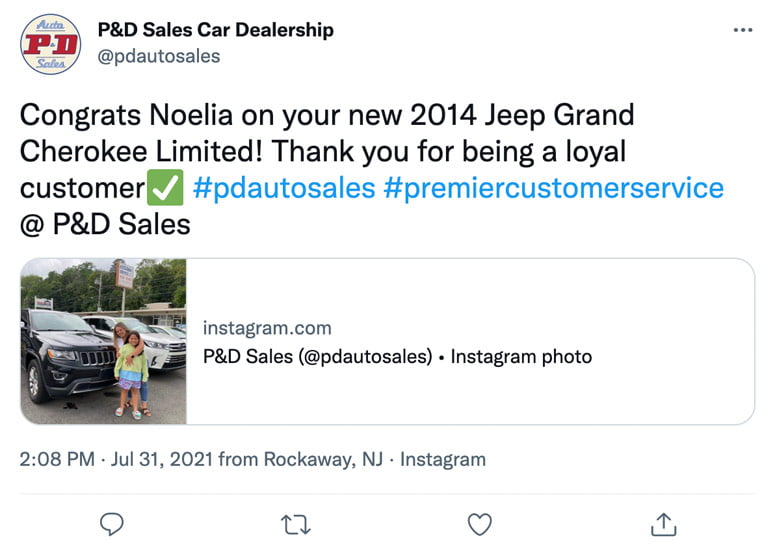 image source: @pdautosales on Twitter
8. Create a schedule
Consistency is key on social media. The more you post, the more likely your content is to show up in followers' feeds and the more likely they are to engage with it. In fact, they'll even come to expect and anticipate the content you're posting.
At this point, you've chosen your social media channels and have considered what kind of content you want to post on each. Now, you can put together a schedule that helps you stay on track and plan your social media efforts.
For example, you might post an Instagram Reel on a Monday, a video on Facebook on Wednesday, a new Instagram photo on Friday, and a Twitter update every day. Remember to look back at your goals to determine what kind of content will be most effective for reaching those. If you want to book test drives, make sure you're funnelling people to the booking page.
Use a tool like Sendible to plan out your social media schedule and load up your social media calendar in advance. Don't just include when you'll post the content. Add in when you'll plan and create the content, too. This will mean you're not scrambling around every time you're supposed to post because you haven't put together the content yet.
And if you're an agency managing car dealership accounts, don't forget to be authentic. But, more importantly, create a flow of work that allows your client to quickly share content with you that can be posted over the next few weeks (or months).
Get started with social media for car dealerships
Social media can increase the reach of car dealerships, help attract new customers, and cement brand loyalty so that customers refer you to their friends and family who are also on the hunt for a new car.
Being present on social channels adds a human element to car dealerships, shows that business is booming, and encourages people to follow you on social even if they don't need a car at that specific time (but they might do in the future!).
Check out our library of resources for social media success here.