The last thing you should be worried about when working on a new proposal or presentation is whether or not you're using the latest social media logos and icons.
You're under enough pressure without having to spend time searching online for the latest brand guidelines and assets for every platform.
We've been there - we know it can be a pain!
That's why we've created this resource with every key social media logo and icon in one handy place.
Below you'll find the latest official logos, icons, and brand guidelines for each platform. Plus, a quick guide to using the text versions of the icons, so that you can copy and paste them into your docs:
Standard brand guidelines for platforms
Before we start, it's worth noting that some guidelines apply to each social network and the use of their branded assets. You should strive to:
Use approved logo assets - Each brand states that you should only download and use their approved logos and icons. Don't create your own version.
Use the correct colour versions - Each brand has specific colours. For example, Twitter Blue is different to LinkedIn Blue and Facebook Blue. Use the exact colour for each network.
Maintain a clear space around the logo - Every brand guideline asks you to allow a clear area around their logo so that it's visible.
Maintain its shape and proportions when resizing - Don't stretch the logos and icons if you need to resize them. Holding down the "Shift" key in most software programs will maintain the proportions while scaling up or down. And remember not to go below the minimum size.
There are two acceptable ways of placing the icons:

Use a call-to-action alongside an individual icon; e.g. "Add us on Snapchat" or "Like us on Facebook.
Use the icons side-by-side for a general "Follow us on social media".

Make sure your brand is the focus - Your content should be more prominent than the social media networks.
The official social media logos
Let's take a look at the specific details for each social media network and the way each platform advises to use their logo and icon:
Facebook logo & guidelines
Official logo - The Facebook 'f' logo is one of the most recognisable icons in the world. It was slightly redesigned in late 2019, taking a round shape, a brighter blue colour, and a centred icon.

[Official logo - 512px, download png]
Colour options - You can only use the logo either in blue on a white or light-coloured background and the white version on a dark-coloured background. Interestingly, the official logo pack includes the black and grey versions of the Facebook logo.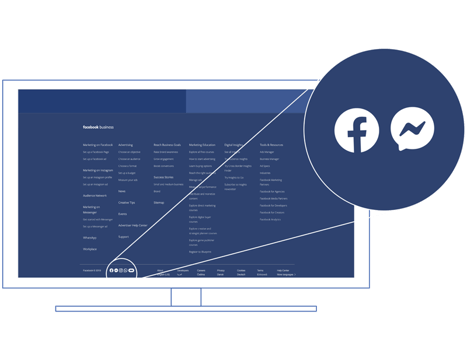 Facebook is also quite particular about how you can use their logo and fabricating materials or changing the colours of the logo is not allowed.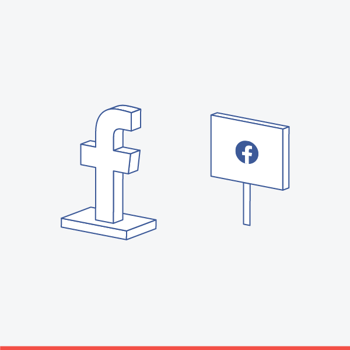 >> Check out the full Facebook brand resources & guidelines.
Instagram logo & guidelines
Official logo - Instagram calls its logo the Glyph icon:

[Official logo 120px, download png]
Colour options - You can change the glyph to a solid colour, although Instagram recommends keeping it black, white, or grey when placing it alongside other logos.


[Official logo 120px, download png]
Meta-owned Instagram revealed a new visual identity in May 2022, comprising of a brand-new bespoke typeface and a brighter logo. Perhaps the most notable change is the new wordmark rendered in the 'Instagram Sans' typeface.
Please note: Only use the App Icon with the rainbow-coloured background when you're referring to the mobile app. For example, when you're showing it on a device or you're encouraging people to download the Instagram app.
Minimum clear space and size - The minimum clear space around the glyph icon is one half of the glyph's size on all sides. And the minimum size permitted is 29x29 pixels.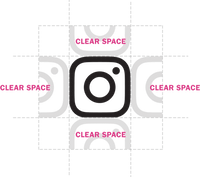 You also need to make sure that you follow the same spacing rules when adding text or your brand name alongside the Instagram logo.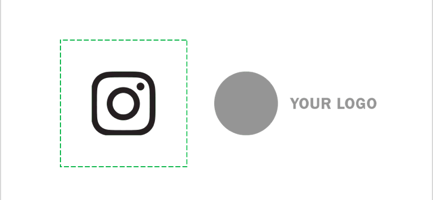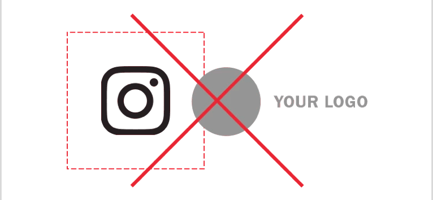 >> Check out the full Instagram brand guidelines.

Twitter logo & guidelines
Official logo - The Twitter logo is the infamous bird, merrily tweeting away:

[Official logo - 120px, download png]
Colour options - Official guidelines say you should only use the logo in Twitter blue or white.
If you're using any type of image manipulation service, you need to make sure that the logo is not altered or modified in any way which includes animating the logo and making it chirp or fly, surrounding the logo with other birds or creatures, and accessorising the logo with extra elements like speech bubbles. Those times are sadly (or fortunately?) gone.
When you place the logo on a background image, always use the white logo version. For images with a light background, Twitter recommends applying a layer with a 10-20% black tint to the entire image so that the white logo stands out more.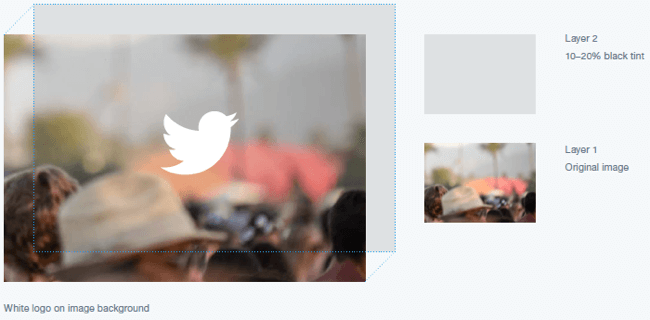 There is one exception where the white logo might not work, and it's with colour printing. In this case, Twitter recommends applying for permission to use the black logo instead.
Minimum size - To ensure the logo maintains its visual impact, don't go any smaller than 16 pixels wide. For social icons, Twitter prefers you use the logo without a container.
But if you need to use one, then choose either a square, a circle or a rounded square. The minimum width for these social icons is 32 pixels, and the background can be in any colour.
>> Check out the full Twitter brand guidelines
LinkedIn logo & guidelines
Official logo - The LinkedIn logo is available as a full word or just the 'in' icon (also referred to as the 'in' bug), both with the ® mark icon:
Colour options - Previously, the LinkedIn logo was three colours: black, blue, and white. As part of the rebrand in 2019, the logo was simplified to just one colour, embracing simplicity and increasing readability.
In addition to the updated logo, LinkedIn also presented their new brand system highlighting their passion for the community, which they express through illustrations and a warmer colour palette.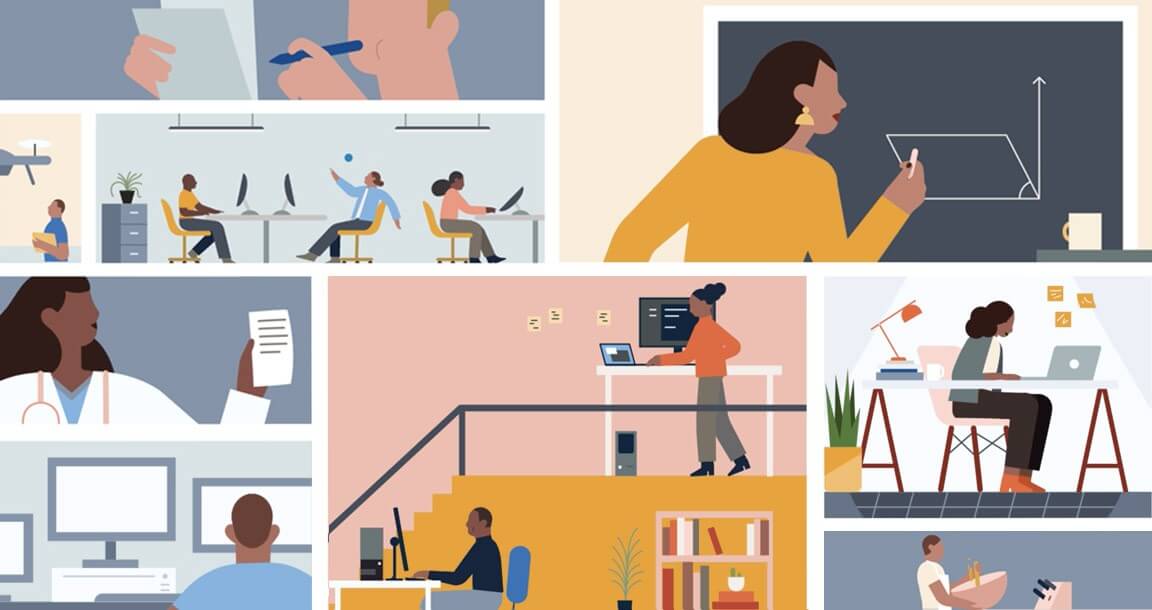 While the default LinkedIn logo is blue, the black or white version can be used where the layouts are black and white only. It's also allowed to use the white logo on dark backgrounds so that it's easier to see.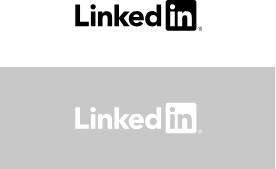 Minimum size - The minimum size of the logo and the 'in' icon is 21px on the screen. The correct height for the full LinkedIn logo is always measured by the height of the 'in' icon.

As with other platforms, you need to make sure that the logo is spaced out correctly when you're changing its size or placing it next to other elements.
What's unique about LinkedIn is their use of the ® mark which needs to be added to all logos, unless it's too small to see.
>> Check out the full LinkedIn brand guidelines.
Pinterest logo & guidelines
Official logo - The Pinterest logo is the scripted letter 'P':
[Official logo 120px, download png]
While Pinterest is quite happy for you to use their logo (or badge as they describe it) in tandem with the URL of your Pinterest profile, they're not happy for you to use their wordmark.
In other words, don't use the long version which used to be popular: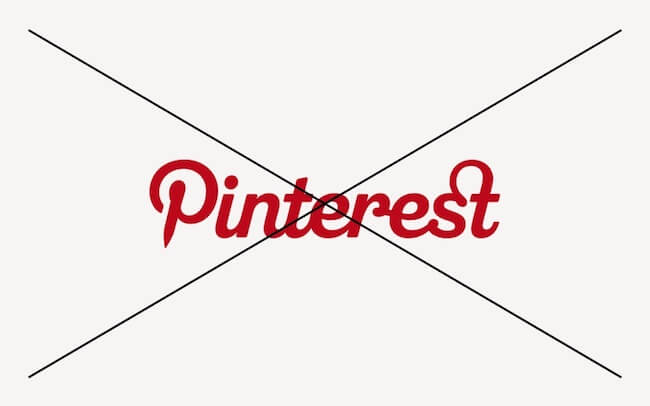 Colour options - When using the logo, always use the official Pinterest red colour. There are no alternative or reverse colour options.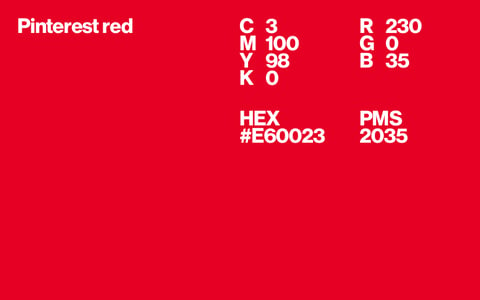 Language - You also need to be careful about any text you place alongside the Pinterest logo:
Acceptable phrases: Popular on Pinterest, Find us on Pinterest, Follow us on Pinterest, Visit us, Find more ideas on Pinterest, Get inspired on Pinterest.
Unacceptable phrases: Trending on Pinterest, Trending Pins.
If you intend to create a call-to-action, you need to make sure that the text is in proportion to the Pinterest badge, your own logo is larger, and you include your Pinterest profile URL.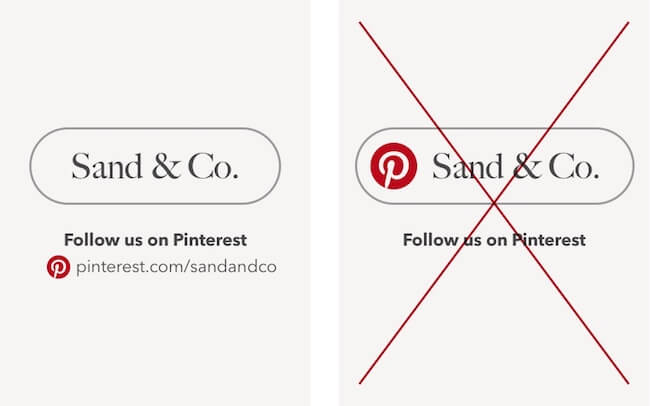 >> Check out the full Pinterest brand guidelines.
YouTube logo & guidelines
Official logo - The YouTube logo comprises of the wordmark and the icon with the triangle, but you can use the icon on its own if you wish:
Colour options - YouTube has several colour combinations that use the three brand colours: YouTube red, almost black, and white.

To ensure the correct use of different colours, here are the key guidelines:
Use the full-colour logos (with white or dark text) on solid backgrounds.
Use the full-colour logo (with white or dark text) on busier, colourful backgrounds.

Use the monochrome logo (white or black) if the background colour makes the icon hard to see.

Minimum clear space and size - The logo or icon should never appear smaller than 24 dp in height. As with other networks, YouTube advises against altering its recognisable logo in any way: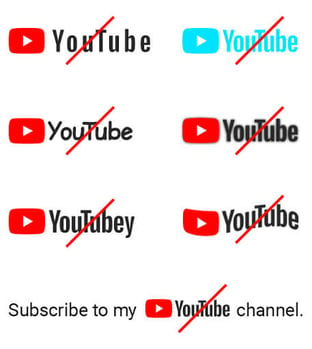 >> Check out the full YouTube brand guidelines.
Snapchat logo & guidelines
Official logo - The official Snapchat logo is the infamous Ghost mark:

[Official logo 120px, download png]
Colour options - There are three acceptable ways and colours in which to use the Snapchat logo:

[Yellow Background - App icon – | Monochrome – Black Background | Monochrome – White Background]
Minimum clear space and size - The minimum size of the logo for digital applications is 45 pixels wide, and for print applications, it's 0.4" (10mm) wide. The minimum clear space around the ghost mark is equivalent to one-third of the width of the ghost mark: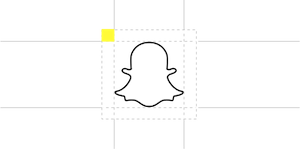 Please note: Similar to Instagram, the icon with the yellow background can only be used when referring to the mobile app, not the platform itself.
Snapcodes were introduced to make it easy for users to add others as friends and follow their Story. These can be customised as long as all Snapcode guidelines are followed, for example, not removing the frame, not tampering with the ghost-to-frame proportions, or inverting the colours.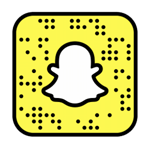 >> Check out the full Snapchat brand guidelines.
TikTok logo & guidelines
Official logo - The official TikTok logo is an edgy music note: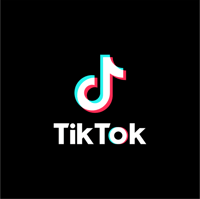 [Official logo 600 px, download png]
According to their blog, the inspiration behind the TikTok logo was rooted in how the app had created a virtual stage for so many creators worldwide.
Colour options - the logo has two variations: a white music note with an electronic wave effect in bright colours on a black background, or a black music note with the wave effect.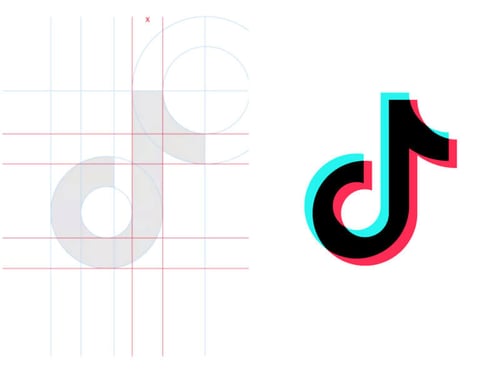 And while TikTok has extensive guidelines on their advertising policies for ad creatives, there's not much said about the use of their logo.
If you do happen to use it in your presentations or marketing, follow similar guidelines to other platforms - don't change colours and make sure to space it out properly.
Editor's note: We're aware that the app is under a lot of pressure at the time of this update, including a potential ban in the US. However, its impact is hard to ignore, so we wanted to include it. After all, there are ways in which TikTok can be used for business, even if it's just using its video editing features!
Using text-based icons and glyphs
Occasionally, the logo won't do as an image file, and you need it in a text-based format, e.g. to use on a website instead. These icons are sometimes referred to as glyphs and are usually available online.

If you're looking to use these copy-and-paste icons in your marketing, remember that:
you'll need to install the correct font on your computer and/or software
if the user who's engaging with your content doesn't have the font installed (or it's incorrectly installed on the platform), all they will see are squares like this:  which is less than ideal.
Here are some websites our team has found the most reliable with their icon library and toolkit:
It's worth mentioning that while using third-party libraries for logos and icons can be useful, there's always a small risk that they may not be accurate or are too customised based on the library style.
Whenever in doubt, refer back to the official brand guidelines set by social media networks, and you'll be fine.
Over to you
You should now be well-prepared to use social media icons and logos in your marketing, presentations, and, potentially, even your social media proposal for your clients.
We hope you found this resource useful. Please feel free to let us know if we missed any important social media logos, icons, or brand guidelines that you'd like us to include in the future iteration of this resource.
Speaking of resources, we have plenty of free templates and lessons from knowledgeable marketers that you might enjoy.