Four years old, Foursquare has had a long running perception being a fun mobile app to use when checking in to a physical location. It gives you the ability to unlock badges as check ins occur and the potential to become Mayor of a venue. However this barely scratches the surface, there is much more to this location-based social network.
Especially in the last year, Foursquare has quietly been streamlining its focus towards proactively recommending where people can go in a given location rather than detailing the experience after the fact. This shift in focus has become a valuable reason for businesses to establish a presence as potential customers seek a real time reason to check in and check out what's on offer.
The Stats:
- They have a community of over 30 million people worldwide.
- Over 3 billion check-ins, with millions more every day
- Over a million businesses currently using Foursquare
Getting started with Foursquare for business
Business use on Foursquare is divided into two categories; Companies with a physical location and a Company, Brand or Organisation without a physical location.
Option 1: Companies with a physical location
To get started on Foursquare as a business, you will be asked to sign up as a personal user and then to connect your business listing to your account. Once you have entered your business name and address, Foursquare will search to see if this place is already on their site. If it is not they will ask you for address and verification details so your business can be placed.
To enhance business opportunities and ease of access in finding the business location, Foursquare also ask for:
- Location verification on a physical map
- The business Twitter account name
- The business telephone number
- Category selection which is then drilled down to the exact physical type of location your business is at.
Once all the data has been input the verification process is then activated.
Foursquare require you to input your telephone number and take a call where they ask for you to state:
- Your name
- The business name
- Your relationship to the business.
They also ask you to repeat a code number that they present to you on screen.
Once this has been done, your business can be verified in one of two ways:
Payment of a one off fee of $20 by credit card to expedite verification
Verification via email that can take up to 3 -4 weeks.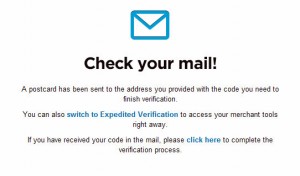 Verification received!
Once you are verified as a business on Foursquare then the marketing fun begins!
Add your business information
Check your original information for accuracy and add links to your Twitter and Facebook page. You can also provide details of the opening hours of your business.
Avail of free in-store branding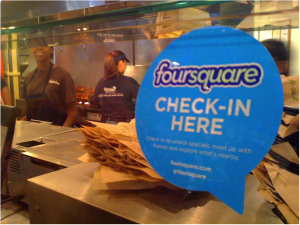 The great news is that Foursquare supply a page of graphical resource to enable you to advertise your Foursquare location. They also provide a PDF of branding guidelines to ensure that the logo is used correctly.
A business can apply for a window cling which is a sign that can be displayed at your premises to alert customers to the fact they can check in to your business.
Option 2: No physical location? Create a business brand page
If your business does not have a physical store/office premises you can still create a brand page and share updates, offers and events with Foursquare users through this. A brand page is also used when a business has multiple locations. Each location may have their own local account but can use the brand page to bind these accounts to the higher brand.
To create a page you need to sign in and connect Foursquare with your Twitter account.
- Your foursquare page will be foursquare.com/TwitterName
- When the page has been created you can then add content using visual images and text to optimise your business.
- Foursquare users can choose to follow a brand page and their updates.
- The brand page can leave tips at any location with facts relating to their particular industry /market.
Foursquare Explore
The re-design and focus on Foursquare Explore is the main reason for building a business presence on Foursquare. When a user accesses the Foursquare app they have the option to check in to a place or use the Explore function to find one.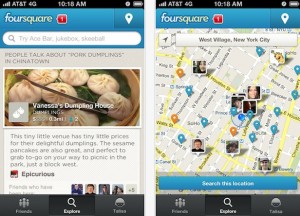 Users can search for a venue via category and then define the venue by:
- Specials
- Friends
- Haven't been
- Price
- Open Now
- Saved
A list of venues in the area then appears. They detail the friends who have visited and also any comments that have been made about the venue. This is a fantastic way of peer recommendation for your business with no cost involved.
Foursquare Lists
Foursquare users can create lists of venues that they wish to bookmark. The lists can cover anything from 'The best coffee in Dublin' to 'Jazz venues in London'.
- Lists can be added to via the mobile app whilst exploring the location or alternatively it is a great way to plan a trip in advance.
- The user can also allow their Foursquare friends to add to the lists thereby, again, allowing peer recommendations to prevail.
How to use Foursquare to optimize your business
We have looked at the ways Foursquare can be used by potential business customers with regards to the Explore and List functions; now we can look at ways of optimizing your business presence in conjunction with the user experience.
Updates
You can use updates for your account to generate news about your business. Updates could include:
- A sale or discount
- Upcoming event
- Charity drive
- Change of opening hours
It is recommended that you add an image to your updates to enhance user appeal.
Specials
A foursquare user can use the app to search for special offers that are nearby. This is a great way to attract nearby footfall into your location for free.
A special could be:
- A free refill of coffee
- A 10% discount when a user spends a certain amount
- A two for the price of one offer on goods or products
Foursquare also recommend specials such as:
- Offer a small gift – "free hot chocolate on your third check-in"
- Provide a discount – "save 25% on comedy tickets when you check in"
- Give VIP treatment – "check in to get a free upgrade to the front row"
- Run a contest – "tweet your check-in to be entered into an iPod raffle"
Once a special has been created by a business it can be easily found by the user as it stands out as an orange pin on the map. To avail of a special offer a customer must check in to your location. The special will then show up on their phone and they can use it by showing it as they redeem the offer.
The performance for special offers can be monitored via analytics for Foursquare and can also be turned on or off via the Foursquare for business app which means that the business has full control in managing their offers. Interaction and check in numbers appear to be a significant factor to enable your special offer to appear at the top of the list when a user wishes to explore. Foursquare explains:
"Like all results in Explore, the specials that appear here will differ for each user. When performing an explore search, the venues that populate are the ones nearby with a high "venue rank". A venue's rank is based on how many times a user has checked in there, and how popular it is relative to other venues in the area. This list of venues is not indicative of all venues in the nearby area. If users do not see your venue, they will have to search for it off this page via the check-in screen. You should be able to find your venue through search."
Sendible's Social media management dashboard has recently introduced wider integration with foursquare to enable to manage your listing alongside your other social profiles. Post, Comment, Tweet, +1, Tip and Shout! All unified with your priority box that enables you read, monitor and respond to updates as they occur.