Ever since young voters discovered they could friend Barack Obama on Facebook during the 2008 election, social media has become vital to the way we think about political discourse. Politicians and tech evangelists alike see it as the key to a new type of politics: Campaigns and candidates can better engage citizens, facilitate grassroots organization, and craft legislation with the direct input of a Tweeting electorate. The inevitable results, optimists argue, will be a sort of "digital democracy," defined by a closer, more coherent relationship between the elected officials and their constituents.
Campaigns before the 2008 presidential race used one-way communications technology, such as websites, mostly to raise money. Campaigns still use websites, just as they still make telephone calls, send mail, erect posters and distribute bumper stickers. But now political consultants also use data from social media to target their online advertising. One application finds potentially sympathetic voters based on their Facebook profiles, for example.
With more than 24.3 million Facebook fans, President Barack Obama easily leads all 2012 presidential candidates in fan volume, according to a January 2012 infographic from Socialbakers. Mitt Romney trails in distant second (1.3 million), followed by Ron Paul (0.7 million), Michele Bachmann (0.5 million), Newt Gingrich (0.2 million), and Rick Perry (0.2 million).
The social web is rapidly becoming the default place where people spend their time and discuss issues that matter to them. "It will be about how much society has integrated itself into it," said Gerrit Lansing, the new media director for Congressman Peter Roskam (R-IL 6th). "Citizens will be far more accustomed to being a fan of their congressman on Facebook, because it will soon become one of the main ways in which they communicate with him."
Like television before it, the social web will radically alter who is electable, according to Matt Lira, the director of new media for Republican Whip Eric Cantor. "Before television, there was a dramatically different set of candidates who could win that didn't have a chance once television emerged," Lira said. "Social media's effect will be no less dramatic."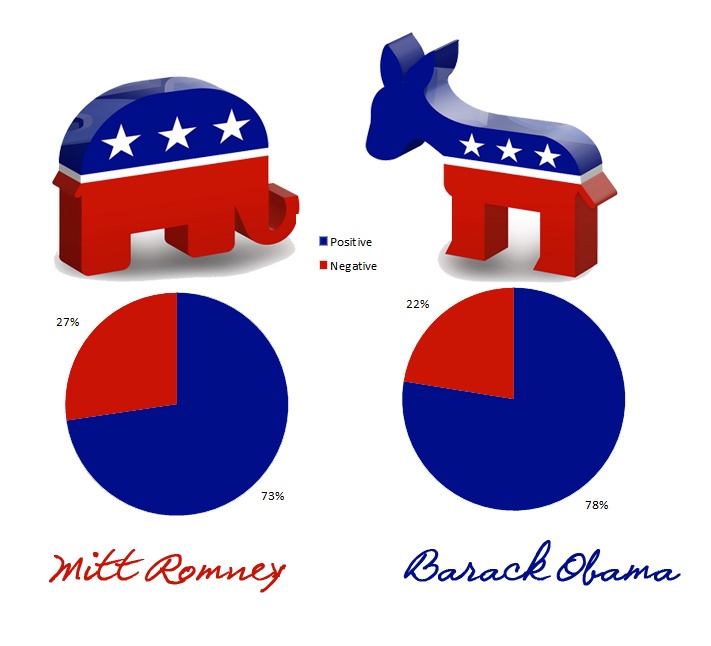 With the US election campaigns intensifying who is winning this new age Social media war? We here at Sendible have set up some monitoring terms to scour the social web to determine the sentiment of messages posted about each of the two main 2012 Presidential Candidates. The social media monitoring tool looks through blogs, microblogs, social networks and even comments on sites such as YouTube. The unique algorithm scores the sentiment of each individual post by looking out for key words and phrases. As of 17/09/2012 - Barack Obama is in the lead with 78% of a positive sentiment on the social sphere compared with Mitt Romney's 73%.