Acing social media will take effort, dedication and creative flair like never before. It's time to dress up, turn up and make your social media channels deliver results beyond mere impressions and likes.
Below are the nine marketing resolutions that any modern social media marketer could aspire to fulfill. No matter whether you work for an agency or a company in-house, or even freelance - all of these can help you make this your best year yet:
1. Commit to tracking strategies and results
Proving the ROI of social media activities is tough work.
Sure, social media reporting tools can ease the pain, but agency clients demand insights that justify their spend.
Each campaign must be tracked to discover its long-lasting impact on your client's bottom line. This applies to each marketing channel that is being overseen - social, email, blog, SEO and paid advertising.
So it's an excellent plan to improve tracking your results and strategy. Use your social media analytics tool to create custom reports that make reporting efficient and effortless. You can also create a separate reporting sheet that you fill in every morning with stats about metrics concerning other channels.
Build an impressive sheet with enough data your clients can't find elsewhere.
Do the same for each client you have. By spending a little time each day, you will build an impressive sheet with enough data your clients can't find elsewhere. Not to mention, agency clients will take great reassurance that you are right on top of their stats.
2. Get a social media health check
Keeping your social media profiles up to date is a must - no slip-ups allowed.
The start of a new year is a great time to update profile information, header photos and contact details. It's common for social media image sizes to change, so it's a good call to double check if yours are optimized. If you are preparing a social media proposal, make sure that every social media icon and logo are on point.
Positive trends and improved results keep clients happy, so make sure you also follow the best practices for each social network. Strip away the inactive, spammy accounts your brands follow and replace them with influencers from your industry, suppliers and local businesses.
3. Create even better content
Let's talk about the last few social media posts that you scheduled.
Were they great?
Did they help or entertain the audience?
Maybe one of them was a kind mention or shout-out for a partnering brand or customer?
If you've answered "no" to all three, improvements should be made. In the new year, make creating awesome content that delivers results your priority.
Get inspired by the tips in these blogs:
If you are stuck, listen first and then create. Focus on social listening and get to know your client's customers better. Go to websites and social networks they go to. Look for phrases they use and the content they already share and enjoy. Fine tune your marketing personas to make the content you create resonate with them and drive the results you need.
4. Plan social media campaigns further ahead
Want to be more productive when managing social media? Plan thoroughly and schedule in advance. Once the social media strategy is confirmed, start filling in the gaps in your content schedule.
First, write down all key product releases (or launches) and major events relevant to your clients this year. Next, fill up the social media calendar with holidays - these are ideal for getting extra exposure on social.
Finally, schedule all these in with the help of your favourite social media scheduling tool, and you're off to the races!
5. Try new things
By being more proactive, you will have more time to be reactive when something great comes along. Take the time to play around with the new features on social media networks. Why not try:
6. Improve relationships and the leads process
Fantastic customer experiences can lead to higher conversion rates. Keep a lookout for customer service queries and feedback - it's a good way to start a conversation, and who knows, maybe even a sales opportunity.
If so, turn these questions (or complaints) into opportunities with timely and witty responses. Also, take the time to optimize your clients' process for passing leads - we work better when we work together.
Turn questions (or complaints) into opportunities with timely and witty responses.
7. Dip your toes in CRM
Customer relationship management (CRM) tools can help you make better sense of the customer journey. Equally, they can help engage with the right prospects and create better content to drive results. If you work with B2B clients, it may be worth investigating the marketing funnel to uncover quick wins.
If your client's highest quality leads have something in common (e.g., a location or interest), use it when segmenting your audience. Who knows - this just may the be the missing piece of the puzzle for improving your paid social media campaigns.
8. Use your SEO knowledge
SEO and social media are closer than ever, so you don't want to be missing out on the benefits of implementing the right practices.
Use keywords in your social media posts, add hashtags when appropriate and create good backlinks where possible. Invest time in updating local listings and your social media profiles with fresh, keyword-driven copy.
9. Create unique visuals for everything
Wouldn't it be nice to stop pestering designers and finally be able to create your designs and graphics for social? The answer is simple: learn and practice. With so many tools out there, there are plenty of choices. You can take a course on Udemy, learn how to the Adobe Suite or start using one of the online graphics tool available, like Canva.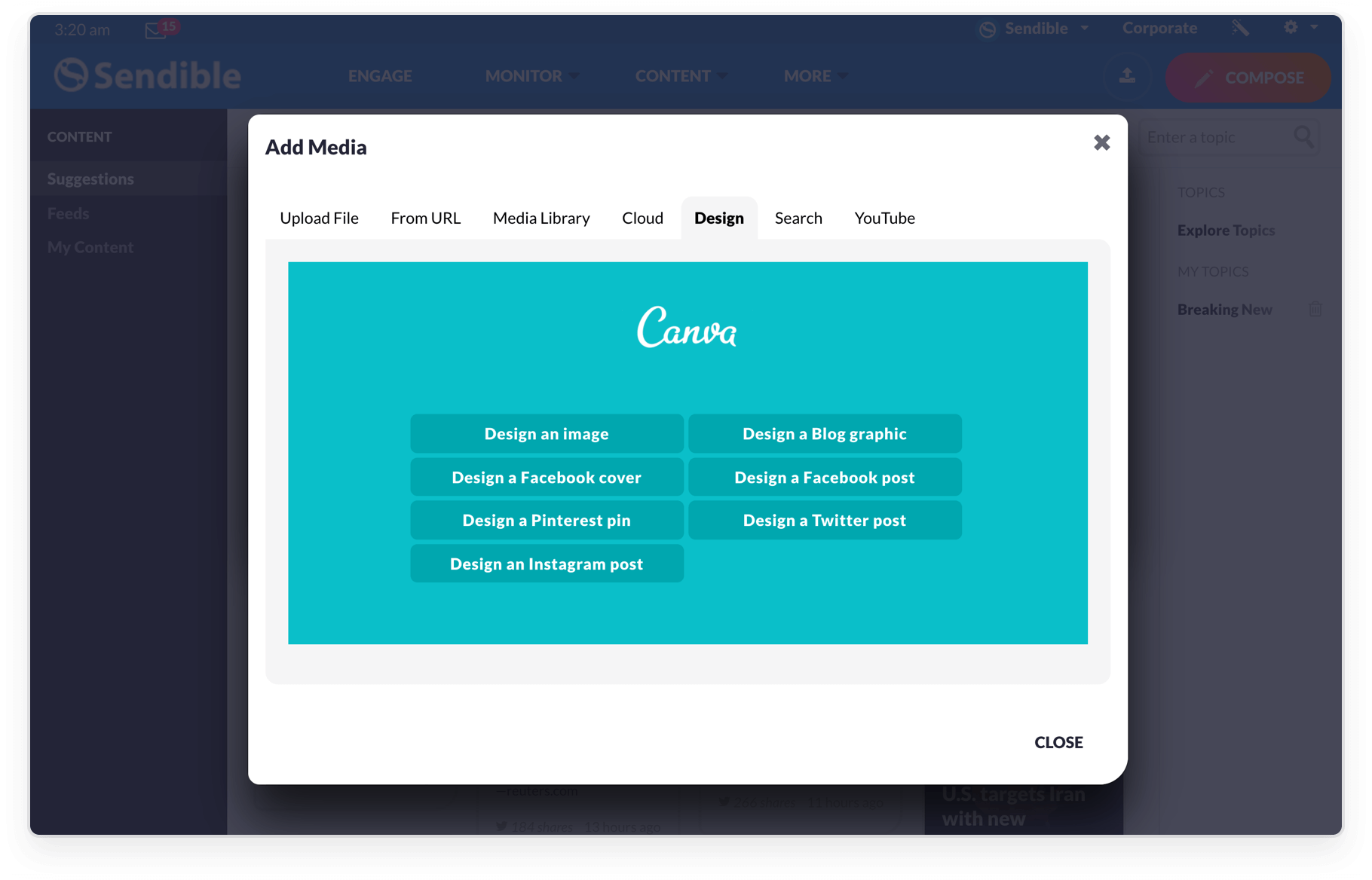 Summing it up
As with any New Year's resolution, marketing resolutions can take a lot of commitment to complete. These are the nine that stood out to our team.
Let me know in the comments if there was one resolution that particularly struck a chord with you. Or maybe, there is one you have taken on that we didn't mention?