6-minute read
No intro, take me right to the Instagram ad examples.
Instagram isn't only one of the best social platforms for brand exposure, it's also one of the most fun - even for ads. The social giant has rolled out new features for advertisers in recent years that keep the creative juices flowing and the followers engaged.
If you're going to advertise on social channels (and that's a rhetorical "if", of course), then Instagram should be near or at the top of your priority list. Why? There are more than a few really good reasons.
We could start with the fact that Instagram (IG, for short) was made for mobile, while other platforms have adapted to it. The world is increasingly mobile, so they had a head start. Then, there's the fact that because Instagram is owned by Facebook since 2012, it uses Facebook's ultra-laser-focused targeting engine, meaning that the people who you really want to see your ads are exactly those who will.
The platform also quickly adapts to social media marketing trends, like vertical video. The trend took off in the fall of 2016 because people were starting to get tired of turning their phones sideways every time they watched a video.
Need more reasons to try Instagram ads? According to a study by Forrester Research, consumers are 58 times more likely to engage with branded content on Instagram than on Facebook, and an even more staggering 120 times more than consumers on Twitter. In fact, roughly 30% of Instagram users say they have bought something they discovered on the platform. The full report can be purchased on Forrester's website.
And while all of this is already compelling, we can also add the fact that Instagram has rolled out Instagram Shopping to apparel, jewelry, and beauty products across the US. This new advertising feature allows retailers to create "shoppable posts" (single photos only, no video or carousel images) that let followers go from discovery to information to purchase within a few quick clicks.
So then, let's take a look at some inspiring examples of brands advertising on Instagram. These should give you a clear idea of what's possible on the platform and how you could use their success as a strong footing for your clients' campaigns.
Inspiring Instagram ads to get your creative juices flowing
1. Illy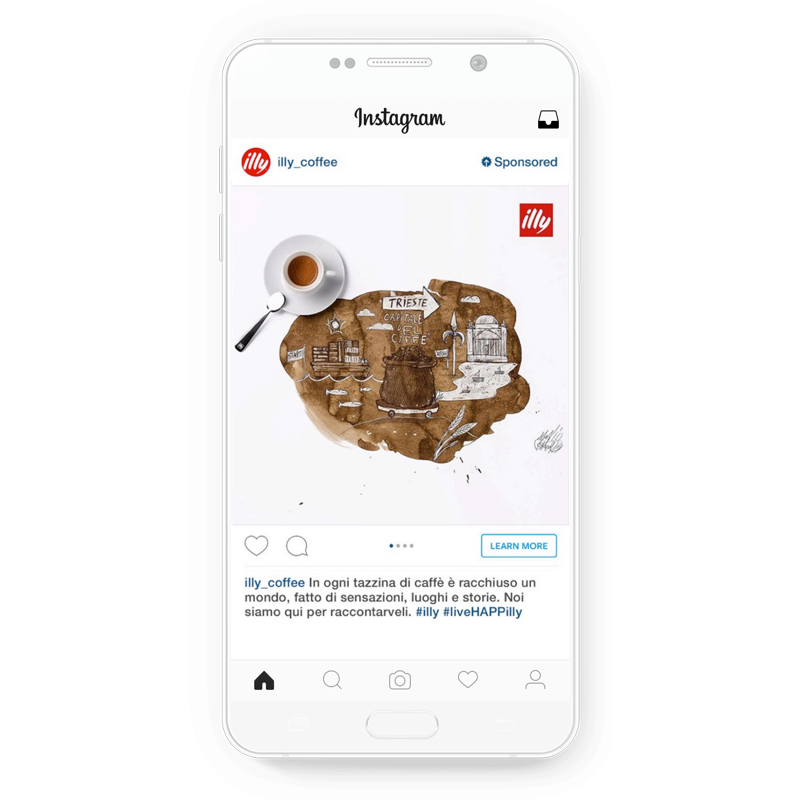 Illy has been making world-class espresso since 1933, but decided they need to reach a new audience with the market dominance of hip and trendy companies like Starbucks. And, of course, Instagram is the perfect place to do just that.
What they did right: They targeted millennials through a series of carousel ads by commissioning an artist to tell stories using coffee as his medium. The visuals were a hit, and raised ad recall by 16 points, including a 21 point lift among their target audience of 25-35-year-olds. Read illy's Instagram success story here.
Note: According to Facebook, an ad recall lift is the estimated number of people likely to remember your ads within 2 days. Even though this is an estimate, the metric is useful for testing different tactics.
2. Loja Nama
Joanna Cariello decided to start her own decorative 3D-printed product business and founded the Loja Nama online store in August 2016. She also launched the brand on Instagram first.
What they did right: Joanna used a visual social media platform to launch a business that sells visually appealing products, and it was a perfect fit. In its second month of operation, the business exceeded their expected sales by 86%, with 79% coming from IG ads. Discover how Loja Nama achieved this in this case study.
3. Carrera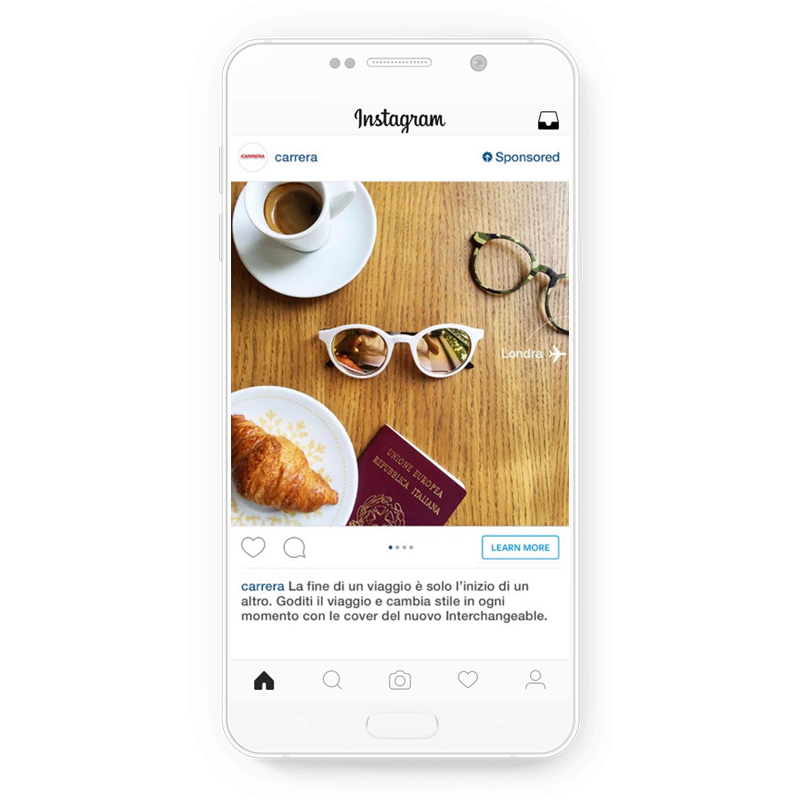 Carrera has been the authority in sunglass fashion for more than 50 years, but like many companies that have been around that long, they needed a fresh approach to engage the younger population and millennials.
What they did right: They took on a new approach for their product and raising awareness. Carrera developed a line of interchangeable sunglasses frames to match whatever your style is on a particular day, then used an ad campaign on Instagram to let Millennials know about it. They reached 2.9 million people with a stunning 41 point lift in ad recall, and this case study shows what helped them succeed.
4. Stance Socks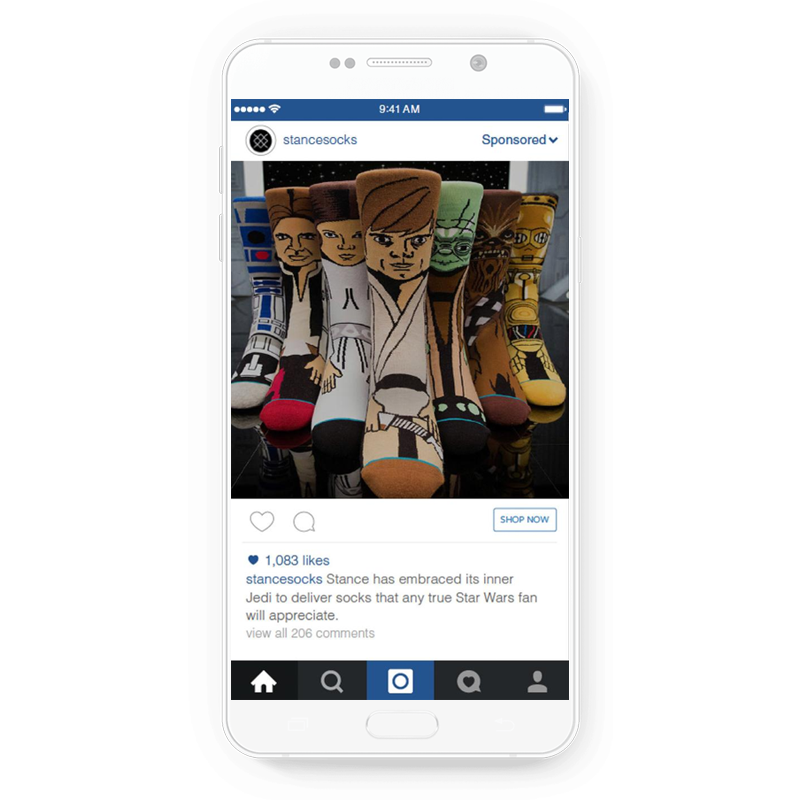 Stance simply makes some of the coolest high-quality socks in the world. Sold in over 40 countries and promoted by celebrities, athletes, and other cultural icons from all over, Stance has become the world's premier sock brand.
What they did right: Last holiday season, they saw that the IG ads for their Star Wars collection were performing better than all of their other ad placements and decided to double down by creating a dedicated ad set of the characters in mock film stills. As a result, their IG engagement increased by 80% and ROI on ad spend was lifted by 36%. Read the full success story here.
5. Vitaly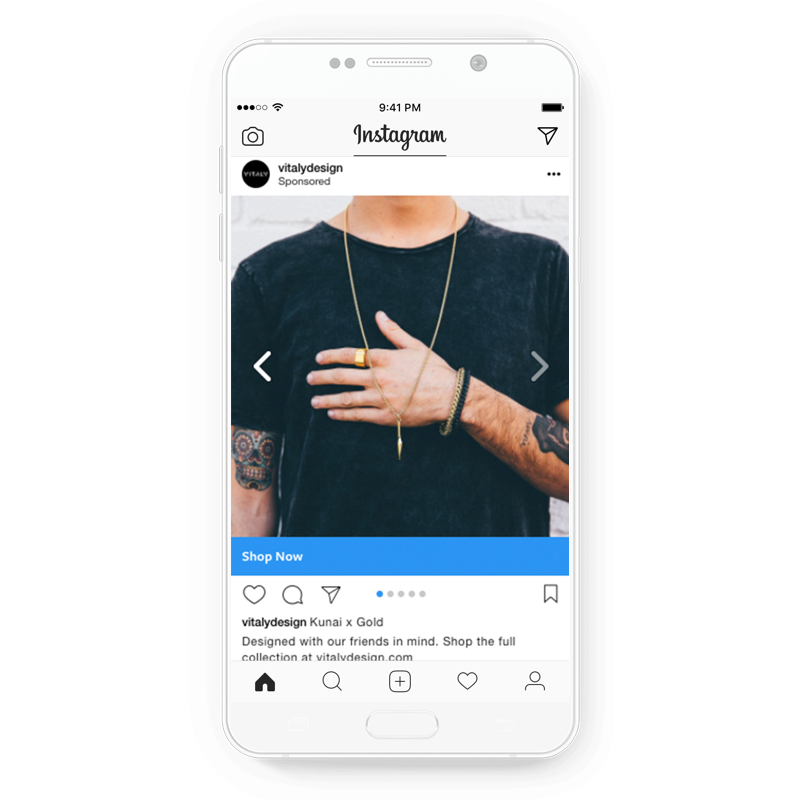 Vitaly began making its structural, minimalistic jewelry for men in 2011, and since then has expanded into more than 400 stores around the globe. When they realized that retargeting customers who had abandoned items in their shopping cart was key to their growth, they took to Instagram to remedy the problem.
What they did right: Vitaly used the Facebook pixel to retarget people who had already shown interest in a product by placing dynamic ads for those products in their IG feed, paired with a mix of lifestyle shots and product images. The result has been a reach of over 240,000 people, a 3.9X return on their ad spend, and a 25% lower cost of acquisition compared to other channels.
6. Ever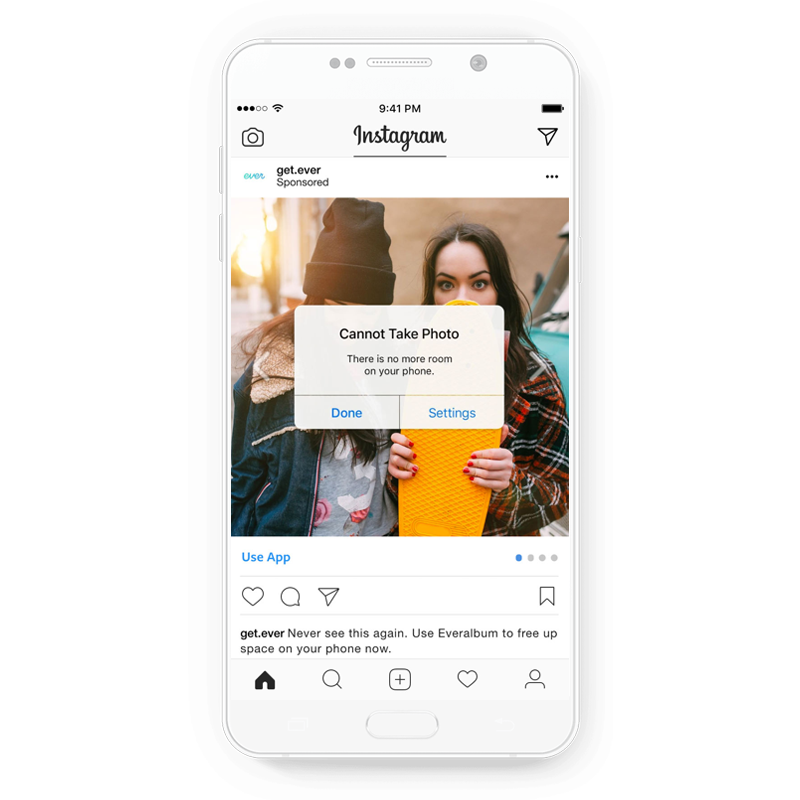 Ever was a startup in a field that has been overcrowded for years - online photo storage. Yet through some creative ad campaigns like the one above on Instagram, they managed to become the top grossing productivity app in over 90 countries.
What they did right: Ever used a shoestring budget and partnered with Facebook Marketing partner ReFUEL4 to create their creative ads, targeting women in the US over the age of 36. The result was twice as many monthly app installs from IG users and a 2.6X increase in premium subscriptions from the same crowd. Read the full success story on Instagram's website.
7. Article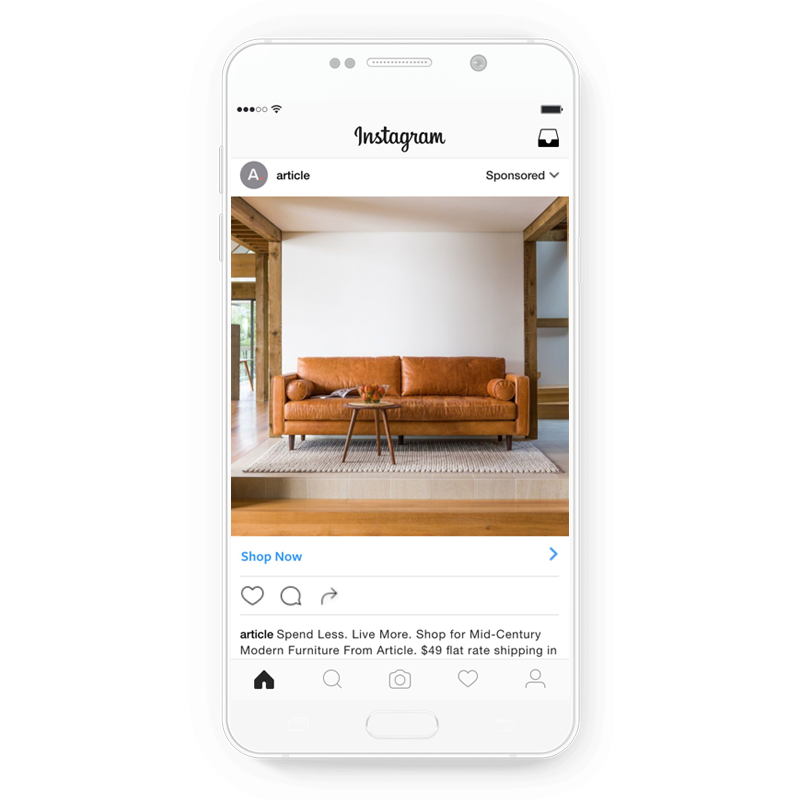 The online furniture company, Article was established in 2012 and has been partnering with various other manufacturers. Their goal is to design and produce high-quality, modern and mid-century pieces that they can sell at huge discounts compared to traditional furniture retailers.
What they did right: They created a rotating mix of link ads, carousel ads, and video ads showing their furniture in beautiful but not extraordinary scenes. They used these in a two-pronged approach, retargeting website visitors and targeting a new lookalike audience based on past customers. In the first 3 months of the campaign they reached an 8X return on ad spend, with more than one-third of their transactions during the period including Instagram in the path to purchase. Learn more by reading the full case study.
8. Levi's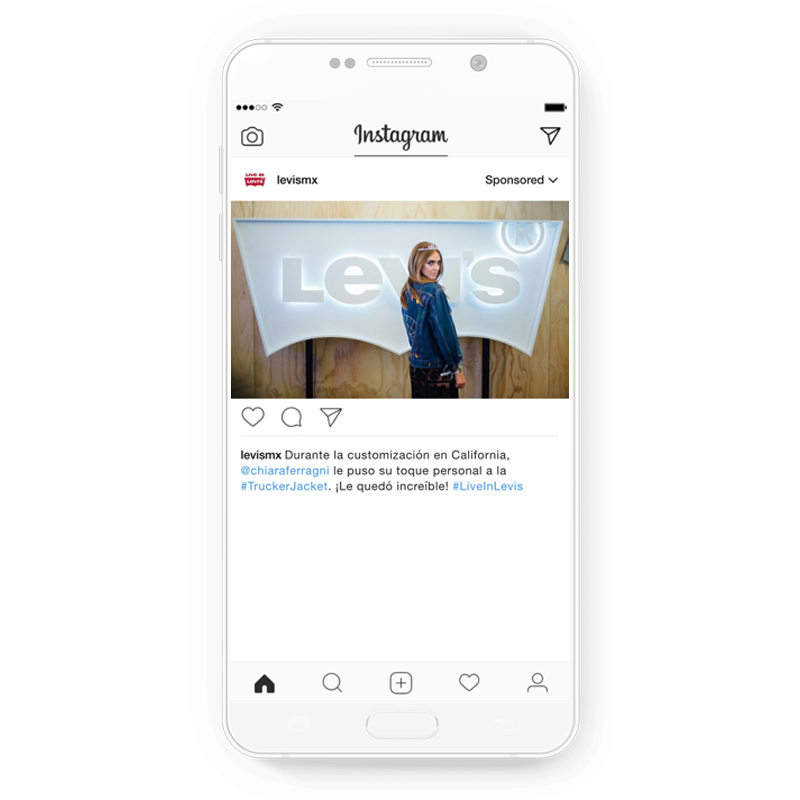 If there is such a thing as the most iconic brand ever, Levi's is definitely in the running for the title. This actually gives them an advantage on Instagram, since their brand image has been built over the last century on the same type of photos they use there.
What they did right: Wanting to increase brand awareness to Mexican young adults, they ran an IG campaign called #LiveInLevis with a series of short, easy to watch videos. According to the Levi's Instagram case study, the cost of video views was 68% lower than other platforms and gave them a 30% boost in sales.
9. PetSmart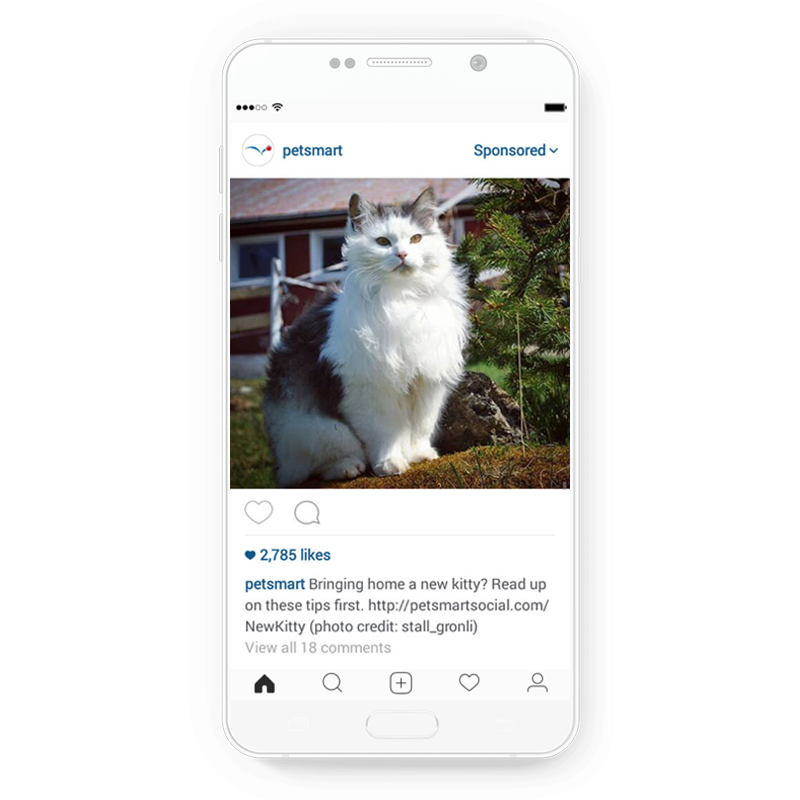 If you leave out selfies, the two images people most often share are animals (usually pets) and food. That makes it pretty easy for food companies to decide what to post, and in this case, PetSmart used this fact to their advantage.
What they did right: They regrammed someone else's image instead of adding their own, which accomplished two things: earning appreciation from their followers (especially the person who posted the original image) and making the post feel more like a natural fit into their feeds rather than an ad of any kind.
10. Apartments.com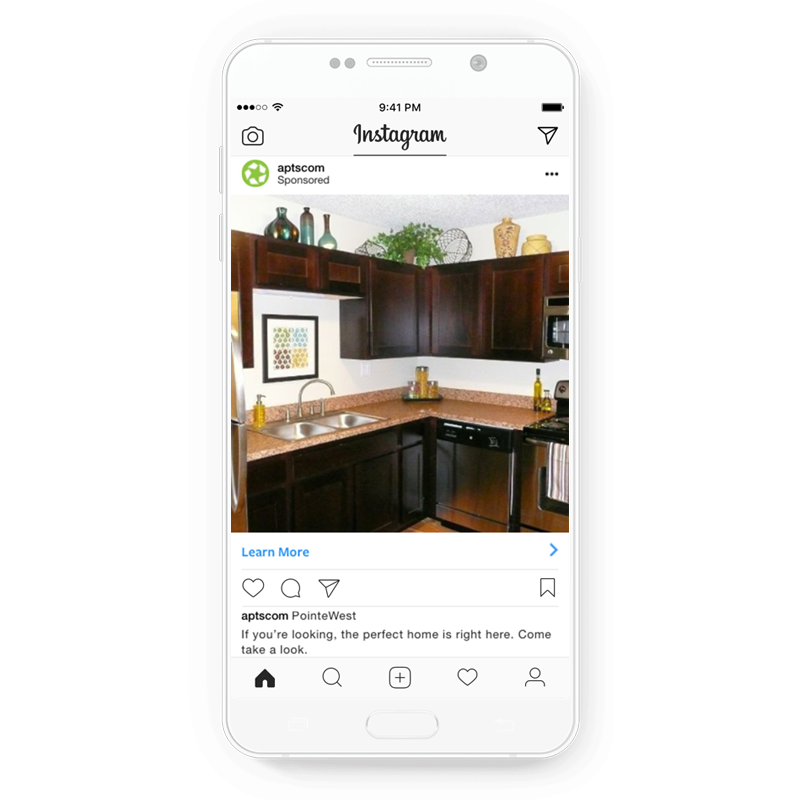 The rental population has boomed since the economic downturn nearly 10 years ago, and Apartments.com has led the way in recent years helping people finding their dream home.
What they did right: The marketing team created dynamic ads and used the Facebook pixel to target an audience in the right areas who had visited their website, providing beautiful pictures of the listings and a "learn more" call-to-action button. They reached 5 million people, lowered their cost by conversion by over 50%, and got a 2.5X return on their ad spend. You can read the full story here.
11. Absolut Vodka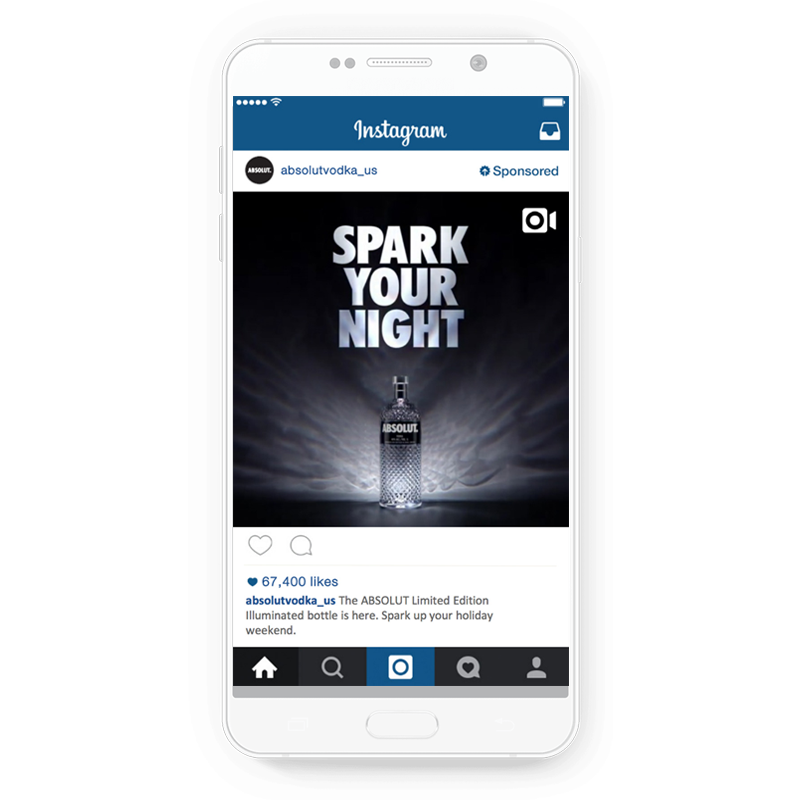 When your product is a century and a half old, you need creative marketing to keep things fresh. The Swedish vodka maker developed a 'Spark' illuminated bottle to house their popular drink, then took to Instagram to raise awareness.
What they did right: They made short video clips highlighting the bottle and encouraging the trendy crowd to "spark up your night", then launched the Instagram campaign on the Labor Day weekend. They achieved a 5 point lift in brand awareness on the platform and a 33 point lift in ad recall - this is how Absolut Vodka did it.
12. KLM Royal Dutch Airlines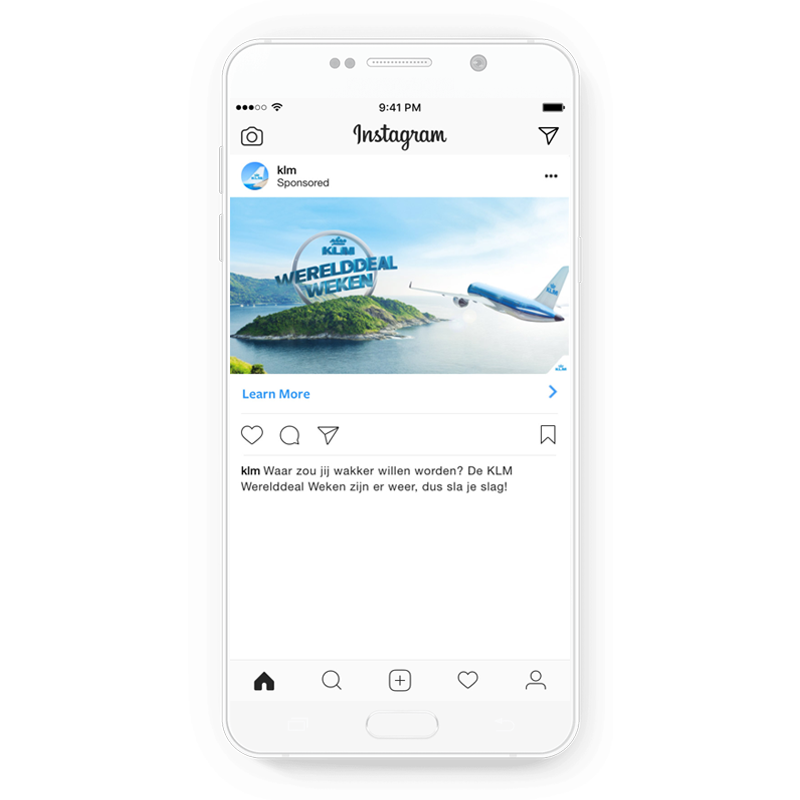 KLM might be the oldest airline in the world still operating under its original name, but it's marketing team definitely has some tricks up its sleeve. The team thought, what if we expand this campaign beyond Facebook? It's a question every company can and should ask. Creativity can be so simple sometimes.
What they did right: When KLM was planning to promote their World Deal Weeks on Facebook, the team decided to see what effect running the campaign simultaneously on IG would have. The result was a 3.8X higher return on ad spend compared to Facebook alone and a reach of 2.9 million people, and that's half of KLM's success story with Instagram ads.
Image Editorial credit: Jirapong Manustrong / Shutterstock.com