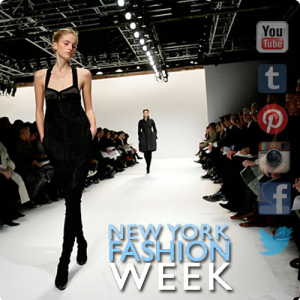 Social media is changing the method and delivery of live event coverage, and Fashion Week is no exception. This week, New York Fashion Week is able to broaden its scope and heighten its immediacy through highly demanded, play-by-play online coverage of shows and events.
This obviously impacts audiences that look to Twitter, Tumblr, Instagram, and Pinterest for current intel about the series of large-scale events that comprise Fashion Week, but also the journalists that cover them. The yesteryears of pre-writing stories weeks in advance to run during Fashion Week and then waiting for collections to arrive in stores to cover them are now replaced by real-time coverage on the runway, behind the runway, and beyond the runway.
In a society that values what and who you wear above–let's face it–much else, people are increasingly turning to social media for fashion tips, latest trends, and general inspiration. Brands thrive on this fact, and compete fiercely against one another for your business. Here are six ways brands are leveraging social media during New York Fashion Week:
1. Pinterest.
Pinterest is launching its own content hub for New York Fashion Week, where brands–designers, retailers, media outlets, and even bloggers–can curate a feed of images and videos across fashion and media. Leading up to the shows, which start this Thursday, users can explore inspiration boards from the likes of designer Kate Spade or Fashion Week wardrobe ideas from the likes of Michael Kors. Then during the event, users can see behind-the-scene shots from brands like Nordstrom or beauty tips from media brands like Elle. Other brands leveraging this hub include Oscar de la Renta, Phillip Lim, Diane Von Furstenburg, Tiffany & Co., Style Network, Harper's Bazaar, WWD, Man Repeller, Zac Posen, and Ralph Lauren. While Pinterest has been used for past Fashion Weeks to preview collections or cover real-time runway shows, it is now more of a platform to showcase the backstory of Fashion Week–that which cannot be seen elsewhere.
2. Twitter.
Twitter lets designers and brands live tweet on any of the goings-on during Fashion Week. To duplicate and exceed last year's success of gaining followers and increasing interaction, brands will promote the use of hashtags such as #NYFW, #MBFW, and #OnlyOnTwitter this year. While designers and media will live tweet on their individual accounts, users can also follow @FashionweekNYC for general and curated coverage across the event. In addition, Milk Studios' MADE Fashion Week will host Twitter Q&A sessions with up-and-coming designers to further engage followers. Some initiatives will integrate Vine into their Twitter outreach, like the #fashioninmotion campaign, where the CFDA, Lucky Editor Eva Chen, and Tim Gunn will share six-second videos of the action, and designers including Rebecca Minkoff, Oscar de la Renta, and Kenneth Cole will capture a series of moments in real time to illustrate how their shows came together for a #behindthefashion series.
3. Instagram.
Instagram is an obvious social media platform for brands to share fashion-related images through period filters to promote inspiration and discovery throughout Fashion Week. Again, hashtags such as #NYFW, #MBFW, and #FashionWeek will assist in user discovery, while Instagram will feature the most popular images daily throughout the event to increase exposure. The Lincoln Center and Milk Studios will also have interactive screens displaying real-time Instagram photos shared with #NYFW and #MBFW. Fashion Week is also doing a "Day in the Life" initiative to give followers deeper insight, where designers and stylists including Rachel Zoe, Michael Kors, Rebecca Minkoff, and Coco Rocha will upload photos and videos from their show day with the hashtage #dayinthelife. Added benefits of sharing Fashion Week photos on Instagram include the chance of their acceptance to the Getty Images library or being featured by the New York Times Fashion Week account at @NYTimesFashion, which has a significant following for coverage.
4. Live streaming.
A number of designers and brands will live stream shows on their individual channels on YouTube, USTREAM, and livestream, allowing people to watch the runway live from anywhere. Additionally, NewYorkFashionWeekLive.com is a one-stop hub providing live streams from the Big 4; private runway shows; celebrity, designer, stylist, and model interviews; as well as shopping. Viewers can watch New York Fashion Week live from one of two channels: MB NY Channel (Mercedez-Benz), and it's sibling MADE NY Channel.
5. Facebook.
Facebook pages have been a great promotional and informational tool for brands leading up to Fashion Week. As a strong example, Tadashi Shoji has been promoting a Facebook live stream of its runway show set for Thursday, September 5 at 2 pm on its Facebook page, as well as a sneak preview of the Spring 2014 collection, and fall trends for Fashion Week. In addition, they have been engaging followers the week leading up to the event through a 7 DAYS 7 DRESSES Sweepstakes, asking for votes on the perfect dress for different occasions for 7 consecutive days for a chance at a dress giveaway. The New York Fashion Week Facebook page has also been publicizing various Fashion Week promotions by different brands, and will cover the events of the week on the page as well.
6. Tumblr.
Tumblr is adding a twist to their Fashion Week approach this year. While in past years, they have sent as many as 20 Tumblr bloggers to cover the event–providing them with access to shows and parties, this year they have also partnered 20 NYC-based bloggers with 20 designers for a 2-week "apprenticeship" leading up to the event. "The goal is to give bloggers deeper access to the designers and the people they work with, hopefully forging relationships that will spark further collaborations," claimed Valentine Uhovski, Tumblr's fashion evangelist. The results of these apprenticeships will be revealed at a gallery exhibit in order to give some offline, physical art recognition in addition to the online.
Fashion Week has historically been a prestigious, exclusive event for industry insiders, other celebrity-status figures, and socialites. It has evolved since then with the advent of blogging and online journalism, but social media has truly transformed the nature of its significance. Social media has broadened the scope of Fashion Week so that any fashion enthusiast can have a glimpse into the event as its happening, without needing an exclusive invitation. The multiplied exposure benefits both the audience and brands alike.
How will you experience New York Fashion Week?
Written by Kiana Basu @ Opentopic