Pay per click (PPC) campaigns have proven to be a reliable way to generate leads for all types of businesses. They work whether you have a small or large budget, they appeal to various markets, and you can even test different kinds of content with a PPC campaign.
The best part is that pay per click (PPC) helps you reach your target audience at exactly the right time if everything is planned and organized correctly. In order to help your business craft a successful campaign, these five optimization techniques will show you how to generate more quality leads.
Generating more leads with these 5 PPC campaign techniques
1. Quality always comes first
Enhancing the quality of your leads also means increasing the quality of your ads. Google AdWords judges your advertisements based on relevance and usefulness to users, this is known as your quality score. By simply logging onto your AdWords account, going to the Campaigns tab and then to the Keywords tab, you can find out how your business ranks. This is important to your PPC campaign because optimizing your quality score will help lower your cost per click. This means you're spending less money for your audience to reach you and who doesn't want that?
If you need help, one of the best ways to increase your quality score is to make sure your business is targeting the correct keywords. Choosing highly competitive keywords in your industry may seem intimidating since everyone is after them, but bidding your way into a high ad position can drive a higher click through rate. Conducting some of your own research on the top keywords may help your business find what it needs.
For smaller businesses, bidding on these highly competitive queries may prove to be too expensive. If this is the case, you need to get creative! Select long-tail keywords that are still relevant to your site to get a lower cost-per-click. Or, you can focus on filtering out your ads from showing by using negative keywords, which prevent your ads from showing against chosen keywords. Do the research for your company to find out what PPC services work best for your specific campaign.
2. Optimize for mobile users
For your PPC campaign to be the most successful it can be, your business needs to optimize its content for mobile users. Search Engine Land reported earlier this year that more than half of all searches are being done on mobile devices, so this type of optimization could double the impressions served on your PPC campaigns. New users may even come across your ad if planned and timed correctly. Here are a few ways to enhance your mobile presence:
Build a great looking landing page
Take a user-centric approach by ensuring that your landing page and website are mobile friendly. This will help traffic and leads because users will be more inclined to interact with your content if it's mobile-friendly. If your intention is to get users to leave an email address, create that opportunity for them at the top of your landing page. If you want customers to make more purchases, make an easy one step checkout process that works perfectly on mobile.
Advertise at optimal times
The same way social media platforms have optimal times to post, there are specific times in the day you want to run your advertisements. Choose focal hours in the day for your desktop campaign and your mobile campaign. Learn when your audience is most engaged on these different platforms by segmenting your data by device and hour of day; you may find lots more clicks from mobile during commuter or office lunch hours, for example. Cater your PPC campaigns to target the right device at the right time. If you know your users will be on their phones before bed, run your mobile ads between the hours of 8pm - 10pm. If you know they use their desktops during the workday, run your ads during work hours.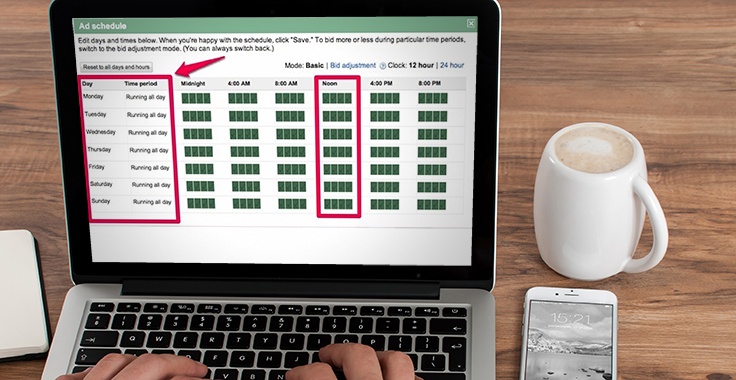 It's easy to get missed in a consumer's scroll through on mobile. Make sure your PPC headlines are punchy enough to grab the attention of users while they skim through the search engine results for your keywords. To increase conversion, include a clear call-to-action in your headline that focuses on resolving your consumers' needs.
3. Retarget and repurpose
There are users who will be on your site for an extended period of time without completing any actions. They didn't leave an email, make a purchase or subscribe to your newsletter. When this happens, one of the best ways to recapture their attention is to remarket them. Users who are exposed to display ads after visiting a website are 70% more likely to convert as leads according to a case study by Criterio.
Remarketing Lists for Search Ads is Google AdWords' way of allowing your business to customize your ads by targeting users who have visited your web pages in the past. This means you are reaching your audience by influencing their search experience. Your bids and ads will correlate to your users' searches in Google and that's where your ads will show up. Let's check out an example:
Tirendo International is an online tire trader who has benefited from Google's Remarketing Lists for Search Ads. They were able to increase their conversion rate 161% while decreasing their cost per order by 43%.
4. Get to know your competition
In all aspects of a business, it's always good to know where you stand amongst your competition. When it comes to PPC campaigns, you can easily view the format, copy and landing pages of your competition. What seems to be the call to action for users? What is the landscape of their PPC landing pages? All of this information is easily accessible to you through the Google search engine results pages and costs you nothing but a bit of time. You can also try using tools like SpyFu that give users insight into their competitor's campaigns including keywords targeted and dollar amount spent.
5. Use Google ad copy for Bing
As stated by Neil Patel, Google has provided a step-by-step guide on how to repurpose your Google PPC campaign for Bing.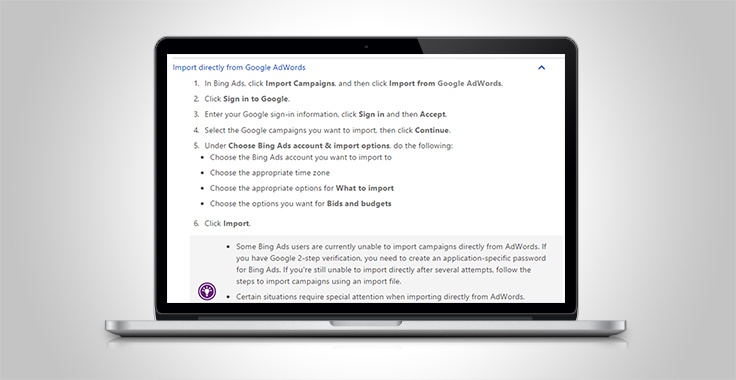 Bing has now reached 21% of the search market, which is a pretty big slice. By expanding your content to the increasingly popular platform, your business can reach an entirely new audience. Bing PPC ads create more opportunities for consumers to find your business. This will not only help generate traffic, but will potentially increase your overall PPC click through rate and conversions as well. Just as you would for your Google PPC campaign, do not forget to monitor your Bing ads.
Just to recap:
Quality comes first - high-quality ads produce quality leads.
Optimizing mobile pages create a user-friendly experience.
Retargeting users will help increase conversions.
Knowing your competition will help you get ahead.
Utilizing your Google Ad campaign for Bing can help your business reach a new audience with little effort.