What kind of information Being able to monitor social media, blogs, and the web at large gives you a wealth of valuable insights about your brand's reputation and other important metrics. Sendible's monitoring tools are possibly the most underrated feature of the social media dashboard, but with some outside-the-box thinking you can use this feature in conjunction with other strategies to unlock information you may have never considered.
How about keeping closer tabs on your competitors? I don't mean just the basics. Of course you should be monitoring your competitor's brand and keywords, but what can you do specifically with that information, and how do you get even more in depth with knowing what they're up to?
Consider this a lesson in legal industrial espionage and customer stealing, er, I mean acquisition.
Facebook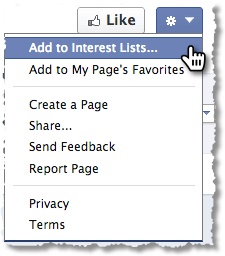 There are several ways to keep track of your competition on Facebook without having to become fans of their pages (why give them the boost?). One is through Facebook Interest Lists. Just as you might add any other interest, you can add their Facebook pages. Make sure to give the list a name for your reference and then choose "only me" under the "who can see this list" option. This will let you see their posts without them knowing it.
Another useful feature built into Facebook's Insights tool is Pages to Watch. You can list a minimum of 5 pages to watch which will give you insights into trends. While they will know someone is watching them, they won't know it's you. This tool can also be used to "watch" your fans and followers. Why? To understand their interests apart from your business. If you see commonalities among a significant number of them, you can add posts that you know will interest them.
Twitter

There are a number of third-party free tools that can give you insights about your competition on Twitter. Tweepi gives you a list of someone's followers so you can follow similar. Sendible's Twitter auto-follow feature saves you the time of having to do that, but what Tweepi can offer you is information on who the most influential people are in that list. Then you can target them specifically. If you gain their support, others will be influenced to follow suit.
Another third-party Twitter measuring tool that can help you compare your brand to others is TwitterCounter. You have to sign up for a price plan to do multiple comparisons and get reports, but you can type in any Twitter handle and get an idea of how that brand is doing for free with followers vs following, how fast they're growing, and more.
LinkedIn
Follow the company pages of your competitors on LinkedIn, as well as the key players in the company. Join groups that they are members of and participate in. Monitor their job openings and job descriptions to get clues as to new directions they may be heading. Much of this can be done directly through your dashboard.
Klout
If you're actually following a competitor's brand or add them to your contacts list in the CRM module of your dashboard, you can see their Klout score there. If not , you can see it on the Klout website. This will give you an indication of their popularity and influence across the web with the sites Klout measures.
Blogs

When you set up your monitoring, make sure that you include your competitors' blog sites. This will give you two different insights. First you can see what they are talking about and possibly learn new news in your industry, but you can also gauge which of their posts get the most likes and shares from their followers and fans. That can help you in crafting your own content calendar to either address stories they find interesting or steer clear of those they don't.
Take Advantage of Their Customer Service
Monitoring the customer service feeds of other players in your industry opens great opportunities for acquiring their customers as your own. Most companies are not very good at social media customer service, so by setting yourself up as superior in that area, you can send tweets to angry or unsatisfied customers and promise them a better experience with you.
Imagine Netflix monitoring a customer service feed for Comcast or Hulu. Noticing a disgruntled customer who hasn't received a reply or a satisfactory resolution, they could simply send them a message - "We take our customer complaints seriously and respond quickly. How about giving us a try?"
Had @hulu for a few months. Thought I cancelled last month, nope. Apparently they have 3 "Are you sure" prompts, not just two. Deceptive.

— Steve (@tierns) January 13, 2015
Between the already powerful information and reports your software already delivers (assuming you're using Sendible) and the additional insights you can glean from these tactics, you should be armed with enough information about your industry and the major players to take actions that will ensure you a higher spot on the totem pole. Now go get 'em, tiger.