When you're managing social media for yourself or your clients, it's easy to focus on creating and sharing content.
But social media is a two-way channel that involves listening as well as publishing. If you want to engage with your audience, then you need to know what they're saying about you and your competition.
That's why we made social listening an integral part of our software.
Of course, you could use each native platform to monitor conversations and reply accordingly, except that can get awkward, and there's always a chance you'll miss an opportunity.
But with Sendible, you can monitor your chosen keywords from the web and social media in one convenient dashboard, saving you oodles of time.
In this social media monitoring tutorial, you'll learn how to use Sendible so you can listen to and engage with your customers and prospects.
How to set up keyword monitoring streams on Sendible
There are two ways to set up keyword monitoring in Sendible.
Use the Profiles tab
At the top of the dashboard, select Profiles and then Add Profiles from the drop-down menu. Then, select Monitoring from the right-hand side menu.


Select the

Add button on

Brand & Keyword

: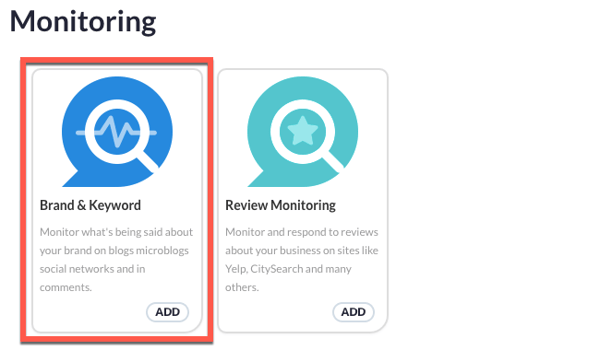 Use the Monitor tab
At the top of the dashboard, select Monitor and then Keywords from the drop-down menu. Then click the New Monitor button.


Select

Keywords

from the popup window: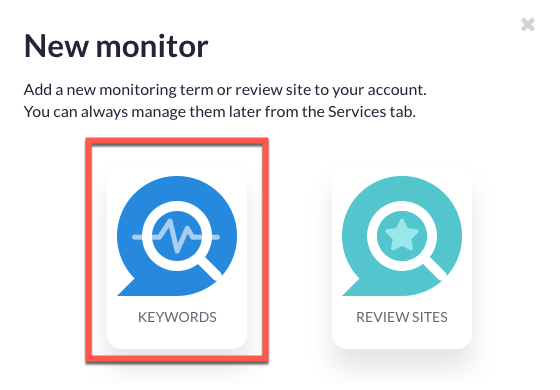 Pro Tip: Keywords versus Review Sites
Use the Keywords option to monitor what's being said about your brand on blogs and social networks.
Use the Review Sites option to monitor and respond to reviews about your brand on sites like TripAdvisor, Glassdoor, City Search, and more.
Please note that Review Sites monitoring is no longer available on Sendible.
We still offer Keywords monitoring as usual.
You can always change your settings later via the Profiles tab.
Whichever option you choose from above, the next step is to enter your keyword monitoring settings. Let's take a look at some examples of what you could monitor.
How to monitor your brand
In this example, we'll set up basic monitoring for the keyword 'sendible'.
Start off by choosing a meaningful name for the 'Description' field. It's purely for reference and is how the stream will appear in the dashboard sidebar afterward. Next, enter your keyword in the 'Has one of these terms' field. You must enter at least one word or phrase, but you can use multiple words and phrases separated by a comma:

The next setting you need is the Google Alerts Feed. You can use the Google Alerts RSS Feed to get the latest relevant web results from Google based on your keywords. Click the 'Google Alerts Feed' link below the input field box:

This opens the Google Alerts settings in a new window. Click the Show Options, and be sure to set the 'Deliver to' field as 'RSS feed'. Then click the Create Alert button: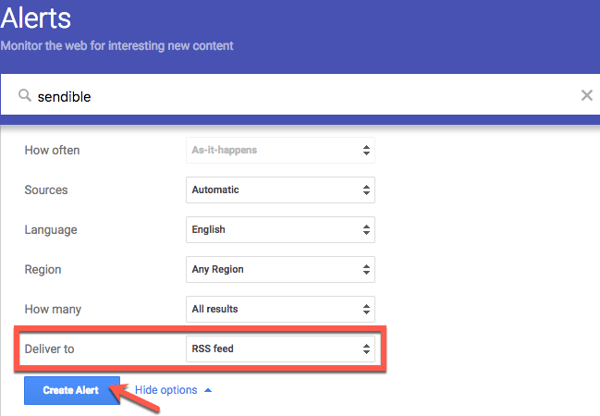 Now in your list of Google Alerts, click the RSS Feed icon next to your keyword: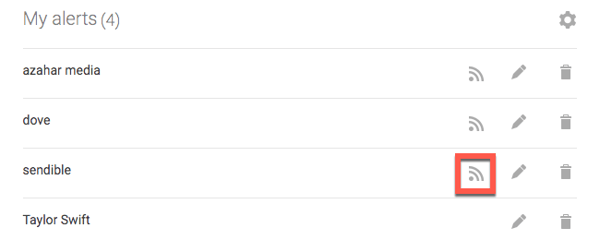 Copy the RSS URL:

And then paste it in your monitoring settings:

Next, decide how often you want to receive Email notifications of your brand mentions:

Pro Tip: You can choose to send the notifications to one or more email addresses.
If you don't enter any email addresses, you won't receive any notifications!

Finally, remember to save your settings.
Back in the central dashboard, Sendible starts collecting mentions of your brand keyword:

Now you have a feel for how to use the keyword monitoring settings, let's take a look at another example.
How to monitor your brand when it has the same name as another brand
Not all brands have exclusive names. For instance, the brand name Dove might refer to a range of skincare products, a chocolate bar by Mars, a bird, or even the actress Cameron Dove.
In that situation, you'll need to utilize a couple more settings to ensure you only monitor for your chosen brand keyword.
Here's how to monitor for the Dove skincare products.
As well as entering the keyword 'dove', you need to include the word 'skincare' and exclude the words 'chocolate', 'bird' and 'actress' in the next two settings.
Enter 'skincare' in the 'Has any of these words' field. And then enter 'chocolate, bird, actress' in the 'Doesn't have these words' field:

After that, you can add your Google Alerts feed as above. And then save your settings.
Now in the central dashboard, the results show only references to Dove skincare products: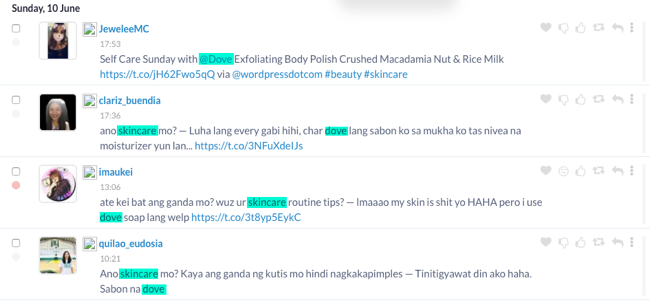 Now you know how to track your brand, even if it has a familiar name. But how do you check for good and bad feedback about your brand?
How to monitor for brand feedback (good and bad)
Sendible applies a sentiment - Positive, Neutral, Negative - to each keyword mention it collects. Each mention is color-coded:

You can also filter the results by sentiment:

And you can adjust the sentiment if required:
There's also a trending sentiment chart. Click Show Chart to reveal the graphs:

However, you can also set up some specific positive and negative keyword monitoring, so there are separate streams in your dashboard.
How to monitor for positive feedback
Start a new keyword monitor, name your description, and enter your brand keyword. Then enter positive words such as 'love', 'great', and 'excellent' in the 'Has any of these words' field and enter negative words like 'bad' and 'poor' in the 'Doesn't have these words' field: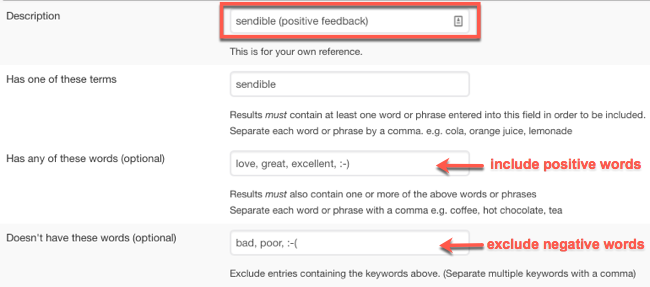 Create a Google Alert if you wish, and then save your settings.
In your dashboard, you'll only see results that include 'sendible' plus 'love' or 'great' or 'excellent':

How to monitor for negative feedback
Now repeat the steps above, but this time swap the included and excluded words around like this: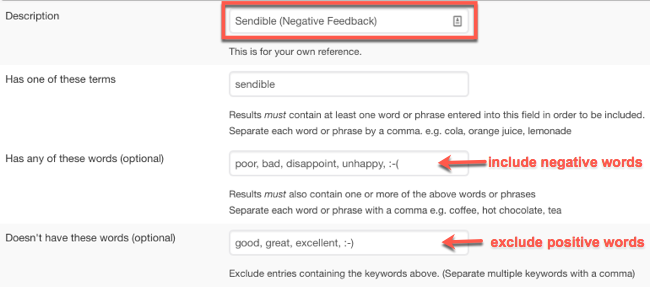 With separate monitoring streams, it's easier to check good and bad feedback based on your terms. And you could even assign each type of feedback to a different team member via email notifications.
How to monitor your competitors
It's good practice to keep an eye on your competition. You can check to see what they're doing well and also check if they're receiving some negative feedback. For instance, you could monitor terms like 'can't' or 'won't' alongside a competitors brand name to identify their customer pain points. Here's how you can set it up.
Start a new keyword monitor and enter a description. Next, enter one or more competitors as the keywords you want to monitor. For example, competitors of Dove skin care are Nivea and Olay. And then add the terms 'can't' and 'won't' in the 'Has any of these words' field:
And here's what the competition results look like:

Identifying a competitor's pain point gives you an opportunity to approach a disgruntled customer and engage with them. You might even have the chance to show them how your client's brand would benefit them.
Power user tip: Adding phrases that include 'of', 'and' or similar restrict the data which is being pulled in the monitoring section. Use these only if your results are too broad.
How to monitor for relevant industry news
You can also use Sendible to monitor relevant industry news, and stay up to date with the latest trends.
There are two ways to achieve this:
Option 1: Use the Monitor tab
Start a new keyword monitor and enter a phrase you want to check. For example, at Sendible we might want to monitor for key phrases like 'social media management', 'social media scheduling', 'social media reporting', and 'social media listening'.

Option 2: Use the Content tab
From the Sendible dashboard, select Content and then Feeds:

Then select New Feed and Google Alerts:
In the popup window, enter your search term using the hints and tips below: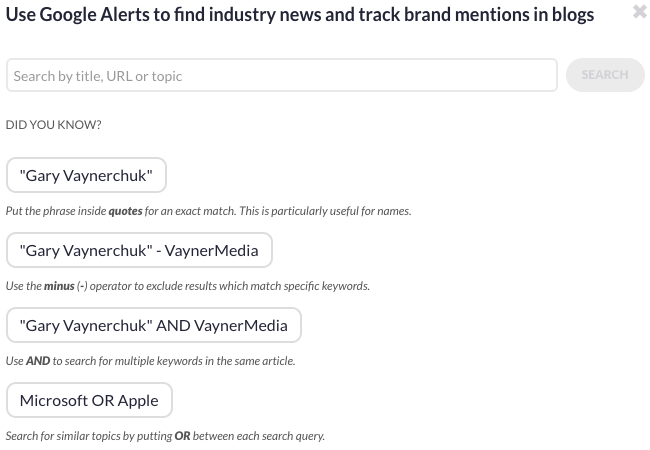 For example, when you enter the phrase "social media management" (inside quotes), Google News informs you to expect an average of 51 articles per week:

Click Add Feed to confirm your selection:

Now you can review the industry news for "social media management" from Google in your dashboard: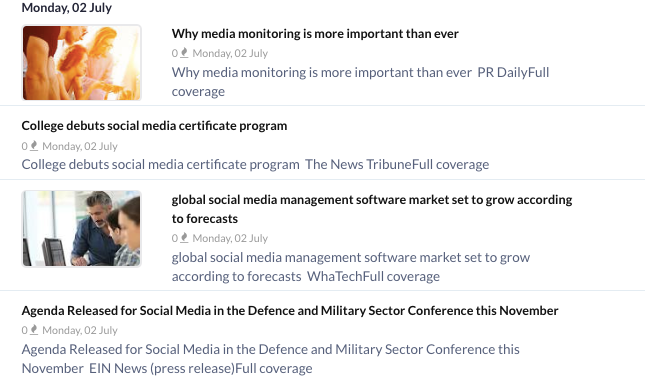 Whichever option you prefer, you can stay updated on your chosen industry news stories and use them to curate content for your clients.
Quick recap
Sendible allows you to monitor various keyword combinations so you can:
Find your brand mentions
Exclude 'same name' brand mentions
Discover negative and positive brand mentions
Check your competition
Search for relevant industry news
For more listening tips and tricks, check out our article on other ways to use social media monitoring.
Wrapping up
Using Sendible for social media monitoring lets you track your brand, your competitors, and relevant industry news. It's a great way to identify new leads and delight your customers with a quick reply via social media.
Feel free to ask any questions about our monitoring tutorial or features in the comments.