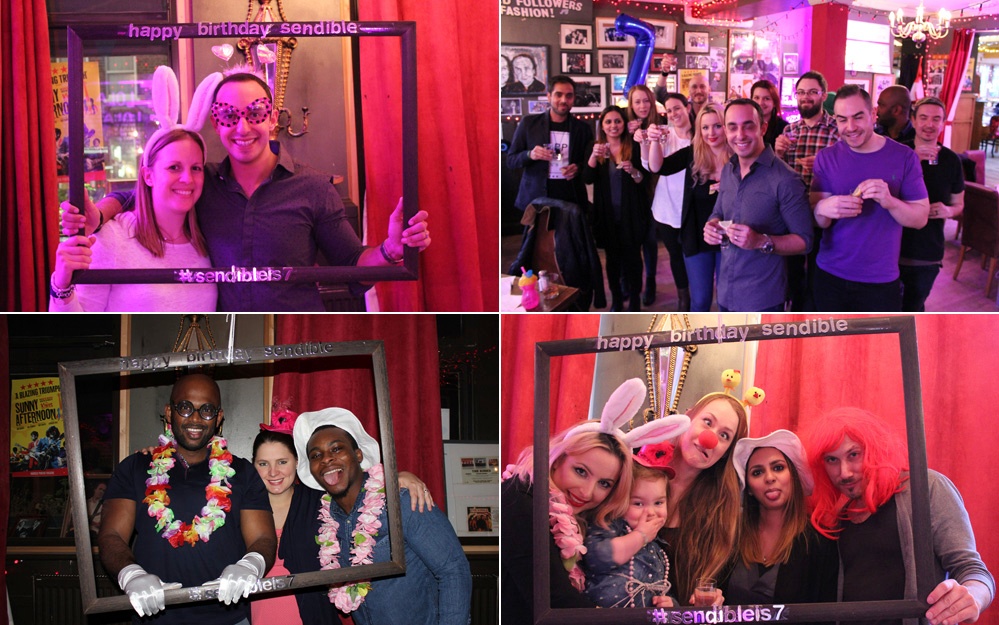 Our social media management tool turned 7 just a month ago, so we decided a good party was in order. We celebrated with family and friends, and of course, with lots of food, giggles and drinks. We even had a completely custom-made Sendible themed cake with edible social media icons and team member photos - what a fun and inspirational party it was!
Lots of photos have been uploaded to our Facebook album too, so have a look and feel free to comment on the funniest picture. All team members at Sendible are a fun bunch, but we are also united in our dedication to making our tool as good as it can possibly be (more on that below).
Bits of our inspiring story
How did Sendible come to be and how did it become one of the leading social media management tools available today? Well, it all started when our CEO and founder Gavin Hammar decided to quit his day job and take the big leap into becoming an entrepreneur. "Sendible was first launched in 2009 on a server that cost me £10 at the time. To think that Sendible has grown to have over a hundred thousand active users worldwide and a team of almost 20 without outside funding, it does feel like a big achievement". If you still haven't heard our history, click below and read this interview with Gavin about how it all started (great throwback images - guaranteed).
http://sendible.com/insights/leading-social-media-management-software-turns-7/
Doing more with our time as marketers
At the party,
Gavin gave a speech
to thank the team and its core members, but he also took the time to emphasise just how important it was for him to build a tool that would save time for professionals all around the world, all so that they could do more with their time, more things that truly matter.
"We are all committed to making a difference in the world and creating tools to give our customers freedom. Freedom to do more with their time!" - Gavin Hammar
Social media gives business owners, entrepreneurs, established as well as upcoming brands a massive opportunity to reach out to a global audience, often even on an international scale. But to manage your presence online manually takes a lot of time and there are so many variables and things to consider. Being able to schedule your posts in advance, to manage the effectiveness of your campaigns and to have a range of time-saving functions like setting up keyword-based searches, should all be a given (that's where our tool comes to the rescue).
What's next?
Our team almost doubled in the past two years as more and more talented team members join the Sendible team. Looking forward, we expect great things.
We are continuously testing and improving Sendible as a social media management tool, from small updates on key features like monitoring to more major ones such as the new look of our dashboard menu. These features are usually released on a weekly basis and we keep you up to date via messages in the application as well as our blog (be on the lookout for Feature Friday or Feature Focus posts).
Our customers are essential to our success, so please feel free to comment and suggest ideas of what would you love to have when working with social media.
In the meantime, here's to the next 7 years and the excitement at seeing where it will take us!