We already know that videos generate more engagement than photos on social media. But in a world where we crave instant entertainment, there's another visual content format that increases engagement.
The humble GIF.
You can use GIFs in social media posts and ads to catch the attention of your audience and increase brand awareness.
Although they're often funny and informal, they can be used for quick illustration purposes, too. And because they're lightweight, they're ideal for mobile as well as desktop.
For an in-depth guide to using GIFs for business, including tips on how to make your own, keep reading.
Overview: Guide to Creating GIFs for Business: From Sourcing to Creating Your Own
A brief intro to GIFs
Before we go any further, let's not get into an argument on how to pronounce GIF. While some favour the hard 'G' like 'gift', others prefer the soft 'J' like 'giraffe'.
Either way, GIF is the acronym for Graphics Interchange Format that was introduced by CompuServe in 1987. Its limited colour palette and compressed file size made it ideal for downloading colour images on slow modems. (If you're old enough to remember dial-up modems, you'll know what I mean.)
Nowadays, GIFs are predominantly used for small animations and low-resolution video clips that loop endlessly. And that's what we're focusing on in this article.
Inside, you'll discover where to find and create GIFs before sharing them on your client's social media accounts.
Why use business GIFs on social?
There are so many reasons why utilising GIFs on your brands social media channels is a worthwhile idea.
GIFs can help boost engagement
Not only do these short clips look great on a brands social media feeds, they're also useful for increasing engagement. In fact, the average engagement rate for a post that contains a GIF increases by 20% for a B2C brand and 10% for a B2B brand.
GIFs are mobile friendly
With 91% of consumers entering social media sites via mobile, there's something to be said for choosing to fill your brands feeds with GIFs that play automatically, over long, clunky or slow loading videos.
GIFs can help your brand display personality
Whether you're using GIFs to celebrate social media holidays, or provide ace customer service on social, one things for sure, it's so much easier to show individuality and flare with GIFs than it is with words or still images. Ultimately, experimenting with interactive GIFs on your feeds helps to bring variation to an otherwise boring timeline.
Now that you know the power of using GIFs on your brands social media profiles, what are you waiting for?
>>Pro Tip>> You can schedule GIF posts to Facebook, Twitter and LinkedIn through Sendible.
How to find GIFs
Although GIFs provide great visual content, they're not always easy to locate.
You know that feeling when you're creating a post, and you remember a GIF that fits, but you can't find it. We've been there, too.
So, in this section, we'll show you how to find the right GIF for the best impact.
How to find GIFs on Google
You can search for GIFs on Google using their Image search:
Enter your search term, e.g. football.
Click on 'Images'.
Then click 'Tools' to reveal a submenu.
Select 'Animated' from the 'Type' drop-down.

Note: Selecting 'Animated' from the colour selection filter boxes below results in cartoon animation images: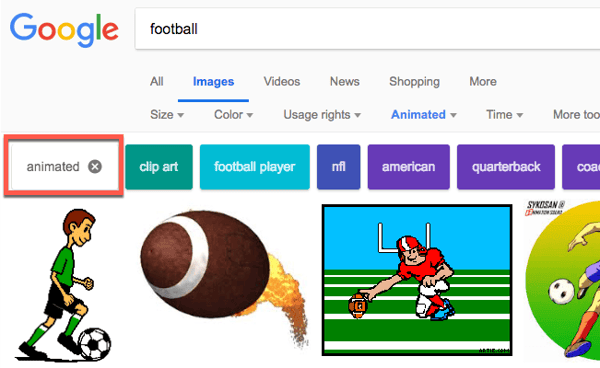 Tip: You might want to select images that are 'labeled for reuse' from the 'Usage rights' drop-down selection to avoid any copyright infringement: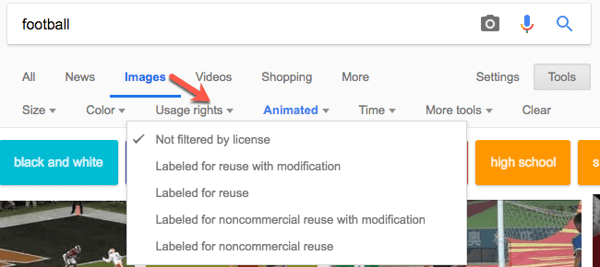 How to find GIFs on Twitter
Twitter has a library of GIFs (courtesy of their partners at GIPHY and Tenor) to save you time searching the web:
Click the Tweet button to compose a new tweet.
Under the message box, there are options to add an Image, GIF, Poll, or Location to your Tweet.
Click the 'Add a GIF' icon.
Search for your topic or select from the categories.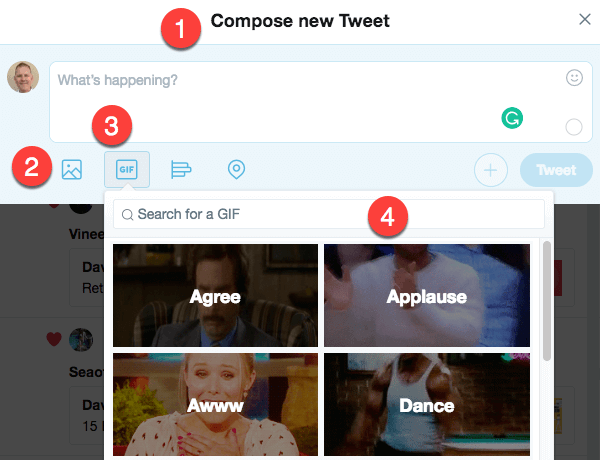 How to find GIFs on Facebook
Facebook also has a library of GIFs:
Create a new post.
Click the three dots (ellipsis) for more options.
Select GIF from the options.
Search for your topic or select from the trending GIFs.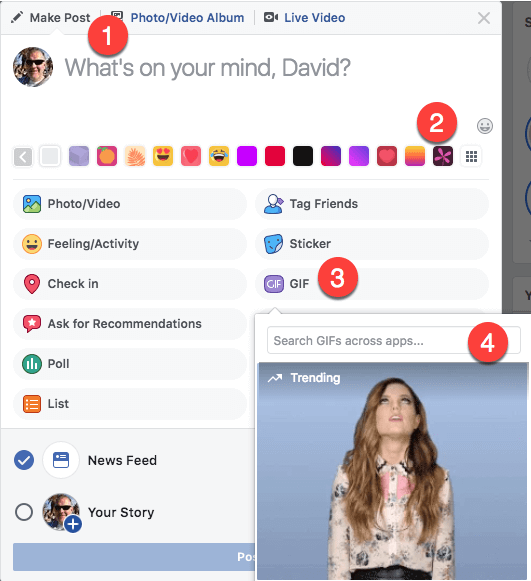 How to find GIFs on Instagram
Instagram isn't too keen on GIFs. In fact, they prefer looping videos created with their Boomerang app. However, they do allow you to search for and add GIF Stickers (via GIPHY) to the images or videos in your Instagram Stories:
Select a photo or video to add to your Story.
Tap the 'Sticker' icon.
Select the 'GIF' option.
Search for your topic and select your GIF sticker.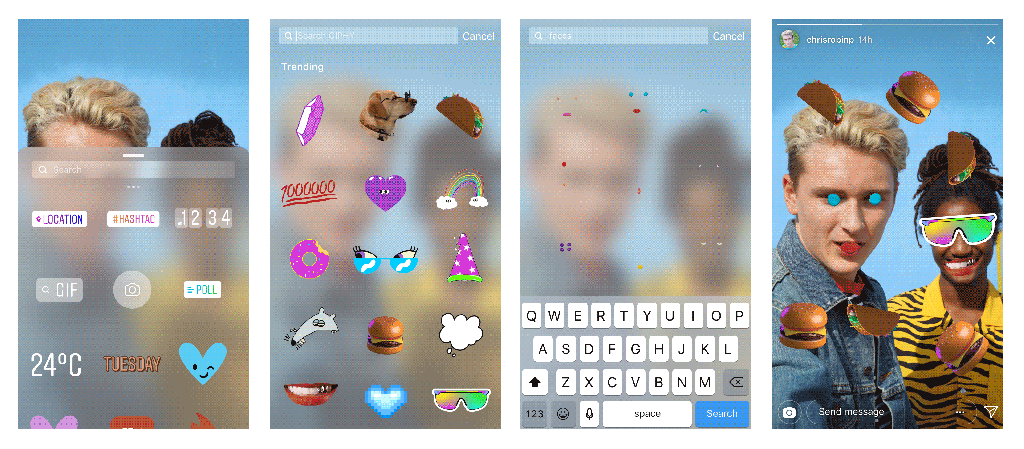 Where to find GIFs elsewhere on the web
Aside from Google and social media platforms, you can also find GIFs on dedicated websites. Here are three excellent sites to check out.
1. GIPHY
GIPHY is probably the top source for GIFs, including Animated Stickers. It's already been mentioned in conjunction with the social networks above, but you can access it both through Sendible's GIPHY integration and directly to source your choice of GIFs from their vast database. You can:
Select categories from the menu bar - Reactions, Entertainment, Sports, Stickers, Artists
Search by topic or enter a verified '@username + tag' into the search bar:

Use the drop-down Categories selection: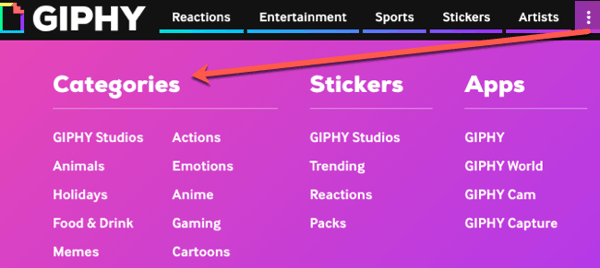 The home screen includes a selection of 'Trending Now' GIFS, but you can also find Funny GIFs, Reaction GIFs, and more in the full list of GIPHY categories: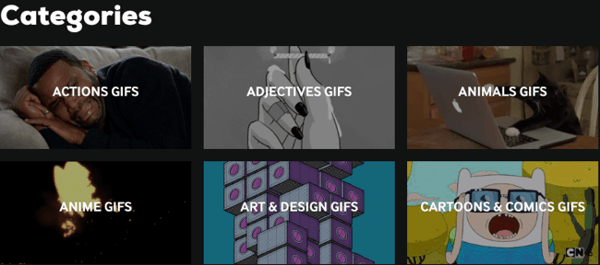 Although creating and posting GIF's using Giphy can be fantastic for your clients social media accounts, it's important to remember that as per Giphy's Terms of Use, you can't use their copyrighted content for your own commercial gain - i.e to create paid ads. Happy Giphy-ing!
2. Tenor
Tenor is another online GIF search engine, referenced above as a partner with Twitter and recently acquired by Google. It provides GIFs for desktop, plus GIF keyboards for Android and iOS.
Like GIPHY, you can search Tenor's online database in multiple ways:
Enter your search terms in the search bar at the top of the page: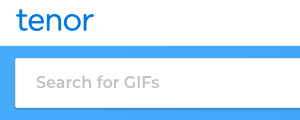 Check the Trending Searches:

Search the Trending GIFs: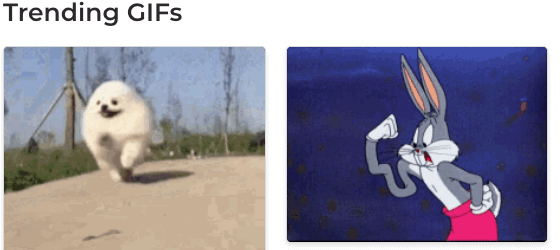 3. Reddit
Reddit is different to GIPHY and Tenor because it is a user-moderated platform. Therefore, you'll have to take more care when selecting a GIF to make sure it's suitable for business use. Reddit has many GIF-related subreddits including:
Plus, there's also a Top-250 List from the High-Quality GIFs subreddit that's worth checking.
How to create GIFs
If you can't find the perfect GIF, you can always create your own. You don't have to be a graphic designer to create a GIF as there are plenty of apps and tools that are easy to use including GIPHY, Make A Gif, EZGIF, and gifs.
There are several ways to make a GIF from photos and videos, so let's examine each method.
How to create a GIF from photos
In this example, we've used the online tool, Make A GIF.

Choose which photos you want to upload:


Note: You'll need at least two photos to create an animated GIF.

Edit the GIF:
a) Set the animation speed.
b) Add a caption and a sticker, if required.

Finalise your settings:
a) Give your GIF a title, category, and tags.
b) Select your preferred listing - private, public or link only.

Download or link to your GIF: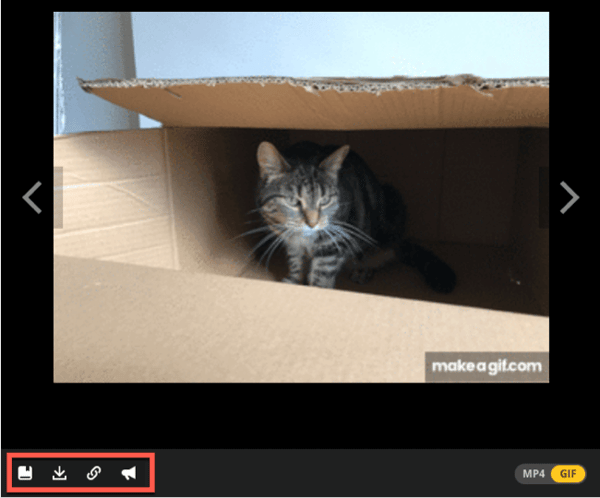 Note: the free version includes their watermark. Upgrading to a premium account removes it.
Here's the result: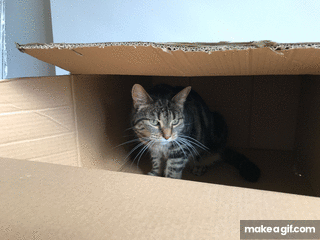 How to create a GIF from a YouTube video
In this example, we've used the online GIF Maker app from GIPHY.
YouTube videos are usually too long to use on social media. But you can take a slice of the action and convert it into a smaller-sized GIF using online tools.
Here's how to convert 'one cat and a cucumber clip' from this YouTube video into a GIF.
Head to GIPHY and click 'Create':

Add the URL of the YouTube video you'd like to convert into a GIF:

Trim your video by selecting the Start Time and Duration:

Embellish your GIF with a Caption, Stickers, Filters or Drawing, if required:

Add hashtags to your GIF so people can discover it:

Upload your GIF to GIPHY, so it's ready to share:

Share or download the GIF using one of the options:
Click 'Copy Link' to get a link for your GIF so you can share it in your social media posts.
Use the 'Embed' code to embed the file on your blog or website.
Use the 'Share It' buttons to share straight to Facebook, Twitter, or Instagram.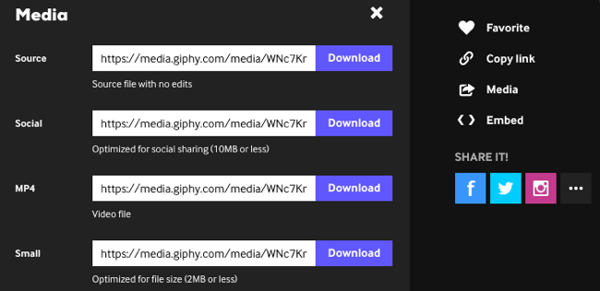 Here's the result:
How to create a GIF from an existing video
In this example, we've used the online GIF Maker app from GIPHY.
This time, instead of selecting a YouTube video, we've uploaded an existing MP4 video. (It's a screen recording made using the built-in iOS screen recorder.)
Choose your original video file, and then follow the same steps as above to edit and create your GIF: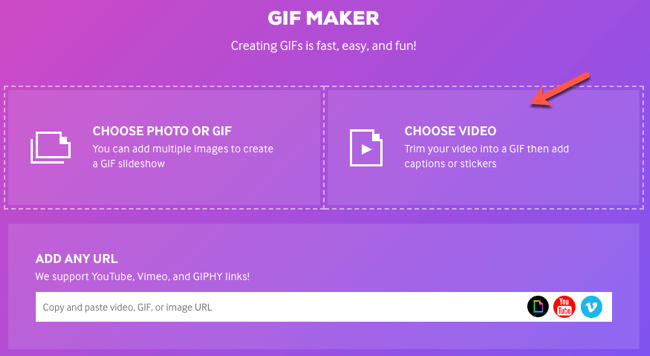 Here's the result:
How to create a GIF screen recording
In this example, we're using the GIPHY Capture app for Mac.
Earlier in this post, we showed you the four steps required to find a GIF on Facebook. But sometimes it's easier to illustrate steps with a short video, and GIFs are perfect for that.
Download and launch GIPHY Capture from the Mac App Store:

You'll see a recording overlay screen (light green filter colour) outlined in red below:
a) Resize the recording screen to the size you want to capture.
b) Press the red button to start recording and press it again to stop.
c) Now you have your recording in the tray at the bottom.


Click to open the recording and use the Options to start editing:
a) Adjust the start and stop points by dragging the handles.
b) Customise the Loop Type - Normal, Reverse, Ping Pong.
c) Change the Pixel Size - Original, 640px, 480px, 320px.
d) Select the Frame Rate - Standard, HD, High, Low.
e) Add Captions if required.

Pro Tip:

Click the blue

'Calculate size'

link to check how large your GIF is. (See the recommendations later on for each social network.) And make sure the

Duration

is under 15 seconds if you want to upload it to GIPHY.
Save your GIF locally or upload it to GIPHY:

From there you can share the GIF on social media or embed it on your website:



How to create a GIF on mobile
In this example, we're using the GIPHY Cam app for iOS.
Mobile apps like GIPHY Cam let you make GIFs on your mobile phone and publish them straight away. It's a simple 3-step process:
Launch the app and record your GIF by tapping the photo button to take a short burst of photos.
Apply optional filters, stickers, and text.
Save your GIF and share it via social media or save it to your Camera Roll for later.
Here's a GIF we created and published on Instagram:
Note: Instagram doesn't allow GIFs, so GIPHY Cam posts a looping MP4 video instead.
How to create a GIF with Photoshop
For those of you familiar with Photoshop, then we recommend following this thorough step-by-step tutorial from HubSpot on how to create an animated GIF.
Best practice for sharing GIFs on social media
Now you know how to find and create GIFs, it's time to start sharing them on social media.
But before you start posting, here are some recommended tips for each platform.
Sharing a GIF on Facebook
You can use GIFs when you publish a post to your Facebook Page. Or if you're running an ad campaign, you can upload them via Ads Manager. For best results, Facebook recommends:
Choose high-quality animations.
Use subtle motion.
Use a link ending with '.gif'.
Use a GIF with a file size less than 8MB.
Use a GIF with less than 20% text on the image.
Sharing a GIF on Twitter
You can add a GIF to your Tweet when you compose a new message. Click the camera button icon to upload a GIF from your computer or enter the GIF URL in the message box. For best results, Twitter says:
Use looping GIFs. If your animated GIF doesn't loop and plays a single time, it will display as a static image.
Use animated GIFs up to 5MB on mobile, and up to 15MB on the web.
Use only one GIF per Tweet. Animated GIFs cannot be included in Tweets with multiple images.
Use a link ending with '.gif'.
GIF attachments do not count towards the character limit in a Tweet.
Sharing a GIF on Instagram
As mentioned earlier, Instagram doesn't allow you to post GIFs aside from adding stickers to your Instagram Stories.
However, you can post videos. And GIPHY has a quick solution to convert any GIF into a perfectly looped fifteen-second MP4 video file for you to share on Instagram.
Sharing a GIF on LinkedIn and Pinterest
At this time, sharing GIFs is not possible on LinkedIn as the network also prefers .mp4 video formats. Pinterest supports GIFs but these only play when you preview each pin so you must make sure it looks good as a still, too.
Final thoughts
GIFs cover that middle ground between still images and full-action videos. Their short, animated movements are just enough to catch people's attention and increase engagement on your client's brand.