Google Alerts is a content change detection and notification service, offered by the search engine company Google, that automatically notifies users when new content from news, web, blogs, video and/or discussion groups matches a set of search terms selected by the user and stored by the Google Alerts service.
Just as unexpectedly as Google turned off support for RSS Feeds of Alerts when they closed their Google Reader product back in June, today it appears that they have turned them back on.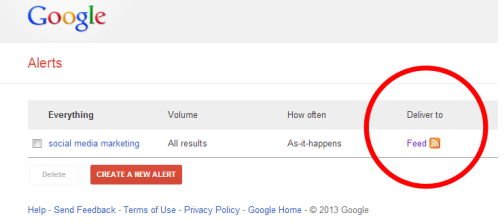 Login to your Google Alert account. Either create a new Alert and select the Feed option under the "Deliver To:" drop down, -or- go to your Manage Alerts page and edit a specific alert to change the Deliver To option.
Using RSS feeds in Sendible:
Monitoring:
Head over to Add/Edit Services > Monitoring > Brand and keyword Monitoring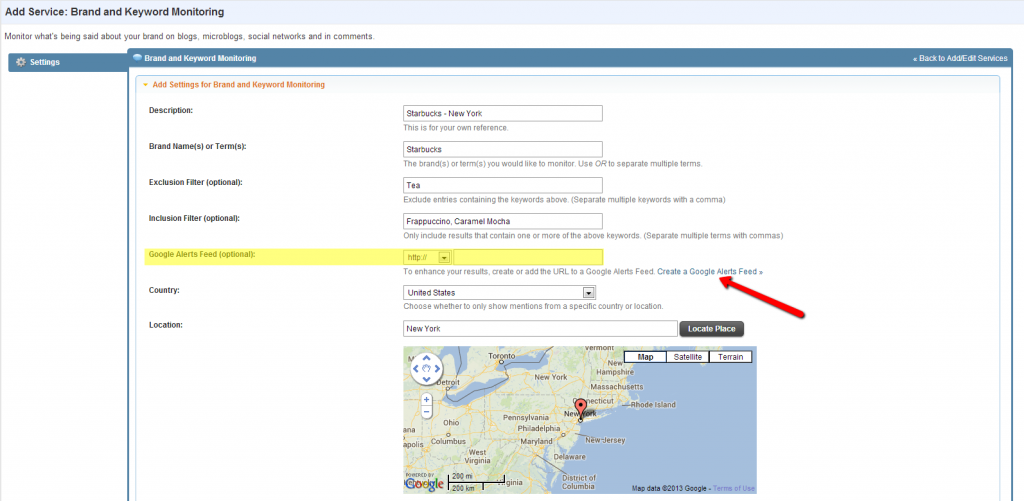 Click 'Create a Google Alerts Feed' »
> Now, in a separate browser window, login to your Google Alerts
> Make sure that where it says "deliver to", you change that to say "Feed"
> Now, while pointing at/hovering over the orange RSS icon to the right of the words "Google Reader", right-click, and select "copy link location" (note: don't choose "copy image location" by mistake)
> Click back to the Sendible browser window, and "paste" that link into the Google Alerts feed field. The link should look like this: http://www.alerts/feeds/##########, where # represents a bunch of numbers.
>Now, click to the beginning of this feed address, and delete the http://, since Sendible already has this selected for you in the previous box.
Finish setting up the rest of your monitoring term with geo targeting and exclusion and inclusion if needed to narrow search parameters.
And you're done.
Feeds:
You can also add RSS into Sendible's dedicated 'feeds' section. Here you can generate a list of RSS feeds and easily click to post/schedule links to your social networks.
Message Box > feeds