Brilliant news! As of September 2018, tagging Facebook Pages is once again available on Sendible. We introduced Facebook tagging back in 2016, but this feature was temporarily taken away from all developers due to Facebook's efforts to tighten its rules after the Cambridge Analytica scandal.
We are glad to announce that this feature is now back, and it's better than ever!
You can now tag business Pages for Facebook and LinkedIn, in addition to Twitter. Plus, hashtags for Twitter and Instagram now display search volumes!
With social media platforms becoming increasingly pay-to-play, any small adjustment to your organic posts can make all the difference. The ability to tag other pages and using hashtags is a great way to increase your reach, so implementing our new tagging features was an important task for our team!
Tagging Pages is available to all users on all plans--all you need to do is have an active Sendible account, add your social media pages and off you go!
It's easy to tag a Facebook Page on Sendible:
Open the Compose Box.
Select your Facebook Page.
Type '@' followed by the name of the Page (make sure to include spaces).
The drop-down selector will appear providing a selection of Pages or Locations to choose from.
Click on the correct name to tag the Page (repeat if you want to tag multiple Pages).
Follow the same steps when tagging profiles on Twitter or Company Pages on LinkedIn.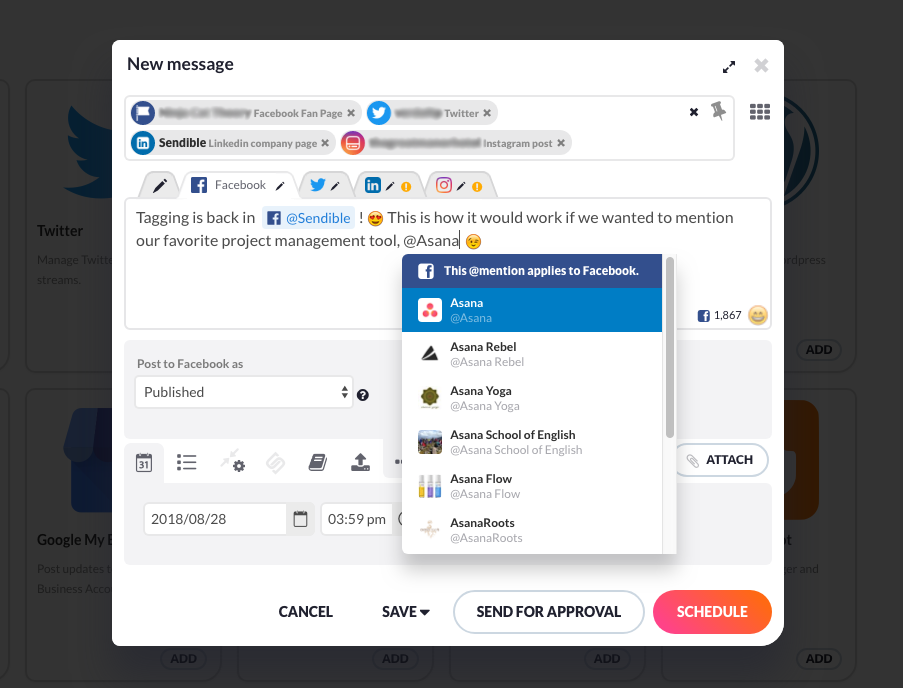 Does tagging work on multiple social media profiles?
The answer is: Yes! With the introduction of Smart Posts, you can now tailor your posts to each social network with Sendible. This includes tagging profiles and using the right number of relevant hashtags (for example, using more on Instagram than Twitter is standard practice).
Simply start composing your message, select the networks you'd like to schedule your post to, and start editing each tab! 👏
Tagging profiles is available for: Facebook, LinkedIn, Twitter and Instagram

*.

Hashtag search volumes are available for: Twitter and Instagram.
*Tagging profiles works slightly differently on Instagram. You can still tag the right username, however, there will be no drop-down profile selector.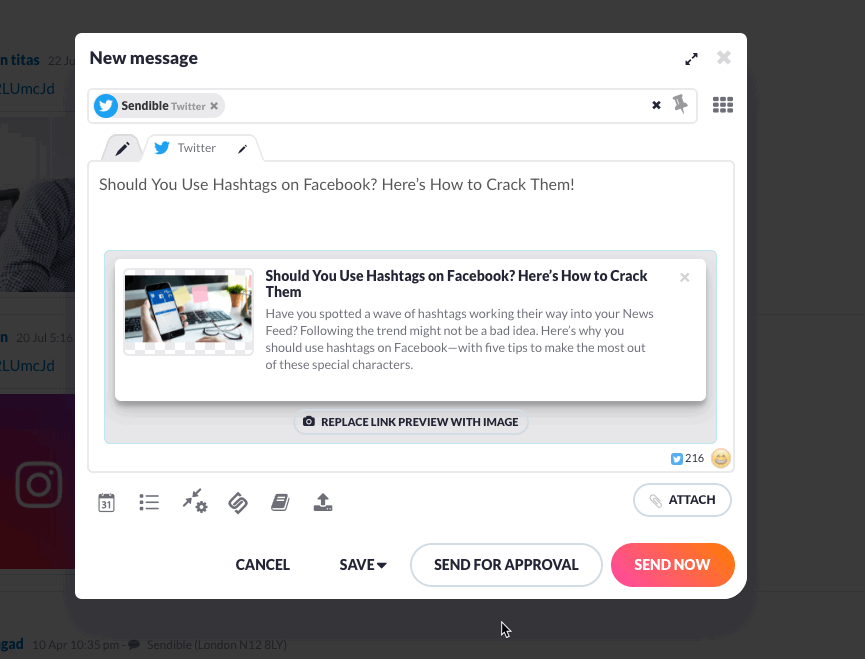 A few tips on tagging pages and using hashtags in Sendible
To prompt the drop-down selector in the Compose Box, start by typing the '@' symbol followed by the name of the page or profile (including spaces).
When tagging a profile or page without selecting the network, we will always display the list for matching Twitter profiles first.
If you select multiple networks in the Compose Box and then attempt to add a tag in the 'Original' tab, a short notice will appear, advising you that the tag will default to Twitter.

Please note that Facebook tagging works only when posting to Facebook Pages (not personal profiles) due to privacy restrictions and Facebook's API.
The same rule applies to LinkedIn--it's currently possible to tag Company Pages, not personal profiles.
There's an art to using Twitter hashtags correctly--check out our blog to learn how to find and make the most of them.
According to our recent research, it could be worth experimenting with using hashtags on Facebook. Why not give that a try?
We hope that you benefit from these new tagging features in Sendible! Using @tag mentions is a great way of linking to other brands and endorsing businesses you work with. It is equally good for influencers and industry experts who have pages on Facebook, LinkedIn or Twitter.
The same goes for using hashtags which can greatly help with content discovery and any brand-focused social media campaigns you decide to run!