Social media stops for no one, and for a social media manager, it can seem like there is more content to schedule than there is time to schedule it!
Our bulk importing feature is a huge time-saver because it allows our users to upload up to 300 social media posts at a time.
By uploading in bulk, efficiency is maximized and teams are able to keep their content schedules rich and full:
What are the benefits of bulk scheduling approvals
Sometimes writing mass amounts of copy and pulling links in bulk leaves more room for error. What about the junior members of your team or the fresh batch of summer interns?
Every team member is a valuable asset, but sending out error-free, consistently branded posts is a priority.
As part of continuously improving our tool, we have added an 'Import for Approval' feature to the Bulk Importer, which is now live across all Advanced and Pro plan accounts. Any staff or interns that write content can send posts to a designated team member to get approval before they're scheduled.
Think about it: Your team is busy creating content for a campaign that expands across multiple social media channels. Every tagline needs to convey a certain message, each image should coordinate with the others and all of the links have to be correct.
Bulk scheduling is the best way for each individual to import this amount of posts, but what about brand consistency?
With multiple team members working on the same campaign, potentially in different offices, the margin for error is high. Having these posts filtered through an approval process keeps strong, consistent branding at the heart of each campaign.
When there was no opportunity to send posts for approval, the manager or team member needed to manually go into drafts to approve posts or cross their fingers that there were no errors when they went live. With the addition of approvals for bulk scheduling, things run smoothly and everybody wins!
How do bulk scheduling approvals work
Bulk approvals at a glance
Users can submit both scheduled and queued posts for approval.
Users with workflow limitations will be required to submit bulk posts for approval as they would with their individual posts, but other users can take advantage of 'Import for Approval'.
The approver will receive individual emails for up to 10 posts. The 11th email will advise the approver that there are additional messages to approve.
You have options when importing your messages
Scheduled: Approved posts will be scheduled.
Queued: Approved posts will be added to an existing queue.
New Queue: A new queue will be created with approved posts.
Quick note: Sending drafts in bulk for approval is not currently supported with this feature.
The Bulk Importer now includes an 'Import for Approval' in the bottom right hand corner next to 'Import'. If a user is required to send all work for approval within their workflow settings, they will only see the 'Import for Approval' option. These users will not be able to schedule individual or bulk posts without first getting them approved. Nothing will slip through the cracks!
If a user has no set specifications that their work must be approved prior to scheduling, they will have two options. They can choose 'Import for Approval' or import as usual (see below). This is useful if there is a certain project or set of posts that are collaborative, or have certain requirements. For those instances, the user could submit for approval but continue to submit other posts normally, without any limitations.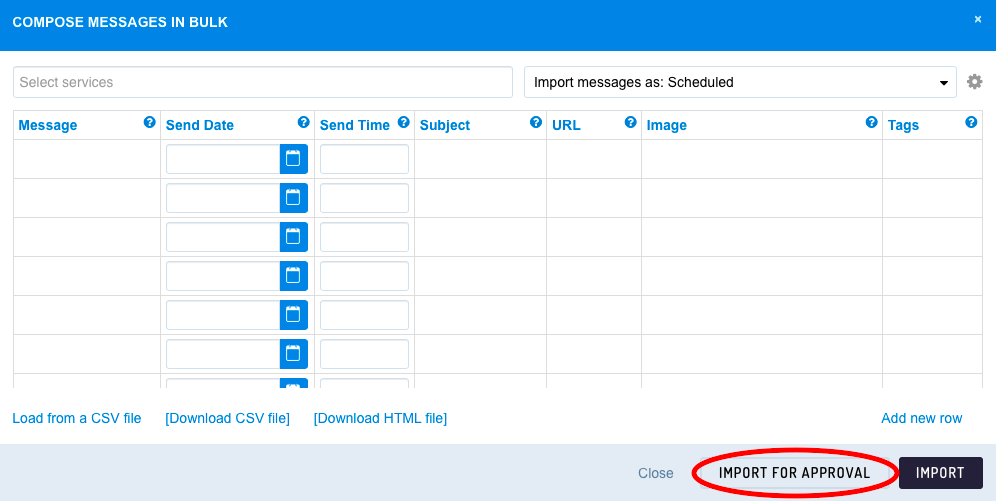 Once imported, social media posts will appear in the 'My Tasks' view for the approver, who will also receive an email for each post they need to approve. When over 10 messages have been sent for approval, the designated approver will receive an email with the subject line: '[Username] has sent you X tasks for approval' to let them know that there are messages waiting in their tasks section to be approved or rejected.
That email will have a link that redirects you to the task section of the 'Engage' view within the dashboard. An approver can then decline, approve or edit these posts. Once a user's post is approved, it will show up in their social media calendar as a visual overview of what is coming up.
How to send bulk posts for approval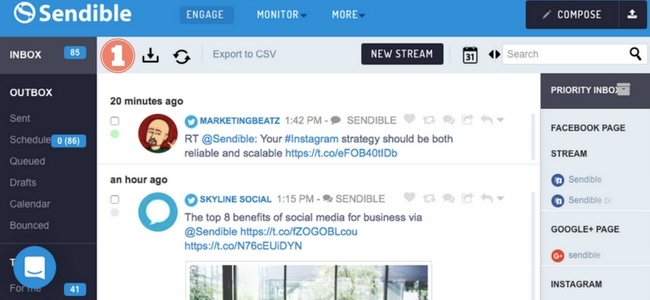 2. Navigate to the 'Bulk Compose' button.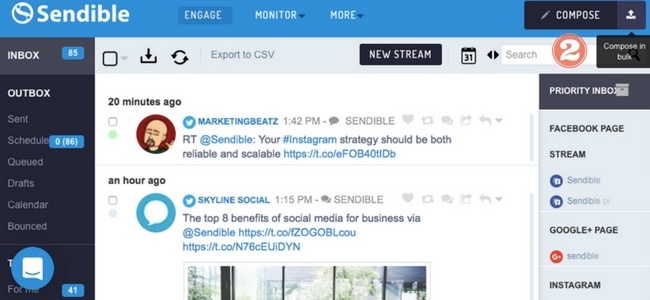 Alternatively: Press the 'Bulk Compose' button within the 'Scheduled' or 'Queued' tabs.
3. Upload your posts from a CSV file.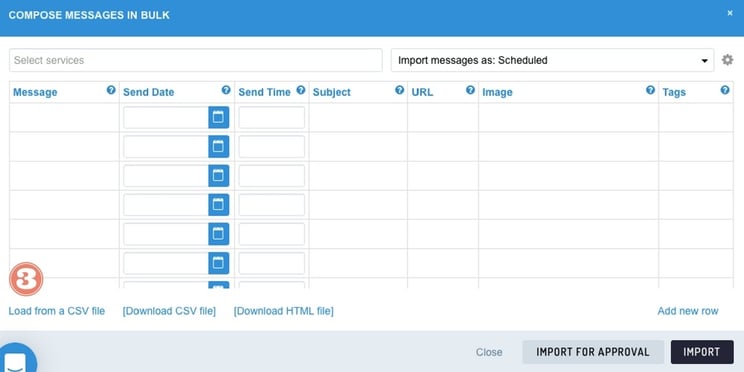 4. Choose how you want to import the posts (Scheduled or Queued).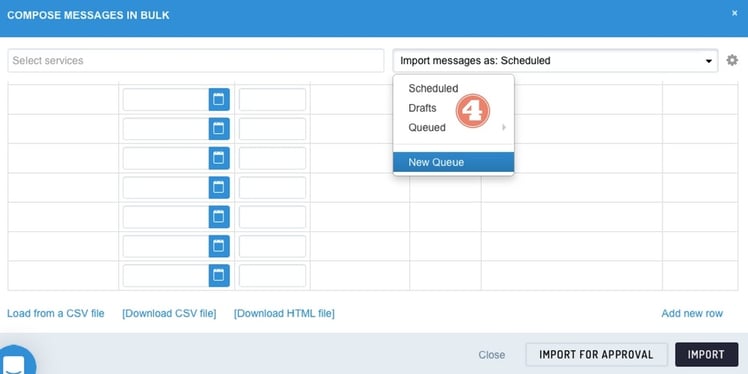 5. Select 'Import for Approval' and choose a team member to send to.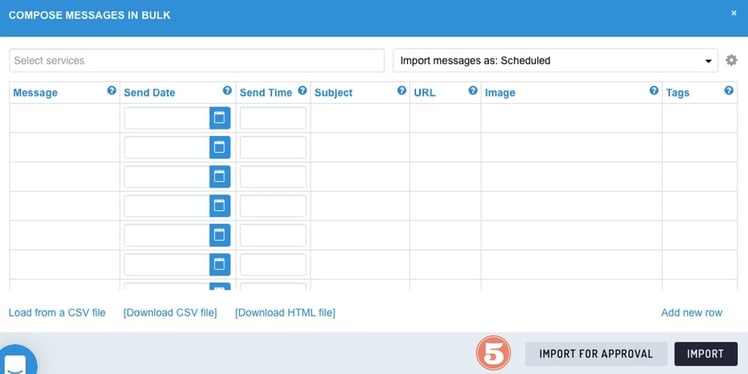 Bulk scheduling saves time and helps the team to accomplish more. The addition of bulk scheduling approvals provides a valuable edge by empowering team members to quickly and easily schedule a large quantity of error-free, well-branded posts.
Try this feature today and let us know what you think! If you don't have a Sendible account already, you can try out this feature by signing up for a free trial.
Level-up your social media.
Subscribe to our blog to get valuable insights so you can maximise your results.