Customer relationship management is crucial for running a successful business, and knowing how to deal with difficult clients is integral to managing and building better customer relationships.
Your business grows when your clients are satisfied with the services provided. However, a bad experience can have a negative impact on your business.
Managing and negotiating with burdensome clients while remaining professional can be an uphill task.
Dealing with difficult clients is a situation that all agency owners have to face at one point or another. You may find yourself in challenging situations when a client expects you to make things happen with incomplete information or when they expect something that is beyond their budget.
Making clients happy is a high bar that most agency owners find difficult to meet; however, it is an art they need to master.
It is true that your business needs clients; however, the challenges posed by a difficult client can sometimes overshadow the benefits they bring to your digital marketing agency. It is important for you to understand that these clients (mostly angry ones) aren't usually frustrated with you. External factors or situations trigger their emotions, and it's important to deal with an emotionally challenging situation by responding in emotionally intelligent ways.
Whether you're starting a social media marketing agency, a digital advertising agency, a PR firm, or any combination thereof, managing your client base is no easy task, and you may have to face many unhappy clients; however, with the right attitude and good communication skills, you can handle tricky client situations effectively and emerge unscathed.
Types of difficult clients
Before learning about the different ways to handle them, let's talk about the different types of difficult clients you may have to face:
Aggressive clients
Aggressive clients are the most common type of difficult clients you will be dealing with. Such clients feel their needs should be prioritized above all.
Aggressive clients tend to be short-tempered and impatient. They might react harshly and actively when they feel your products or services aren't hitting the mark.
You should understand that it is probably temporary emotional stress that is making them behave that way, and you should stay calm instead of escalating.
Do not respond to their arguments in an agitated manner. Instead, empathise with them and assure them that you are looking for alternatives to solve their problem.
Indecisive clients
Indecisive clients are those who always have second thoughts and rarely make decisions. Even after being asked multiple questions to understand their needs, they may still not be sure what they want.
Working with indecisive clients can be time-consuming; however, one effective way of helping them decide quickly is by limiting the options you offer to them. Rather than presenting them with a wide range of possibilities, give them just two or three versions they can choose between.
You should avoid being pushy. The best way to help them make a decision is to offer effective solutions for their needs.
Demanding clients
When clients have set their mind on something and want it at any cost, it can be extremely challenging to work with them.
Demanding clients hold their ground, even for something that may not be possible to achieve. They do not look at the practicality of the situation and are rarely bothered about whether you can or cannot do it.
Even though it is not possible to give what the most demanding clients want, you should not simply say "no" here. Instead, you should try to meet them at a middle ground by offering them something they might find reasonable enough to accept.
Critical clients
Sometimes, working with virtually perfect clients can be difficult too. These clients may have a good knowledge of what they are looking for and, consequently, are more likely to be critical of your services and suggestions.
While working with highly critical clients, you should be attentive and not take anything personally. Rather, treat these knowledgeable clients as opportunities to really level up your services.
You should listen to them patiently, ensure that you hear everything they say, and offer reasonable solutions accordingly.
Working with critical clients can be a boon for your agency as it can offer you much-needed insights and help you identify room for improvement.
5 proven tips for handling difficult clients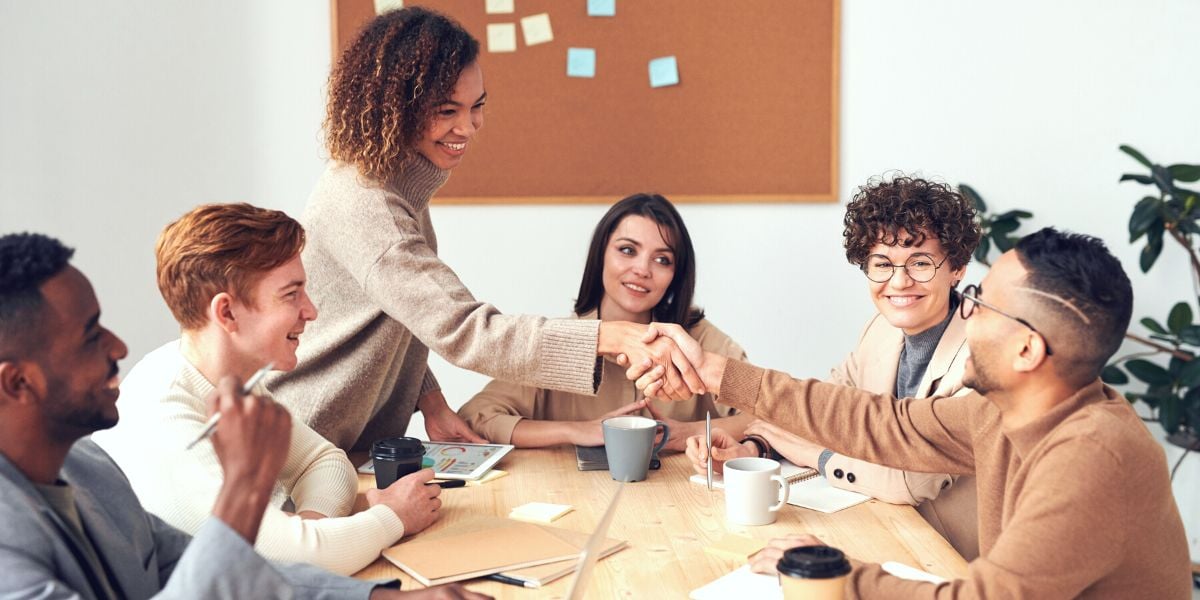 Managing the customer lifecycle from onboarding new clients onward is always complex. But you're here to learn how to handle problem clients. So, let's get to the tips that will help you deal with difficult clients, address and resolve conflicts proactively, improve your client relationships, and protect your business – as well as why it's so important to communicate effectively with these clients.
1. Have the right mindset (overcome the fear of negative outcomes)
Having a positive mental attitude while dealing with difficult clients is important. You should keep reminding yourself that, in all likelihood, the client has no personal score to settle with you; instead, they are just miffed about the situation.
Remember, clients do not know you outside of your business relationship and only see you as a support representative, so never take things personally.
Even if they become verbally abusive, you should not respond likewise, as it can escalate in a negative direction. You should stay calm, take a deep breath, and pretend as if you didn't hear them.
Usually, our reactions are driven by the fear of a negative outcome, as fear makes us want to control things. The fear of not being able to find a solution can be dangerous, as it can damage your business relationship with your client.
When a difficult client is expressing his or her displeasure about something, you should just listen with a calm mind and refrain from knee-jerk reactions or quick fixes. Your job is to understand the client's problem and identify the next step that needs to be taken instead of immediately producing a solution.
2. Establish your project terms up front to avoid misunderstandings
You can avoid landing yourself in difficult situations by setting clear expectations upfront. You should nail down your project terms early to manage expectations and avoid any misunderstandings later.
You should hear your clients early, identify their expectations, and find out if they have any preconceptions of scope and timelines. This will help you determine if there is any disconnect between what they expect to happen and what you usually include in such projects.
Preparing project scope and contract documentation is essential, as it will be helpful for you to point back to if a client expects you to do something that was not discussed at an early stage.
Sometimes, when you are working on a bigger project, the client may assume that you are involved in multiple phases of the project, but in reality, you may have signed up only to work on a specific phase. You should clear up your role early by establishing your project terms upfront to avoid such misunderstandings.
We have created this handy seven-step onboarding workflow that you can use to establish project terms and manage client expectations. Additionally, make sure to download our complimentary client onboarding checklist.
3. Make the clients feel that they're being taken seriously
When you pay close attention to what your clients say, they will feel they are being taken seriously. This will save you time and money and prevent further escalation, as clients are more likely to soften their voice and tone when they see that you are actively listening to them. Therefore, handling them becomes much easier.
When your client is raising concerns, a simple "thank you" to acknowledge their time and patience can go a long way toward building a good rapport with them.
Do not interrupt when a client speaks, as it could worsen the situation. Give them all the time they need to express their concerns. Make sure that clients don't have to repeat themselves over and over again, as this will only make them more annoyed.
How you communicate is important, as it can prevent your clients from getting agitated further. Your tone should be professional, friendly, and respectful.
4. Keep calm and show empathy (do not go into defence mode)
"Do not take it personally." We've repeated this point multiple times in this post – because it really is that important. When a client is angry about something, do not try to defend yourself and argue, as it will only make things worse. You should put yourself in their shoes and try to understand what they are facing.
Staying calm and empathising with aggressive and frustrated clients can be difficult, but it's very much doable with practice. Empathising with your clients and responding to them in a polite manner will incentivise them to speak in the same way as you do.
Another important point is not to assume your client's problem or try to figure it out independently. Speak to them and have a detailed discussion if needed to get a clear understanding of their problem. Finding a solution based on an incorrect presumption about their issue can damage the relationship further.
5. Try to resolve the client's problem quickly
Sometimes, agency owners tend to overthink when the solution is right in front of them. For many client issues, brainstorming is unnecessary, as you can determine the solution by asking the clients what they want. This simple approach will usually work effectively since, most of the time, the clients already know what they want. This will help you resolve their problems quickly.
It may not always be simple, especially while working with critical or indecisive clients and overly demanding ones. In such cases, you will have to come up with an effective solution for them by assessing their needs.
It is true that you may need some time to analyse their problem, but it is important not to get stuck anywhere. Resolving their problems quickly is important to maintain a good relationship with your clients.
How to manage client expectations
Some clients may not agree with what you have to offer. When this happens, you should take the following actions:
Inform clients what can and cannot be done. If the client's demand is beyond your reach and limitations, you should explain why. If possible or necessary, go back to the contract's terms and onboarding questionnaire to let the client know that his or her expectation was not included in the initial agreement.
Try to reach a middle ground. Inform the clients that you can offer them something else instead of what they're asking for. The offer should be something that is feasible for you and reasonable for the client.
When you convey the above two points to your clients in a professional and humble manner, the client will most likely agree with what you are saying.
By implementing these tips for handling difficult clients, you can significantly improve customer relationship management, thereby helping you run your business smoothly.
Final thoughts and customisable social media management software
Working with critical, indecisive, or enraged clients gives you an opportunity to showcase how much you care about your clients and how customer-centric your company is.
When difficult clients are handled properly, it is most likely that they will turn into loyal brand advocates.
By infusing the above tactics into your customer service strategies, you will be able to effectively deal with difficult clients and turn their frown upside down.
If you're looking to make a big impression on your social media agency's clients and provide them with something truly exceptional, you may want to consider exploring our white label solution. It's a great way to set yourself apart and offer a unique experience that will match your exceptional client management.