It has been a great start to the month at Sendible! We have been busy improving our social media management tool to bring an even better experience to you (and help you keep to the rules of the social platforms you all so love to post to), so we have applied a few useful changes to do just that (3 to be exact).
All big things start small, so even though these are minor, we believe they will save you a lot of valuable time on a daily basis. Much of our time as marketers is wasted on admin and repetitive tasks and we believe those extra hours should be put to better use doing creative work or simply taking a little break (yes, you have earned it!).
Have a look at the updates below and make sure to click through the images to the feature guide for each. If you haven't had the pleasure of using these features before, now is as good a time as any to try them out!
1. Super useful shortcut to bulk schedule your posts
The Compose in Bulk feature is often used by our customers. It is especially useful for scheduling multi-channel campaigns and product/offer campaigns in advance.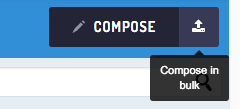 To upload in bulk quicker and straight from the dashboard in one click, we have added it to the Compose button. Now you can compose in bulk from anywhere in your Sendible dashboard, just like you can compose single messages. Having all your compose options together in one place will save you time and make each decision more convenient.
For those of you new to the bulk compose function, it literally means that you can compose and schedule multiple messages in one window. You can write your messages, set the send date and time, upload image and add tags. The tool will also automatically shorten each URL, so all you have to do is just add them in. Easy right?
2. Easy randomising of auto-replies on Twitter
Great news for avid Twitter users! Although you have always been able to randomise your automated Twitter replies via the auto-responder tool, now you can add each option line by line. No more commas, confusion and weird responses...simply add each response on a separate line for easy editing, deletion and addition. Definitely a much neater solution to what we had before where the breaks had to be inserted manually.
For those of you new to the auto-tweet function, take note you can set two different types of auto-replies on Twitter via our social media management software. You can welcome your new followers (via DM or public tweet) and reply to tweets containing specific keywords – perfect if you have high volume of tweets and followers to go through everyday.

3. No more spamming with Repeat Messages
We know how hard it is to keep up with all the rules and regulations governing social profiles and platforms. So we are here to help! This is why we have changed the Repeat Message Tool, which will still queue and repeat your messages, but will only allow you to repeat the same message once every 24 hours. Any more than that is a big no-no on all the social profiles and leads to consequences we would rather you didn't experience.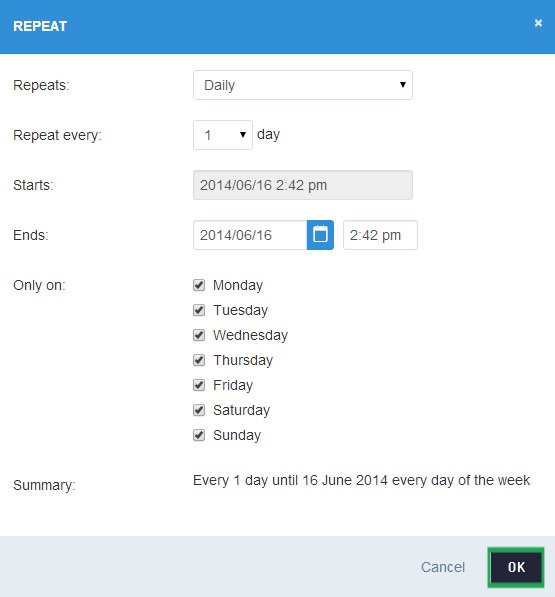 This change applies to publishing on all social media networks, including Twitter, despite its content having the shortest lifespan when compared to other networks. We don't make the rules folks, and we don't want you to break them. And besides, to increase engagement and eventually the bottom line of your business, conversations on social media must appear natural. To make your posts feel even more organic, we suggest scheduling posts at odd times during the day and repeating them every other day or week.
Well, this rounds it up for this Feature Friday! If you have any feedback of your own on how we could improve our tool, please do let us either by commenting below or by dropping us an email.