Social media has become one of the most significant assets in a B2B marketer's toolkit today. At least 82% of B2B CMOs consider social media their top growing marketing channel.
As a low-cost and high-impact channel, social media promises a world of (untapped) opportunities to B2B companies—brand awareness, customer engagement, conversions, and more.
But not every B2B team uses social media effectively to stand out in a cluttered market. If you're struggling to tap into the power of socials and boost your bottom line, this guide will change the game for you.
We've handpicked 14 exciting B2B social media content ideas with examples to get the ball rolling. Let's dive in!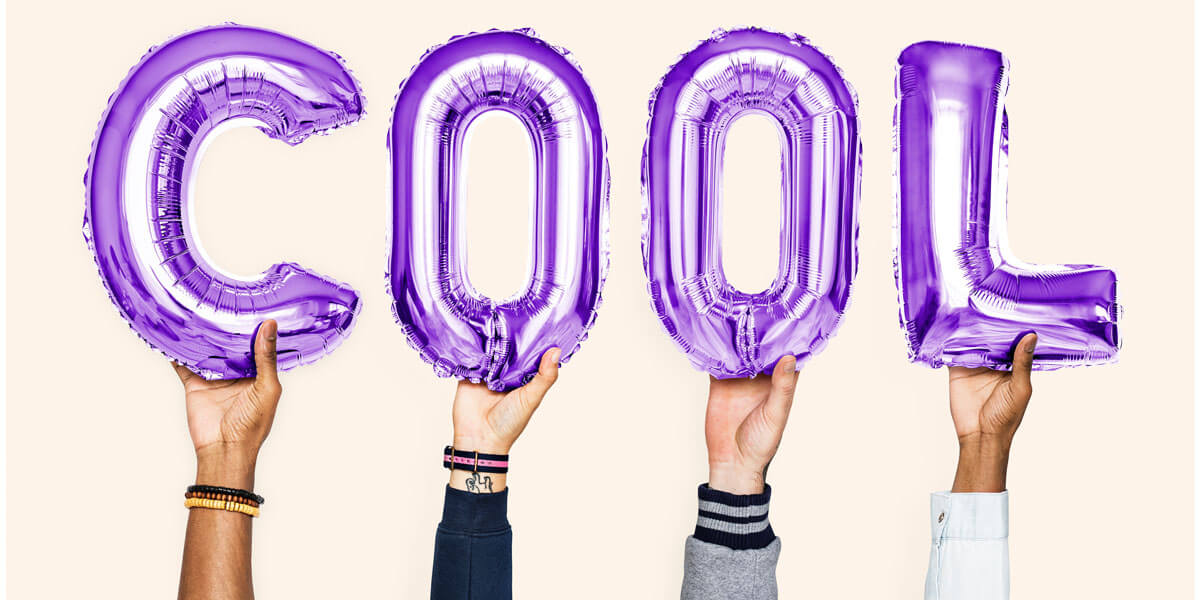 Check out our Content Creation Hub
If you're in the mood to level up your content creation game, don't miss out on our treasure trove of guides filled with tips and tricks.
14 B2B social media content ideas that work in 2023
If you haven't leveraged the power of social media for your B2B company, here's the kicker: 50% of B2B marketers consider social media as their top revenue-driving channel. Your buyers want to interact with your brand across multiple platforms. You're leaving money on the table by not building a strong and appealing social media presence.
But let's face it, creating an exciting social media brand is no cakewalk. That's why we've curated these 14 B2B social media content ideas to help your brand shine on all channels:
1. Promote your lead magnets
One of the easiest ideas to create content for social media is by promoting your lead magnets. If you've created a helpful resource for your target buyers, attract more visitors to the landing page and maximise downloads through social media.
These promotional posts can talk about the key features of your lead magnet and convince users to download the resource.
A social media post is easily shareable, bringing more eyes to your lead magnet and using social media as a channel for inbound marketing.
Here's how Plum, a B2B health insurance company, promoted its lead magnet report on LinkedIn with a link to the main landing page.
Source: Plum
Pro tip: If managing your social media accounts has been a hassle for your team, try Sendible's end-to-end platform for publishing content, collaborating with teams, and analysing performance. It's an all-inclusive solution for social media management.
2. Announce company updates
Another exciting idea to post content on social media is informing your audience about the latest happenings in your company.


Launched a new product?
Secured a round of funding?
Started a new initiative?
Share the good news and spotlight it on social media to build a meaningful brand identity and tell your audience everything you've achieved.

This is particularly helpful for B2B SaaS companies to inform users about the latest features and updates they can try. For instance, Salesloft, a sales engagement platform, tweets about its new feature launches with a short video previewing each feature.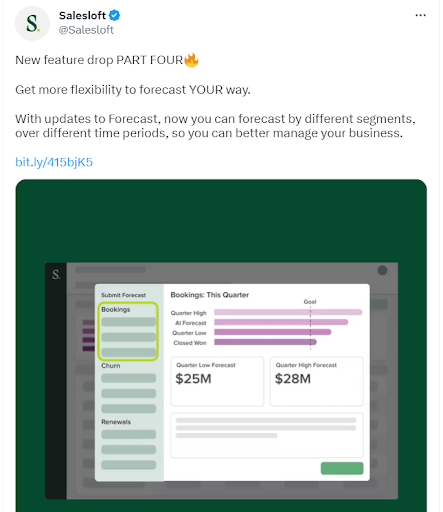 Source: Salesloft
3. Share snackable tips & tricks
One thing is clear: most people open social media apps to pass the time and be entertained.
They don't want to concentrate on a long read or video. When creating content for such short attention spans, remember to keep it crisp and clear in an easily digestible design.
B2B brands can share industry best practices and actionable tips in a snackable format. These should include reader-friendly text and designs for users to learn something new just by glancing over them.
Typeform's Instagram page presents a great example. They create a series of educational carousels titled Type Tips to share useful tips for getting the best out of the tool.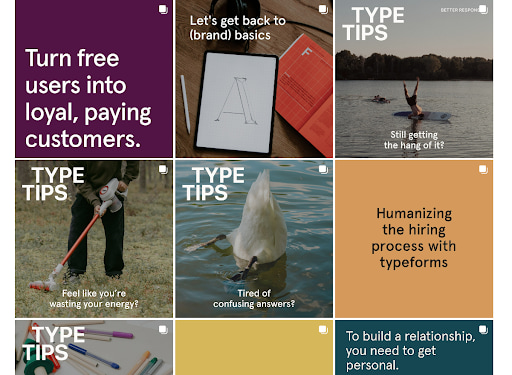 Source: Typeform
4. Highlight your success stories
Social media is more than just a place for memes. B2B companies can use this channel to build social proof by sharing their success stories.

Whether you want to build brand awareness, attract new leads, or expand your community, highlighting your client case studies can be a game-changer. They give potential customers enough reasons to learn more about your business and reach out to get more information.

Here's an excellent example of Mutiny. They've briefly spotlighted a customer success story in this LinkedIn post and shared a link to read the full case study.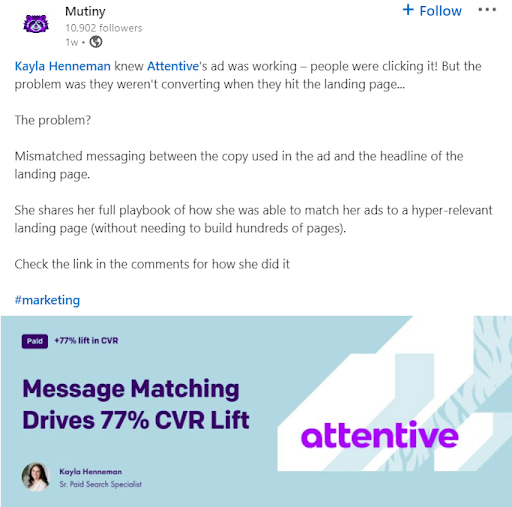 Source: Mutiny
5. Create short-form tutorial videos
If you want to stop the scroll on social media and win your customers' attention, video marketing is your best bet.
38% of B2B marketers consider video their top priority among all other formats. That's just one indication of how important videos can be for building your social media presence.
But what type of videos should you create? The easy choice: tutorials. Videos offer a great learning medium. With short-form tutorial videos, B2B companies can educate their audience about industry trends, processes, and other critical information.
For example, Asana has created a dedicated YouTube playlist with tutorials to help users navigate the product. These short videos are helpful for new and existing users while encouraging potential customers to try the tool.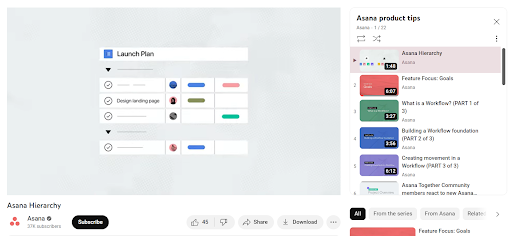 Source: Asana
6. Run polls to survey your audience
Another productive idea to use social media for your B2B brand is running polls on different platforms. Twitter, LinkedIn, Facebook, and Instagram allow users to create quick polls and get their audience's opinions on any subject.
Tailor these polls for users on every platform. For instance, you can create a reel for Instagram and add a short poll within the reel to engage your audience. Alternatively, you can use LinkedIn polls to understand buyers' preferences and maximise lead generation efforts.
Here's an example of a poll by Shopify to crowdsource helpful information for new users on the platform.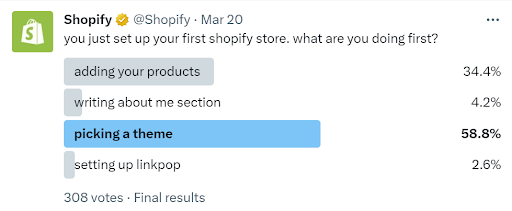 Source: Shopify
7. Educate your audience with FAQ posts
While tutorial videos are great for educating potential buyers about a product and industry-centric topics, B2B marketers can also publish FAQs on social media to boost buying intent.
Posting FAQs on social media is a surefire way to address buyer objections and nudge more leads toward a purchase decision. These FAQ posts can also help with LinkedIn prospecting or even Linkedin B2B lead generation. For instance, if your sales reps want to answer prospects' questions about your brand, they can instantly share these social media posts.
More importantly, easily available FAQs simplify the customer experience, where users don't have to figure out how to resolve their queries.
Here's how Intercom used YouTube playlists to create quickly accessible FAQs for their buyers.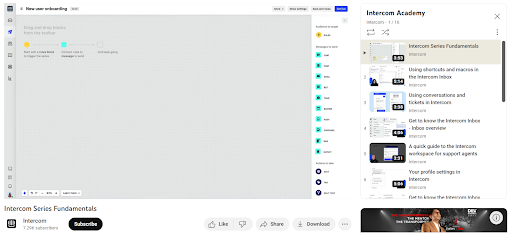 Source: Intercom
8. Share quotes or inspirational messages
Sharing quotes and inspirational messages is among the most popular B2B social media content ideas. You can repurpose different types of content into quotes and inspiring posts—like converting a meaningful statement from your podcast into a quote.
The goal is to encourage your readers to follow the right practices and take action. You can guide or inspire them with quotes or post something hilarious.
Here's how we repurposed one of our tweets into an Instagram quote post to motivate our followers.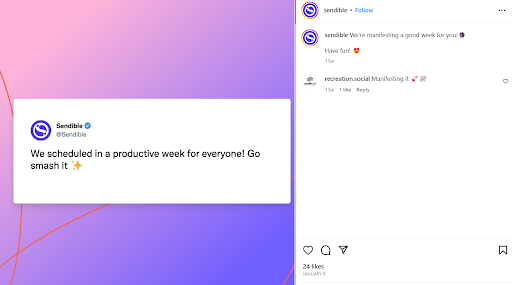 Source: Sendible
9. Curate social proof with client testimonials
For B2B companies, social proof is undoubtedly one of the biggest drivers of lead generation. Posting client testimonials on social media can cultivate more proof for your business and win potential customers' trust.
While you can publish these testimonials along with case studies, it's also a good idea to get video testimonials and maximise your reach on social channels.
Here's how Videowise builds social proof by publishing a testimonial by one of its users. They also spotlight their core brand values to add more meaning to the testimonial and convince readers to try the platform.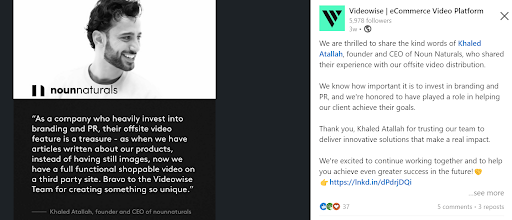 Source: Videowise
10. Build brand awareness with explainer videos
A particularly beneficial idea for new or small B2B companies is creating explainer videos to inform potential buyers about their products or services.
Explainer videos break down any information into a short and easy narrative. These bite-sized videos give customers a glimpse of what your brand is about.
You can use this social media content for several purposes. For instance, if you write a cold email, you have to do ample research about every prospect, create and test your messaging, and maintain high email deliverability. Your emails still might not get good responses.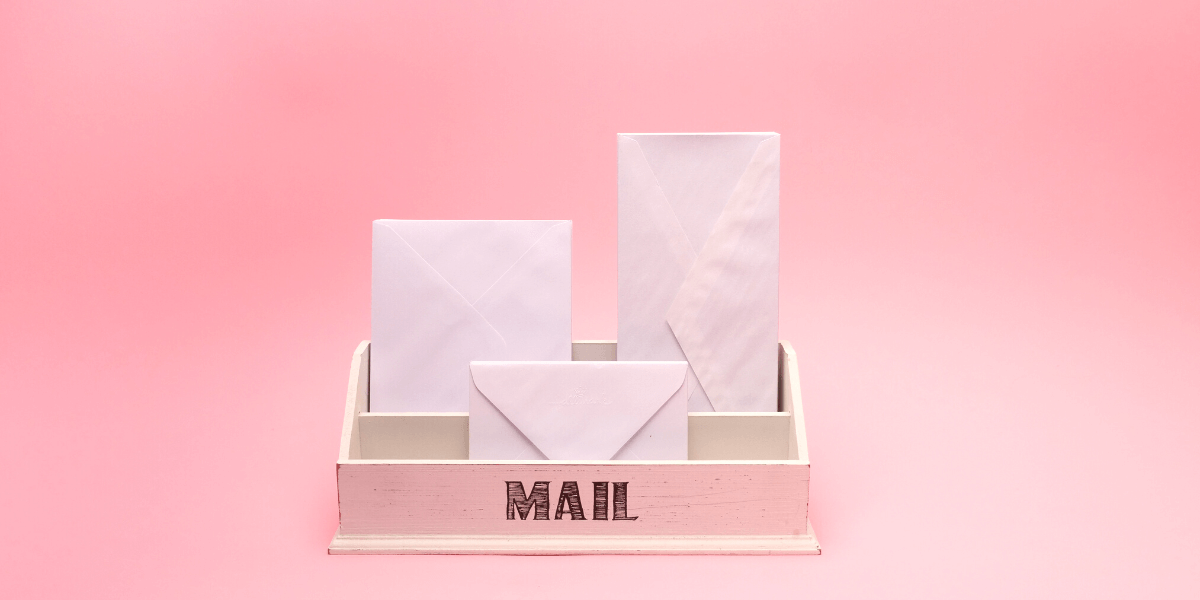 How Can You Use ChatGPT to Write the Perfect Outreach Email for Your Influencer Marketing Campaign?
This is where you can add a quick explainer video to explain your product/service effortlessly and maximise conversions. It essentially acts as sales enablement content.
Here's an example of a short explainer video by Divisional, a B2B growth marketing company. This short video educates customers about fractional employment and builds awareness around the company's services.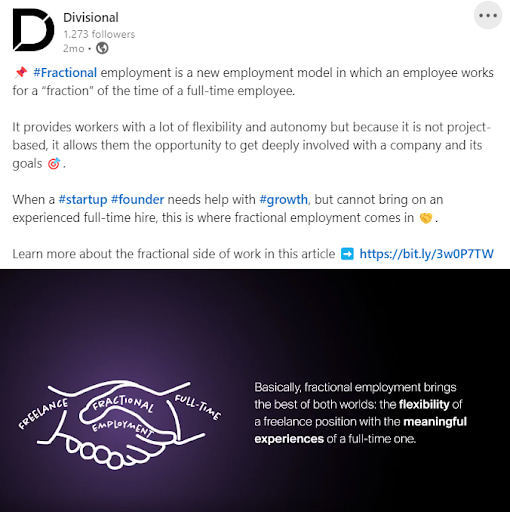 Source: Divisional
11. Collaborate with other brands and influencers
Did you know that less traditional B2B social media content ideas like influencer marketing are among the most effective bottom-funnel tactics for 29% of marketers?
While B2B companies have traditionally not worked with influencers, they're turning toward influencers and key opinion leaders to market their brand on social media. Research shows an upward trend in the investments going to influencer campaigns.
Source: Onalytica
Find and vet brand-fit influencers aligned with your core values and offerings. Create meaningful campaigns to inspire action among your brands through the massive reach you get from these influencers and therefore make the most out of influencer marketing campaigns.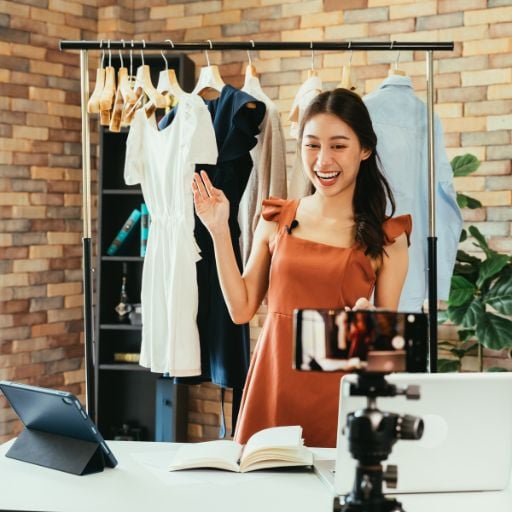 Micro-Influencers vs. Macro-Influencers vs. Celebrities –

Understanding The Difference.
Learn what's the right type of an influential person to promote your or your client's brand.
12. Repurpose content into LinkedIn carousel posts
Repurposing is one of the three Rs of content marketing. Simply put, it's a way for companies to produce more content from their existing ideas.

Since LinkedIn is a thriving channel for business professionals, repurposing any type of content into a LinkedIn carousel post is always a great idea. Whether you've published a long-form blog, a short TikTok video, or a research post, condense it into a carousel post to reach more people on LinkedIn.

Here's the perfect example by Semrush, where they've converted a long blog into a 10-page carousel document.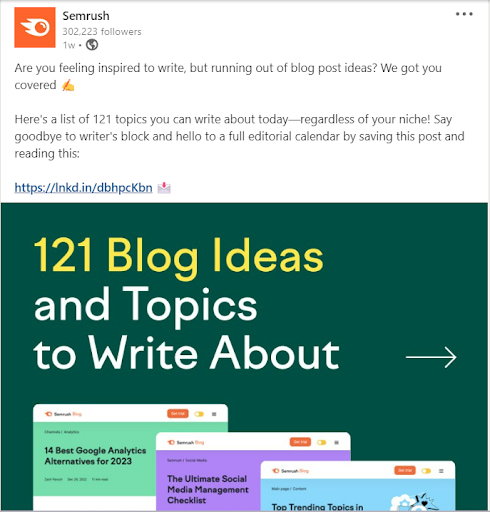 Source: Semrush
13. Humanise your brand with behind-the-scenes content
Even though many B2B companies try to publish more social media content, they do it for likes and engagement. Instead of chasing vanity metrics, you can use social channels for more meaningful marketing campaigns and humanise your brand.

People resonate with people. So, create a more relatable brand identity that resonates with your buyers by sharing behind-the-scenes (BTS) of your team's work. Share this content with your email list to get more brownie points!

For example, Slack shared several BTS reels and posts on Instagram about its flagship event. These posts highlighted how the team worked hard to make the show successful.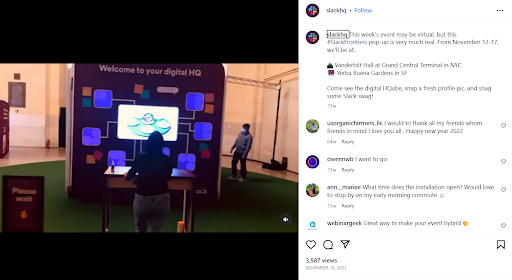 Source: Slack
14. Boost employee advocacy and engagement with spotlights
46% of CMOs consistently see employee advocacy outperforming corporate social media content at all funnel stages. One thing is clear: your employees can be an asset to your social media marketing goals.
While companies can encourage employees to create content about their brand, it's always a great idea to make your employees feel special with shoutouts and spotlight posts. You can welcome new employees, appreciate the best performers, celebrate anniversaries, and do much more to showcase your employees.
Transform your B2B social media strategy with these content ideas
Social media can be a goldmine for B2B brands when done right. It can bring more prospects into your marketing funnel, deliver a seamless customer experience, and nudge leads to the final purchase decision to drive sales.
Bookmark our guide on B2B social media content ideas to never run out of ideas to keep your social profiles engaging. Don't forget to try Sendible to manage your social media calendars effortlessly.