As an expert social media marketer, you understand the importance of constantly generating new content ideas for your or your client's social media content calendar.
With an endless pool of subject matter and countless competitors in your vertical, it's crucial to publish engaging content that stands out.
However, despite settling on a topic, doing your research, and planning out your content pillar structure, you may still face low reach, minimal engagement rates, and frustration. This is where data-driven insights come into play to craft new content ideas that drive record-breaking reach, engagement, and finally website traffic and sales.
As you're posting on behalf of your clients, with goals and deliverables in mind, it's essential to use free and easy-to-access tools to determine what works and what doesn't.
While some factors like the size of your social media audience may be hard to change in the immediate term without investing budget, there are still plenty of ways to find data-driven insights that ensure your posts are excellent and engaging:
1. Refined web searches (AKA Google search commands)
Are you looking for fresh content ideas? Instead of simply searching for "new content ideas" or "new ideas for my social media," try using refined web searches in Google.
There are so many types of searches you can perform to find inspiration.
For instance, quickly learn what other websites are saying about your brand, client, latest product or campaign.
However, when you search for your own brand name, you usually come across information you already know about, such as your homepage, social media pages, Wikipedia, pages on review sites, and so on.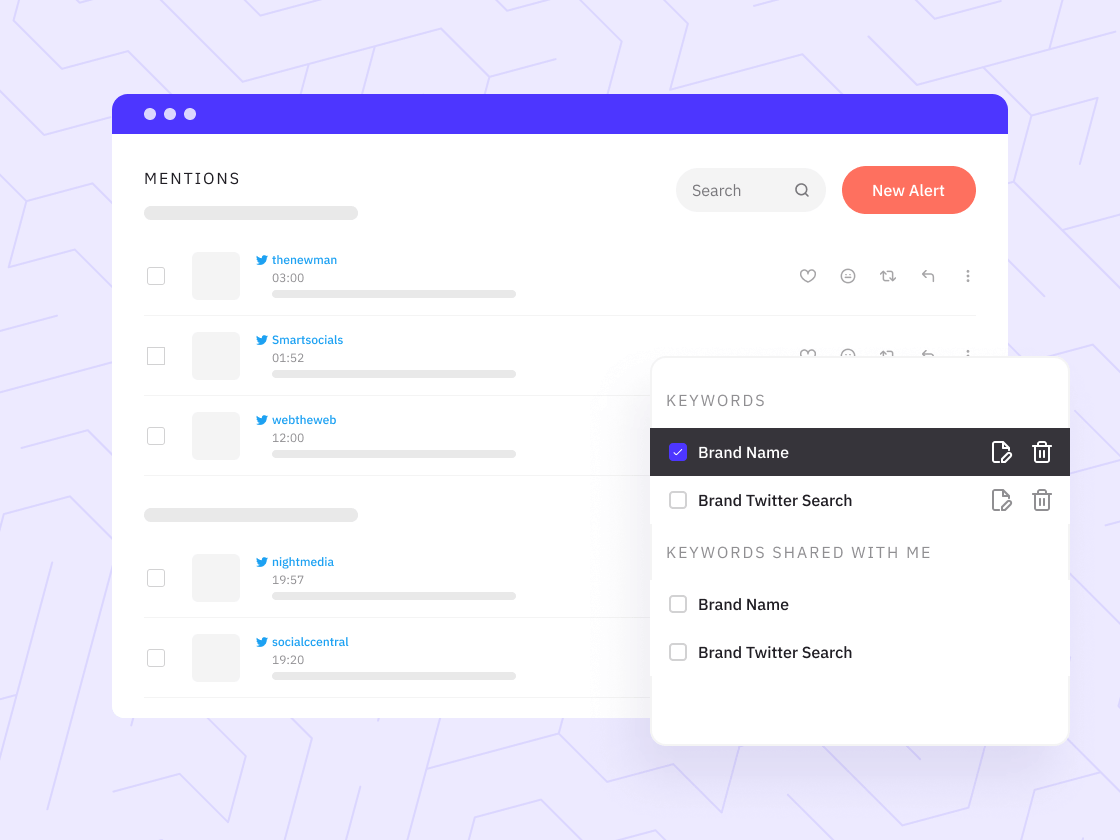 Connect with customers using
social listening.

Improve your social media strategy by tracking brand, competitor, and key industry terms. Keep on top of responding to comments and messages quickly.
To solve this, simply add a minus symbol before your own URL to exclude results from your own website from showing up. If your brand name contains two or more words, add quotation marks before and after - "brand name" - to only find uses of that phrase, rather than the individual words.

Still not happy with the results and seeing stuff you already know about? Click "Tools" and then adjust the date range to find only results from the previous 24 hours, week, month, or any custom date range you enter. Great for finding out the very latest things other websites are saying about your brand while excluding your own website's results from showing up.
For social media content creation, performing this search regularly might show results that you can use to create content around case studies, develop new products to publicise and write content about, or potentially even drive leads. You might discover a great review about your company where the author says:
"Brand Name is great, but I wish they had a super-cool post bulk post importing feature".
Wait… you DO have a super-cool bulk import feature, maybe you should post new content about it?
2. Google's Keyword Planner
If you're reading this blog, odds are that you're looking for new social media post ideas.
You're not the only one.
The graph below shows the average number of monthly searches performed Worldwide in Google simply for the word "ideas" and related terms:

Don't miss out on Google's free keyword planner tool - it's a valuable resource for generating new content ideas for both your website and social media channels. Just give it a try by entering a rough idea for your post and let Google do the rest:
How many users a month are searching for your exact suggested topic in their search engine.
Related searches and the number of average monthly searches they receive, great for SEO optimization and helping you settle on your title based on what users are specifically looking for.
How many monthly searches are performed over time; is your topic increasing in search popularity? Or, as in the example of Thanksgiving social media ideas, are there (predictable) peaks in interest at certain times of year:

You can refine your searches by location, by mobile vs. desktop devices, by excluding particular words that you're not interested in, simply by clicking the various icons placed on the screen.
This is all great stuff for creating new content angles, as it'll show you what's popular, when, and where; if you only sell products in the US, there's no point targeting topics that are only of interest in Asia and the Pacific. Or if you're going to run a limited time discount, why not find out what time of year users are likeliest to search for your promo.
3. Google Trends
Built on a similar premise to Google's keyword planner is Google trends. This tool produces similar results, but is more efficient for assessing the changing popularity of keywords over time, and the relative search interest between different words and phrases, again based on user searches performed in Google.
Looking at Google trends globally for the phrase Independence Day yields some interesting results, with two big spikes in 2014 and 2016, and three noticeable jumps in 2015.

Despite what you might expect, the three biggest spikes on the whole graph each occurred in the middle of August, not in July. Scrolling down, we can see the top locations searching for the phrase Independence Day, which would lead one to correctly assume that Indian Independence Day occurs on the 15th August. The second highest spikes each year represented American Independence Day each July 4.

There are two ways you can quickly investigate particular jumps in your Google trends keyword(s).
1) Scroll down to see the related queries section at the bottom right, and it sometimes becomes clear what has caused a spike. For example, with our spike above, the title of the Independence Day film is top of the related queries: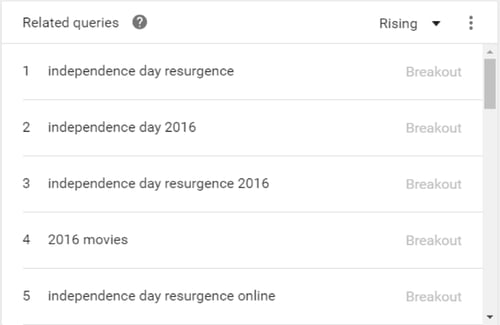 2) Using the advice from earlier in this blog, search for your keyword in Google, then click "Tools" and set a custom date range to focus only on that time period.
4. Google Analytics
You might already be familiar with several ways Google Analytics can help you generate new content ideas. In addition to some of the typical places you can look, such as:
The content or blogs you have currently driving the highest levels of traffic and engagement (average time on site, pages per session, etc.)
Your referral traffic (Acquisition > All traffic > Referrals) to see which websites are linking to your content currently, and what subject matter they involved, as a launch for fresh inspiration
There are deeper areas of insight available in Google Analytics.
Demographics and interests
You can access insightful information about your user demographics, and their browsing habits, in the "Audience" section under the "Demographics" and "Interests" tabs, all in Analytics' left hand menu.
For example - and perhaps unsurprisingly - the most commonly held interest of Sendible browsers relate to technology and social media, as taken from the "Interests - Overview":

Clicking "Demographics - Overview" will also give you a steer on the age brackets and gender divide of your users, and to further analyse this, make sure you click on the "Key Metrics" tab above the age split graph to find out which age groups make up your new visitors, or those bouncing from your website.
When crafting your next blog or social media content idea, consider all these factors and ask yourself: does your current content appeal to your target market, or should you be doing something differently?
Site search keywords and phrases
If you have a search box on your website and your Google Analytics is correctly configured to capture the information, you can see the entries and questions that users are entering into the search box.
This gives you a useful angle for new content generation based on the sorts of queries you see. Users might be searching for content that you haven't already written, in which case you have a great, data-driven suggestion for your next blog, website page or social media post.
To find out whether your Analytics is set up to track this, and see what your users are searching for on your site, visit Behavior > Site Search.
5. People also ask
Possibly the quickest and easiest way to find ideas for your social media calendar is through question research. And yes, you can use a tool such as Answer The Public, Ubersuggest, or any other SEO tool. But you can also use Google!
Simply type in your keyword in the search bar, and scroll down to the section "People also ask".
Here you'll find a handy list of questions that users type into Google to learn more about a particular topic. Check out this example for queary: "celebrate valentine's day on social media":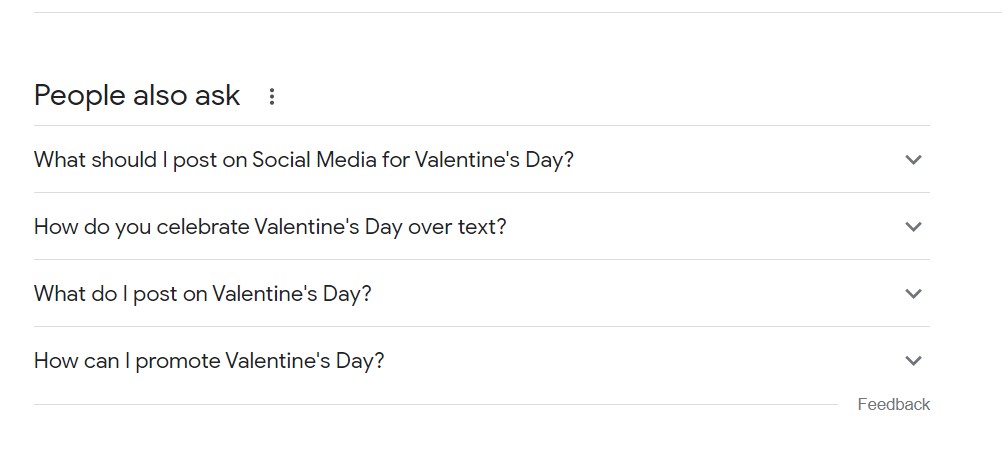 Now all you have to do is decide on the post format (Reel, Carousel, Story, TikTok video) and schedule it through your favourite social media management platform.
6. Social media insights and analytics
Social media channels provide a good level of access to insights about your followers.
A quick browse to Facebook's and Instagram's Insights, or Twitter's, LinkedIn's and TikTok's Analytics sections will give you a great overview of your user demographics and activity, and it's interesting to compare the demographics of your social media followers with your website visitors as a starting point.
Ensure to dig deeper to uncover what posts have had the most engagement, and which ones have flopped. This will give you a good idea of what content you should push more, as well as which post format works best for your audience.
7. Influencers, competitors, and industry feeds
When you've thought about new content ideas in the past, it's likely you've already thought to check out what your competitors and other important industry figures are creating content about.
It's a logical place to go, but is your check as simple as scanning through their feed? You can turn this ad hoc process into something far more efficient and routine by deploying Twitter lists.
Instead of having to scroll through the multiple Twitter presences of your competitors and related industry parties, make your life simple and efficient by creating a list and capturing it all in one timeline.
Setting up a list is the work of two minutes, adding in your competitors' @handles. Bear in mind that you can make lists private, which you should do if you're using Twitter to monitor your competitors.
To start your first list, simply click your profile icon on Twitter, then click "Lists" and you're on the road to generating great new content ideas based on what other people in your industry and writing about.
If you only want to focus on the impact competitors or industry specialists are having in certain countries, or only see tweets with positive or negative sentiment, you can do so by performing an "advanced search" on Twitter.
8. Sendible's holiday calendar
Sendible now offers a built-in holiday calendar that allows you to create posts and celebrate over 300 events!
When you view the calendar, you'll find all of the holiday posts saved as drafts.
After clicking on "edit", you'll notice that these posts come with prepopulated holiday-related hashtags and images.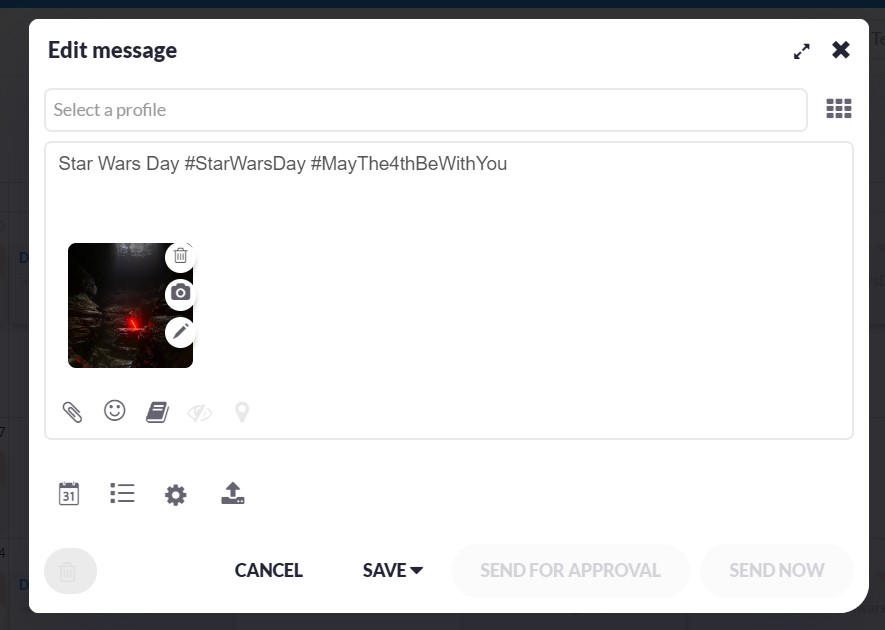 You can easily customise your copy for each social media platform from the same compose box without having to switch between multiple tabs. You can also replace the image with your own design through our integration with Canva, Pexels, and GIPHY, URL or Cloud. Once you've chosen the optimal time to schedule your posts, you're all set!
9. User-generated content
You don't have to look outside your own courtyard to find content to post. Or better yet, repost.
Your or your client's loyal social media followers are probably posting valuable content about your services or products. So why not use that to spice up your UGC content pillar?
While you can check tags and mentions, you can also save yourself some time by inviting your users to add a unique, branded hashtag when they tag you. Then head over to that hashtag from time to time to source the latest piece of UGC content.
10. Source and share quality content with RSS feed
Another great way to source high-quality content that resonates with your audience is through RSS feeds.
You can use a tool such as Missinglettr to source, but also submit relevant articles for other people to share on their social media platforms.
Alternatively, you can use Sendible to add your trusted RSS feeds or set up Google Alerts to post meaningful updates to your profiles of choice automatically.
Bonus tip: Read our guide on content curation for agencies to learn about ways to find and share trustworthy content.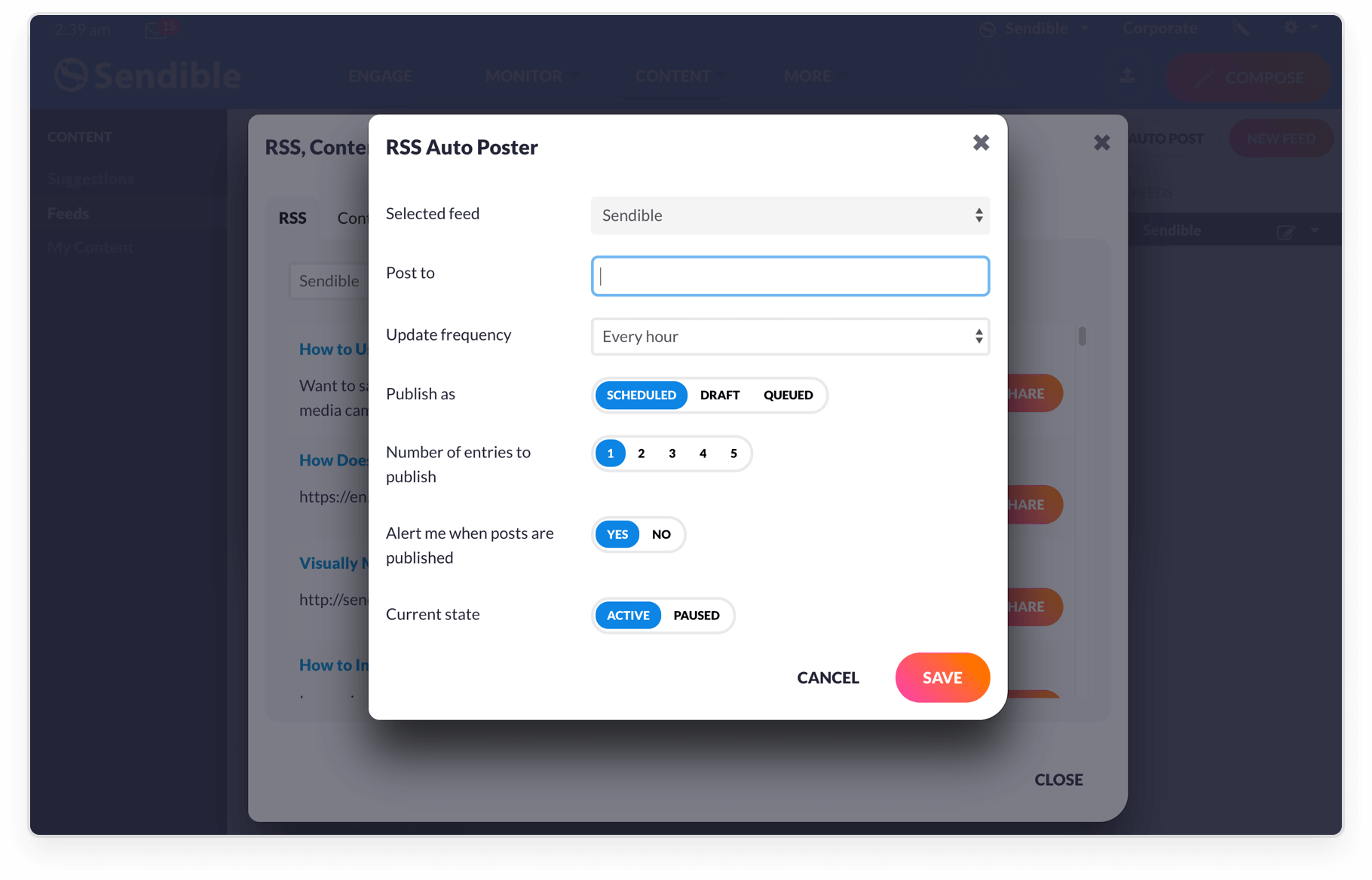 Find content and set up RSS feeds.
Get content inspiration by following relevant topics and set up RSS feeds to auto-post so you can automate your social media calendar.
11. Hashtag research
Hashtags act as keywords on social media. So why not use them to uncover trending topics in your industry and grab some new ideas?
TikTok offers, by far, the easiest way to search for new topic ideas.
The Discover tab on TikTok is organised by trending and popular hashtags, so it'll give you a quick insight into which hashtags are doing well at that particular moment. It's worth checking back every now and again because trends change.
Oh, and in case you're looking to improve your hashtag strategy, I suggest checking out our handy guides.