I'm not going to keep you for very long today, I know you have a lot to do. But I just knew that you would want to know about this new development.
Let me start with a question for you. What is the number one thing that you think of when it comes to Facebook?
• Keeping up with family? Sure.
• Marketing your business? Absolutely.
• Getting news? More are doing that every day.
• Ranting? You bet?
Maybe my question wasn't clear enough. Think about the question not in terms of what you do with Facebook, but what Facebook does itself. If you said ticking people off with new rules and policies, you win the blue ribbon. From privacy rules changes to hiding non-paid marketing posts, there is never a shortage of ticked-off people directing their ire at Zuckerberg's baby.
One of the more interesting, for lack of a better word, policies that the social giant has had over the years - and one of the least known - is in regards to their dead users.
Yes, dead users. Did you know that, on average, 10,000 Facebook users die every day? A morbid fact to be sure, but true nonetheless. So what happens to their accounts?
Well, until very recently, when Facebook was made aware of a user's passing they would put the account in a state of 'memorialization', meaning it was locked as-is for evermore. Dad left you his password so you could delete it when he went to the big social network in the sky? Tough luck, not happening.
Thankfully, someone at Facebook was bit by the good taste bug, and things changed for the better in February.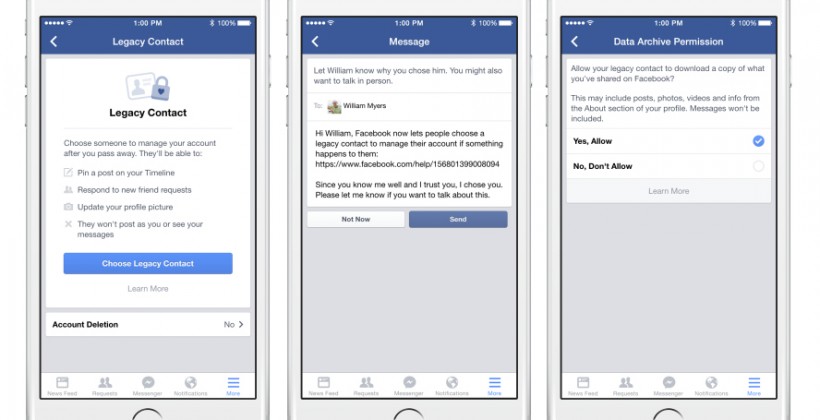 Now you have two options. First, you can choose for your account to be deleted upon your passing (my personal choice). Second, you can assign a 'legacy contact' who will be able to control your account after you've stopped taking air in. Just go to your security settings to choose either option. A legacy contact must, of course, be a Facebook user.
I'm not sure exactly why anyone would want someone else to keep their account going after they're on the other side of the dirt, but there's a better option. After all, your half-crazy cousin Ida might not enhance your post-life reputation should they forget their medication one day.
If for some reason you want to do some post-mortem posting, just use Sendible to schedule your posts in advance. There's no limit on the number or time-frame for scheduled posts, so go crazy. Of course, if this is your plan of action, that may not be a far trip.