At one point we've all been influenced to buy a product because the "cool and popular kids" had it. Reminiscing back to when I was in high school, I recall instances that could well be the basis of why companies now spend so much time and money on finding social media influencers.
Years ago, I was having lunch in the school cafeteria when the richest and most popular girl in class announced from a table away, "Guess what I got for Christmas? A Louis Vuitton bag!" Most girls became envious and wanted to have the same bag too.
Of course, not everyone could afford a luxury bag, but that instance created the "desire" to have it because that popular girl back in high school did. More importantly for marketers, this girl had something that could be seen by the naked eye – influence.
Picking up on social behaviour
Companies and marketers have long banked on the power of influencers in promoting their brands and products. That's why you see celebrity endorsers on multi-media advertisements and promotional road shows all the time.
Today, with the vast reach of social media, marketers look for the top social media influencers to sway their followers to take interest in their client's company and their products.
Influencer marketing has emerged as one of the key strategies today because of its high success rate. According to statistics by ION published on Forbes, "Around 71% of consumers are more likely to make a purchase based on a social media reference."
If influencer marketing isn't a part of your strategic marketing plan yet, it's time to consider it. You can leverage the power of social media influencers to attract customers and keep them buying your products and using your services.
Even small startups and online sellers have used Instagram for business and many other companies across all industries reach out to their fans on Facebook. So it's up to you to boost the effectiveness of your social media campaigns by leveraging the power of influencers.
Any brand can win or lose
Influencer marketing mixes well with user-generated content (UGC). One great example of this is the Mercedes-Benz's 2013 Instagram marketing campaign to promote their newest CLA car. Mercedes encouraged Internet users to take photos of the CLA and share them on Instagram with the #Untamed hashtag to see whose post would get the most likes.
The winner, of course, would get his own CLA. This photo contest attracted some of the top photographers and influencers who really worked it. Result? The brand got fantastic exposure, especially among the younger demographic - over 87 million impressions and 2 million likes on Instagram.
It's important to keep in mind that influencers can't solve everything.
The global makeup brand, Estée Lauder launched their Estée Edit campaign through Instagram and selected the model, Kendall Jenner as their social media influencer to promote the new makeup range for younger girls.
At the time, Kendall had 75.1 million followers and while her presence drove a lot of attention to the brand, it wasn't enough to keep the new makeup range running. The Estée Lauder Edit Range products will be disappearing from stores from September 2017 as the brand found there was no market for it, less than a year after the big launch.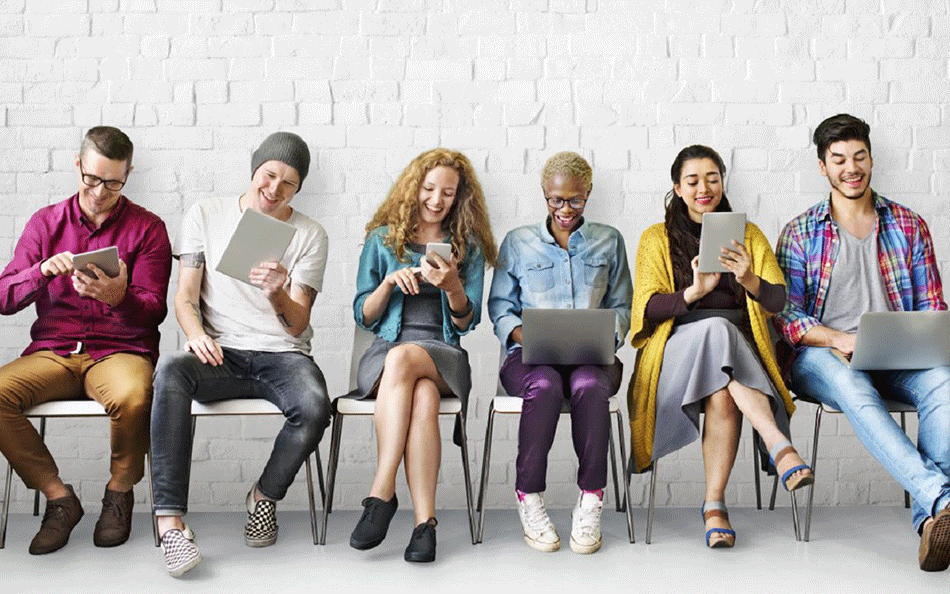 Getting started with influencer marketing
Influencer marketing can seem overwhelming at first. Questions like "How to find the right influencer", "How to reward them" or "How to track results" are only some of the ones you need to answer.
If you don't want to go through the trouble of learning the ropes yourself, you can always outsource and find a digital agency to find social media influencers on your behalf. Even then, it pays to be familiar with the basics so you can understand what the agency is doing for you.
Take note that an influencer could be a person as well as a company you choose to work with. Consider the five tips below when getting into contacting social media influencers and creating campaigns that can help you achieve your business goals.
1. Understand your audience to choose the right influencers
You can find a lot of influencers on all the key social media platforms: Facebook, Twitter, Instagram, and Snapchat. But it's not all about first appearances or numbers. You can pick the social media personality with the highest number of followers and still have an ineffective influencer campaign.
To succeed, you need to find the right social media influencer who can reach your target audience. And you can only do this when you have a clear idea of who you want to reach and how you want to deliver your message.
You need to determine the goal for your influencer campaign. Do you simply want to promote your product/service or do you want to create a long-term partnership with the influencer?
When you know what you want to happen and who you want to talk to, you can finally start the search for the right influencer. To find him or her, monitor relevant hashtags on Facebook, Twitter, and Instagram to see who people are following and engaging with these days.
When you find influencers who qualify as your potential endorsers, don't forget to check their background and their own brand mission too. If their beliefs don't align with yours, associating your brand with their name may do you more harm than good.
Shredz.com is a great example of a successful brand that reached $5 million in revenue through partnering with social media influencers, like fitness model Paige Hathaway (who has 700k followers).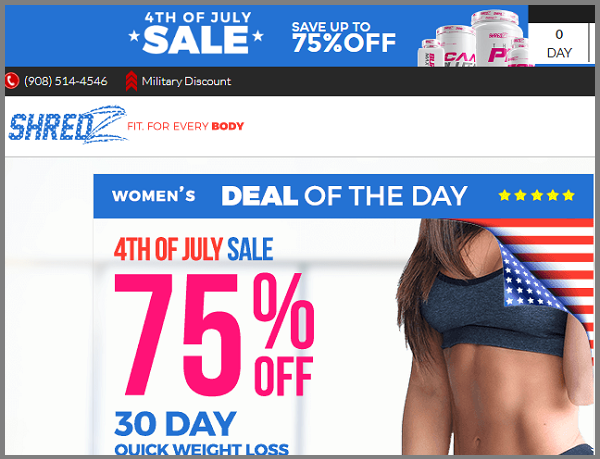 2. Determine the right approach for your strategy
93% of marketers have already used influencer marketing. While this, on the one hand, proves that this is the major marketing strategy nowadays for businesses of any size, it also shows that reaching out to influencers for collaboration is becoming more challenging than ever. To prevent your outreach email from being buried in the sea of emails influencers get every day, determine the right approach for your strategy before reaching out.
Consider some specific tactics that can help you build an audience. Here are some strategies that you can use as the foundation for a long-term campaign.
You can first establish a mutual relationship by guest posting on each other's social media blogs. That way, you can share expertise and slightly pull up your ranks in the search engines through external link clicks.
Interviewing your influencer is another popular marketing strategy that never really fails (when done right). You can upload a video of the interview on your YouTube channel, split it up into smaller videos and publish them natively on Facebook, Twitter and Instagram.
Then, you can create a transcript and include it on your blog. Your influencer will most likely share the posts on his page as well, which can increase your chances of getting featured.
Share requests can also be a good way to help attract customers. Ask your influencers directly to mention your brand, especially if it's in line with their interests. Start by introducing yourself and what you do that makes you stand out from the crowd.
Here's a good example from Alex Turnbull, founder of Groovehq.com. His growth hacking trick was to establish a good relationship by guest blogging on well established SaaS and social media blogs.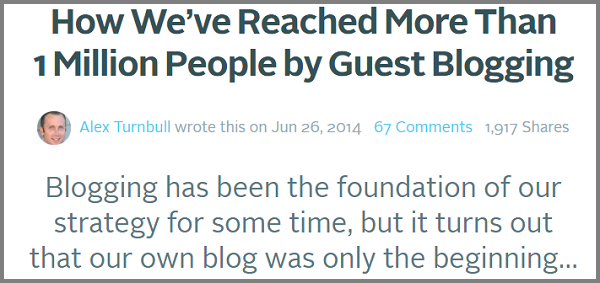 3. Help your influencers add value to their own campaigns or business
Before asking your influencers to partner with you and promote your brand, ensure that you also have something to offer them in return.
Remember, these people aren't robots who can instantly boost your business sales. Since they spend much of their time and effort building their own personal brand, it's good business sense to help them out as well.
You can mention them on your social media networks, your blog or promote them in your newsletter. This establishes a connection and strengthens your "partnership", especially in the eyes of your audience.
Take Sujan Patel, for example. Here's an example of his personal email outreach email he sent to the editor of Curata.com mentioning one of their blog posts. And in return, the editor of Curata.com introduced Sujan to their content marketing team for guest posting.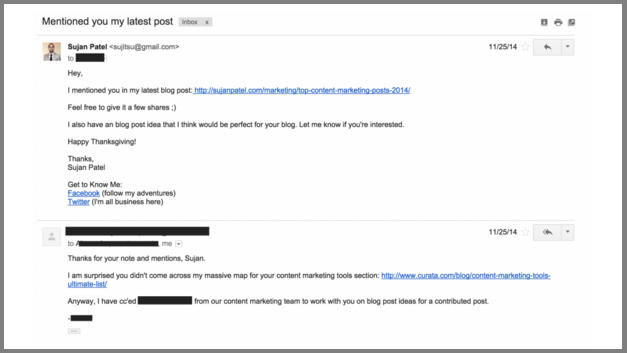 4. Get personal and establish authentic relationships with your social media influencers
Having a genuine relationship with your influencers adds credibility to the endorsement. Your audience should feel that your influencer truly believes in the social media messages you are asking him or her to push.
Consumers tend to endorse businesses that the people they trust endorse as well. Your messages should be authentic - as they are truly from your influencers' positive experiences.
Give influencers time to learn about your brand so they can genuinely endorse it. This will improve your relationship with them and add to the content they're creating for you.
For example, Devesh Khanal, sent a custom email pitch to Brian Dean showing him how he could improve Backlinko.com.
And guess what? Devesh Khanal ended up making over $10,000 working with Brian Dean from this one, simple email.
5. Become a social media influencer yourself
Yes, it's possible. Getting results through social media for your business shouldn't always be the end goal of your influencer marketing strategy. With the rise in the number of micro-influencers, you don't have to reach celebrity status to make an impact.
Gil Eyal, the founder of HYPR, said that "More than 90% of posts are made by influencers with less than 1 million followers. [...] In early 2016 a client could be satisfied with two influencers with two million followers each. Now they want to see 20-30 influencers with smaller followings."
Take Neil Patel, for example. He's an entrepreneur, investor and influencer who specializes in one specific area: content marketing. His website is one of the top resources for learning about content marketing and how to become a better marketer.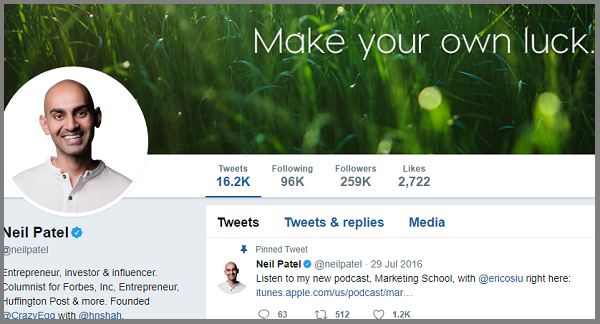 He doesn't talk about cars, stock trading or education. His core focus is on content marketing. That's it. When you have a personal brand and people acknowledge that you've carved your own niche in the market, you can start seeing yourself as an influencer.
The future of social media influencer marketing
Aj Agrawal of Forbes is quite optimistic about social media influencer marketing in 2017, saying, "The best influencers work to integrate their branded campaigns into their unique stories without skipping a beat. They know their audiences are fickle and can quickly leave, so they treat each and every post with care."
Partnerships and collaborations with social media influencers will continue to increase in the coming years. You and your competitors could be looking at the same influencers to collaborate with and it's up to you who gets the deal.
To get ahead, get started with influencer marketing now and base your marketing strategy on real relationships with real people who have real influence over the purchase behaviour of your target market. You just have to take the first step by clicking the "send message" button to your desired influencers!