Halloween is in the rear view mirror, which means that the holiday season is now in full force. No matter how many people bemoan the speed of marketers to rush into the Christmas season, the very fact that they do so consistently, year after year, reveals the willingness of most people to embrace that rush. If it wasn't effective it would be abandoned, right?
As a marketer, Thanksgiving and Christmas is a "gimmee", the perfect excuse for new campaign ideas to get your message or product out to the throng of shoppers who are ready and eager to spend. A bird in the hand can't be taken for granted if you want maximum impact though, and we all know that visuals are made for maximum impact on social media. That's where Canva comes in.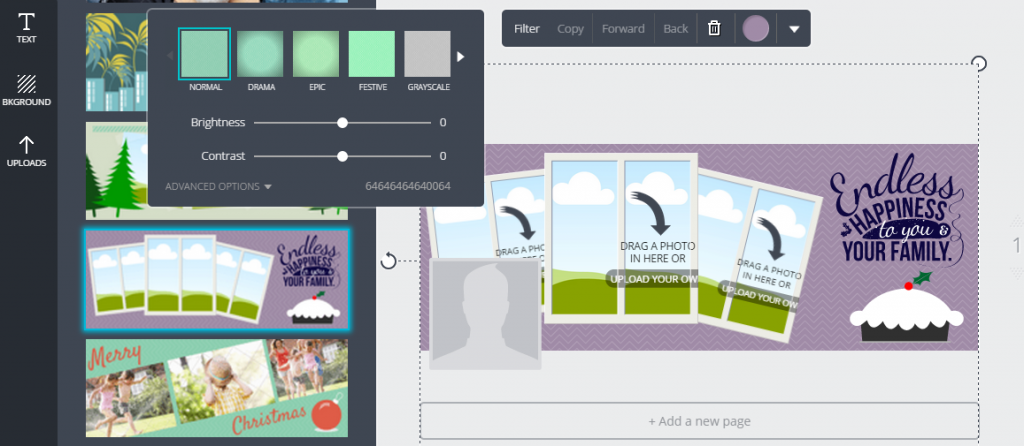 Consistency is Key
Your cover images for Facebook and Twitter (and whatever other social channels you use) should be consistent in feel and messaging, even if you don't use the same exact elements for each one. Canva's amazing tools make this task easier than ever before.
With the pre-set layouts for both Twitter and Facebook cover images, making the adjustments to each so that they keep that consistent feel and message is as simple as a few tweaks and can be done in less than five minutes. Here are some things to keep in mind as you design them:
Minimal but Effective Text
Just because Facebook lifted their 20% rule on text in cover images doesn't mean that you should use any more space than necessary with words. Keeping the text portion low helps to prevent a cluttered look that will have eyes averted instead of glued.
Minimizing your text also gives you a chance to hone your message down to simple, impactful statements without extra fluff. Including some call to action with clickable text is a great idea, or the text could point out an app or link below on your page.
One of the best ways to effectively cross-promote your campaign across platforms is with hashtags, but don't fill your cover images with multiple hashtags. It's not Pinterest or Instagram, where the more hashtags you use for posts the better. Limit it to one if possible - the one you're using for your holiday campaign. Remember, keep it uncluttered.

Move It On Over
Your image, that is. The bottom left area for your profile picture is going to affect the aesthetics of the cover image, unless you incorporate it into the cover image itself of course. Make sure that you adjust the main elements of your image to be either centered or aligned to the right so that there's a pleasant balance to the look and things aren't too - need I say it again? - cluttered.
The other advantage of aligning to the center or right is that it will show up well on mobile devices. Keep in mind that too far to the right might cut part of the image off on mobile, so make sure to test it before you finish.
Track the Impact
Whether you use clickable text in your cover, a hashtag, or both, you have to be able to track the engagement with them to determine their effectiveness and the ROI for your efforts. Using Sendible's social media dashboard allows you to not only cross-post to and monitor multiple social channels, it also lets you shrink your links with bit.ly, which automatically tracks any clicks for you.
Even better, Sendible now has direct Canva integration to make publishing your images on social media easier than ever before, all from one place. This integration will allow you to pull from your Canva design library directly into your posts, manage your cover images, and even create new images right within the posting tool.