Looking to get your brand noticed on social media?
Then it's time to up your game and improve your visual content with impressive images, animated GIFs, and captivating videos.
Not sure where to start?
In this article, you'll discover the best tools for creating stunning social media graphics to attract and engage your audience. These are:
1. Canva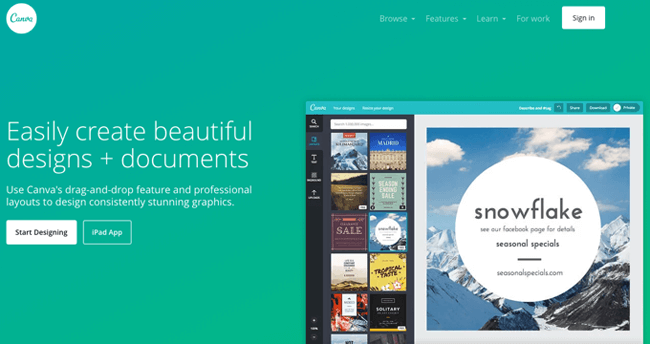 Canva has everything you need to design your social media graphics. The drag-and-drop editor – available for desktop and mobile devices – gives you complete control over the design process.
Best for
Use Canva's templates for all your social media graphics, from Facebook covers to Instagram Stories.
How does Canva work?
1. Choose a template
To start your design, try one of the pre-sized templates for social media posts:

There are also templates for social media headers and banners:

Alternatively, you can start with a blank canvas and create a custom design.
2. Enhance the design
Next, it's time to add your personal touch to your chosen template:
Upload images or select from the millions of stock photos, vectors, and illustrations in Canva: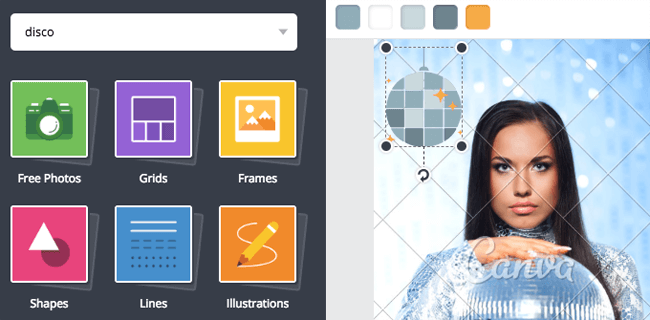 Edit your images using the built-in tools to crop, flip, and filter: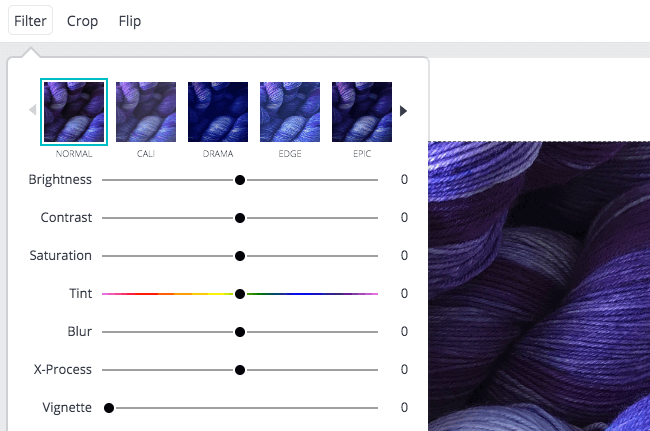 - - > Pro Tip: Canva also has a standalone photo editing app < - -
Swap or add elements including icons, shapes, and lines to your design:

3. Add text
When it comes to adding text to your design, there's a wide range of fonts to choose from: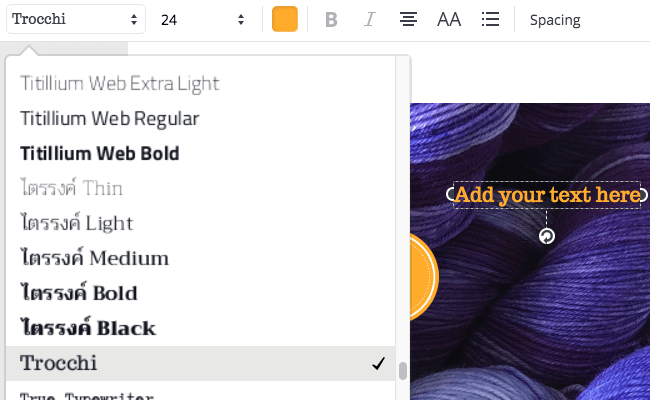 You can format your text using Size, Color, Bold, Italic, Capital, Alignment, and Spacing options to achieve the perfect design.
4. Share your design
Once you've finished your design, download it to your computer or post directly to Twitter.
Pricing
Canva is available as a 'Forever Free' option with limited features. But for team collaboration and extensive features like animation or brand kit , you'll want the 'Canva for Work' option starting at $12.95 per team member per month.
2. GIPHY

GIPHY is best known as the leading source for GIFs, and you can access it right from your Sendible dashboard! Its huge database of GIFs covers various categories including Animals, Holidays, Food & Drink, Memes, Emotions, and Cartoons: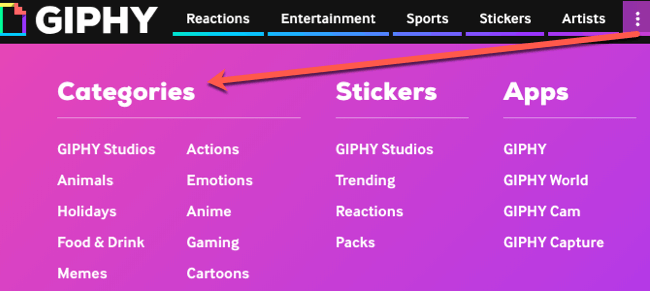 But you can also create your own GIFs using GIPHY's online GIF Maker tool.
Best for
GIPHY is best for creating GIFs and short videos that entice, entertain, and engage your audience.
How does GIPHY work?
Click the 'Create' button to get started:

Choose from three sources:
Photos - use multiple images, photos, or GIFs to create a GIF slideshow.

Videos - trim an existing video into a GIF and add captions or stickers.

URL - use a video, image or GIF previously published on YouTube, Vimeo, or GIPHY to create a custom GIF.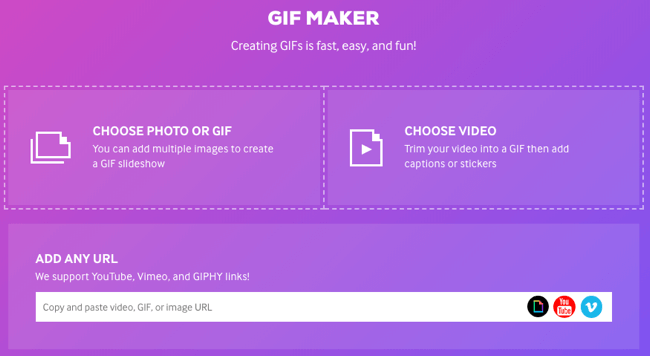 >> Follow our step-by-step guide on how to create a GIF for your business <<
When you've created your GIF, you can share or download it using one of these options:
Click 'Copy Link' to get a link for your GIF so you can share it in your social media posts.

Use the 'Embed' code to embed the file on your blog or website.

Use the 'Share It' buttons to share straight to Facebook, Twitter, or Instagram.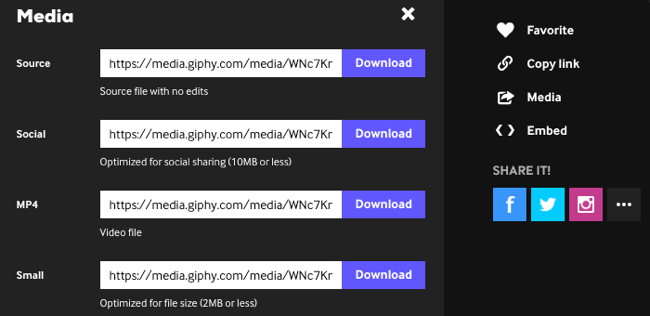 More GIPHY apps
Aside from its GIF Maker, GIPHY has four more apps:
Pricing
All the GIPHY apps are free.
3. Adobe Spark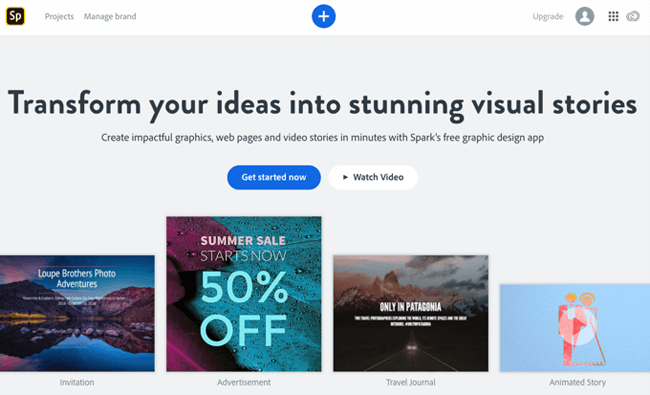 Adobe Spark is a suite of three design tools - Spark Post, Spark Video, and Spark Page - that lets you make graphics and videos for social media, plus standalone web pages. Each tool is also available as a mobile app so you can automatically sync between your computer and mobile device.
Best for
Use the professionally-designed Adobe Spark templates to create posts and videos for social media.
How does Adobe Spark Post work?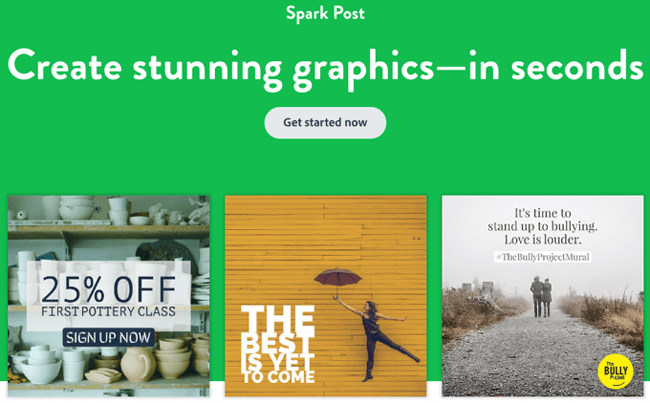 Spark Post lets you quickly create social graphics – pick a design, add your text, and apply filters.
1. Start with a template
The easiest way to get started is with a pre-made template:

The image and text options already look smart. But you also have the opportunity to start from scratch.
2. Transform the look
You can change the look-and-feel of a template by selecting a different theme from the 'Design' menu: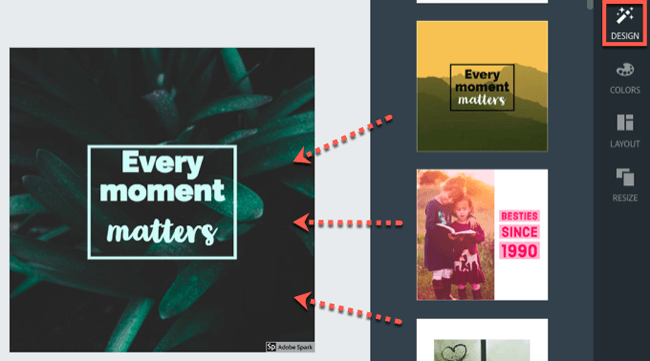 3. Make your text pop
Each template has complementary primary and secondary fonts. You can instantly change the text appearance using the formatting options - Font, Alignment, Size, Spacing, and Capitalization. If you want to change colors, then there's an array of suggested palettes, plus the option to select your own: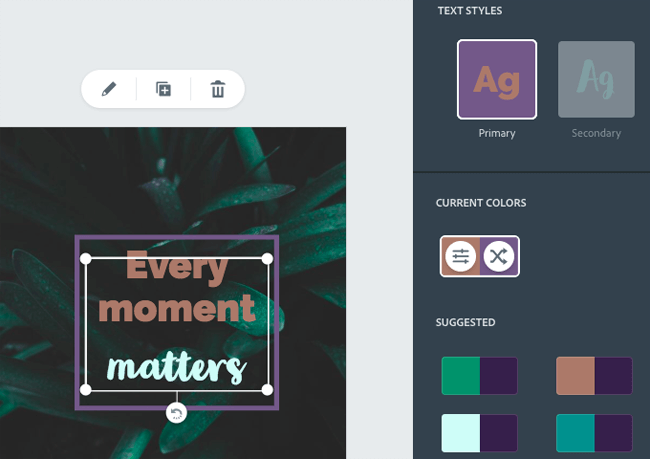 4. Auto-resize your designs
Spark Post can resize your design for different platforms. So, if you created an Instagram post, you can convert it to Facebook, Twitter, Pinterest, and more with one click.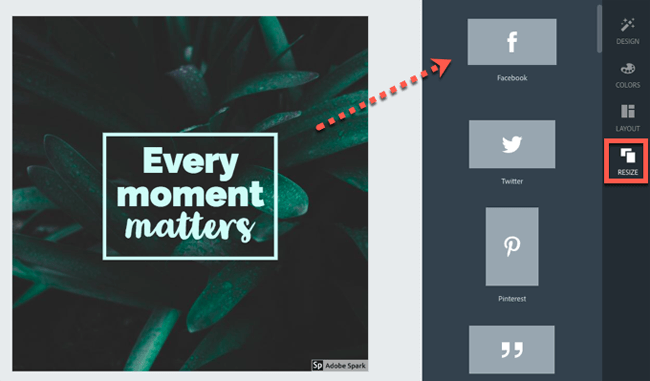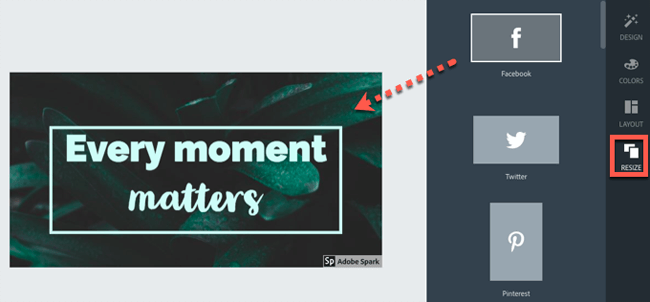 5. Share your design
Finally, share your finished designs via social media or email, or download to your computer:

How does Adobe Spark Video work?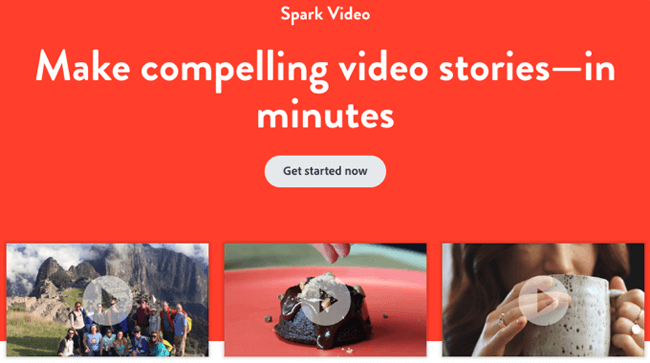 Spark Video lets you create compelling video stories by combining photos, video clips or icons with background music.
1. Pick a story template
Begin creating your video with one of the pre-configured story templates, or start from scratch: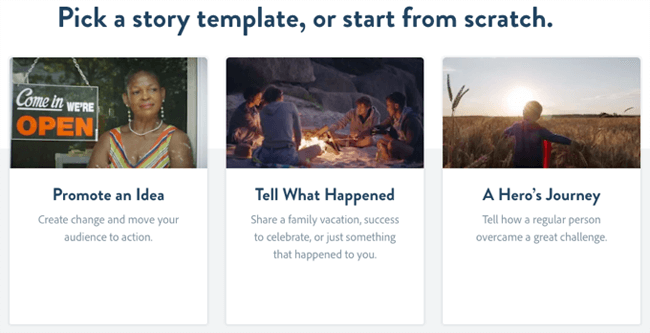 2. Choose your theme and layout
For each frame, add a video clip, photo, icon or text, and decide on the visual style and theme for your story. Each theme includes built-in transitions and motion.
Layout - Fullscreen, Split-Screen, Caption, Title and Text: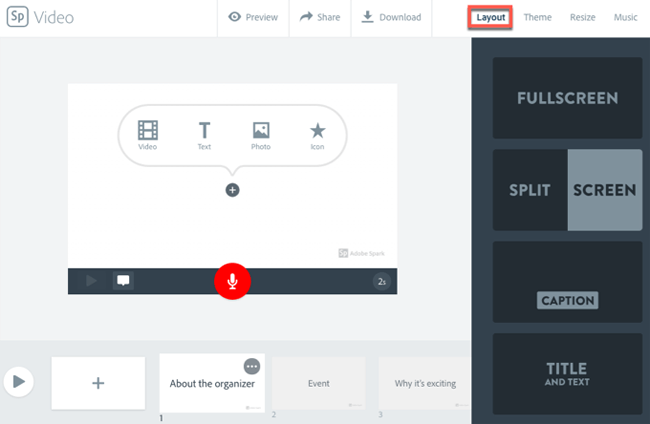 Theme - Colors and Fonts: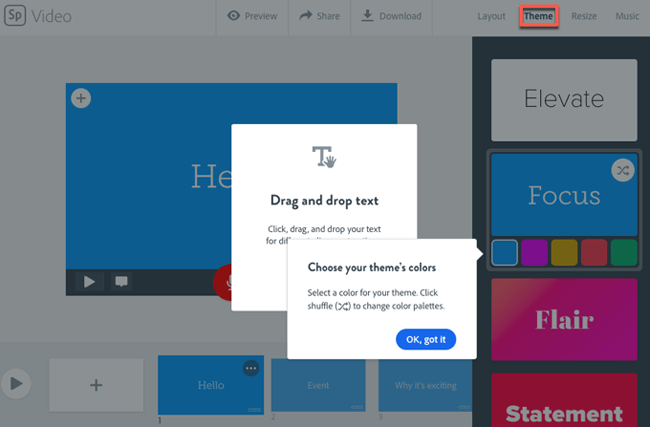 3. Make your video sound amazing
You can add background music to your video either using the free built-in soundtracks or uploading your personal music. You can also adjust the volume throughout the video to highlight key moments: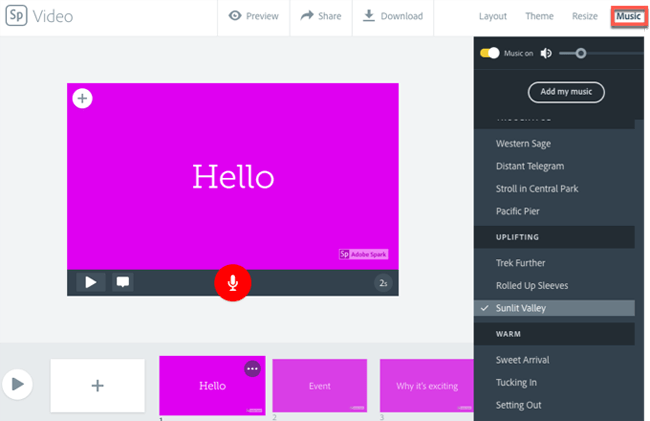 If you're creating an explainer video or announcing an event, you can also record your own voice commentary.
4. Resize your video
Spark Video allows you to resize your video – choose from Widescreen or Square: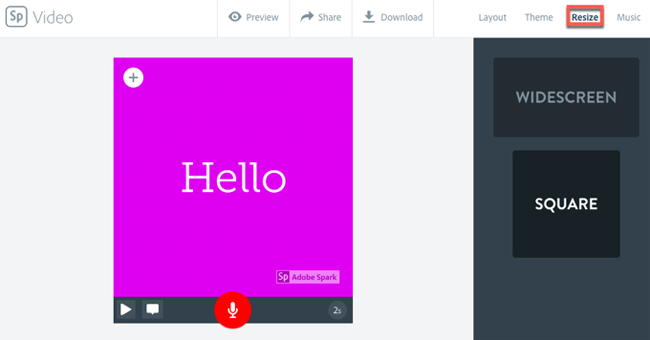 Pricing
Adobe Spark is part of Creative Cloud and is available as a free app with limited features with a watermark. The premium versions - starting at $9.99/month - for individuals and teams allow you to replace the Adobe Spark logo with your own and save your brand colors to templates for quicker and consistent design creation.
4. Veed.io
VEED.IO's video editing software and video converter make it simple to create and edit videos for any purpose. With a few clicks, you can add effects, transitions, and more to make your videos look professional and polished. You can also convert your videos to any format, so they can be watched on any device.
Best for
VEED.IO is best for creating marketing videos, product demonstrations, and social media posts that are professional-looking with beautifully designed templates, animations, and effects.
How does VEED.IO work?
1. Upload your video
You can either upload your own video or record it on the platform itself.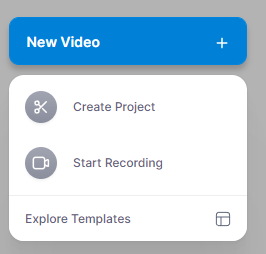 VEED.IO also has a library of premade video templates you can choose from.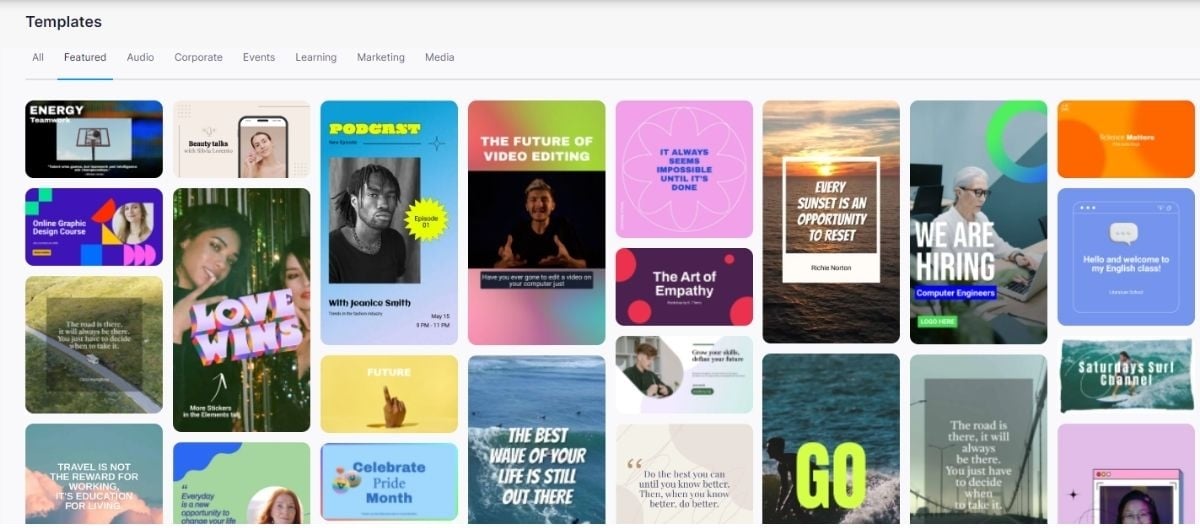 2. Edit your video
VEED.IO gives you the power to resize, cut, trim, change the background and add text and subtitles to your videos.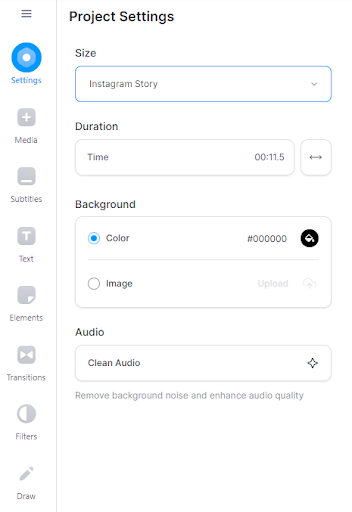 This tool also offers a ton of stock audio to choose from in case you want to change or add music to your videos.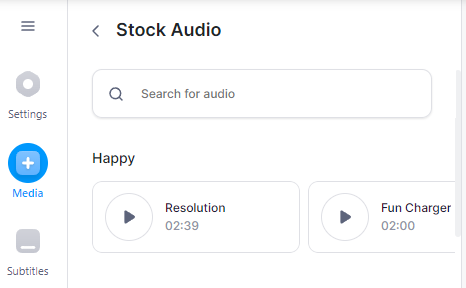 With VEED's video filters, you can transform your videos into a classic look by trying out the VHS filter, from a vintage look, or sepia, glitch, strobe, black and white, you name it.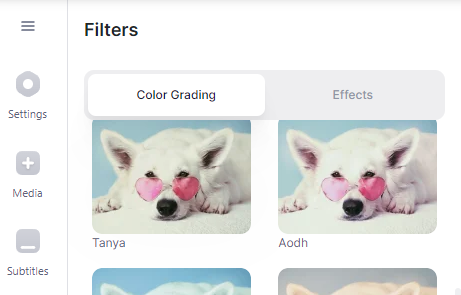 3. Export
Once you're done editing your video, you will have the option to either download it to your computer or share it directly to your social media or via link.
Pricing
VEED.IO is free to use with limited features and a watermark. If you want extended video export length with no watermarks, you can opt-in with the basic subscription which is $18/month, or go with the pro access for $30/month if you need translation, storage, and brand tools.
5. Lightroom and Photoshop (Adobe Creative Cloud Photography)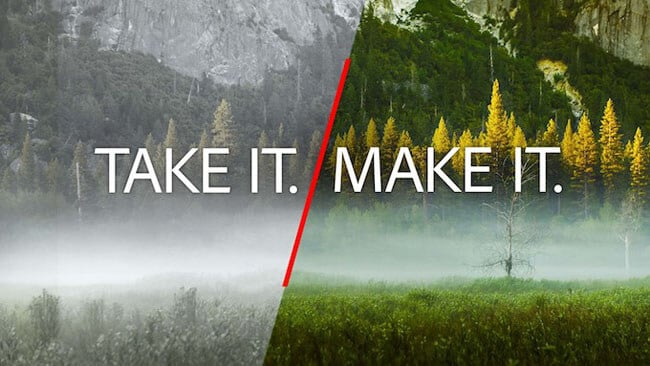 Image source: Adobe
Lightroom and Photoshop are well-known and respected products with professional photographers and designers. For years they existed as desktop software programs, but nowadays both apps form part of Adobe's Creative Cloud Photography plan, or can be purchased individually.
Best for
Use the advanced photo editing and design capabilities of Lightroom CC and Photoshop CC to create more distinct social media graphics.
How does Lightroom work?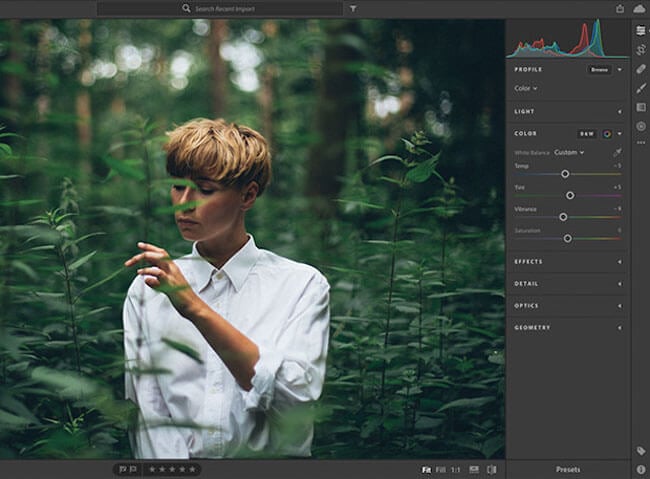 Lightroom CC is a powerful photo editing app that lets you edit, organize, store, and share your photos from anywhere. Note that this version is different to Lightroom Classic which is only available on desktop.
1. Edit
Because it's cloud-based, you can edit your full-resolution photos on the web, plus your desktop or mobile devices, and keep everything in sync. Sliders and filters make it easy to get your photo looking just right: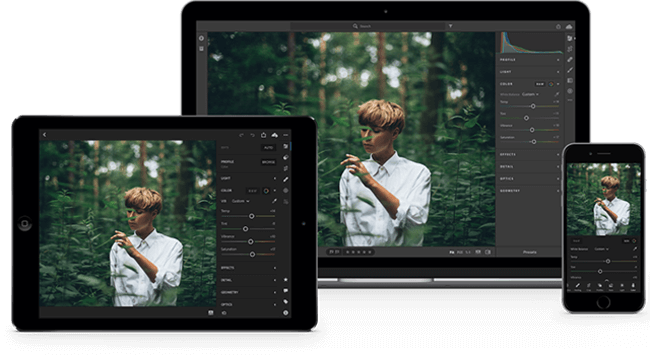 2. Organize
Searching your photo library is made simpler with Adobe Sensei. It uses machine learning to recognize the people and other content in your photos and then applies searchable keywords.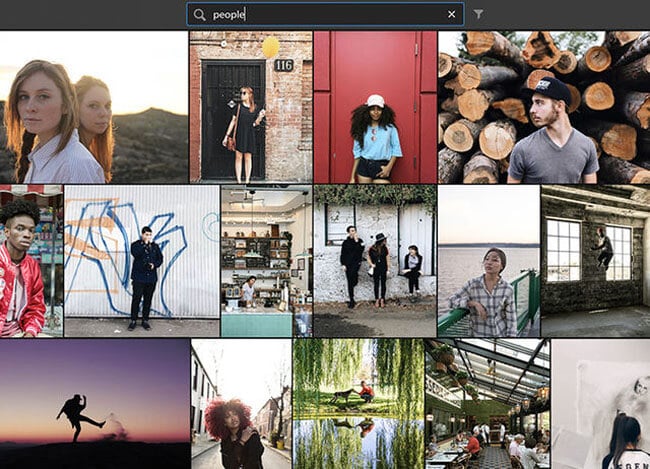 3. Store
Both your original full-resolution photos and edits are backed up to the cloud. And you can always add more storage to your plan when required: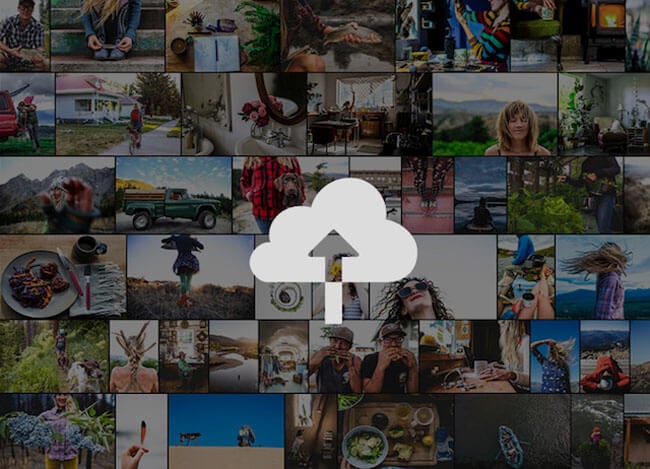 4. Share
You can share your photographs with clients and colleagues, or post photos directly to social sites. Better still, you can use them in Adobe Spark to create graphics and video stories.
How does Photoshop work?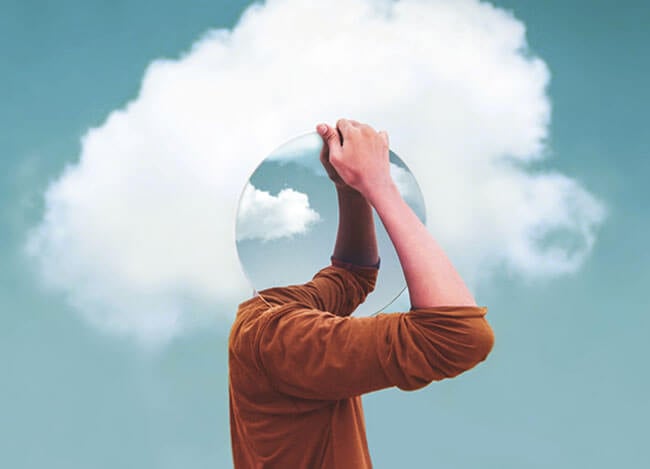 Photoshop CC is a complete set of graphic design and photography tools that allows you to transform your images into anything you can imagine.
1. Transform your photos
The Photoshop CC tools let you:
Adjust, crop, remove objects, retouch, and repair old photos.

Combine multiple images into rich, multi-layered artwork.

Work with branded templates for social media graphics.

Turn photos into paintings or 3D objects.

Play with color and effects.
2. Create new designs
The opportunities are almost endless with these two apps. While it may take longer to learn, it can be well worth it as you can create branded templates for your social media graphics with unique design features!
For example, graphic designers, illustrators, and artists use Photoshop CC to create images with pencils, pens, markers, and brushes that 'feel real':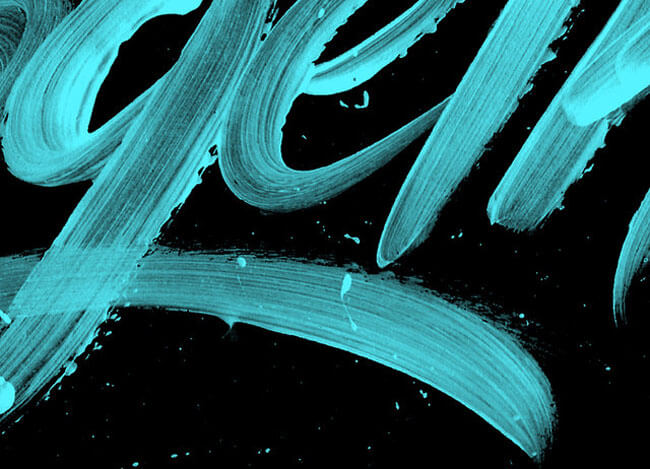 Image source: Behance
Pricing
Adobe lets you choose your combination of tools and cloud storage, these are the prices for individuals:
Lightroom CC plan - includes Lightroom CC and 1 TB of cloud storage - $9.99/month.

Photography plan with 20 GB of cloud storage - includes Lightroom, Lightroom Classic and Photoshop - $9.99/month which goes up to $19.99/month with 1 TB of cloud storage.

Adobe All Apps plan with 20+ creative desktop and mobile applications - includes Photoshop, Lightroom, Lightroom Classic, Illustrator, Premier and other apps with 100GB of cloud storage - $49.99/month.
6. Lumen5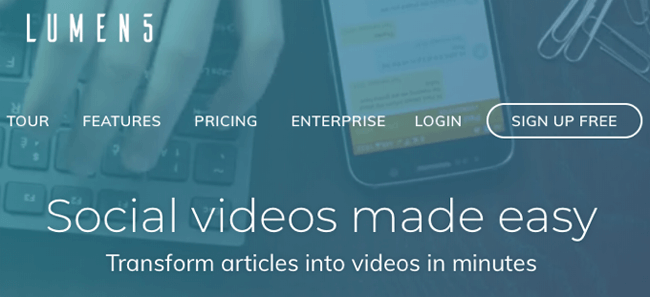 Lumen5 transforms published articles and other text-based content into social videos. It's as simple as adding the link of the blog and the tool will help you create the video, or you can use the subheadings in your blog instead.
Best for
Lumen5 is best-suited to creating video from existing articles, blog posts and other text-based content.
How does Lumen5 work?
1. Source your content
Begin by entering an article link or copying and pasting your text into the app. Lumen5 automatically creates a video storyboard using its Natural Language Processing algorithms: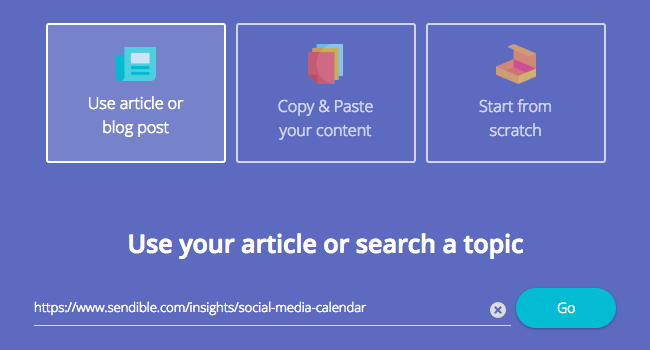 2. Select visuals and audio
Now you have the basis of your video, and you can start arranging the story, images, and audio. The platform includes a built-in media library of copyright-free photos, videos, icons, and audio tracks. Plus, you also have the option to upload your own files: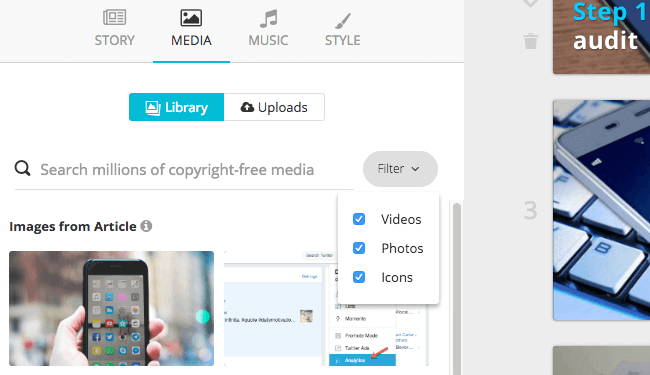 3. Apply your branding
The next stage is to apply your branding by adding a logo, and choosing fonts and colors:

4. Share your video
Once completed, you can download and share the video: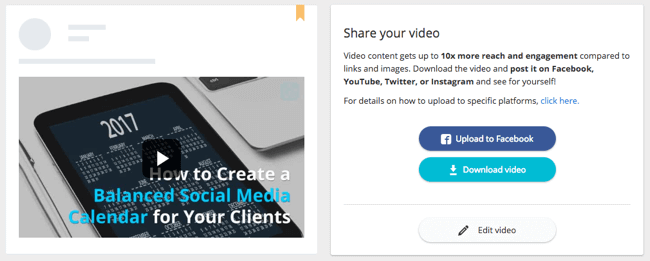 >> Follow our step-by-step guide on how to create your first social media video using only text <<
Pricing
Lumen5 is available for free with limited features. The premium plans start from $49/month and include high-resolution video, square and vertical formats, plus custom theming.
7. Animoto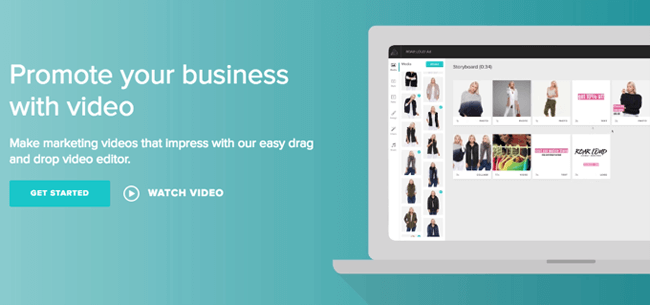 Animoto lets you create professional slideshow videos using a combination of photos, video clips, and text.
Best for
Use Animoto for creating storyboard videos that get your brand noticed and your audience engaged.
How does Animoto work?
1. Select a video storyboard or start from scratch
Animoto comes with some pre-built storyboards including editorial content, ads and promotions, seasonal sales, and how-to guides, which makes it easy to get started. Choose the storyboard style to set the tone: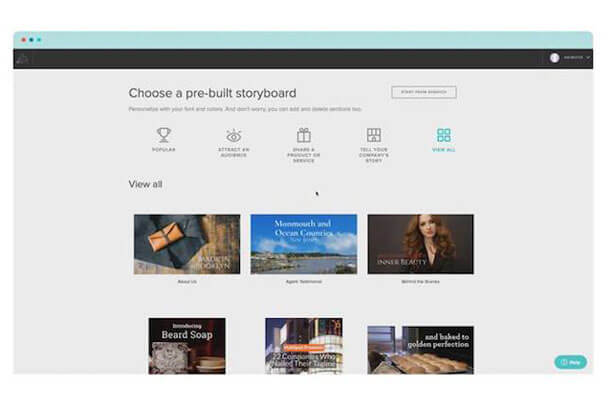 2. Add your photos, video clips, and text to customize your video
The next step is to drag-and-drop images and video clips into your storyboard: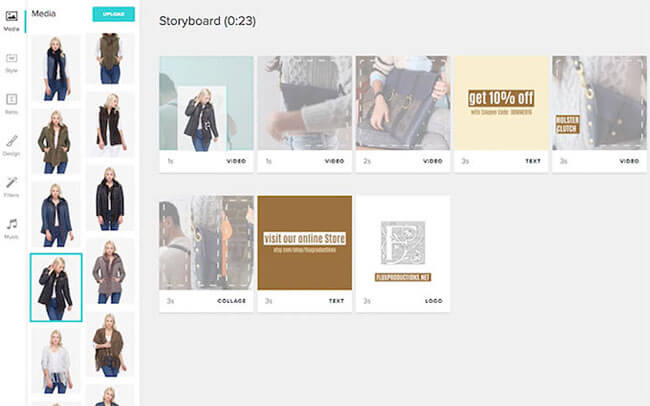 Then edit the text by changing fonts, transitions, and colors, before choosing a song from the library of licensed music: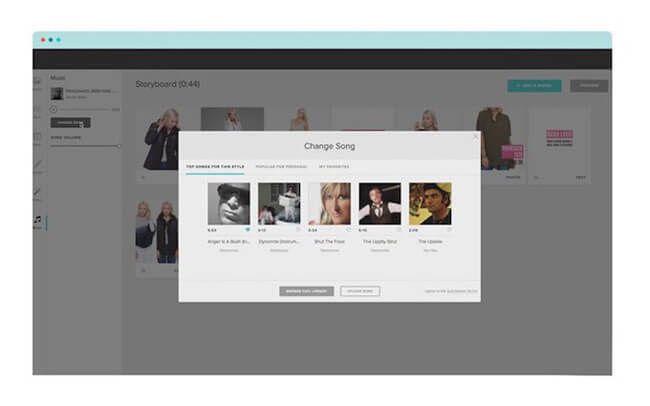 3. Produce your video and share
Once you've finished producing your video, you can share it directly to Facebook, Instagram, and YouTube. Plus, you can also email your video, download it to share on other platforms, or embed it on your website.
Pricing
Animoto has three pricing plans - Personal, Professional, and Business - starting from $8/month. Premium plans benefit from higher resolution videos (HD 1080p) and more storyboards, images, fonts, colors, and songs.
8. CloudApp

CloudApp is an easy-to-use screen recorder that lets you capture, share, and store your ideas in the Cloud. You can click-and-drag to capture your recording area for both images and video.
Best For
Use CloudApp for capturing screenshots, creating GIFs, and recording screen and webcam videos to improve communication.
How does CloudApp work?
1. Capture your screen
Take a screenshot and share it with colleagues and clients via a shareable link or drag-and-drop it into your apps and documents: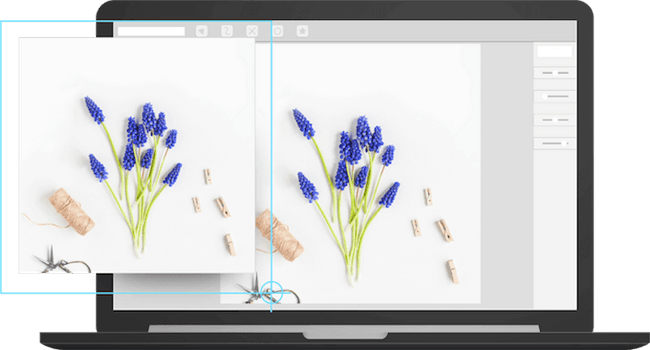 2. Create GIFs
Create GIFs, animated GIFS, screen capture GIFs, plus convert existing videos into GIF snippets. Use your finished GIF to explain difficult concepts or add some fun to your social stream:
3. Annotate your images
You can enhance your screenshots and GIFs with annotations – arrows, lines, shapes, emojis, and drawings – plus blur any sensitive information.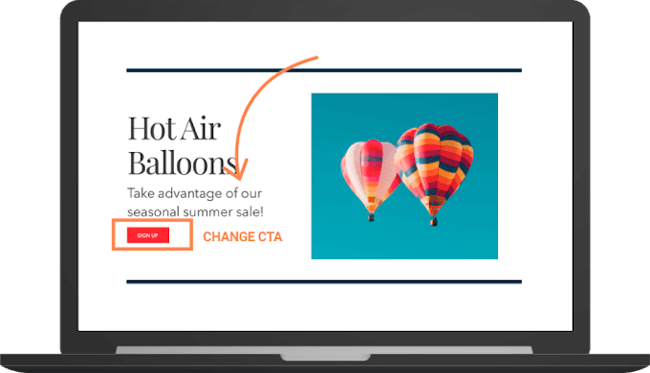 4. Record videos
Aside from short screen capture GIFs, you can also record longer HD videos. Plus CloudApp also allows you to create personalized videos with your webcam: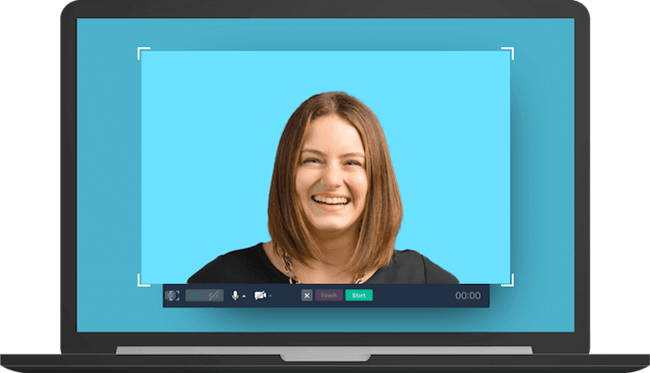 5. Record your screen and webcam at the same time
Take things one step further and record your screen and webcam at the same time so that you can add a face to your explainer videos and product demos: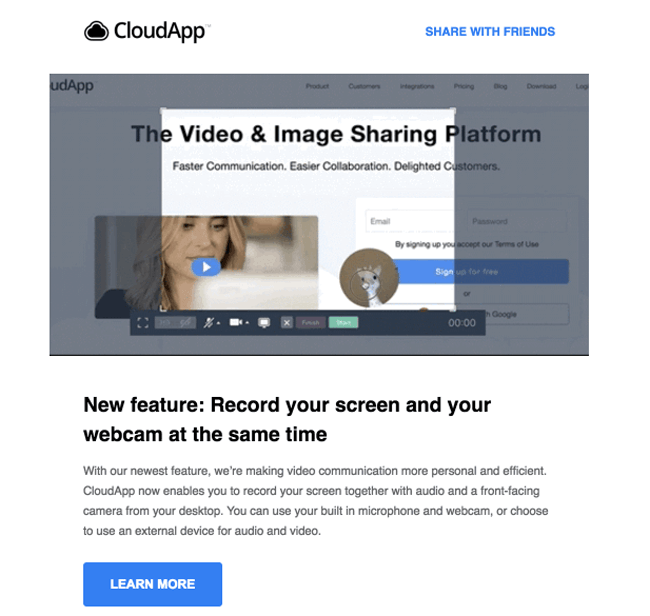 6. Upload and share files
CloudApp also allows you to upload large files of any type and turn them into shareable links with password protection and expiration dates.
Pricing
CloudApp has a range of plans - starting with a 'Forever Free' option - for individuals and teams. The advanced premium features include collaboration, custom branding, and secure sharing.
9. Bonus: Royalty-free stock photo websites like Unsplash and Pixabay
Unsplash and Pixabay are excellent sites to visit when you're looking for photos and videos for your social media posts. Plus you can also upload these free images into some of the tools mentioned above.
Unsplash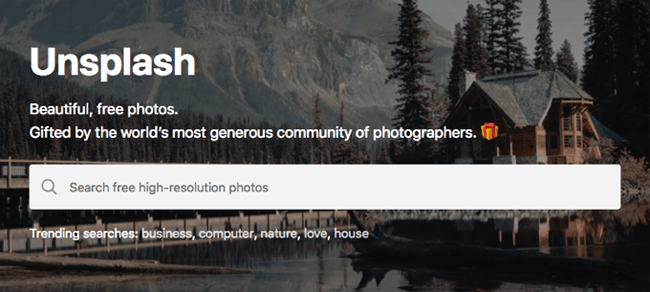 Unsplash has over 550,000 free high-resolution photos provided by a generous community of photographers. New images are hand-selected and added to the huge library every day. From there, you can:
Search for photos using keywords; e.g. social media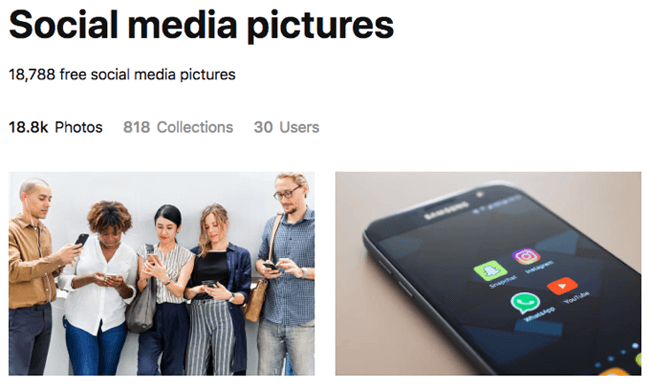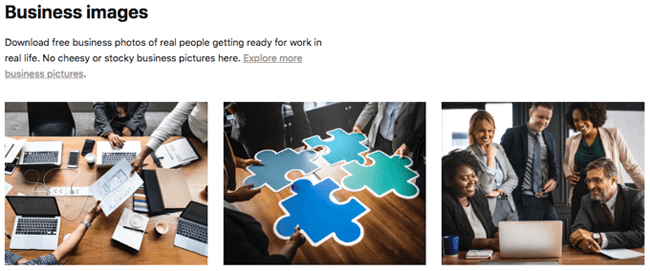 Pixabay

Pixabay has a collection of over 1.5 million royalty free images and videos. You can filter your search by orientation, category, size, and color:

Pixabay has three types of images:


Pricing
Both Unsplash and Pixabay provide photos that are free to use for commercial and non-commercial purposes. You don't have to credit the photographer, although it is appreciated when possible.
Wrapping up
With all these brilliant tools, there's no excuse for not creating visual content.
Whether you're working in-house or at an agency, beginner or advanced, it's time to start creating your super social media graphics!
Be sure to let us know which tools you're using and what graphics you created.