Marketing what's considered a "dull" brand isn't easy - especially on social media, where you're up against millions of consumer-friendly brands that sell products and services that lend themselves to creative campaigns.
There's a big difference between getting people excited about unicorn cupcakes and getting people excited about alarm systems.
But, just because your brand is considered dull next to others, it doesn't mean your social media efforts have to be dry.
Here are some tips you can swipe from real-life brands to spice up your social media marketing:
But before you continue reading, make sure to check out our video with agency owner Desiree Martinez on what to do on social media if you're a "boring" brand.
Social media best practices for tech companies
"Tech" is a generalised umbrella term covering everything from exciting new AI developments to cloud systems and IT hardware. While this might tickle some people's fancy, it's not for everyone. If you fall at the "duller" end of the scale, you're probably wondering how social media can help you ignite interest in your brand and product.
But here's the thing: 86% of consumers buying IT products use social media to help them decide on a purchase. The key is to share the right content at the right time to help them make that decision.
Share use cases and success stories
Tech and software can sometimes be confusing to get to grips with.
Showcase past customer reviews and stories to show what your product can do for future customers. This injects social proof into your marketing efforts, which builds trust and credibility with your followers.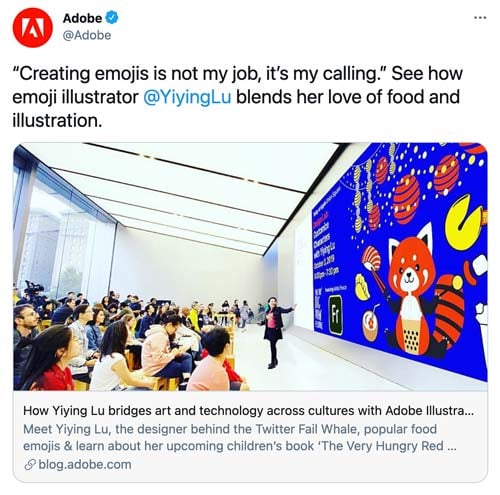 Adobe shares customer success stories on social media with a link back to their blog.
Tips about trending topics
Even if people aren't excited about your specific line of technology, they might be excited (or, at least, interested) in trending issues, like saving the planet, current political news, or the latest Netflix hit.
Try sharing tips about these trending topics in relation to your brand or product. Creating connections in this way will help followers see that your product is actually pretty relevant.
Intel does exactly this in their Instagram post about working from home: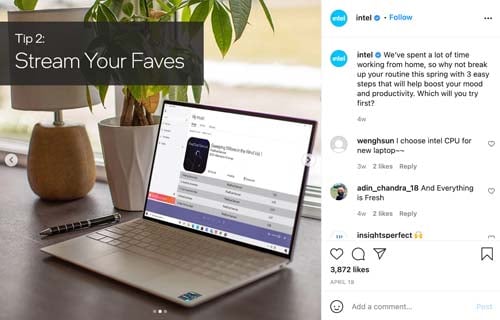 Use casual, conversational language
It's easy to get caught up in the jargon of the tech world, but consider what your followers do and don't know about your industry.
Chances are they don't know about complex computer hardware language, but they probably do understand how frustrating it is when their printer stops working: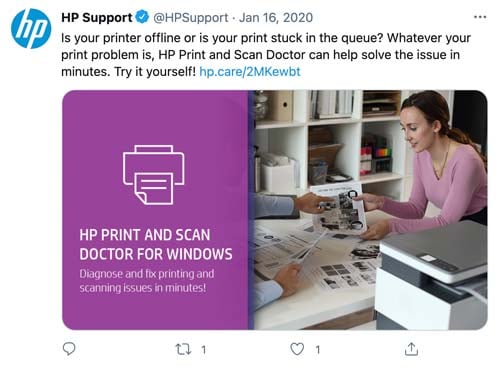 Take a leaf out of HP's book and use simple language. Imagine you're speaking face-to-face with a customer or a friend and read any posts out loud before you hit publish.
Incorporate GIFs, emojis, and short animations
It's predicted that, by next year, videos will account for 82% of all online traffic. Using moving visuals ties into customer wants and needs, but it also adds an interactive and engaging element to your social posts.
Try playing around with GIFs and emojis as well as short animations to give your brand personality and capture the attention of scrollers.
Intercom does a great job of this. The software company regularly shares short animations on their Twitter feed.
Social media best practices for finance companies
Finance companies offer lots of value but, let's face it, they're not perceived as the most engaging brands in the world. However, research from the American Bankers Association reveals that almost nine out of 10 banks (87%) are very or somewhat active on social media.
Competing with these brands means using social media to share consistent, creative content.
Get your customers involved
Your customers are the most important part of your business, so get them involved. Social media is an inherently social platform, and generating engagement and community can help increase brand awareness.
Take Monzo, for example. Their innovative approach to social media includes asking customers to share digital drawings as part of an "online gallery".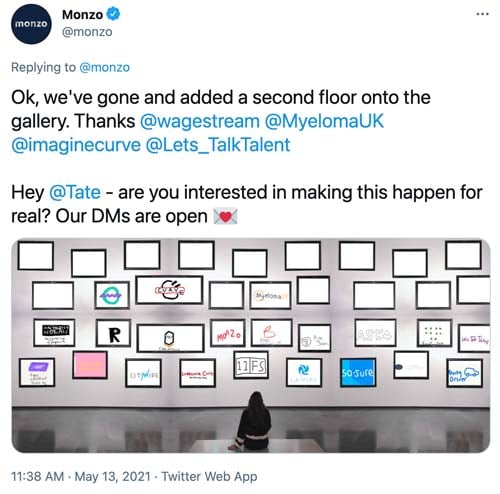 Share your missions and values
Banks aren't renowned for being the most above-board brands, so it pays to show off the good you're doing in the world. This is especially important now that consumers are keen to invest in brands they share the same values as.
Use social media as a platform to voice your mission, as Marqeta does. They talk about their initiative to plant trees in the Amazon, creating a connection with people who are interested in this topic.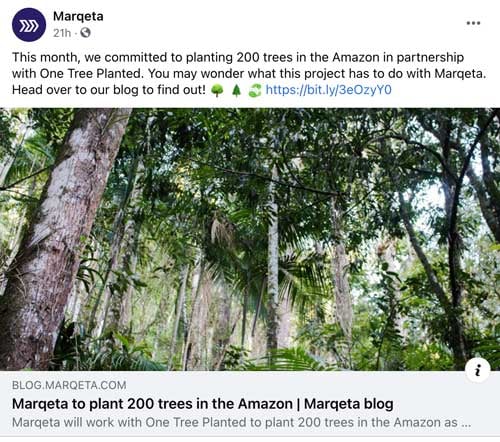 Utilise social media features
Social media platforms come equipped with a suite of powerful features just waiting to be used - take advantage of them! Features like Instagram Stories, Polls, and Live make it easier to connect with your followers in the moment.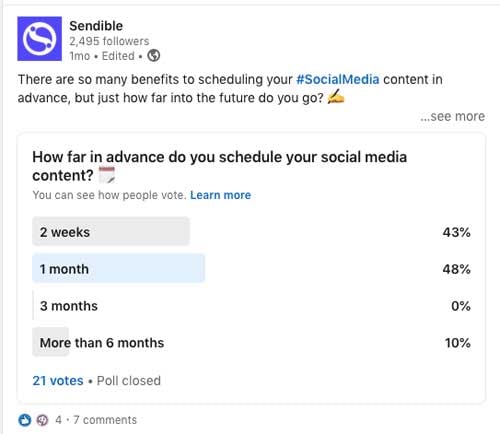 In fact, research shows that Live Video is the best performing organic content type for finance brands on Facebook.
Saving and investments app Acorns use Instagram Stories to answer FAQs and provide more insight into the business.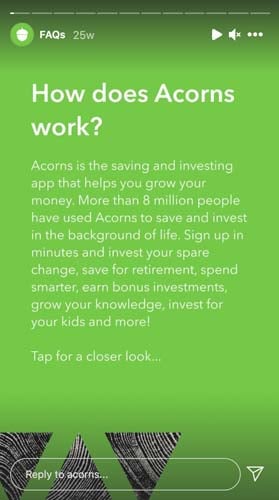 Social media best practices for law firms
Law is a tricky business, and social media can seem like a frivolous way to promote hard-hitting services. However, 35% of law professionals said they'd had a client hire them because of their social media use.

The key is to create content that taps into a need your followers might have and to dispel myths around legal processes (after all, it can be quite a scary industry).
Share live knowledge
Your knowledge is your power as a law firm.
You probably know a ton of useful facts and have a library of fascinating stories to share - this is where your power lies on social media.
Share your knowledge using features like IGTV, Facebook Live, or Stories to show your expertise and tackle any potential client objections. PLMJ does this by sharing interviews on their Instagram feed.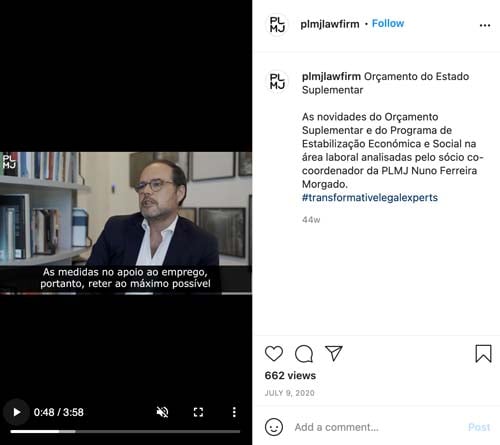 Run live events
Live, online events give you the chance to connect on a deeper level with your followers. They can get involved in the action, and they get a better idea about who you are as a brand.
Make like Kennedys Law firm and host regular roundtable events in multiple different industries. This event promotes a cross-over with the healthcare industry (which can be considered another "dull" industry).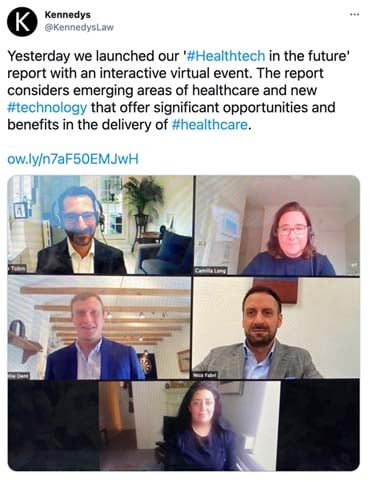 Social media best practices for healthcare brands
Healthcare can be a sensitive topic, which can make it tricky to get right on social media. However, 63% of patients choose one provider over another based on a strong online presence, while 60% of doctors believe that social media improves the quality of care for patients.
These are difficult stats to ignore, especially if you want to stand out amongst the ever-increasing competition.
Share testimonials and customer stories
Healthcare is a particularly personal industry, which makes customer stories the backbone of your marketing strategy. Knowing the experience other patients have had instils trust and builds credibility.
Take a look at what the Maven Clinic does here on their Instagram: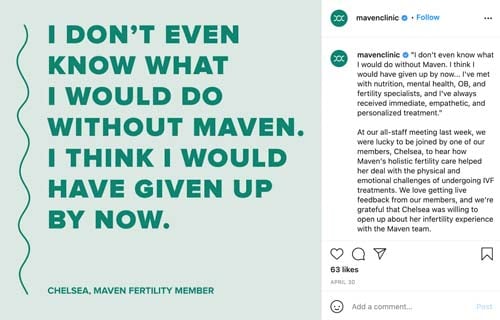 Put the spotlight on staff and patients
The people are the driving force behind healthcare brands, so put them front and centre on your social media channels. Interview them, share their stories, video a day in their life, and generally make your social feeds all about them.
Northwell Health does exactly this with their Day in Life series on Instagram Stories.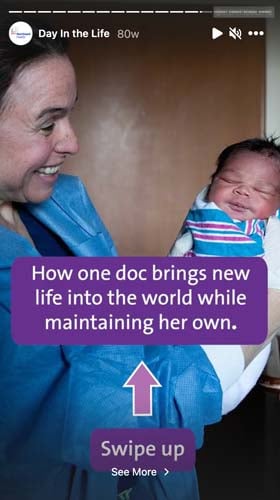 Educate your audience
The healthcare industry is full of myths and false information. Social media provides the perfect place to dispel these myths and share useful facts that will help your followers.
Doing this will increase credibility and ensure you become a trusted source of information about your specialist healthcare subject.
Use social media to engage with your audience by hosting Q&A sessions, counteracting misinformation, and sharing valuable content.
Social media best practices for security companies
Very few security companies have managed to get it right on social media - and who can blame them? Security isn't a fun topic to talk about, and most people don't go on social media to think about their house getting broken into or their car getting stolen.
That doesn't mean you can't excel on social media, though. In fact, there are a handful of brands that have really found their element there.
Run a competition
Everyone loves a good competition and the chance of winning a prize. Generate engagement around your brand and raise awareness by running a contest for followers and their wider networks.
Take Boundary Alarm, for example. They ran a fun competition looking for the UK's most hopeless guard dog.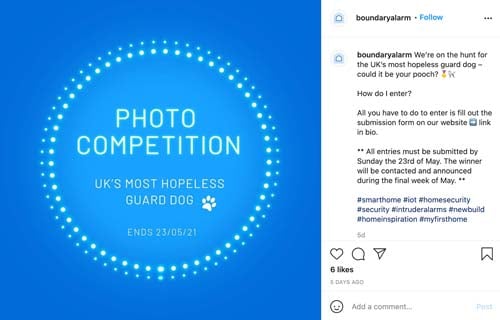 Have conversations with customers
Social media has become another customer support channel for many brands. In fact, 42% of consumers expect brands to respond within one hour when they reach out on social media, with a further 79% expecting a response within 24 hours.
Copy what SimpliSafe does and use your social media channels as a place to start and join conversations with customers. Respond to their comments, troubleshoot their problems, and share any stories or photos they tag you in.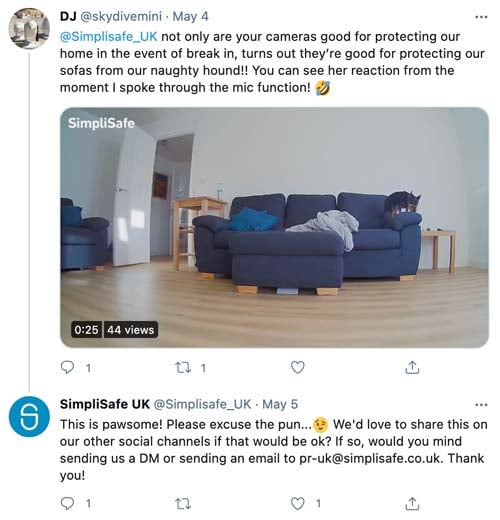 Social media best practices for energy and electricity providers
Energy and electricity providers aren't exactly known for their incredible social media presence. But, just because there's not much inspiration out there, it doesn't mean you can't forge your own path.
Get followers involved
Have your followers create content for you by running a contest, creating a unique hashtag, or inviting customers to share their own photos and videos. 86% of people say authenticity is important when choosing a brand to buy from, and UGC does a great job of increasing credibility.
Octopus Energy leverages UGC by encouraging its younger fans to draw pictures of the brand's mascot, which they then re-share on social media using the designated hashtag.

Tell stories from the inside
Chances are, you have a wealth of fascinating stories and content right at your fingertips, courtesy of your employees. Hunt for engaging and inspiring employee stories that you can share on your social channels, like Duke Energy does.
In this Instagram post, they put the spotlight on their artists and software engineers.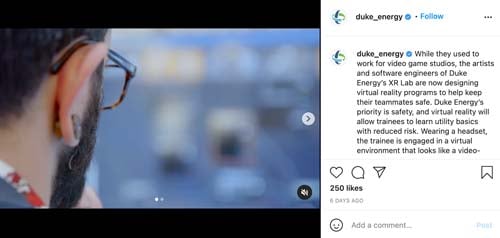 Promote your events
Use your jam-packed events calendar to your advantage. Share upcoming dates with your audience and give an insight into why you're hosting each one.
PG&E are great at doing this. Their virtual and interactive Town Halls are popular with their followers. Each session focuses on a different topic and answers users' FAQs.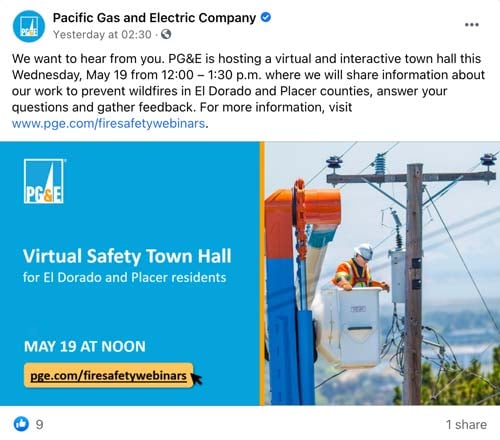 9 top tips to take your social media from mind-numbing to mind-blowing


Know who your customers are and what they want: ask them what kind of content they'd like to see and track your social stats to discover the most popular types of content
Be human: speak to followers like you would a friend. Demonstrate authenticity and avoid industry-specific jargon
Find your unique angle: think about what makes your brand different from others in your industry and play on it
Make it memorable: brand your social content and be consistent so that you're instantly recognisable in people's feeds
Make use of social media features: tap into Stories, Lives, hashtags, and other social features to expand the reach of your content
Educate followers: share stories and divulge your knowledge to establish expertise and build trust
Let your customers do the talking: ask your followers to share photos, videos, and stories that you can re-share
Find the story: uncover the narrative in your business - think about what customers want to know and how you can take them on a journey
Mix up your content formats: use video, text, GIFs, animations, infographics, and any other type of content that aligns with your brand
It's time to take your social media from meh to magnificent
A boring brand doesn't have to mean boring social media content.
Take inspiration from the brands we've mentioned here and turn your social channels into a thriving place full of interaction and engagement.

And if you're looking for social media content ideas for your brand's channels, you can find them here.