It's hard to believe that 2019 is already upon us - but here we are! As we gear up for another exciting year at Sendible, we wanted to take a moment to reflect on the marketing lessons we've learned in the past 12 months—from marketing on social media and crafting emails to campaign promotion.
Being a part of Sendible's marketing team in 2018 was exciting, particularly because it was a year of real upheaval for social media - as a social media marketer, I had one eye on the news at all times! Transparency (or perhaps the lack of it) was a huge theme of the year, with stories of Facebook's privacy scandals dominating the headlines, while algorithm and automation changes were rife and GDPR compliance came into full force.
2018 kept us on our toes, and we learned a lot we can share, so in the spirit of transparency, that's exactly what we're going to do! Here's our short marketing summary, featuring snippets of knowledge and insights that we gained through experimentation and sometimes, even error. Enjoy!
#1 Social media is a community - use it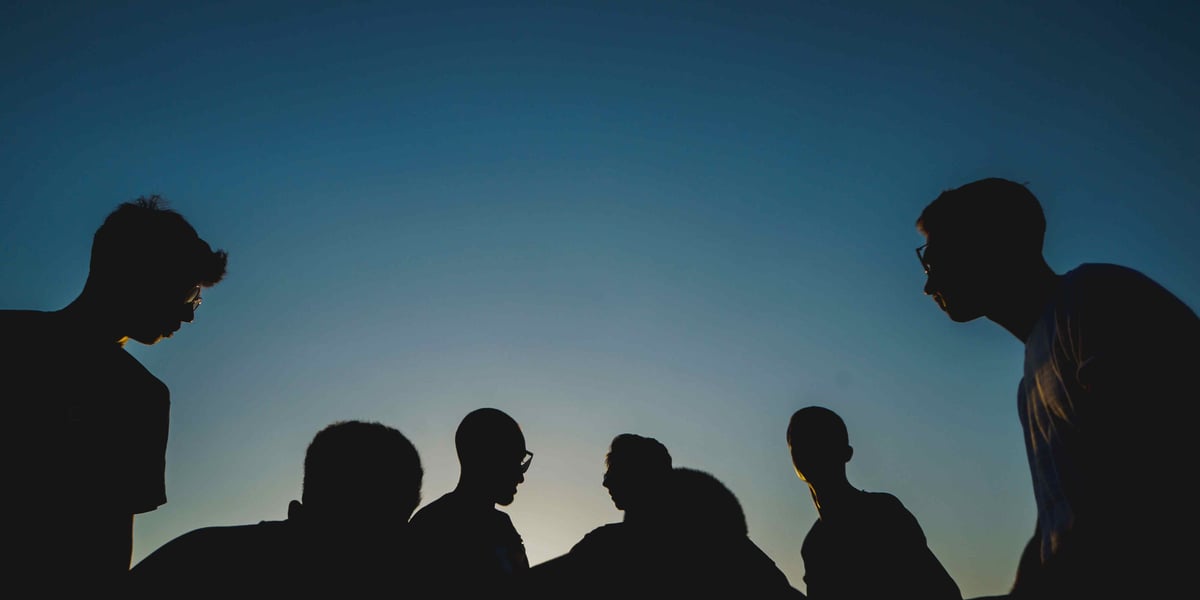 As a marketing team, one of our main goals is to achieve higher engagement on our social media channels. The trouble is that these days, it isn't easy to get your brand's voice heard over the noise of your competitors.
Producing quality content isn't the problem anymore - anyone can do that with the right tools for creating social media graphics! The real challenge is getting the right people to view it. A great way to achieve this is by engaging and connecting with your community, particularly influencers and influential industry voices.
This was a great lesson we learned by live-tweeting from events like Social Media Week London (@smwldn) and BrightonSEO (@brightonseo). In fact, event posts have generated some of our best content engagement on social media!
By quoting and mentioning speakers in your tweets and backing them up with great images from an event, you are providing your followers with valuable content and making your brand known to the people that matter - you could be one retweet away from a whole new set of followers!
"Live video is brilliant at amplifying your other marketing efforts — use it to support your product launches, interactive content and competitions." - @bobbibrant, Head of Creative @kaizen_agency #livevideo #contentmarketing#brightonseo pic.twitter.com/lJZfQXm8nv

— Sendible (@Sendible) September 28, 2018
What's more, providing coverage of these events can help you generate long-form content for your blog, which you can then tweet about. These types of posts make for great Instagram content too! Talk about a win-win situation!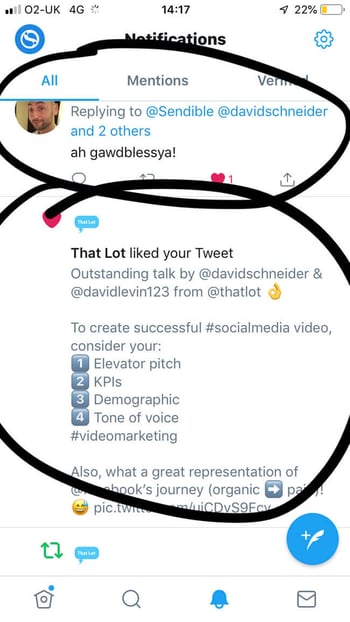 #2 Sharing is caring - you don't need to create every piece of content yourself
As a brand, it's important to be on top of industry developments, but who has the time to create content about every bit of news? Instead, the sweet spot is to share news from other credible, non-competing services that relate to your industry. This tactic saves time and can help you garner industry influence for your clients or your agency too.
At Sendible, we've found that Social Media Examiner and Social Media Today are great, trustworthy sources to share content from, among other digital marketing blogs we follow. We've also found that mentioning the authors of the articles you share is a great way to improve engagement, as is using industry-specific hashtags to bolster your posts.
Want to create more #socialmedia videos? Use any of these awesome apps:
📷 @instagram's Boomerang & Hyperlapse
📹 @teambiteable
🎥 @Animoto
📼 @TheAnimaker
📱 @Quik_App
🎬 @LumenFive

Learn how on our blog! 😉 #videomarketing https://t.co/qNnzIUSJKw pic.twitter.com/ChYKjVC4xi

— Sendible (@Sendible) July 2, 2018
#3 Adding a human touch is the key to great email marketing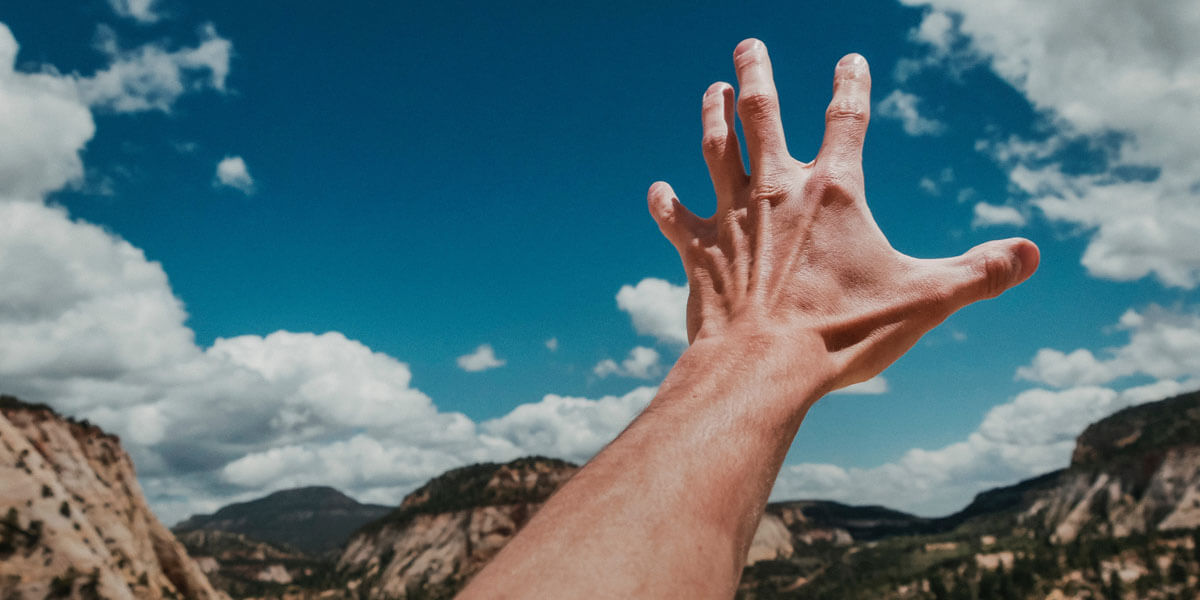 Email marketing still is an effective and affordable way to engage with your customers, but with the average office worker receiving around 90 emails a day, how can you make sure that your emails are being read and absorbed? How can you cut through the noise to achieve those all-important high open and click rates? The reality is that customers don't want to feel like they're being given the hard sell every time they open their inbox, and they certainly don't want to be tricked by clickbait. Luckily, personalization can help create an authentic and effective email experience.
For our team, experimentation has been key to understanding what works and what doesn't. Through trial and error, we've found that adding the recipients first name to the subject line of an email has a positive impact on open rates.
Additionally, we've found that our most successful open rates were achieved when emails had a real person's name and signature attached. To avoid being perceived as 'clickbaity', your email subjects should closely relate to the content of the email you're sending- it's as simple as that!
#4 Learn what content your audience wants - give them solutions, not problems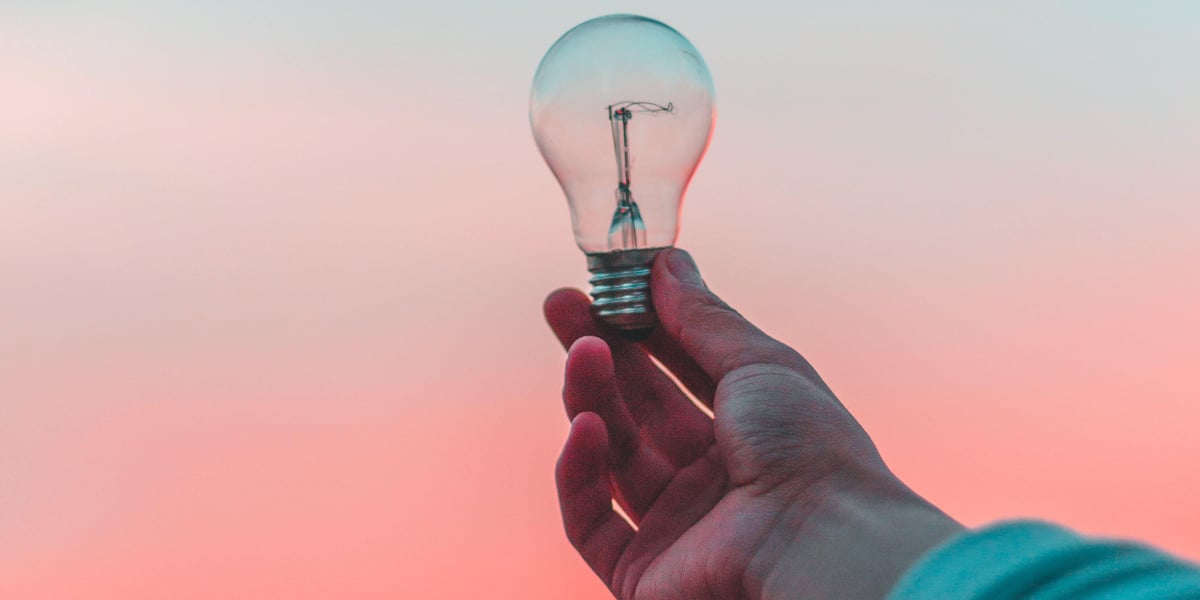 Readers often turn to blog posts to learn something new or brush up on their existing knowledge, so they can be a lucrative marketing opportunity. Unsurprisingly, content that is geared towards helping people solve real issues and questions they have will always do better - that's why it's so important to keep you and your client's specific audience in mind when creating any piece of content.
"The "spray and pray" approach, where you target all your leads at the same time, doesn't work anymore. Remember, if you're not segmenting, you're not marketing. " - Nico Watson, Head of Marketing @ Sendible
To put it simply, posts that can create the most perceived value for potential customers will help turn them into leads. Looking at our top performing blog posts for the year, it's certainly the case that the posts which have received the most traffic offer a more comprehensive lesson in social media marketing. To date, our best-performing blog posts include the 7 tips for using Instagram for business, and our guide to how often you should post on social media in 2019.
At the other end of the spectrum, our worst performing blogs tended to be more niche and were targeted towards specific industries like financial services or real estate. Interestingly, although our BrightonSEO recap proved to be a fantastic tool for social media engagement, its readership was relatively low.
The goal of these more event-based and industry-specific blog posts was to organically rank for keywords used in certain industries and try to own the niche. Only time will tell if we'll achieve this, but it's important to remember that the number of views a post receives doesn't necessarily dictate the number or quality of the leads it produces.
Ultimately, targeting specific content towards your preferred audience helps you to learn more about their wants and needs and guides you to make more informed content decisions in the future.
#5 Always remember the golden rule of campaigns: 20% creation, 80% promotion
The truth is that promoting content is time-consuming, but it is key to your brand's success. It's important to always keep promotion in mind for each piece of content that you produce, and avoid jumping onto the next content creation project without having fully promoted the previous one first!
Twitter and Facebook have been great campaign vehicles for our content promotion this year. With our 2019 Social Media Calendar campaign, we scheduled one tweet per week for several months, each with unique copy, a link to the offer landing page and a selection of specially made graphics that featured the calendar artwork. To boost our lead generation efforts, we experimented with Facebook Ads which proved to be quite successful at bringing in new leads into our marketing funnel.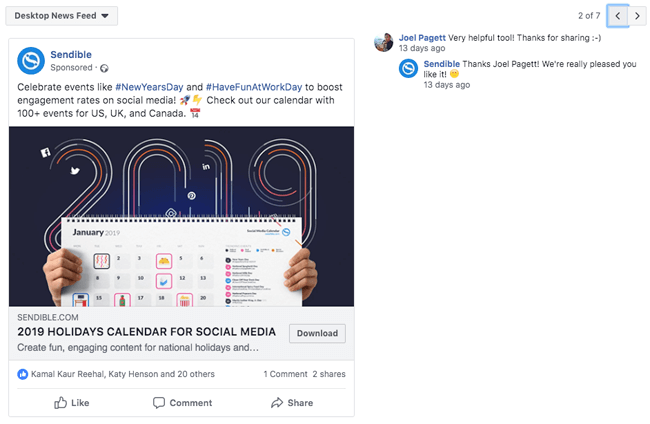 In addition, we also reached out to a selection of marketing influencers on Twitter to ask if they would like a desk version of the calendar. These posts garnered a significant positive response, with influencers including @RebekahRadice and @NealSchaffer responding to our offer - success!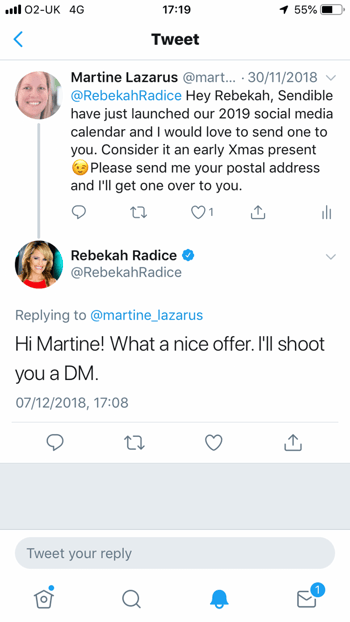 #6 Tailor your lead's experience through thank you pages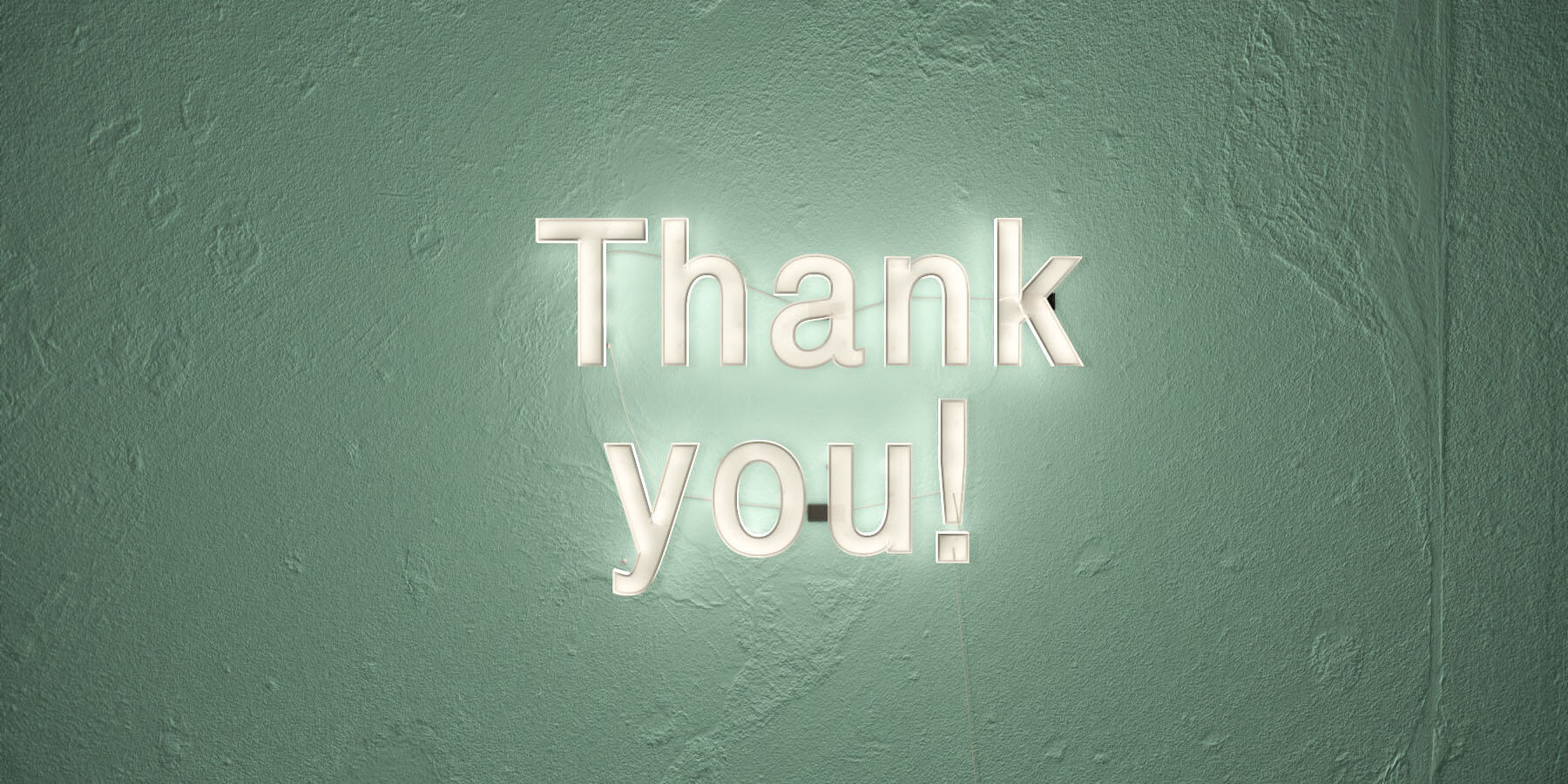 If your ultimate goal is to generate leads, optimizing the journey of website visitors will be high on your priority list. There is a lot to be said for creating effective landing pages, but we'd like to emphasize the value of thinking about what happens after they fill in the form you desire.
Never underestimate the value of creating thank you pages that funnel potential customers into your or your client's website to keep them browsing.
Thank you pages are great because they help you make the most of a customer already present on your website. Once a potential lead has taken the time to input their details into a form, perhaps to receive a free download you have offered, you can tailor the rest of their experience on your website according to what stage they are at in their buyer's journey.
The thank you page could display educational or product-based content about your brand, all with the aim of helping the potential buyer understand more about who you are as a company and what you do. It really is the perfect way to get them further engaged!
Here's an example of one we made: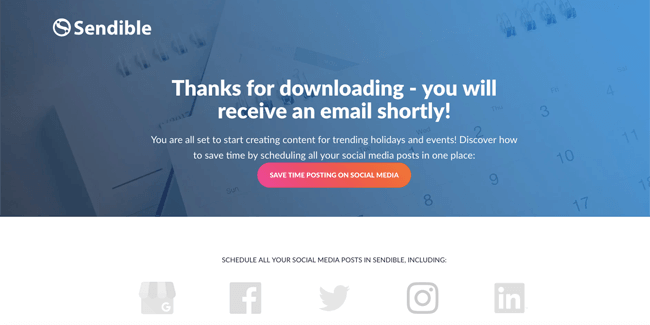 #7 Your team is always your most valuable asset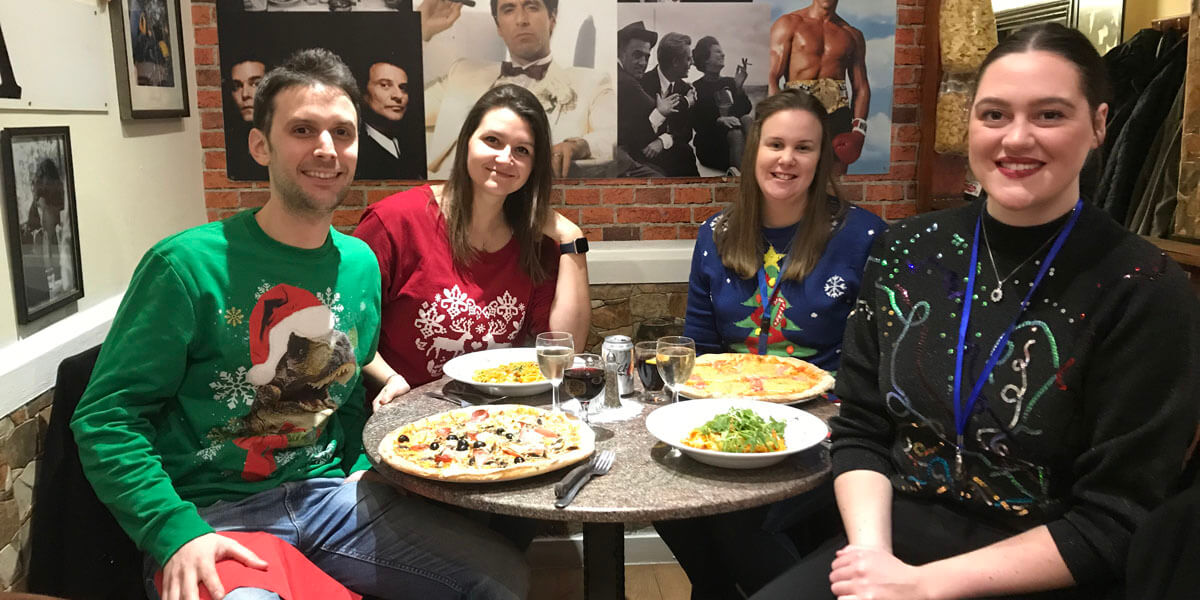 It's so important to remember that your marketing efforts would be fruitless if it weren't for the team around you. Showing support for those you work with is vital to achieving your goals as an organization.
It's been an eventful year for Sendible's marketing team. We've grown by 75%, from one member to four, and have tried to innovate from the very beginning. From experimenting with different types of content (we made a video newsletter to replace the traditional email) to crafting social posts, blogs and emails, everything we've done has been in an effort to show off our passion for Sendible as a product, and invite you into our culture. 2019 is bound to be exciting!
Final thoughts
That just about wraps it up for the rundown of what we've learned from being marketers in 2018. In a year of change, we have tried to adapt, and have learned so much along the way. We're looking to the future, and are excited to approach 2019 with a renewed commitment to experimentation, authenticity, and learning. We'll see you there!
In the meantime, you can take a look at our auditing sheet for social media profiles - it's useful if you don't yet have a plan for 2019. 😉
Level-up your social media.
Subscribe to our blog to get valuable insights so you can maximise your results.