If you've ever fired up YouTube to find out how to do something--like rewire a plug, make a smoothie, or connect your social accounts--you're not alone.
While most people head straight for Google, many actually turn to YouTube for tutorials and visual guidance. In fact, YouTube is the second biggest search engine in the world with people watching more than one billion hours of video every single day.
It's easy to group YouTube with the likes of TikTok and Instagram, which are hot on influencer content and funny videos, but it can be really useful for brands.
You don't have to be a self-proclaimed "YouTuber" to have success on the platform--in fact, it can be a great addition to your marketing arsenal as it drives traffic and increases SEO.
Why YouTube is a great channel for brands
Still on the fence about diving headfirst into YouTube? This might convince you.
It can help your brand reach new customers who are already hanging out on the platform (hint: that's a lot of people)
It's the

second most popular

social media channel

Each month, users upload more video content online than TV has created in the past three decades
Over

60% of people

would rather watch online video platforms than live TV
It provides brand exposure and is great for SEO - videos have a 41% higher CTR than text-based search results, they

add two minutes to the average time a user spends on-site

, and they

attract three times more inbound links

, all of which play a huge part in Google's ranking algorithm
It helps generate leads and funnels traffic to your website
It helps you become a trusted authority in your industry
It makes your brand more human
It diversifies your marketing channels

So, if you don't know how to get started, we've got you covered. Here's a super-easy guide to creating a YouTube channel as a brand, and how you can leverage the platform to achieve your business goals.
How to create a YouTube channel
1. Create a Youtube account
Firstly, you'll need an account. If you don't already have a Google Account, create one of those here.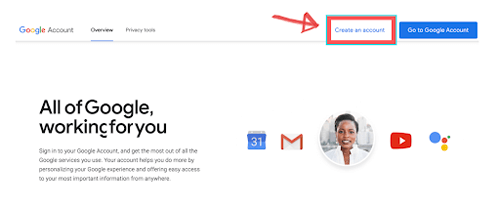 Once that's set up, log in to YouTube and create a brand channel.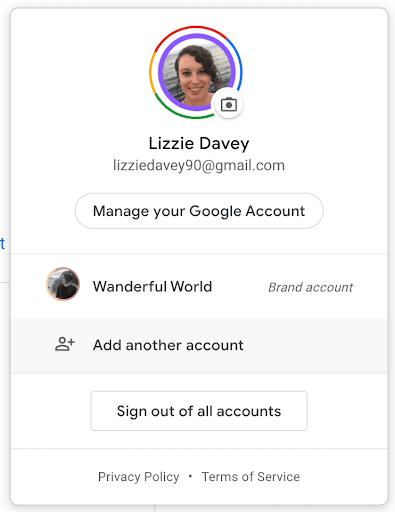 2. Make your channel your own
Once your account is set up, you can customise it to reflect your brand. The more cohesive your branding is across your social channels, the easier it'll be for consumers to recognise you when they find you.
Think about:
Giving your channel a name (your brand name is the best bet here)
Adding a description of your brand, including what you do and who you do it for
Including basic information, like the kind of videos you'll be posting and how often you'll be sharing content
Creating channel art and incorporate your branding to make your YouTube page recognisable
3. Start making videos
You're all set up now and ready to go!
This is the fun part, although it can seem overwhelming to begin with. The great thing is that YouTube videos today can be filmed straight from your smartphone. There's no need to hire a full production team and suite of editors.
It's worth bearing in mind the different types of YouTube videos you can make:
Talking heads: where you speak directly to the camera about a topic you know well
Product reviews: encourage your customers to share video reviews you can put together in a longer video
How-to's: tutorial videos are some of the most popular videos on YouTube and essentially run viewers through how to do something
Interviews or Q&A's: answer questions from your audience or interview an expert in your industry
Product showcases: provide an in-depth video explanation of your product in a demo format
Educational videos: share a tip or a selection of your favourite tools that you know will help viewers with a pain point they have
Animations:

explain a complex concept with a fun and eye-catching animation
You can decide to stick with one type of video or create a diverse channel by mixing things up--it totally depends on the industry you're in and what kind of content your audience prefers.
YouTube video dimensions
YouTube videos should be a 16:9 aspect ratio for desktop viewing. If your video doesn't match that, YouTube will automatically add black bars to the side to fill it out.
When creating your channel art (that is, the cover photo for your channel), bear in mind that the recommended image size is 2560 x 1440 pixels.
How to upload a YouTube video
At this point, you'll have filmed a video and made sure it's the right dimensions for the platform. Now, it's time to upload it for your audience to see.

Navigate to your channel page and click the "+" icon in the top right-hand corner. You'll be taken to this page: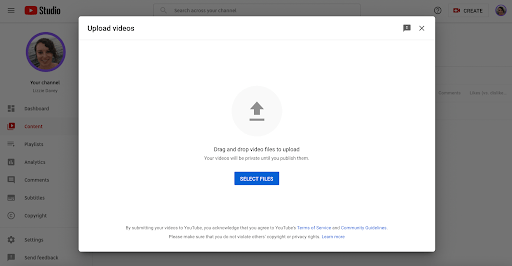 Select the video you want to upload and YouTube will work its magic.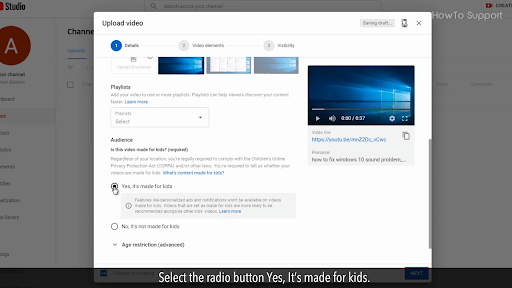 While YouTube is processing the video, you can add basic information, like the video title, a description, and a thumbnail.
If you want your videos to stand the best chance in the search results, make sure you optimise them by:
Adding relevant keywords to the title
Adding relevant keywords to the meta description and general description
Choosing relevant tags
How to create Youtube videos on a budget
Let's be honest, we don't think about videos as "cheap" forms of content. We're still used to thinking about them as blockbuster-style creations that require a ton of effort and creativity, but this simply isn't true anymore.
In fact, you have all you need in your pocket--your smartphone. Phones today are incredibly powerful and most come equipped with video recording and editing tools. The quality is amazing, allowing you to point and shoot footage in a matter of minutes.
If you're keen to create videos but don't have a big budget, think about filming on a smartphone, using a free video editing tool, like Movavi, iMovie, Lightworks, or Shotcut, and making sure the lighting is good when you shoot your footage.
How to leverage YouTube for your brand: best practices
Getting the most out of YouTube means using it strategically.
Different brands will get different results, and the kind of videos you upload will depend on who your audience is and what kind of content they prefer. Don't try and follow the crowd; instead, take the time to figure out what your customers want and use that to inform your strategy.
Channel art and thumbnails: create eye-catching, branded images to attract people to your videos
Create playlists: group similar videos together to make it easy for viewers to find what they're looking for
Create a YouTube marketing strategy: think about what your goals are--do you want to generate leads? Increase brand awareness? Make more sales? If so, direct people to your signup form,

post authoritative content

, and drive customers to your site
Choose the right keywords: run some keyword research to see what phrases your audience are using and create content around those keywords
Optimize your videos: incorporate your keywords into the video title, description, and other metadata, like tags and categories so your videos show up under the right search terms
Shoot channel trailers: give viewers a sneak peek into your content with channel trailers
Utilise YouTube advertising: give your brand a headstart by leveraging YouTube ads to direct viewers to your content and encourage them to subscribe
7 brands that are rocking it on YouTube
Need some inspiration from brands that are killing it on YouTube? Look no further than this incredible list we've pulled together for your viewing pleasure.
1. GoPro
GoPro has over 10 million subscribers and is one of the most popular brand channels on YouTube.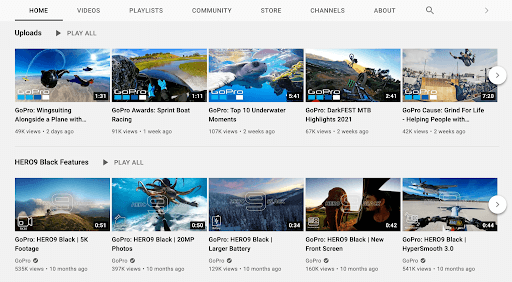 Videos include footage shot from around the world on GoPro cameras, adventure films, tips for using the cameras, and quick start tutorials. The brand covers all bases and provides both inspirational content as well as educational videos for its viewers.
2. LEGO
LEGO is another brand with a huge YouTube following (12 million subscribers).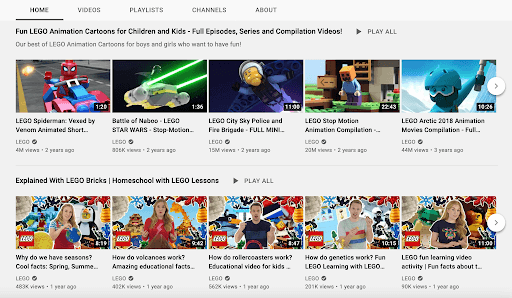 Their videos cover a range of topics, from short LEGO animations and building tutorials to homeschooling lessons using LEGO and live streams.
3. RedBull
Like GoPro, RedBull's YouTube channel thrives on adventure and adrenaline.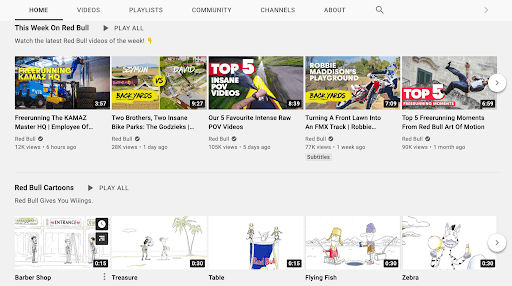 The brand showcases a range of video types that are grouped into relevant playlists, including animated shorts, coverage from events, and other sporting footage.
4. Pretty Little Thing
Clothing brand Pretty Little Thing has created a YouTube channel for fashion fans all over the world.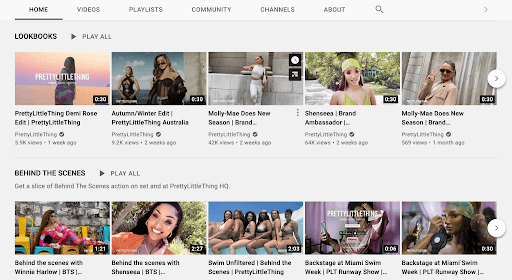 Videos include behind-the-scenes footage from events, fashion tutorials and lookbooks, content made by lifestyle influencers - PLT's influencer marketing strategy is second to none.
5. Nike
Nike's YouTube channel is the go-to place for sports enthusiasts and athletes looking to hone their craft and eat better.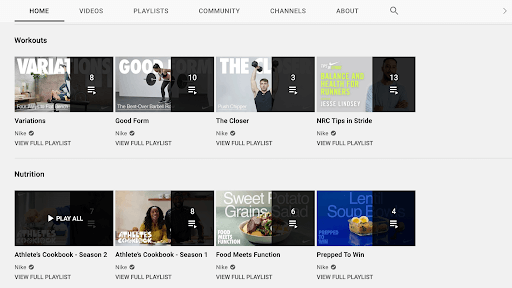 The brand shares videos that aren't just sports-related, but that their viewers might also be interested in, such as nutrition advice and workout routines.
6. Sephora
Makeup brand Sephora has dominated the industry on YouTube with a selection of different types of videos.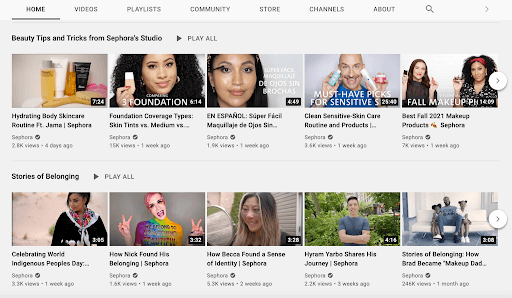 Viewers can tune in for makeup tutorials, product reviews, influencer-created content, and narrative stories that run alongside the brand's marketing campaigns.
7. IKEA
The Swedish furniture brand has gone all out on YouTube and has over a quarter of a million subscribers.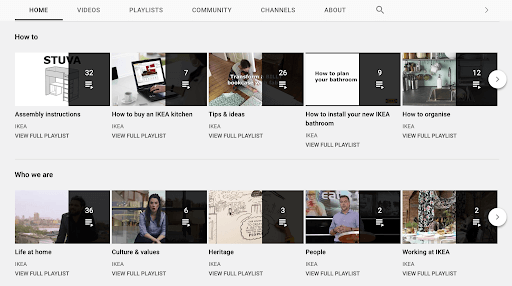 Videos include tutorials for flat-pack furniture, tips and ideas for furnishing a house, and company information, like brand values, information about the team, and what it's like to work at IKEA.
Wrapping up
YouTube might seem like an overwhelming social media choice, but the benefits far outweigh the negatives. Not only does it help you reach a bigger audience, but it can improve your SEO efforts and create a deeper connection with your audience.