In last week's webinar, Basim Mirza, the bestselling author of Your Naked Brand, reminded us how hard it is to get people's attention online, as competition continues to rapidly increase with more people sharing resources freely.
He believes a social media management tool like Sendible is crucial for sifting through a colossal amount of information online. The platform's streamlined services allows for multiple capabilities that can accelerate business growth, when used correctly. Basim suggested the following model as an excellent guide to drive online business growth using Sendible: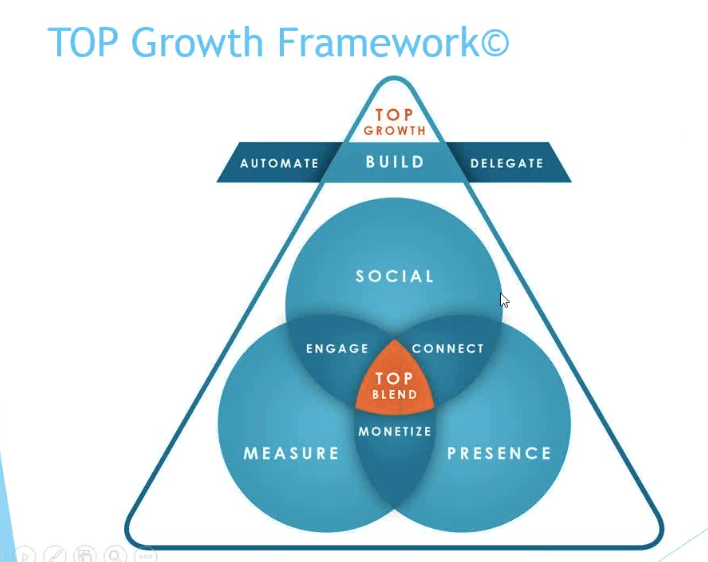 The way to build connections on social networks is by adding value consistently and encouraging reciprocity. Basim advises marketers to accumulate resources in the form of contacts and information that they can then plug into Sendible. He praises the advanced automation tools that help build lists of contacts, for targeting through social media and e-mail marketing. His advice is to automate and delegate. This means using a tool like Sendible to build an infrastructure by setting up automated processes and targeting them appropriately.
It's important to build the content in a measurable way so marketers can benchmark results. To achieve great results you need to learn what your clients are asking and aim to be the solution to their problem. Basim has built an imppressive online academy that includes long hour courses on business planning, brand building and lead generation. He emphasizes that Google rewards high quality and useful content.
Main Takeaway Points
Why use Automation:
Automation drives leads around the clock without any effort. In the webinar Luke, our business development manager, gave the example of a coffee shop in Brixton, where they would be able to monitor anyone mentioning coffee in the area and automatically send them a tweet with a voucher code. He advised it was best to use a variation of tweets to encourage genuine conversations.
Bassim added it helps raise awareness and generate more leads by growing a targeted clientele. Automation tools help achieve a first point of contact that can be fed into the lead generation cycle. If people are interested, social media agents can share relevant content or pass it on to the sales team who will store the contact into the CRM for follow up.
Why use Sendible:
Sendible is integrated with a very wide range of social networks including blogs, bookmarking sites, YouTube, Flickr and other photo based social networks. The wide range of media helps marketers increase traffic to the company website and bring in more leads. Feeding keywords automatically through many different social networks will ultimately improve your SEO.
Sendible Example Automation Features: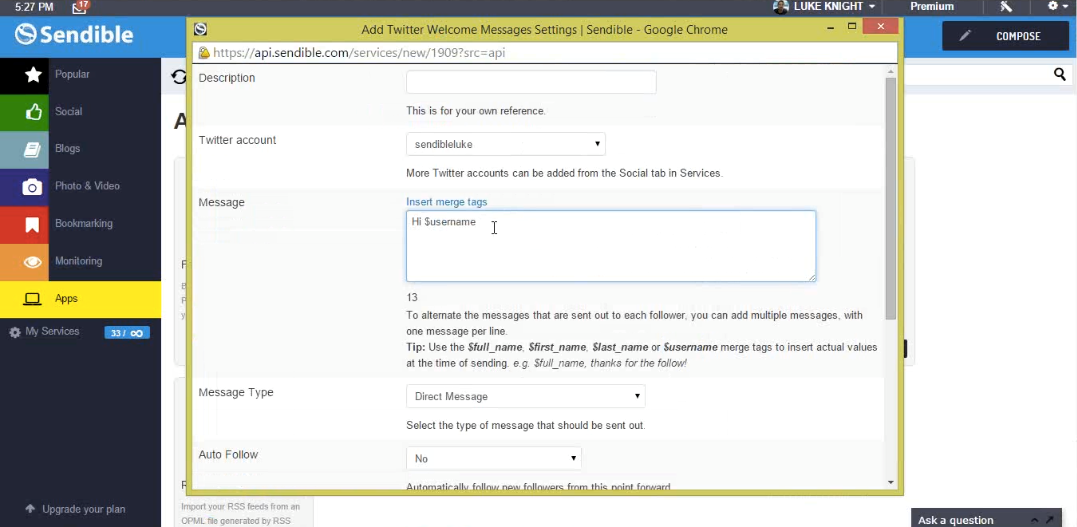 - Automatic Twitter Welcome Message
- Automatic replies with specific keywords and geographic location
- Autoretweet a user or a mention
- Automoderate on Facebook to ensure bad mentions are monitored before posting on the fan page
- Automatic Facebook cover photo update and other scheduling features that help pre-plan Facebook marketing strategy
These automated features are just some of many others you can use on Sendible. Content can be prepared and scheduled to be published at optimal times, to achieve great campaign results.
Questions Asked From Attendees:
We were very pleased to hear our attendees participating during the webinar, here are the questions they asked Luke:
Do users have to follow your account for you to pick up their coffee mention?
"No they don't. So it can literally be anyone on Twitter. Anyone in that specific geographical location with that specific combination of keywords."
Can you put together 200 messages to post across 4 platforms?
"Yes you can add several services at once in the compose message. You can import a queue of posts to schedule out on different days."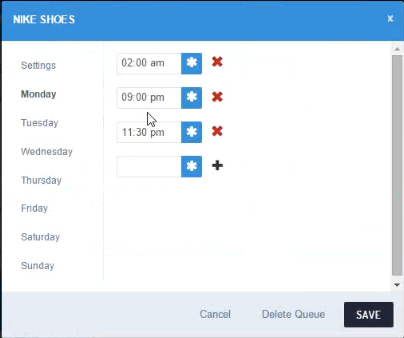 Can you tag people on Twitter?
"Yes you can tag people in the compose message box after you select the Twitter service."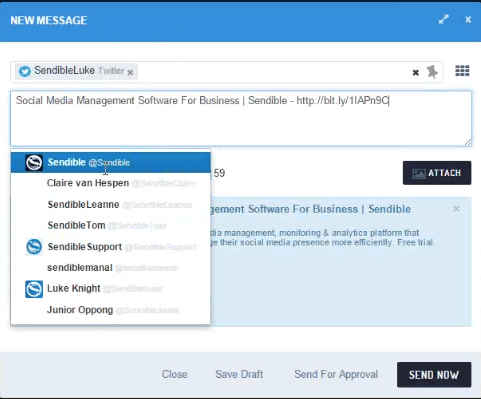 Can you pre-schedule voucher codes?
"Yes so you can set up an autoreply to specific mentions. In the reply you can state your offer that will reach the relevant prospect."
Are we able to post on Instagram through Sendible?
"You can schedule posts at optimal times where you will receive an e-mail notification with the image and content that you can post on Instagram. This allows you to publish content in line with your campaigns on other social networks."
Topics Covered
Managing contacts and building a valuable database
Composing messages and pre-scheduling/automating messages in bulk and to different networks at once
Adding a wide range of media and using Canva
Scheduling at Optimal times to increase engagement
RSS feed integration
A detailed guide into how to use Smart Queues
Calendar view
Monitoring tools
Custom URL links to fine tune Google analytics
If you missed the webinar and would like to find out more, don't worry the video of the whole event is just here. If you have any questions feel free to contact us through social media or support@sendible.com