"The changes to Sendible's reporting are AWESOME and I love being able to quickly move through accounts." - Bailey Barry, Serendipit Consulting
The situation: time-consuming analysis and social media reporting
You're a social media manager. You've worked hard for your largest client, delivering a standout campaign across multiple social channels and you know it's been a massive success. But now it's crunch time.
You need to present the numbers to your client who you know is eager for an update. It can take up to several hours to collate all data from each social network's built-in analytics plus time is needed to make it look pitch perfect. All this, and your busy schedule, equals early starts, late finishes, less time for ping pong and taking your laptop home - stressful times.
How much you impress your client could dictate the future of your relationship. It could be the difference between you getting that promotion you're after or not (consider that huge chunk of revenue the account provides your business). The accuracy of the data you present is vital - the last thing you want is for your client to correct your numbers or lose trust in your agency. No pressure.
Our solution: stunning, accurate social media reports delivered in 15 minutes
Every agency wants to win new business, retain clients and grow. Upgrading to that cool open-plan office with glass meeting rooms and a fancy coffee machine is the dream, right?
It's important for you to be able to measure ROI and be on top of your social media strategy.
"To retain your clients you need to deliver results. To show them these results, you need access to social media analytics that is client-presentable, insightful and accurate."
So here's the great news. Our awesome product team has just launched a complete overhaul of the reporting capabilities in Sendible. We've created brand new reports based on user feedback, enhanced the design of our existing reports and made a few extra tweaks to massively boost the overall user experience.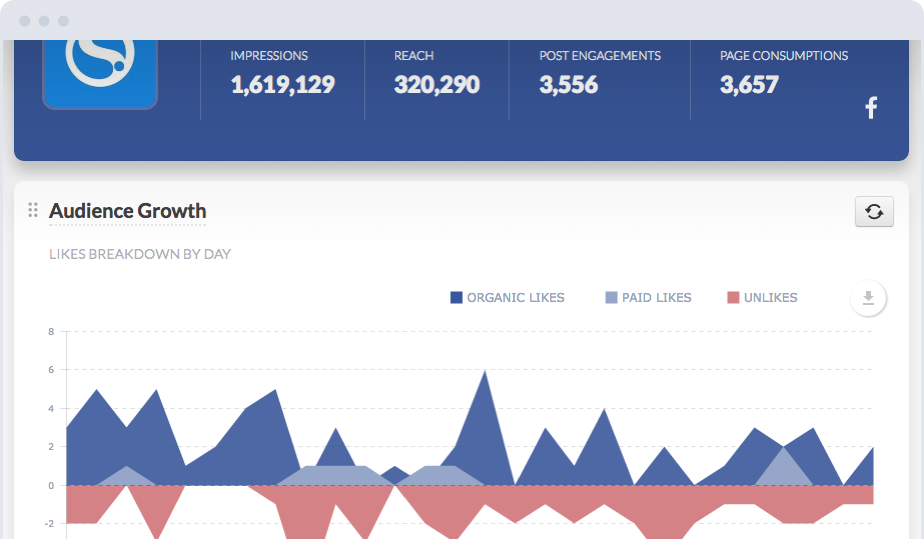 "Loving the new reporting hub from @Sendible continual innovation like this is why I switched to them." Marc Creighton, SocialMediaManager.ie
---
Need to convince your boss or your clients? Check out examples of all our new reports along with an overview of the features available: Download our reporting cheat sheet.
---
Discover the thinking behind our new reporting updates and see the new features in action in this 45 minute walkthrough, hosted by our CEO, Gavin Hammar:
What Can You Expect From Our New Social Media Reports?
Generate beautiful looking reports for Facebook, Twitter, Instagram and more with just the click of a button
Effective social media management is about feeding the machine and tracking results. You need to regularly monitor all brands you manage. Your clients will want quick updates at any time, so you need reporting that can be generated easily.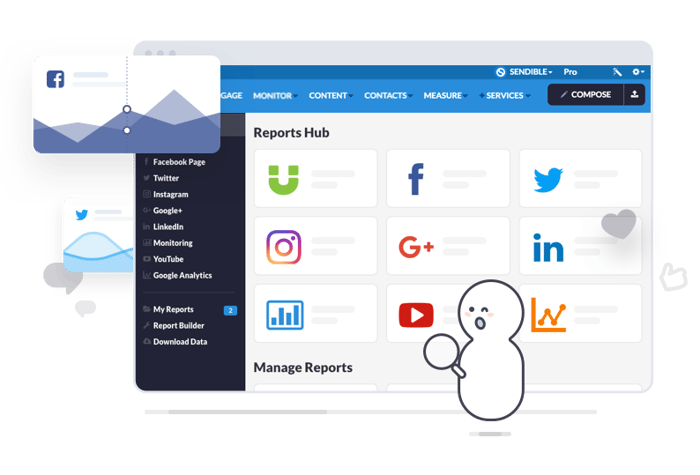 Our brand new Reports Hub provides you with nine ready-to-go social media reports designed to give you a snapshot of all of your social data to help you:
Spot trends by identifying top performing posts.
Uncover the biggest social advocates of the brands you manage.
Impress your clients with PDF-ready analytics.
Social media reports currently available in Reports Hub include:
"Sendible recently updated their reporting functions and they are superior. They have rebuilt reports that are as easy as hitting a button. But I really like the report builder that can be built with up to 250 modules. Attractive and branded. Nice job!" - Donna Amos, Solopreneur Solutions LLC
New advanced report builder to easily customize your reports
Having a big selection of pre-built social media reports is great, but you need to have the flexibility to produce reports for your clients on pretty much any social media metric. You can now build custom reports for each of your client's and customize them within the Report Builder. Choose from over 250 drag and drop modules and clone the same report for other clients.
Build that perfect report that you know will wow your client and wow your boss! (Hello, promotion).
Dozens of new reporting modules to demonstrate your progress
We've added over 50 new modules. Our new reporting modules have been built from the ground up to allow you to showcase your social media efforts to clients, and can be exported to PDF, PNG and CSV. Here are three examples of what you can now achieve:
Understand what is working in your social strategy by spotting trends using our publishing behavior module. Identify best post times as well as your posting frequency by post type - plain text, links, photos and videos.
Use our Twitter demographics module to easily identify your clients' followers with the highest Klout score - perfect for adding new brand advocates and referrers with influence.
Keep your clients up to date with the growing number of likes and followers. Our audience growth module combines every channel you track on Sendible into a single, easy to digest snapshot.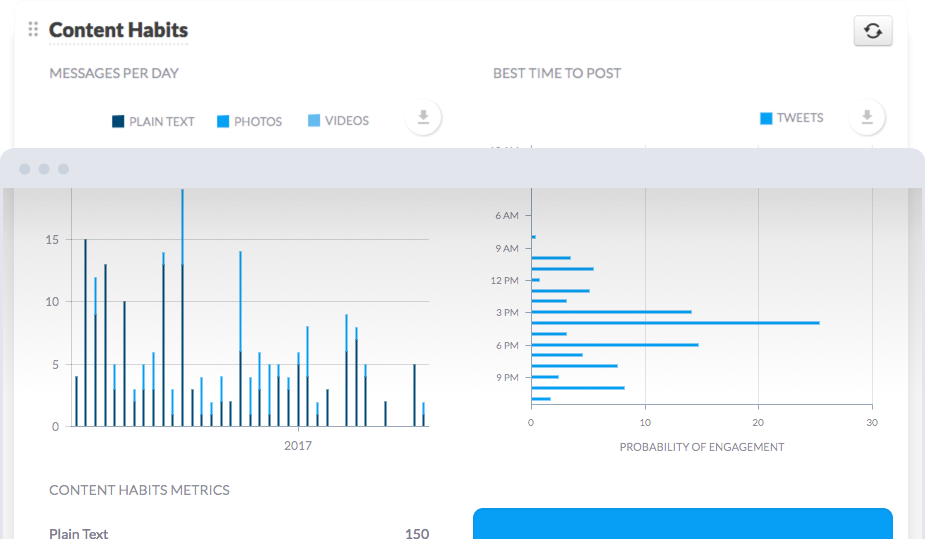 Print-ready PDF reports that can be automatically sent to your clients
Your clients will want a certain level of regular communication in line with your Service Level Agreement, whether that is a daily, weekly or monthly update.
Our tool helps you save time on admin by delivering great-looking, branded PDF reports to your clients via email, with an optional cover page that introduces the report. You can also set the frequency of these emails to meet your clients' expectations to offer an even higher level of service.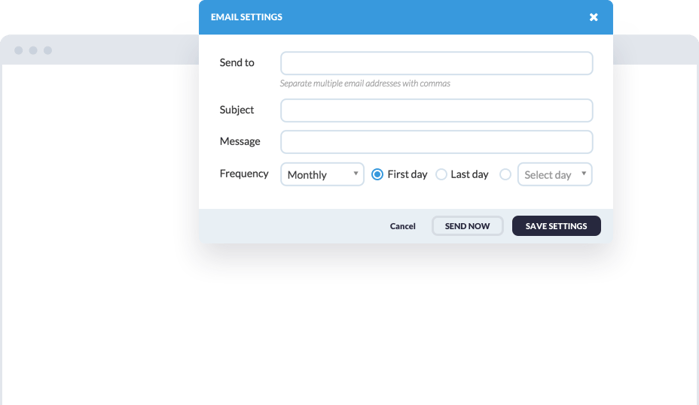 So, what's the catch?
No catch. Nada. Zilch. Our Reports Hub is included across all of our plans and you don't need to pay extra for these social media reports. The amount of modules you'll have access to depends on the plan you choose, and all our plans include a free trial.