No marketing channel should be viewed in a silo if you aim to make the most significant impact with your campaigns. While unlikely companions at first, using social media and email to support each other can deliver brilliant results.
"Together, social and email can help you build a deeper relationship with your audience. You can reinforce your message across platforms, repurpose the content you already have, and keep your brand top of mind." - Says Liz Willits, Senior Content Marketing Specialist at AWeber.
So if you are looking to generate more leads and drive specific actions from your followers, email marketing could be the right choice!
We sat down with Liz Willits from AWeber, one of the leading email marketing software providers in the world, to answer 12 essential questions about starting your journey with email marketing.
1. What advice do you have for social media marketers who are looking to add email to their marketing mix?
Get started right away. Email is one of the best ways to turn your social followers into paying customers.
One of the biggest barriers that holds people back from starting is not having an email list. To start building one, create an email sign up form. You can share your form on LinkedIn, Twitter, or Facebook. You can even pin your sign up form to the top of your Twitter profile.
When subscribers join your list, you should send them an automated welcome email. The welcome email is a message subscribers receive automatically and immediately after they subscribe to your list.
As the name implies, its purpose is welcoming people to your list. Every great welcome email has five things in common:
It welcomes your subscribers to your list.
It sets expectations (reveals the type of content your subscribers can expect from you, as well how often they will receive it).
It delivers your lead magnet a.k.a. your incentive (if you have one) for joining your list.
It includes your contact information.
It asks your subscribers to "whitelist" you so that your messages reach their inbox instead of their spam folders.
For example, this is the welcome email we automatically send to those who subscribe to our weekly newsletter: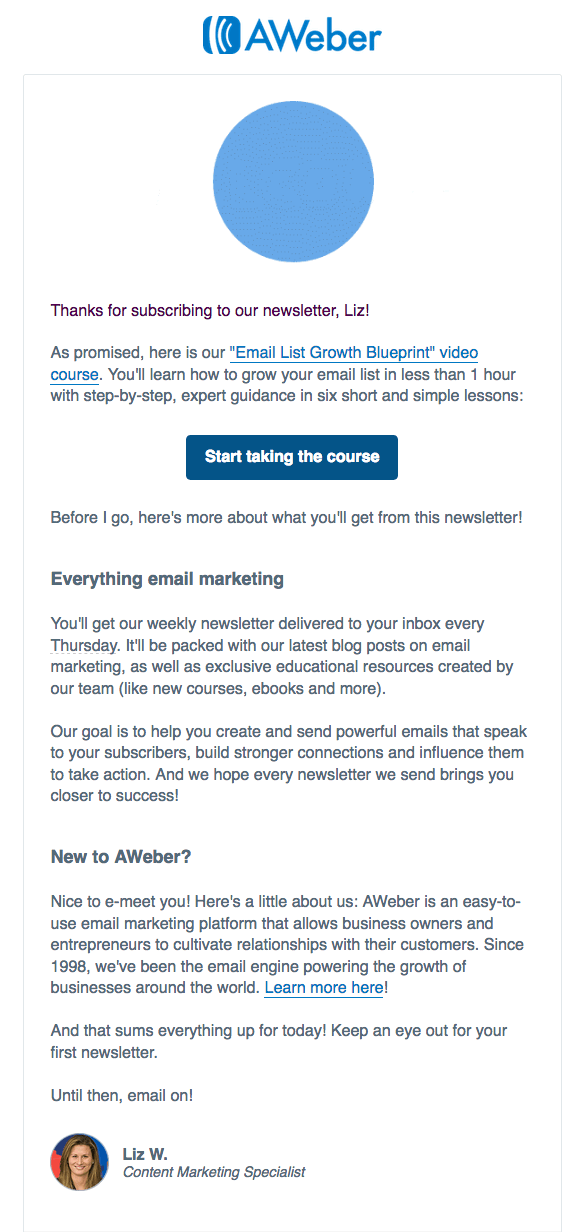 2. Building an active subscriber list can be tough. What are some of the best ways to grow your list organically?
Once you've created your email sign up form, growing your list requires sending traffic to that form. If you don't have any subscribers yet, reach out to your current connections and ask them to subscribe.
Contact your family, friends, colleagues, and social media followers. Explain why you're starting an email list, describe the benefits of being a subscriber, and ask them if they'll subscribe or share your form with a friend who'd be interested. You'll be surprised by how effective this can be.
You can take this idea even further by reaching out to companies in your industry who have the same target audience as you. Ask them to do an exchange where they share your sign up form on their social platforms, and you share their sign up form on your platforms. Just don't forget to share the benefits of being on your list in these posts.
For more guidance on growing your list, check out our Beginner's Guide to Growing Your Email List.
3. What are the best practices for writing email subject lines?
You could have the best email on the planet but with a bad subject line, no one will open it. Which means you should spend time on crafting a great one.
When it's time to write your subject lines, brainstorm and write down 10 to 20 potential subject lines. Then, select the best one. This is a great way to get your all your ideas on paper). You'll also avoid the mistake of going with the first subject line that pops into your head without considering other options.
At AWeber, we've done extensive subject line testing and discovered two formulas that work:
An unexpected or surprising statement. Similar to seeing a dog walk on two legs, great subject lines grab your audience's attention. The best ones stop your subscribers mid-scroll as they're sorting through emails in their inbox. To accomplish this, take a perspective or stance your audience doesn't expect you to hold.

For example, here's a subject line that lead to one of the highest open rates for our blog newsletter (57 percent above average!):



Or, contradict a commonly held belief or idea. This subject line and email earned above-average open and click-through rates by doing just that:




Be descriptive.
Instead of being witty, write descriptive, straightforward headlines. These subject lines earn high open rates. Your readers know exactly what to expect from the message and the benefits they'll receive from opening it.
Best part? You can use the leftover subject lines to create social media posts for networks like Twitter.

For more subject line formulas like this, read our Guide to Writing the World's Best Email Subject Lines.
4. Is there a best time and day to send emails? How often should I send emails to our subscribers?
If there was a best time or day to send emails, we'd have a problem. Everyone would send at the same time and subscribers inboxes would be flooded with emails all at once. Many of those emails wouldn't get opened simply because of overwhelm. It'd be the email apocalypse.
While many of us would love to know the perfect time to send emails, there isn't one. The same holds true for how often you should post on social media.
Every audience has a different schedule. Your subscribers might sip a cup of coffee and skim through their inbox at 2 a.m. Or, they might arrive at the office at 7 a.m. and peruse their messages then. To find out your ideal time, test. Try sending on different days and at different times and see how this affects your open rates.
Email frequency is less complicated. You should send often enough that your subscribers remember who you are and know to expect you in the inbox. Ideally, at least once a week, as long as you have something valuable to send.
Don't send boring, unhelpful emails just to maintain a certain frequency.
And "score extra points" if you can send emails at the same time on a regular basis. For example, we send AWeber's blog newsletter every Thursday at 2 p.m ET. Our subscribers know to expect this email at that time. If they're eager to read it (which hopefully they are!), they'll keep an eye on their inbox every Thursday. We're much more likely to get people to open when they're expecting the email.
5. Which are the most important metrics when it comes to analyzing the performance of my email campaigns?
For an email with educational content inside, your open and click-through rates are the most important metrics to track. After sending consistently over time, you'll know your average open and click-through rate. Each time you send, try to beat this average.
For an email selling your product or service, the most important metric is sales. After all, you could write a subject line and email that gets people to open and click. But if that doesn't lead to people buying, those metrics don't matter. Sometimes, an email may get low open and click-through rates but above average sales.
6. What are some of the most successful types of email campaigns today?
There's a common factor for every successful email campaign: valuable content. The best email marketers know they need to send content that helps their subscribers. If they do that, their subscribers will stay on their list and keep opening their messages.
Food blog Skinnytaste is a great example of this. Subscribers receive a free, weekly email containing a healthy food plan and recipes. A similar food plan from another company would cost money. By offering it for free, Skinnytaste can keep subscribers engaged and happy.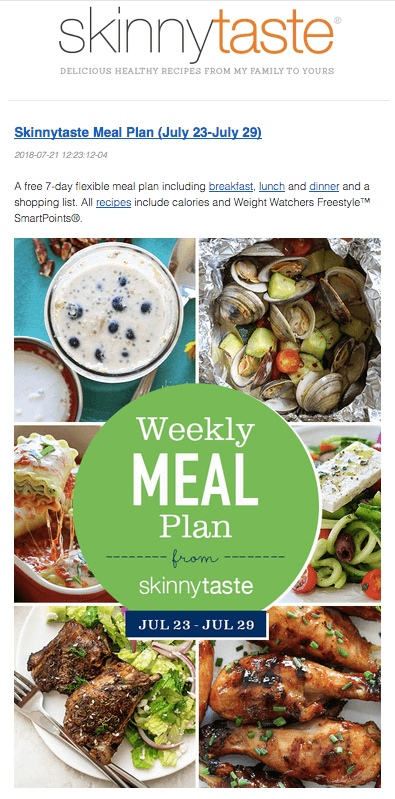 7. Email providers like Google go to lengths to hide promotional and spam content. What can I do to improve my emails, so that they pass the check and don't land in the spam folder?
The best way to reach the inbox is to send emails people want. Gmail, Yahoo!, and other internet service providers (ISPs) block unwanted emails to protect their users' inboxes. If you can demonstrate that your subscribers like your emails, you'll be more likely to pass these barriers. Here's how to make that happen:
Send engaging, valuable content. Your subscribers will open and click on your messages if you do. And these signs of engagement signal to ISPs that your content is desirable.
Don't buy an email list. Not only is this illegal, it's also likely to kill your email deliverability. If you bought your list, people didn't opt in to receive emails from you. Most likely, subscribers will report your emails as spam. This is a warning indicator to ISPs, and they might blacklist you entirely.
Clean your email list. If certain subscribers don't open and click your emails for a few months, unsubscribe them. Those subscribers aren't finding value in your content, probably won't buy from you, and may be harming your deliverability. ISPs notice when subscribers don't engage and take it as a warning sign.
8. They say that "if you are not segmenting, you are not marketing." Is that true?
When it comes to email marketing, that's true. If you're not segmenting, your blasting your email list with irrelevant content. Subscribers won't appreciate this.
However, segmentation isn't complicated. It's simply about sending the right emails to the different people on your list.
For example, if you're emailing a recording of a recent webinar to your list, only send the recording to people who registered for your webinar.
Or, if you're a marketing consultant who offers social media and SEO services, email your social media customers your latest blog posts about social, and email your SEO articles to SEO customers.
9. What are some of the new and exciting developments in email marketing?
It can get a bit technical, but action-based automation is one of the latest and most effective ways to email your audience. It's like letting your subscribers "choose their own adventure" as they're taken through your email sequence. Instead of automatically sending everyone on your list the same series (email 1, email 2, email 3, etc.), each individual subscriber gets to pick which emails they're sent through various actions they take.
While it's more advanced than a single automation series, action-based automation can skyrocket engagement and sales. That's because you are able to target segments of our audience with the exact content they needed.
So how do you implement action-based automation? One simple way is to send subscribers content based on the links they click.
Here's how it works: Let's say you have a food blog and your primary source of revenue is your digital meal plan. With Click Automations, you can tag subscribers with "gluten-free" or "vegetarian," based on the links they click in the first email you send — your Welcome email . You can then use these tagged segments to deliver one-time, targeted broadcast emails or even launch contextual automation series with these tags.
So what happens after a subscriber clicks? If the subscriber clicks "gluten-free," your ESP will "tag" or label them as such. This will redirect them to a relevant landing page. (For example, it could be a page that explains you've updated their subscription preferences or a page that contains content about gluten-free restaurants.)
Now that the subscriber is tagged in your ESP, you can automatically deliver an email series just about gluten-free foods to only that tagged segment, and pitch them relevant gluten-free meal plans. This is a powerful way to increase your engagement.
You can take this even further by adding more than two answers. Truity, a company who offers personality tests, allows their subscribers to identify their personality type by giving them 16 different options to choose from.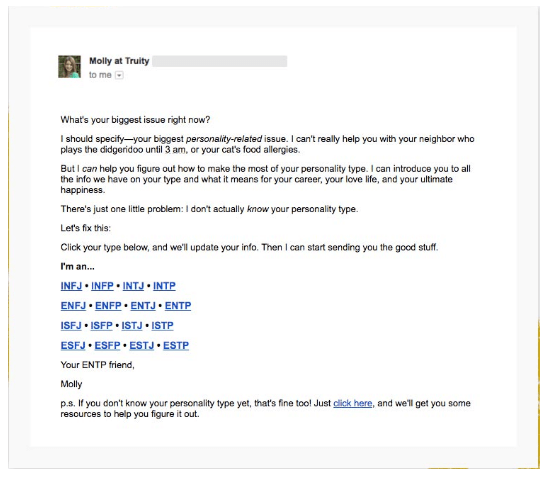 After selecting their personality type by clicking on one of the links in this email, they'll receive a targeted automation series that aligns with their choice.
10. How can I use email to increase my followers and engagement on social media?
Email is one of the best ways to skyrocket your social engagement. Email is personal. It's a one-to-one interaction with your subscriber in their inbox. So people may be more likely to act on a request when they see it in an email.
You can invite people to join your Facebook Live sessions, Twitter chats, or Facebook communities. You can ask them to follow you on social media. You can include social share buttons in your emails. You can ask them to partake in a photo or video competition.
We recently used email to invite event attendees to an exclusive Facebook community for our Beyond the Podcast Summit. Because we could segment our emails, we could send invites to event registrants exclusively. Plus, email helped us quickly build a community of thousands of people.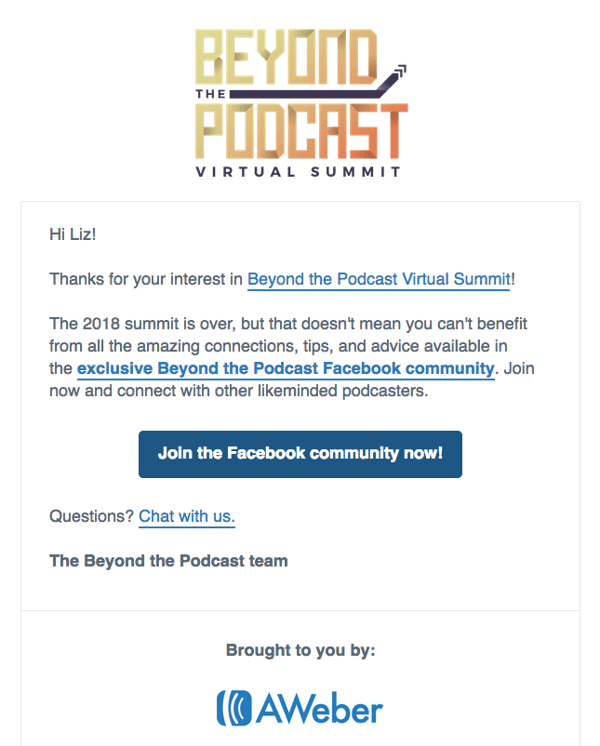 11. How can email marketing help generate leads?
Email is especially powerful, because you can grow a list of leads through your email sign up form. Then, you can lead those subscribers all the way through your marketing funnel –– from awareness, to consideration, to conversion, to loyalty, and then finally, advocacy.
With email, you can engage with an individual subscriber at will with personalized content, and understand by their actions whether or not they're ready to buy. Did they click on an email selling your product but not buy? Send them a cart abandonment email. Did they purchase and complete your beginner's yoga class? Invite them to the advanced class via email.
And social media is the perfect tool to support your email marketing strategy at every stage of the funnel. To generate leads, you can drive traffic to your email sign up form by advertising on social media, like using Facebook or Twitter ads.
To convert your subscribers into customers, you can send an email that redirects readers to a specific page on your website. Then, you can retarget anyone who visits that page with relevant Facebook ads which ask them to purchase (also known as Facebook Retargeting Ads).
To support your customers or loyal blog readers, you can create a Facebook community for them to engage with one another and ask questions.
12. Why do social media and email work so well together?
Together, social and email can help you build a deeper relationship with your audience. You can communicate with them in two totally different ways.
You can reinforce your message across platforms and repurpose the content you already have, and catch their attention throughout the day to keep your brand top of their mind.
Notice how theSkimm reinforces their content through their daily newsletter and Instagram content which shares the same Steph Curry quote: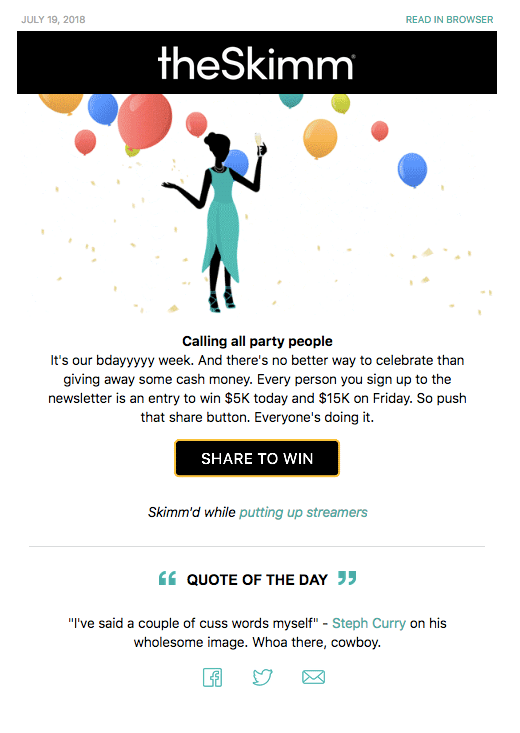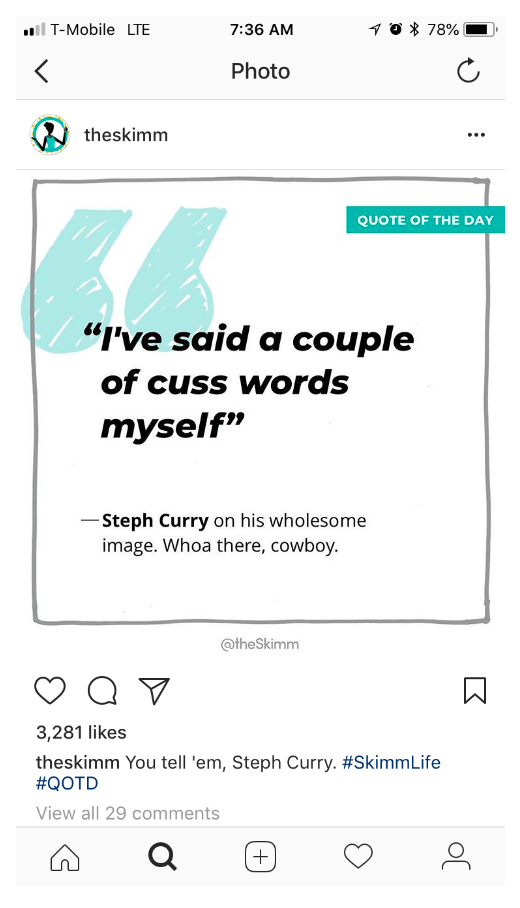 Repurposing content for both email and social is a great way to save time and drive results. Plus, the Instagram post gives email subscribers an easy way to share the quote with their friends, and this could have been replicated across other social media networks as well.
Wrapping up
This brings our interview to an end with one of the email marketing experts at AWeber, Liz Willits. We hope you enjoyed this read and would love to know more about your current experience of pairing social media and email marketing together.
If you'd like to read more about social media marketing, stick around on our blog or check out our interview about social media best practices on AWeber!
Level-up your social media.
Subscribe to our blog to get valuable insights so you can maximise your results.