Standing out on social media nowadays is more challenging than ever. With more than 4.8 billion social media users out there in 2023, knowing what resonates with your audience and will cause them to engage is not always a simple answer.
However, one thing is certain to boost your brand's reach and engagement on social media: celebrating holidays! Social media can be a powerful tool to promote cultural awareness and celebrate diversity.
Among the many observances and celebrations, Black History Month stands as a significant opportunity to honour Black communities' achievements, struggles, and contributions throughout history.
With the right strategies in hand, you can help set your brand up for success with your next holiday social media campaign for Black History Month.
This guide contains:
Let's get straight to it!
What is Black History Month?
Black History Month, celebrated in October in the UK and Ireland and in February in the US and Canada, is a dedicated period to honour and acknowledge the rich and profound contributions of Black people to history, culture, and society.
Black History Month, also referred to as African American History Month, was first recognised in 1976 by President Gerard Ford.
Every year, a theme is selected for Black History Month. In 2023, the theme is Black Resistance. Past themes include:
Black Health and Wellness

The Black Family: Representation, Identity, and Diversity

African Americans and The Vote
The theme for 2023 highlights the significance of Black Resistance, while the anticipated celebration in February 2024 will focus on African Americans and their contributions to the Arts. This encompasses the profound impact Black Americans have had on visual arts, music, cultural movements, and various other creative expressions.
Why is celebrating holidays on social media so important?
Advertising on social media is one of the best ways to grow a brand. By focusing on holidays, your brand can share your customs and stories, which helps your readers understand your brand's backgrounds and traditions better.
Celebrating holidays on social media is a way for your readers to feel connected with your brand. It's also a way to learn new things and stand up for what your brand believes in and support a cause, all while spreading good educational information.
Studies show that social media advertisement spending will amount to over 230 billion in 2023, and roughly 87% of digital advertising revenue will be generated via programmatic advertising in 2026.
These are not areas you want your brand to miss out on. Focus your marketing efforts on celebrating holidays throughout the year. You should see direct and fast results when celebrating holidays on social media. Prepare yourself with a campaign planning checklist and a holiday calendar to set yourself up for success.
5 tips to create a campaign people won't miss out on
In 2023, creating a campaign that stands out and speaks to your readers and customers is essential to your brand's success. When it comes to holiday marketing, you should prep yourself on trending niche-specific hashtags and consider adding Sendible's holiday calendar social media tool that is built into our dashboard. This will allow you to stay up to date on upcoming holidays so you know the best ones to celebrate for your brand!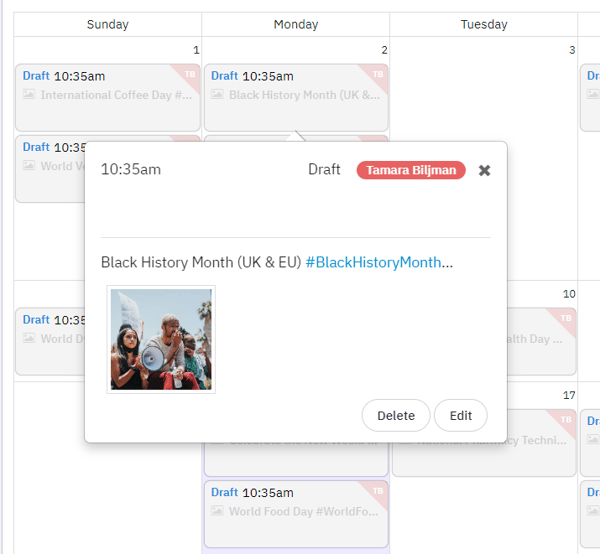 Let's look into the 5 top tips you can follow to create a campaign people just won't miss out on.
#1 Engage your followers through education
People read content because they want to learn something. For your brand, embrace that as a unique opportunity. Share insightful historical facts, lesser-known stories, and the accomplishments of the Black community.
Consider creating a series of posts or videos that gradually uncover various aspects of Black history. For instance, post daily or weekly profiles of influential Black figures throughout the month.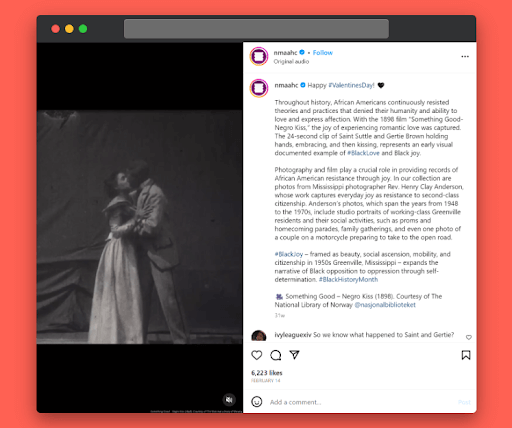 Source: @nmaahc
The Smithsonian National Museum of African American History and Culture is a great example of this in action. The brand consistently shares historical artifacts, profiles of Black visionaries, and thought-provoking quotes, fostering educational engagement.
#2 Support Black-Owned Businesses
Promote economic empowerment by highlighting Black-owned businesses. Connect with your readers by sharing their stories, products, and services to encourage support from your audience.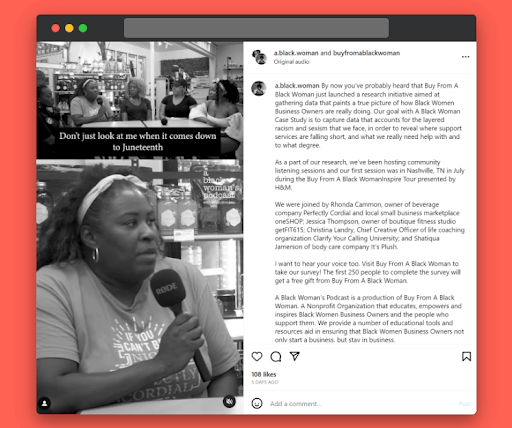 Source: @buyfromablackwoman
For a great example of how to do this, check out the Instagram account @buyfromablackwoman. The brand promotes and supports Black women entrepreneurs, showcasing their businesses and encouraging patronage.
#3 Amplify Black Voices
Use your platform to amplify the voices of Black content creators, writers, and activists. Share their work and perspectives to broaden and connect your audience's understanding.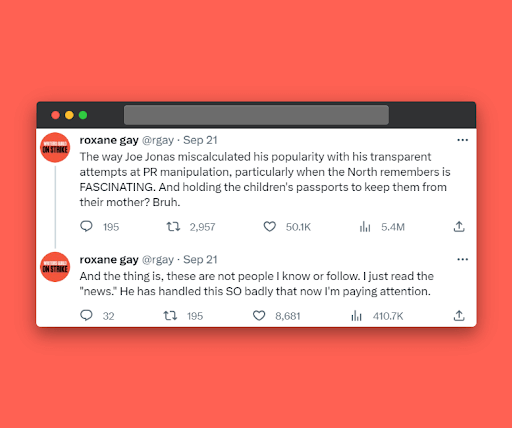 Source: @rgay
Author and activist Roxane Gay is a great example of this. The author consistently uses X to share her thoughts on various, and sometimes polemic, matters while engaging a wide audience with her insightful commentary.
#4 Lean into Visual Storytelling and Historical Reenactments
Tell your readers a story. Cause them to engage with your brand through your visual storytelling skills. Art and culture are powerful tools for storytelling and self-expression. Consider sharing Black art, music, literature, and film, and encourage discussions about their significance.
Lean into the power of historical reenactments and the use of video. Short-form videos are high in demand and popularity in 2023, with videos less than a minute in length capturing the attention of 66% of consumers. Highly shareable, these videos are 2.5 times more engaging than longer videos, so be sure to create some for your social media content schedule.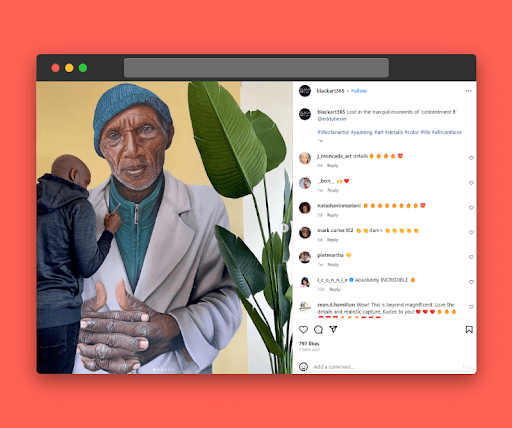 Source: @blackart365
For some inspirational storytelling, check out the Instagram account @blackart365, which showcases a diverse range of Black artists and their creations, promoting discussions on art and culture.
#5 Let Your Followers Have a Say: Embrace Quizzes and Polls
Let your readers have a say too. Be sure to start discussions and conversations around relevant topics, such as racial justice, representation, and the impact of Black history. Engage with your readers by encouraging them to participate and share their personal opinions.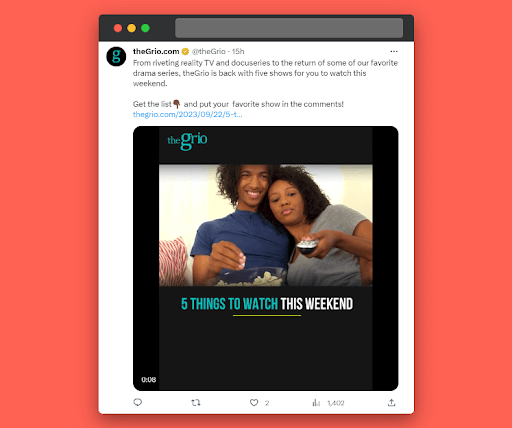 Source: @thegrio
The X account @theGrio is a great brand to check out. The profile frequently engages in conversations about current events and issues affecting the Black community, fostering a sense of community and dialogue.
The Power of Social Media in Celebrating Black History Month
With the average social media user spending 151 minutes a day online, you must find a way to catch their attention and show them what your brand is all about. Celebrating Black History Month on social media is a key way to engage with your audience and show them your brand is a brand of action, celebration, and education.
By following the tips in this article and drawing inspiration from the examples provided, you can use your social media presence to honor Black history in a meaningful and impactful way and connect with your viewers like never before.
Want to be in the know of all the holidays for your brand to celebrate? Be sure to check out our 2023 social media holiday calendar.
Freya Laskowski
Freya is an SEO consultant that helps brands scale their organic traffic with content creation and distribution. She is a quoted contributor in several online publications, including Business Insider, Fox Business, Yahoo Finance, and the Huffington Post. She also owns CollectingCents- a personal finance blog that she grew from the ground up. You can reach out to her at freya@collectingcents.com