4-minute read
There's a lot to be said for projecting a unified brand image, both in terms of cost and consumer perception. On social media, the opportunities are almost limitless considering the potential reach your brand could have globally.
The challenge then is to reach people from other demographic backgrounds in their native language while keeping your story and tone consistent across the board.
Language localization differs from translation because it involves a comprehensive study of the target culture in order to correctly adapt the product to local needs.
Localizing your content for social media can do wonders for customer relations and encourage greater interaction, but there are a few considerations you need to take into account before you start.
Benefits and considerations of content localization
Localization makes a brand appear more customer-focused
You don't want your favorite clothing brand to be trying to sell you wooly hats while you're cooling off in the paddling pool. Localizing content means you can appeal to your customers' needs, wherever they are. For example, Uniqlo has Facebook Pages localized by country. This allows the marketing team to promote summer clothes in Hong Kong on the same day it shows winter gear in Australia.
Localized content encourages comments and shares
Regular updates in the language of your Facebook fans or Twitter followers are more likely to increase engagement rates and build strong connections with audiences. This is also a good method to attract more fans and followers, which can convert to loyal customers in the future.
Localizing can allow you to demonstrate local cultural sensitivity.
Simple translation won't always cut it, though. There are plenty of famous brand blunders in international marketing that could have been avoided if the product name and its meaning was researched more carefully.
One of the most notorious ones is believed to be Pepsi's "Come alive with the Pepsi generation" slogan from the 1960's. Legend has it that it was launched in China where its literal translation is "Pepsi will bring your ancestors back from the dead" which naturally, didn't go down so well.
Localizing content allows you to avoid mistakes like this and appear more relevant to the end user. It's essential to have someone on your side with a good local knowledge and an awareness of taboo words and issues. Google Translate can help translate social media messages in a foreign language but it won't be enough for localizing your marketing campaigns.
If your tone is an informal and jocular one, then remember this might not translate well in another language, so it's always important to consult experts on the ground rather than rely on machines.
Campaigns that work well in one region won't necessarily work in another as well. You might have a successful Halloween campaign in your native country but the same ideas aren't going to work in a region that shows no tolerance whatsoever for children dressed as zombies. Localizing allows you to focus on appropriate strategies according to regional holidays, celebrations and news hooks.
Geotargeting can help you test the waters
On sites such as Facebook, users disclose an awful lot of juicy information about where they've been, where they're going and who they're going to see. This is an absolute gift for a social media marketer. By having localized content, you can drill down to the most niche of segments.
Customers these days are increasingly used to personalized, meaningful content (you'd almost be unlucky not to see an advert for skiwear after popping into a website that sells them) so being able to deliver it to them is essential. You can test whether a particular demographic is interested in your products by running location-based ads on social networks like Facebook, Twitter, LinkedIn or Instagram.
Don't forget to unify
The really good thing about localization is that you can still have your social media content unified under one corporate profile. For example, Facebook's Global Pages can have a unified Like and People Talking About This count, but the ability to change the language, imagery, and posts by region.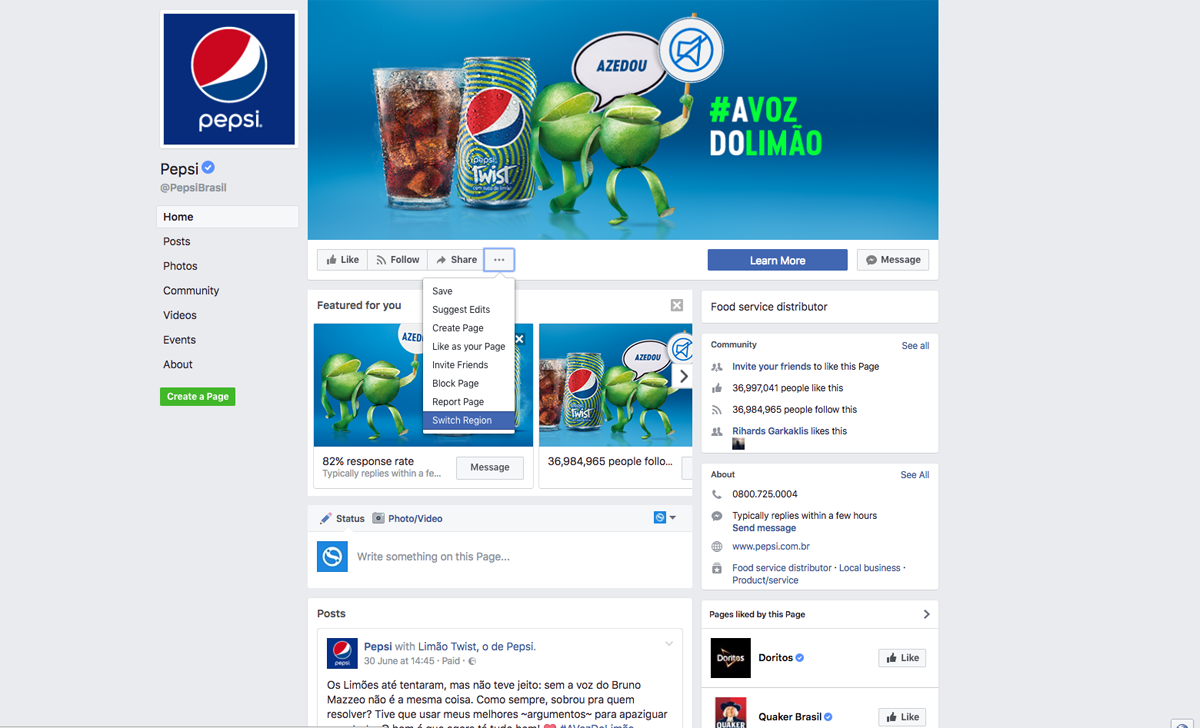 Users who visit a Global Page are automatically directed to the version specific to their region. If the user wants to, they can switch the region and see other localized versions of the same page. To make this work, it's a good idea to stick to minimum global copy standards that can be readily amended. It's much easier to rework existing copy to match a new region if it's well produced in the first place and you're less likely to dilute your brand if you're working with freelancers.
Plan well in advance
Before you start your localized campaign, make sure you've defined the local market properly. You might have great content across Twitter and Facebook and this might work in your home territory but if your next market is China, then you need to be honing in on the popular channels there (so start mugging up on your Qzone knowledge). You need to thoroughly plan your content localization strategy before stepping out in the global arena, including whether you will be managing it in-house or outsourcing your workforce.
Moreover, not all social channels will easily fit your brand in each area. Look at what your competition is doing and make sure you're covering all their bases. Monitor social media for languages used and references to your brand name and others in your industry. Most importantly, plan well ahead, test the waters with small campaigns and create localization-ready assets so there is always content that can easily be published at the last minute.
Level-up your social media.
Subscribe to our blog to get valuable insights so you can maximise your results.