Are you looking to improve your LinkedIn presence?
LinkedIn is the largest professional network with over 500 million users across the world. Since its inception in 2003, it has shifted its focus from job hunting to personal branding, online networking, and content sharing.
In fact, more than one third (35%) of professionals said they had found new business opportunities through networking on LinkedIn.
In this article, you'll learn how to optimize your LinkedIn Profile and Company Page so you can make the most of this fast-growing professional network.
Optimising your LinkedIn profile
A long time ago, before social media existed, we were drilled into making sure we looked the part. I can still hear the words ringing in my head: brush your teeth, comb your hair, fasten your top button.
Why? Because first impressions count.
Nowadays, with the advent of social media, LinkedIn lets you make that first impression. It's your living, online business card. It's your way to introduce yourself and make professional connections.
So how do you make an impression on LinkedIn? Let's take a look at the key sections.
Add a profile photo and background image
Your photo sets the scene for the rest of your profile. As people scroll through their LinkedIn feed your picture and name (in bold) are prominent.
It's easy enough to take a decent photo with your smartphone. So, drop the holiday snap and get a professional looking headshot. And whatever you do, don't use the default 'empty head' image.
Not everyone uses a cover photo or background image, but this is an opportunity for you to add something unique that sets you apart.
Here's how PR Expert Janet Murray has created her profile with a professional headshot and background image featuring PR related material:

Craft your headline
By default, your headline will be your current job title. But you can make it better.
You have 120 characters to get your message across. Your goal is to get people intrigued so that they want to read more about you.
Some people like to use the bold statement format: I help [insert your ideal client or industry] to [what do you do for them]. For example, Tor Magne Refsland's headline is:
I help healthy businesses to get on first page of Google within 60 days. Multi award-winning blogger & SEO strategist.

Other people use keywords and phrases that are broken up with separators. For example, Neal Schaffer's headline is:
Advising Companies on Social Selling, Influencer Marketing and Social Strategy | Social Media Keynote Speaker & Educator.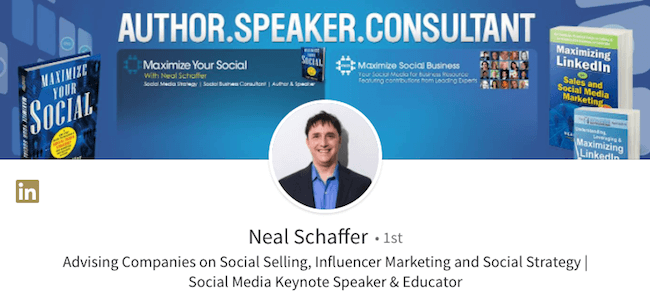 Perfect your summary
If your headline works, then people will want to continue reading your summary.
This is your chance to tell your story. As Melonie Dodaro says:
The only thing that differentiates you from your competitors is your story...What is your purpose? What drives you? Why do you do what you do?
You don't want your summary to be a resume. But, you do want to entice people to read more.
Here are four tips to help you perfect your summary:
Write in the first person -Writing in the 3rd person doesn't work unless you're writing a biography. LinkedIn is a social network; you'll have more success engaging with people when you write in the 1st person. As Andy Foote from LinkedInsights wrote:
Writing a summary about yourself in the 3rd person is a theatrical gimmick which never worked. It doesn't make you more polished; it makes you seem aloof, out of touch and stuffy.
Lead with the need -The first two lines of your summary show beneath your headline before the 'See more' link.

Beth Granger advises that you 'lead with the need' so that your readers have a reason to click for more information:
Lead with the need, as in all writing online.
Format your text - You have 2,000 characters in the summary section to tell your story, but don't feel compelled to use them all.
Format your text so that it's easy for people to read. Try using short paragraphs and bulleted lists, so it's clear what you do and who you do it for.
Look how Steve Phillip breaks his text into clearly defined sections: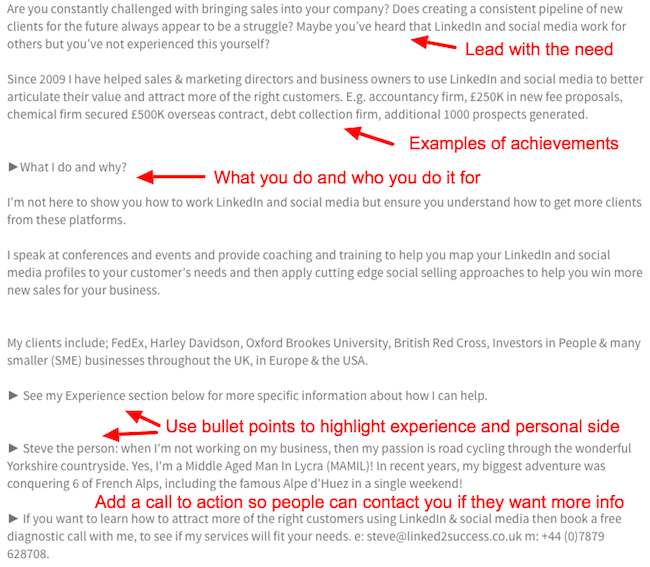 Add media - It's always worthwhile adding visual media to capture people's attention. At the end of the summary section there's an option to add or link to external documents, photos, sites, videos, and presentations: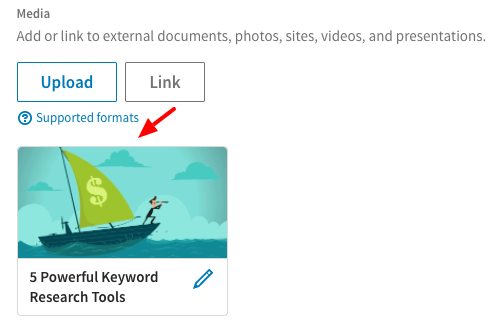 Ask for recommendations and endorsements
Recommendations and endorsements will help to boost your profile. It's one thing to write about yourself, but recommendations from people who know you and have worked with you enhance your credibility.
The best time to ask for a recommendation is when a client or a colleague has just thanked you for your excellent work. Ask them if they could take a minute to complete a LinkedIn recommendation and then add it to your profile.
There's no limit to how many recommendations or endorsements you can display on your profile. Your last two recommendations will always be visible with the option for people to view more. But with endorsements, you can choose which three are visible.
Post regular content
As well as optimizing your LinkedIn profile, you'll want to consider posting regular content. When you write articles or post status updates, you'll gain more exposure to your existing connections plus their connections. It's an excellent opportunity to highlight your skills and knowledge, and at the same time provide helpful tips and insights to your audience.
Don't forget to engage with other people's content, too. LinkedIn is a great platform to build relationships with new connections. Start by following and commenting on people's content, so it's easier to send an invitation to connect afterward.
Your articles and activity (both posts and comments) show in your profile, so when a potential new connection comes along they can see how you engage with other people: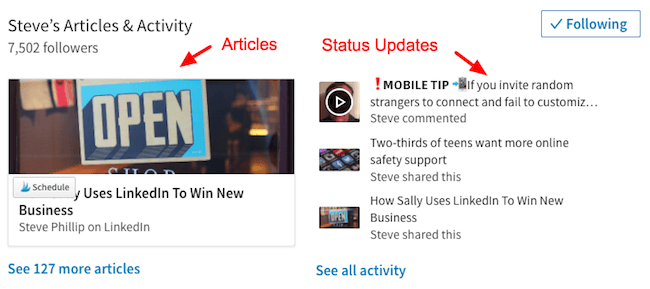 Two of the best LinkedIn profiles
You've already seen some snippets of profiles, but two more LinkedIn profiles follow the best practices above.
John Espirian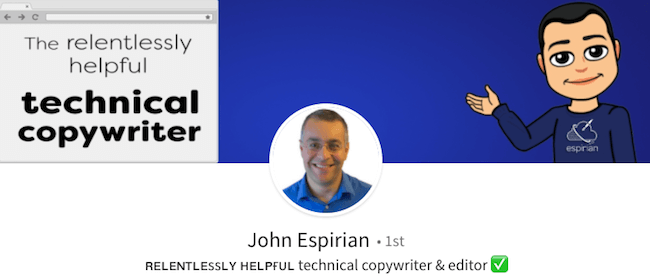 John Espirian is a relentlessly helpful technical copywriter and editor.
Take a look at his profile to see how he formats his summary section after leading with the need.
John also shares regular content, including video, with helpful technical tips on using LinkedIn, writing, editing, and proofreading - everything that positions him as an expert while offering help and advice to his audience.
Amanda Webb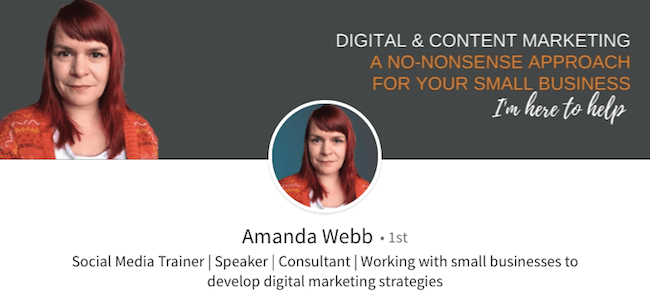 Amanda Webb is a Social Media Trainer, Speaker and Consultant, working with small businesses to develop digital marketing strategies.
Check out her profile summary to see how she defines what she does and who she does it for.
Amanda also shares regular content, using video and text and commenting on other people's posts to keep her connections informed.
Quick recap for your LinkedIn profile
Here's a quick recap of how to optimize your LinkedIn Profile:
Include a professional headshot and cover photo
Craft a headline that captures the attention of your audience
Perfect your summary, so it's easy to read
Add recommendations and endorsements for social proof
Post regular, relevant content
Optimising your Company Page
As well as Profiles for individuals, LinkedIn also has Company Pages where you can grow your company's presence. It's free to create a Company Page, and in many respects it's the same as creating a Profile.
Let's take a look at the key areas you should focus on.
Use keywords in your company description
First, add your company's logo and a cover photo, and then write a description of your business. The About section is the perfect place to optimize your company page for search queries inside and outside of LinkedIn. For example, Sendible uses similar keywords on its LinkedIn Company Page and its homepage meta description:

LinkedIn offers three suggestions to optimize your Company Page for search:
Insert keywords - add (but don't stuff) keywords in your description and specialties.
Link to your Company Page - add links/icons/buttons from your website to your company page.
Share relevant content - when you publish updates on your Company Page they also appear on your public page, allowing your content to be indexed by Google.
Link your Showcase Pages
If your business has multiple entities under one name, then you can take advantage of the LinkedIn Showcase Pages. For example, L'Oréal has many popular brands like Lancôme, Yves Saint Laurent, and Maybelline: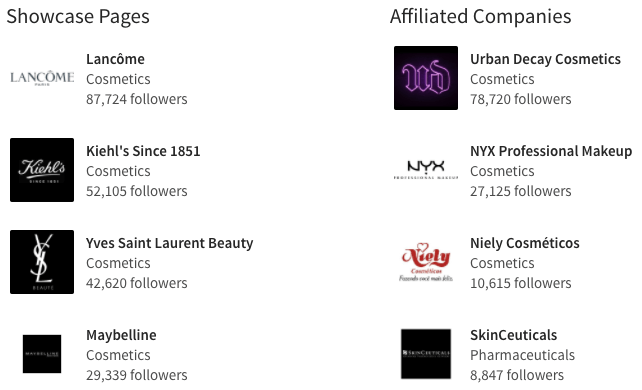 L'Oréal creates separate Showcase Pages for each of these brands that are linked back to the main company page:

Note: LinkedIn also offers companies the option to upgrade to a premium account to increase their reach further. For instance, you can promote your brand with Sponsored Content and Career Pages.
Post content regurarly
According to LinkedIn, the best way to build your company presence is to post content regularly:
Posting daily company updates is the most effective way to attract followers to your LinkedIn Company Page.
Following a regular publishing schedule, your audience can tune in daily for your updates. LinkedIn's statistics show:
On average, companies that post 20 times per month reach at least 60 percent of their audience.
Try to balance your content so you have a blend of company updates, thought leadership, and industry trends. Also, try using different media types like photos, videos, and Slideshare presentations to engage your audience.
3 Brilliant LinkedIn Company Pages
Hays
Hays is the leading recruitment company on LinkedIn, and they're proud to show they have over 1.9m followers:

Hays positions itself as an industry thought leader by sharing content for recruiters, job seekers, and offering general career advice to its followers. Each day they post three pieces of content (one for each audience segment) from their blog. Let's take a look at some examples: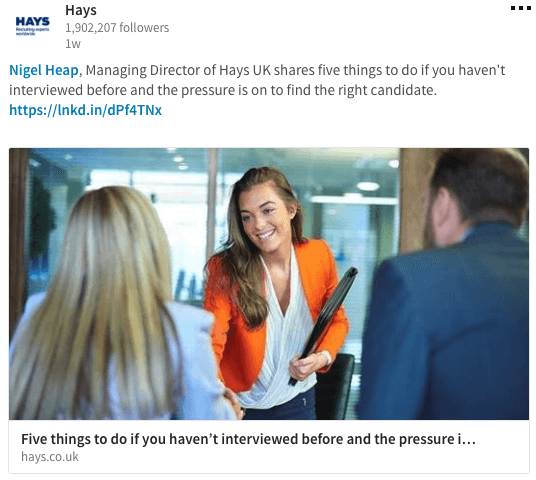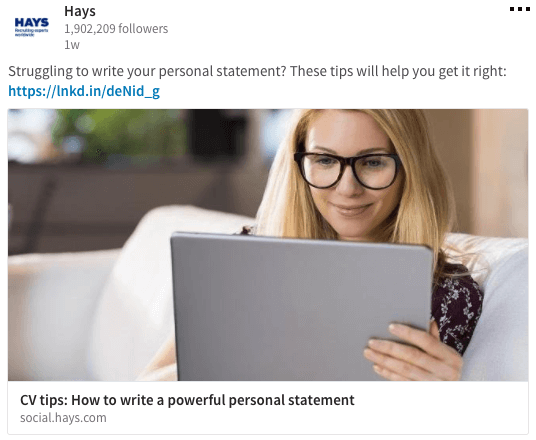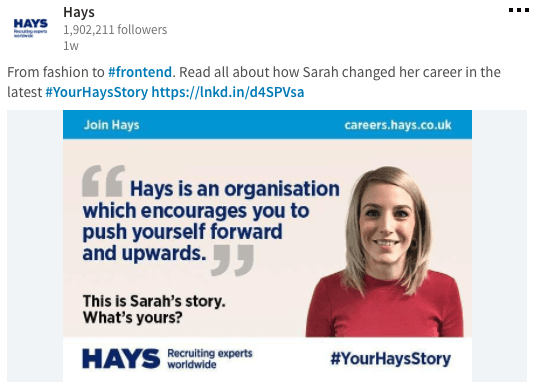 HP
HP is the Information and Technology giant from Palo Alto with over 2.5m LinkedIn followers.
They use Showcase Pages to highlight the different divisions within their global group:

HP posts a broad range of content on LinkedIn that includes Innovation, Community, Diversity as well as Company news and updates. They use different types of content including video and images to engage their audience. Here are some examples from their LinkedIn company page: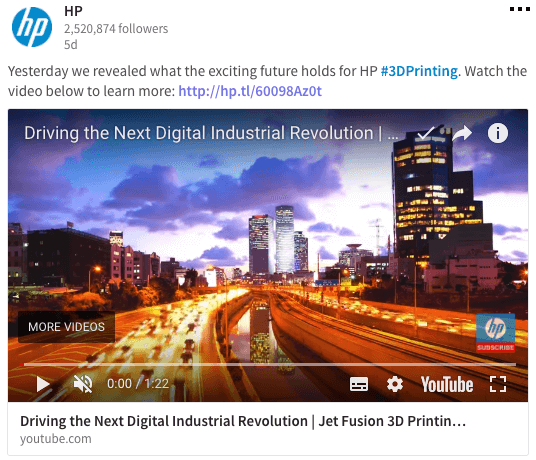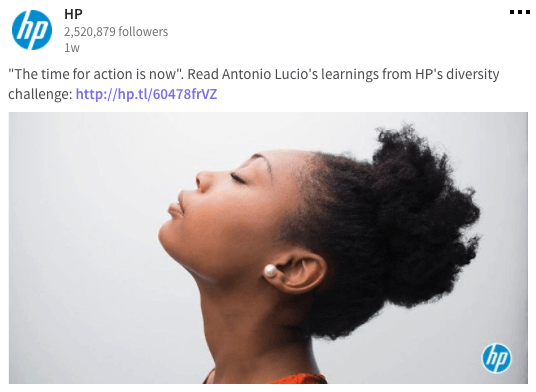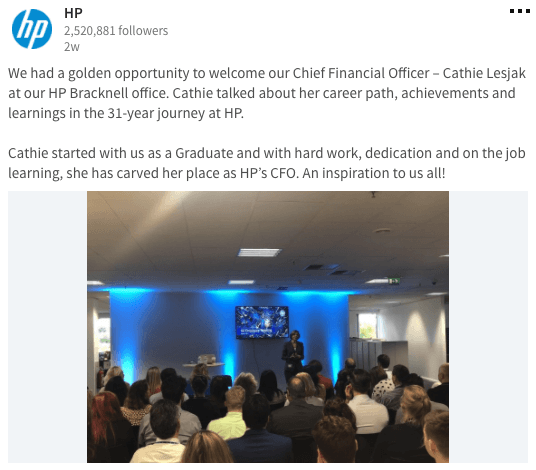 L'Oreal
L'Oréal is the world leader in beauty and cosmetics, and is present in 140 countries across five continents. They're also Ranked 9th on the 2017 LinkedIn Top Companies:

As mentioned earlier, L'Oréal use the Showcase Pages to highlight their extensive range of brands. As far as content is concerned, they have a lovely balance. They include material from their own channels, like YouTube, featured articles published elsewhere, and also curated content related to the beauty industry.
What's interesting to note is that although they're predominantly a consumer-facing company, all their content on LinkedIn is business-related. Here are three examples from their company page: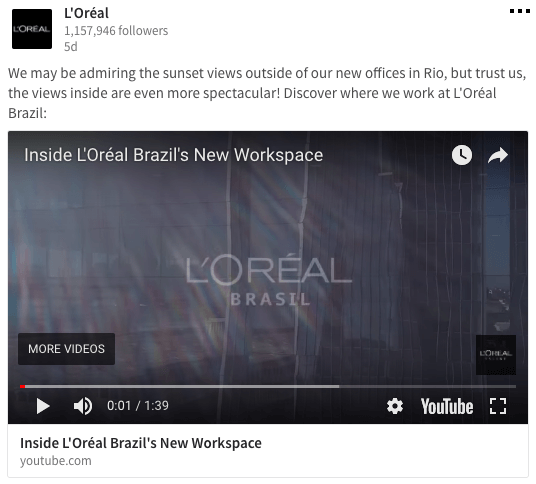 Featured articles on other websites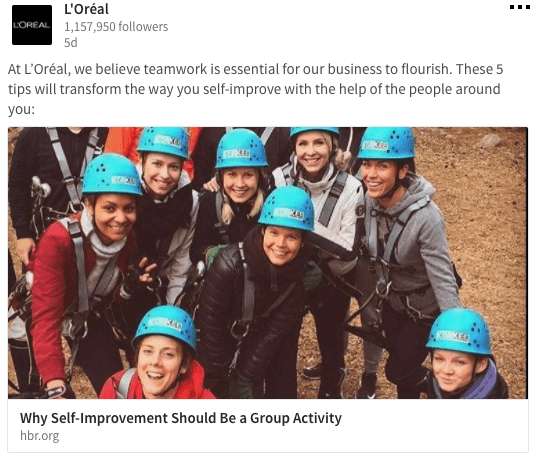 Quick recap for your LinkedIn Company Page
Here's a quick recap of how to optimize your LinkedIn Company Page:
Add keywords in your company description
Make use of related Showcase Pages
Post regular B2B content that includes rich media
Conclusion
LinkedIn is the professional social network. Whether you want to engage on a personal level or through your company page, follow the best practices highlighted above to make a good impression and build your online network.