2015 is nearly upon us, it's been a long year of juggling your clients' social media profiles and switching between multiple tools whilst at the same time trying to increase productivity and minimising costs.
Not to mention growing their following, answering questions, finding and creating new content, monitoring their brand reputation and making sure you can prove real ROI from your services.
Don't be a social media zero become your clients' hero
Yes it's been exhausting, with the growth of social media platforms such as Facebook increasing over 19% since 2013 and more social media networks springing up all the time, outsourcing social media management for business is in high demand. Is your agency taking advantage and enjoying a slice of the (Optimus) Pie and adding a significant new revenue stream for your business? Gee Whiz! How about adding a fully white labelled own branded social media management solution to your portfolio.
Social media management for your clients no longer has to be your kryptonite, being a drain on your time and resources. Sendible will super charge the service you provide with a full suite of tools on a single easy to manage dashboard, with your agencies own branding!
Become a social media agency superhero by using Sendible to manage all your clients' social profiles from one dashboard. Become other worldly with the ability to preschedule all your clients' social media activities, setting optimum times to ensure they gain the most ROI.
Cowabunga your content
No longer does your agency have to endlessly search for the holy grail of quality, engaging content to share on their social profiles, Sendible will recommend content and articles based on your clients' previous posts. Deliver on demand or schedule third party relevant RSS content to ensure a constant flow of relevant content is posted on your clients' social media streams.
Agencies Assemble
Build up an unstoppable content library on Sendible based on each client, enabling you to access on demand any relevant content and images you require. Want to ensure all your clients post are in the same tone and have as much super power behind them for maximum impact possible? KAPOW! Use Sendible's intelligent workflow capabilities so if you'd like to approve any sidekick's posts before they go out, simply change their permission settings. You can also use Sendible's interactive calendar to gain a high level overview, manage and assemble your clients' and teams' activities in one place.
Shield your clients' brand reputation
Worried about your clients' social media reputation and how you can have real time visibility? Sendible gives you a full holistic x-ray vision over millions of social media, blogs, news, video and review websites, to make sure that if any hobgoblins crop up, these negative reviews, comments, or mentions can be swiftly and easily dealt with, or again this can be assigned to additional Sendible superhero users to deal with at the click of a button.
One solution to rule them all
Are your clients not getting enough followers on social media sites such as Twitter? Cast your web out to capture more followers and turn them into real tangible leads by using Sendible's intelligent apps such as auto follow or auto reply by keyword, interest, geo graphical location and much more.
Don't be a Joker by missing opportunities and lead nurturing prospects on social media for your clients, Sendible's social CRM will search out and capture key contacts that can be nurtured or be important influences for your clients, helping gain more ROI from their social media activities. Sendible also includes email and SMS sending features.
Mighty graphic designs made simple
Become the world's mightiest graphic design mortal with Sendible's Canva integration, create outstanding designs for your social media posts for platforms such as Facebook, Twitter or Pinterest and make your engagement rate go up, up and away through the roof.
Reporting to infinity and beyond
Powerful automated reporting tools give your agency high level or granular bespoke client branded reports. Never again will you have to sift through the rubble or move mountains to collate the data to prove the ROI you're offering your clients.
A quick recap(e) of some of the main benefits Sendible will bring to your agency and how social media management no longer has to be a Bane in the neck: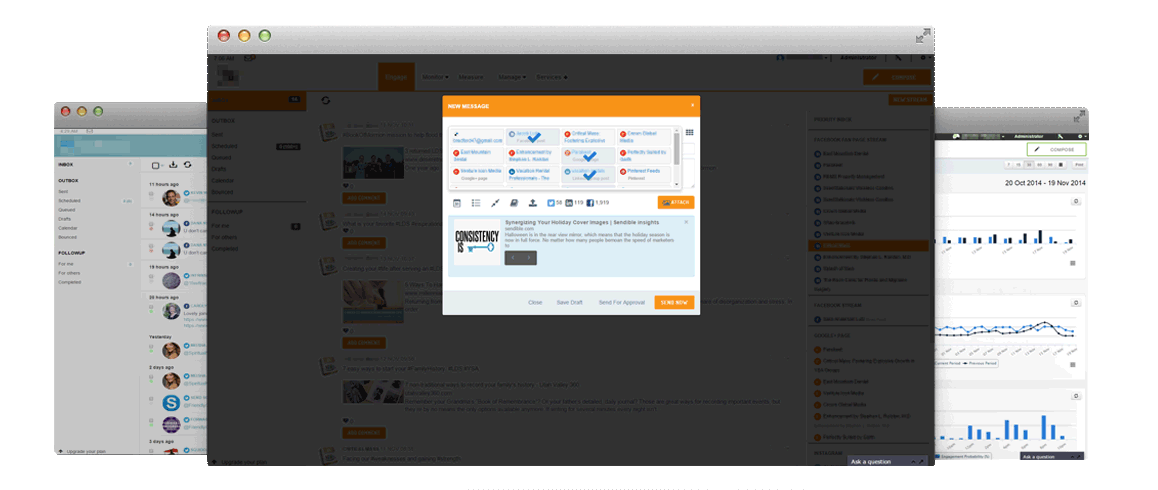 — Fully white labelled version of Sendible's social media management solution in your portfolio, introducing a significant new revenue stream.
— Manage multiple clients' social media on one platform or let them login and use all the management tools available.
— Post across a multitude of social media sites at once, preschedule or use optimal time for most engagement and ROI. Helping save time and increase your clients' brand awareness.
— Monitor clients' brand reputation, keywords, trends and competitors across social media and millions of online sources.
— Discover new relevant leads for not only your clients but for your agency and interact with key influences and dramatically increase you followers and likes. As well as storing these in Sendible's social CRM.
— Discover and share relevant engaging content and articles through Sendible's intelligent content recommendation feature and RSS feed integration. Store this content in your content library for future use.
— Design outstanding graphical designs with Sendible's Canva integration and post or schedule these directly to your clients' social media profiles
— Implement workflows to allow posts to be approved, or specific access permissions for each user based on their role, and use the interactive calendar to manage these.
— Plus much more!
Keep your clients happy and never hear them say: "You wouldn't like me when I'm angry" but improve customer results and retention and make sure they say "I'll be back".

Book a free demo of our Sendible white Label social media management solution today.