Digital marketing agencies often find social media management quite tricky. The challenge is aligning the tools used to the varying and complex demands of multiple clients.
Client needs are not only affected by the social media channels they favour, but also their size, industry, and audience. Using a variety of social media tools can help you cope but may lead to more errors, putting your business at risk.
To help you find the best social media management tool, we've compiled a list of ten advanced features that are 'must-haves' if you are to achieve social media success. Whether you have a team of two or a thousand, these are the key features that will help you gain a competitive edge.
9 reasons you should be using a social media management tool
With so many social media management tools cropping up all over the place and prices ranging from tens of dollars to thousands of dollars, you need to be asking yourself:
"Does my company really need to use a social media management tool?"
Here are 9 reasons you should be using social media management software:
You are concerned that your competitors have an edge over you by using tools to find prospects, respond to customers, and monitor their social media reputation online.

You want to stop wasting valuable time signing into each social media account individually whenever you want to send out a post and do community management.

You're looking for a way to override monitoring your brand reputation by manually signing into Twitter, Facebook, YouTube, Google News, Blogs, and other sites to search and respond to mentions of your company.

You're struggling with manually creating reports and proving ROI on your social media activity by visiting each of your social network accounts daily and laboriously copying the day's results into Excel.

You're tired of using multiple Excel and Word documents to create and manage content to help execute your social media strategy.

You are concerned with security and don't wish to share your Twitter and Facebook login details with interns and other employees in your company.

Your community managers lose precious time by constantly jumping between multiple social media streams to read and respond to activity on your social media profiles.

Your social media managers don't like posting the full URL to the content they're sharing and they need to track how many people are clicking the links.

You understand the benefits of social media marketing and the value it brings to businesses of all sizes.
If this sounds like you, it's time to choose the right social media marketing tool that will help you optimise your workflows, improve performance, and wow your clients.
10 Features you need in a social media management tool
1. White labelling
It is important for agencies to promote their brand name. Look for a social media management tool that allows you to both manage social media for your clients and at the same time provides them with a white-labelled social media management tool that can't be found elsewhere.
Ensure that your SMM tool allows you to post with your own brand identity on social networks (branded posts), not as the provider of the tool.
2. Monitoring and reporting
The ability to create attractive reports is essential for an agency, especially a renowned one that manages globally recognized brands. And ideally, you need to be able to automatically distribute your reports to key stakeholders.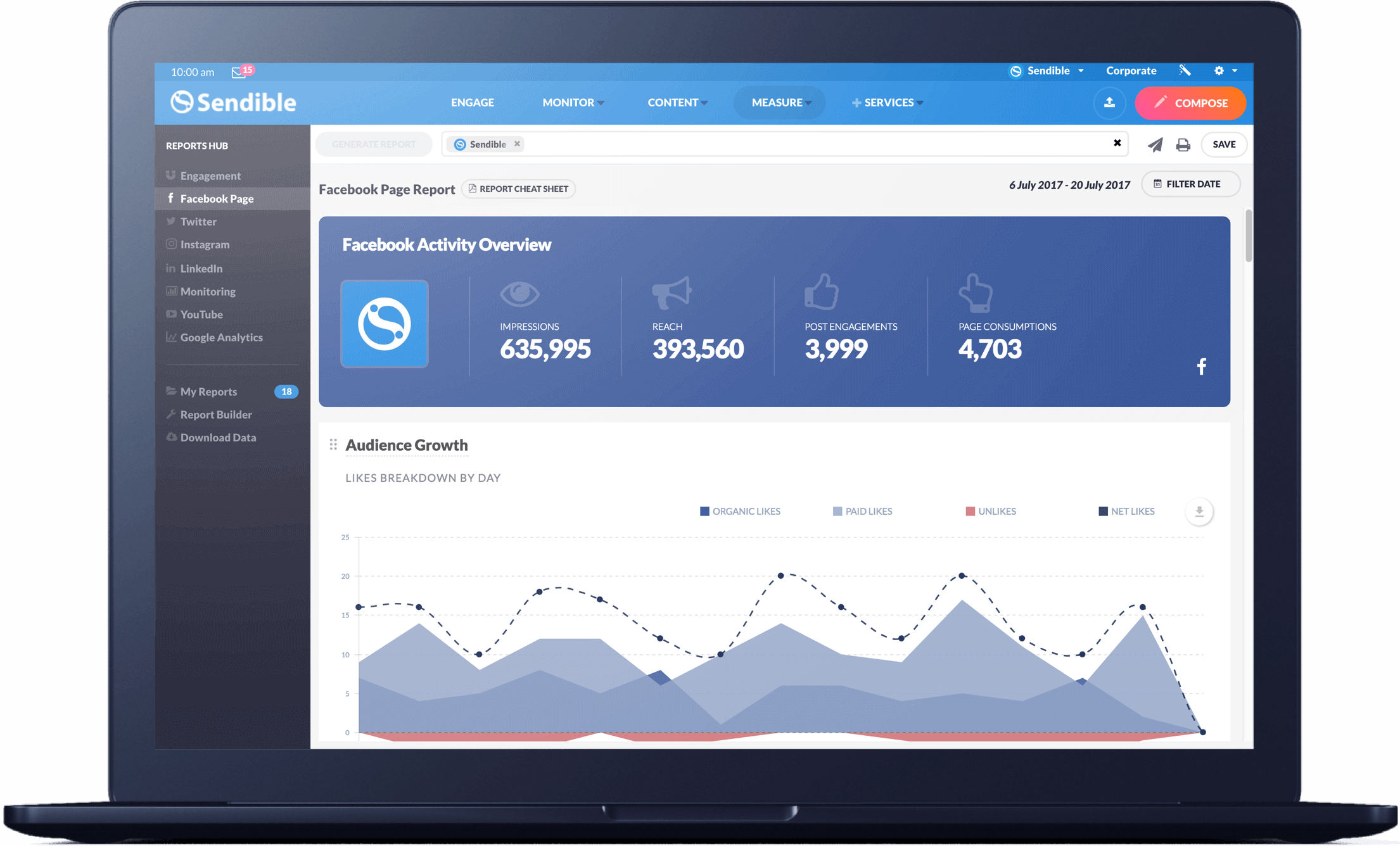 On another hand, having in-depth analytics for LinkedIn, Twitter, Instagram, Facebook, and other networks will help you optimise your social media marketing efforts efficiently. By having an insight into your combined audience, post engagements, posts, and mentions across all channels you manage, you'll also be able to easily spot trends.
3. Bulk scheduling
Gone are the days of manually and laboriously scheduling social media posts one at a time.
Your social media marketing tool should allow you to bulk schedule hundreds of messages at a time. In addition to importing scheduled messages, you should also be able to add images or import messages into your drafts folder.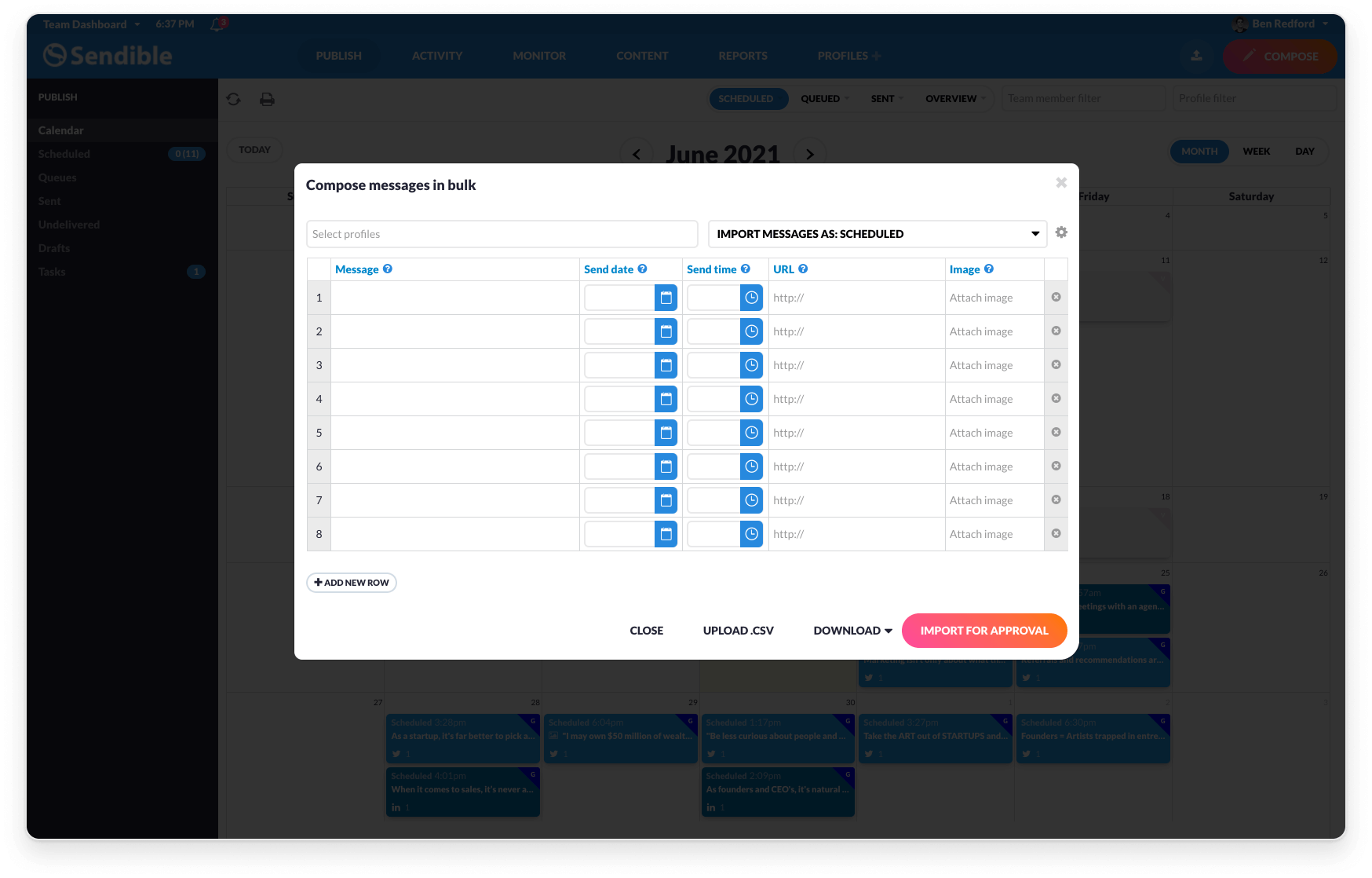 Also, look out for the ability to group social media posts in campaigns and send them at optimal times. This is a must-have for your tool as it will drastically reduce your workload and improve your performance.
4. Workflow approval
Team members may need their posts approved before they are published.
Likewise, if you're managing social media for clients, you may want them to review your messages before posting on their behalf.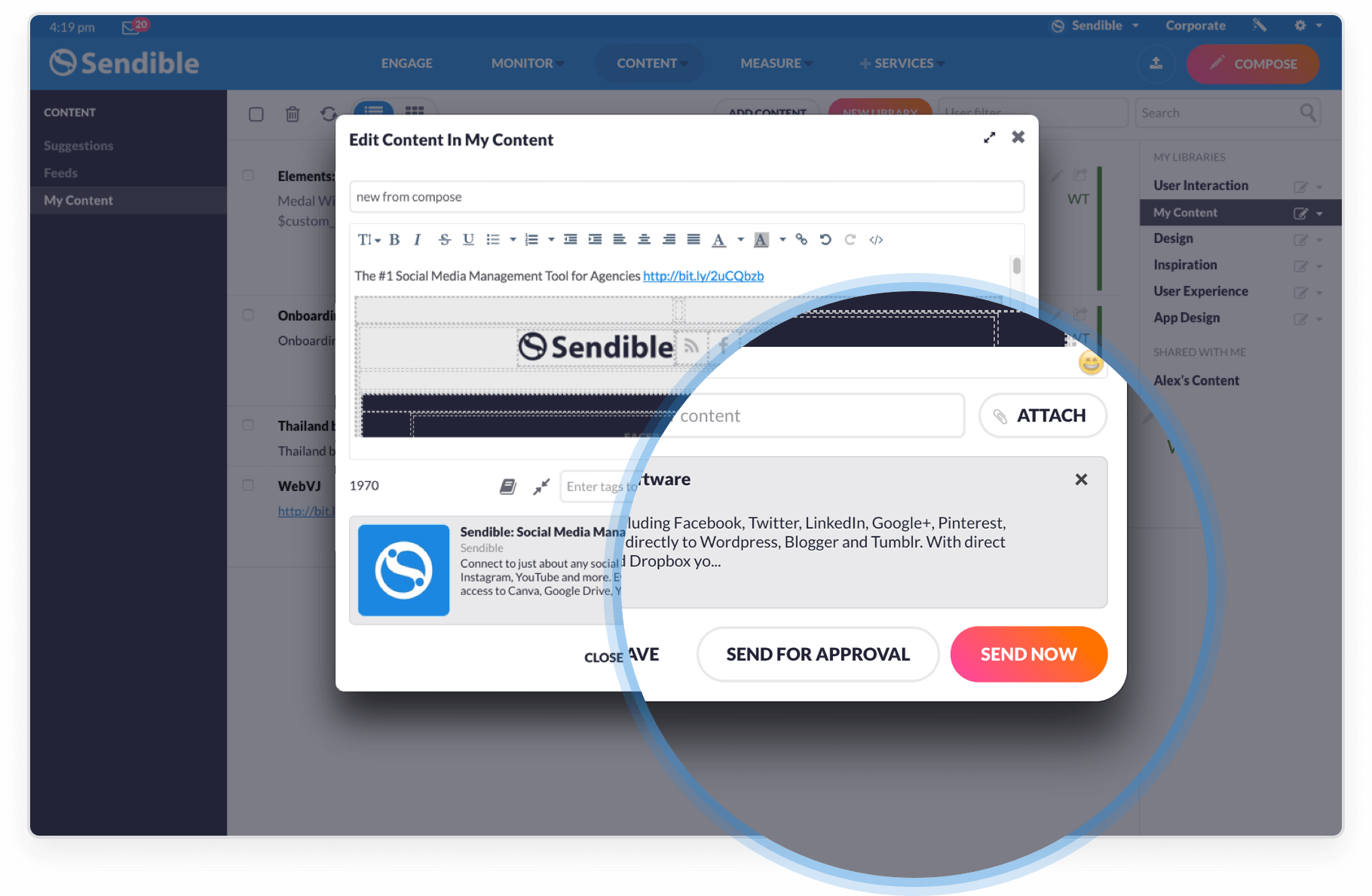 Find a tool that will allow you to assign approvers against users. Check that posts can automatically be sent to an approver before posting, and ensure that you can restrict access in user settings. This gives you extra control so that all outgoing content meets the brand guidelines of your stakeholders.
5. Secure login sharing
Secure login sharing eliminates the needless sharing of sensitive passwords.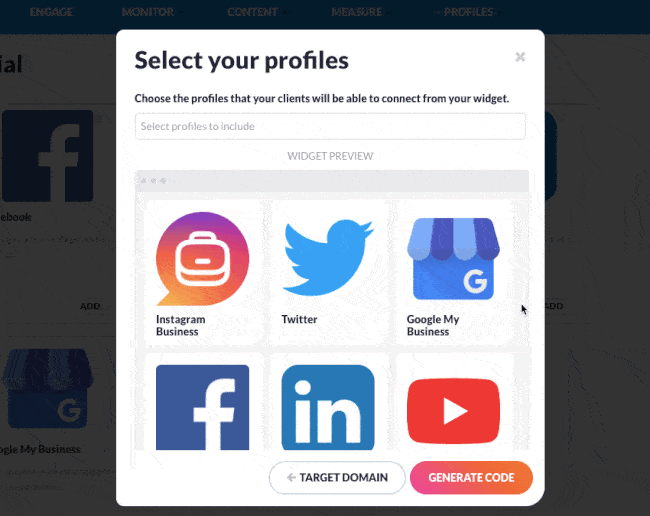 The 'Client Connect ' feature in Sendible revolutionizes the way agencies can add client social media accounts and create users. By adding a custom HTML Widget to your website, you can streamline your client's onboarding process while maintaining your branding.
6. Customisable permissions
Ideally, you need to be able to create a list of permissions and allocate these permissions to groups or teams within your company.
For instance, you may create a number of permissions (that allow the queuing and composing of new messages) and label the group 'content writers'. Then your content writers would only be able to use the features listed above.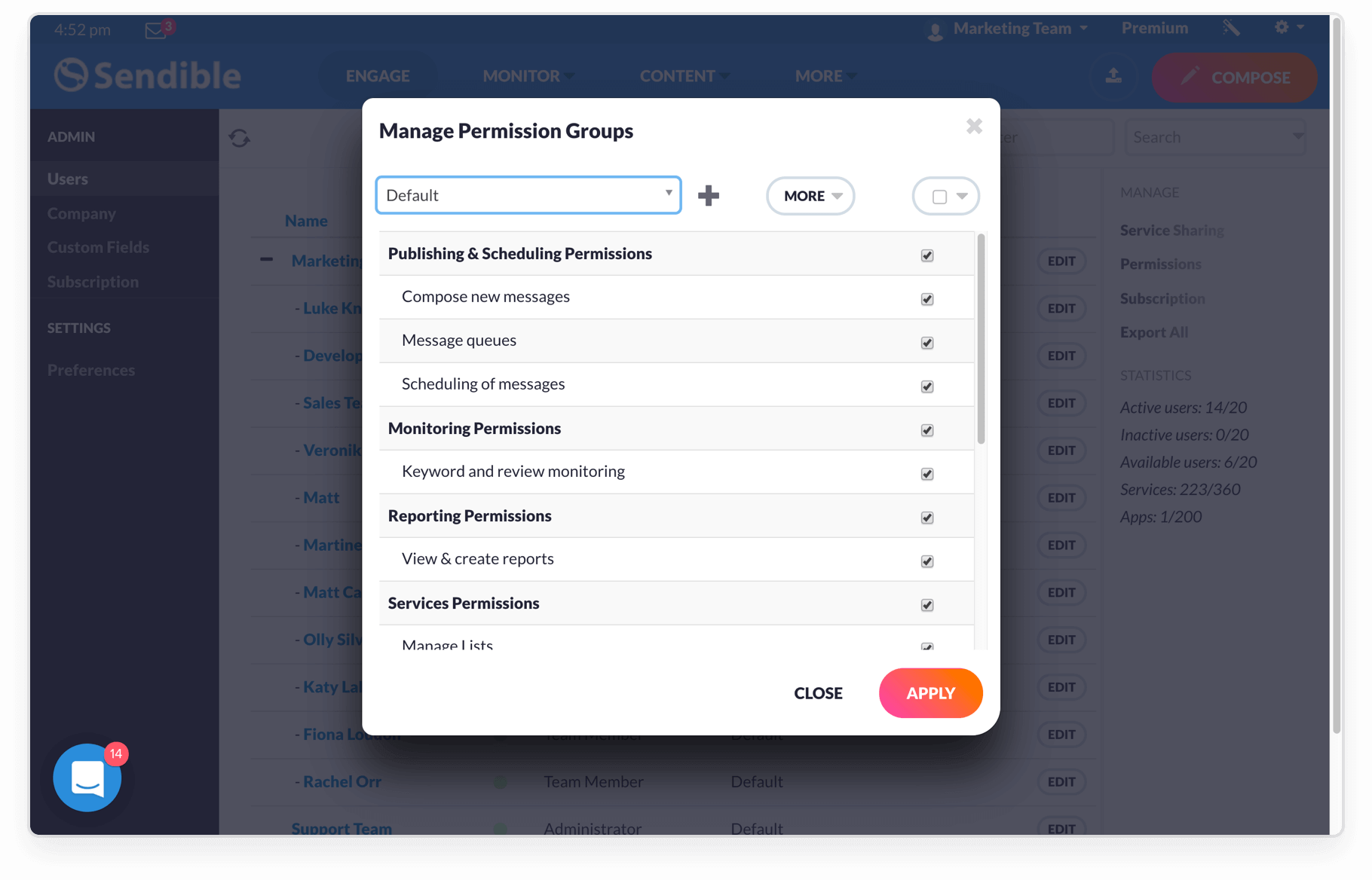 When managing a large number of clients, customisable user permissions are a vital safety net.
7. Integrations
Integrations and custom APIs are valuable for agencies managing social media for large client companies. Often, large companies use a number of tools that they would like to integrate with their social media tool.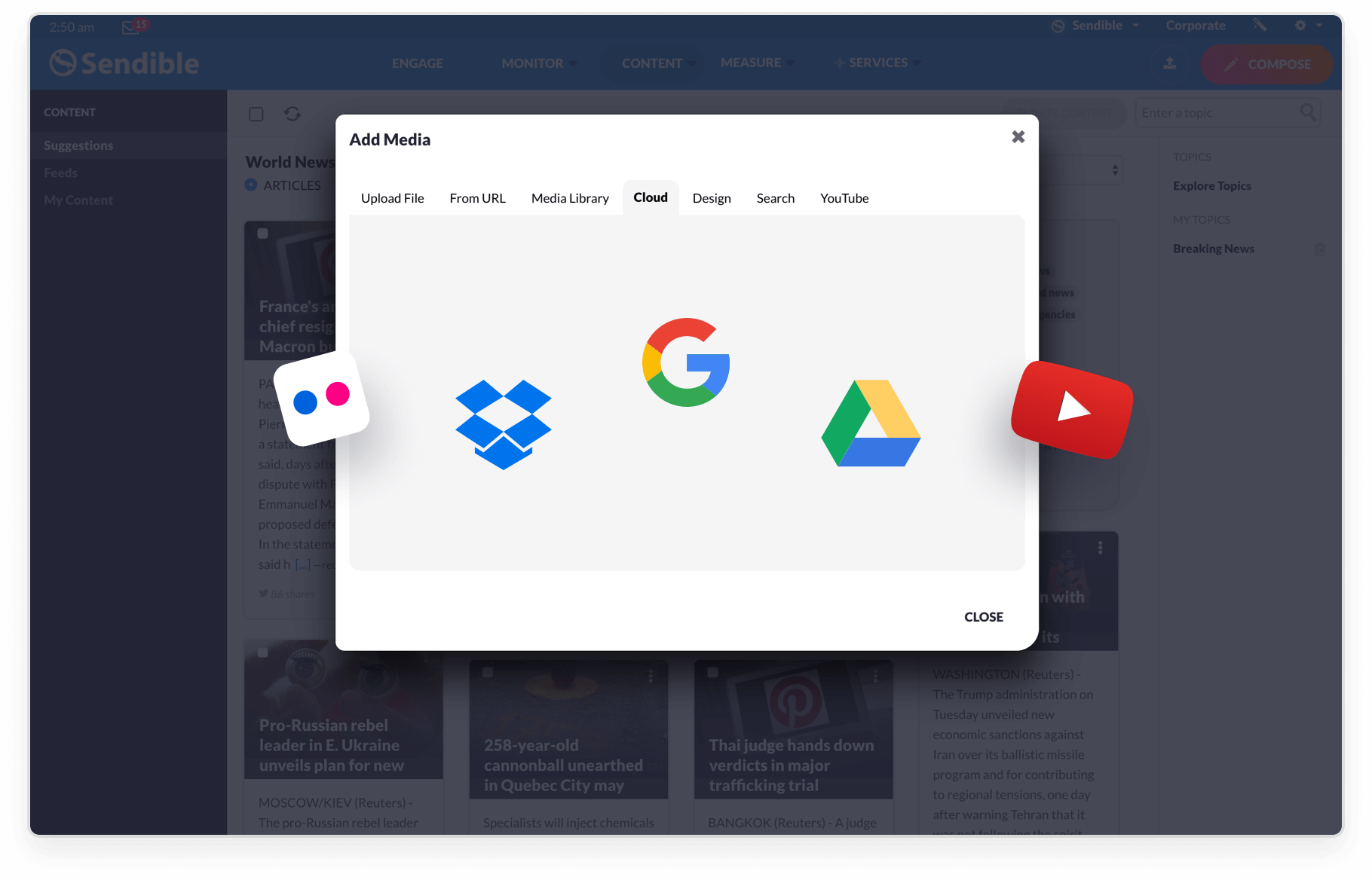 This is why it's important to find one that offers numerous handy integrations, such as those for designing (Canva) and finding visuals via cloud intergrations.
8. Managing and sharing content
With a number of clients and campaigns on the go, agencies need simple ways to both source and store content.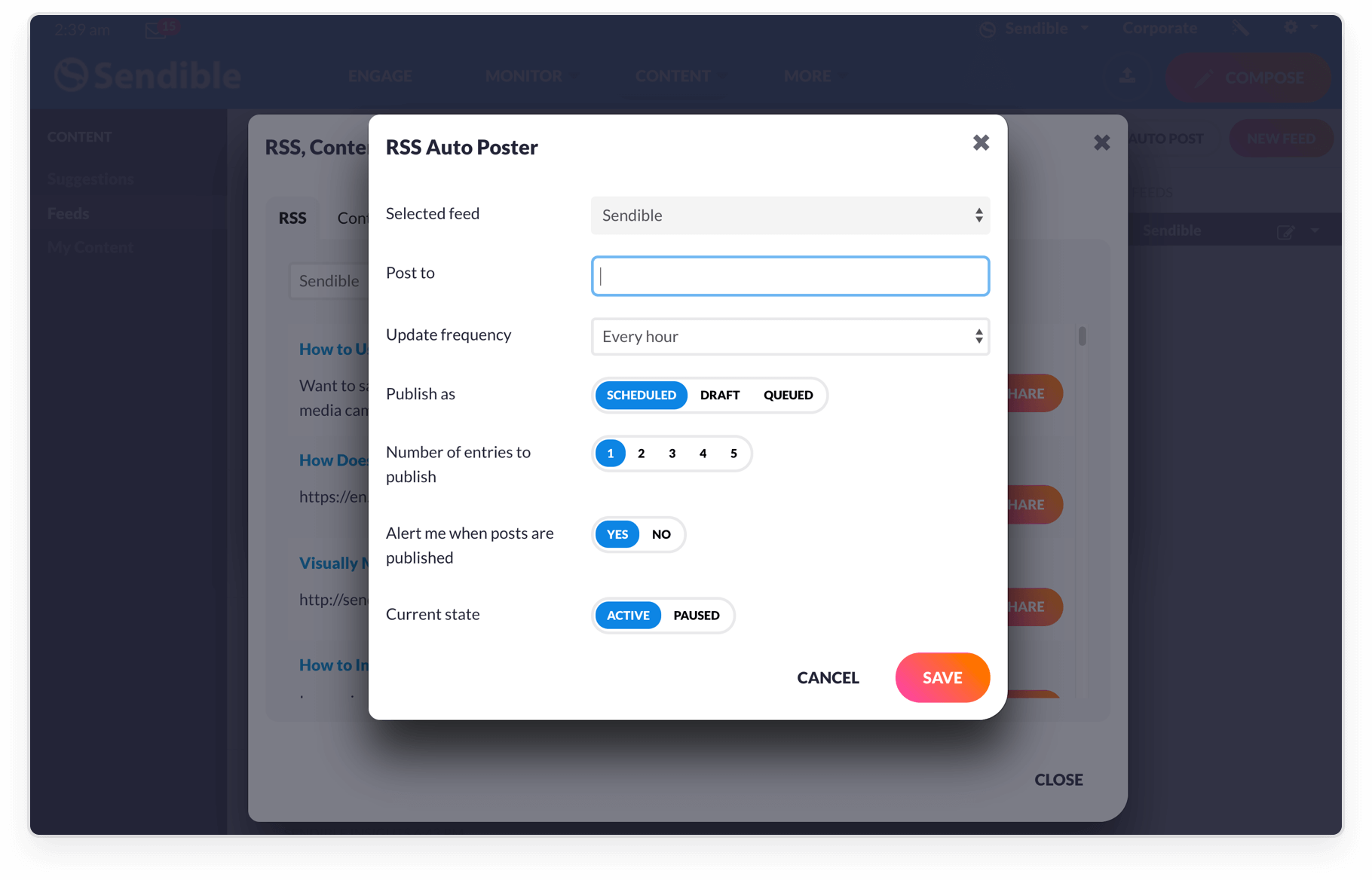 A consistent source of content is via RSS from relevant sites. You need your management tool to be able to pull in feeds and automatically publish them to your social networks at regular intervals throughout the day. To help you stay organized, your tool also needs a library, allowing you to store content for later use by your team or clients.
9. Social listening
One way to improve your social media strategy is by tracking brand, competitor, and key industry terms. But, it's not enough to track them, you also need to be able to respond quickly! This is why your tool needs to have powerful social listening features.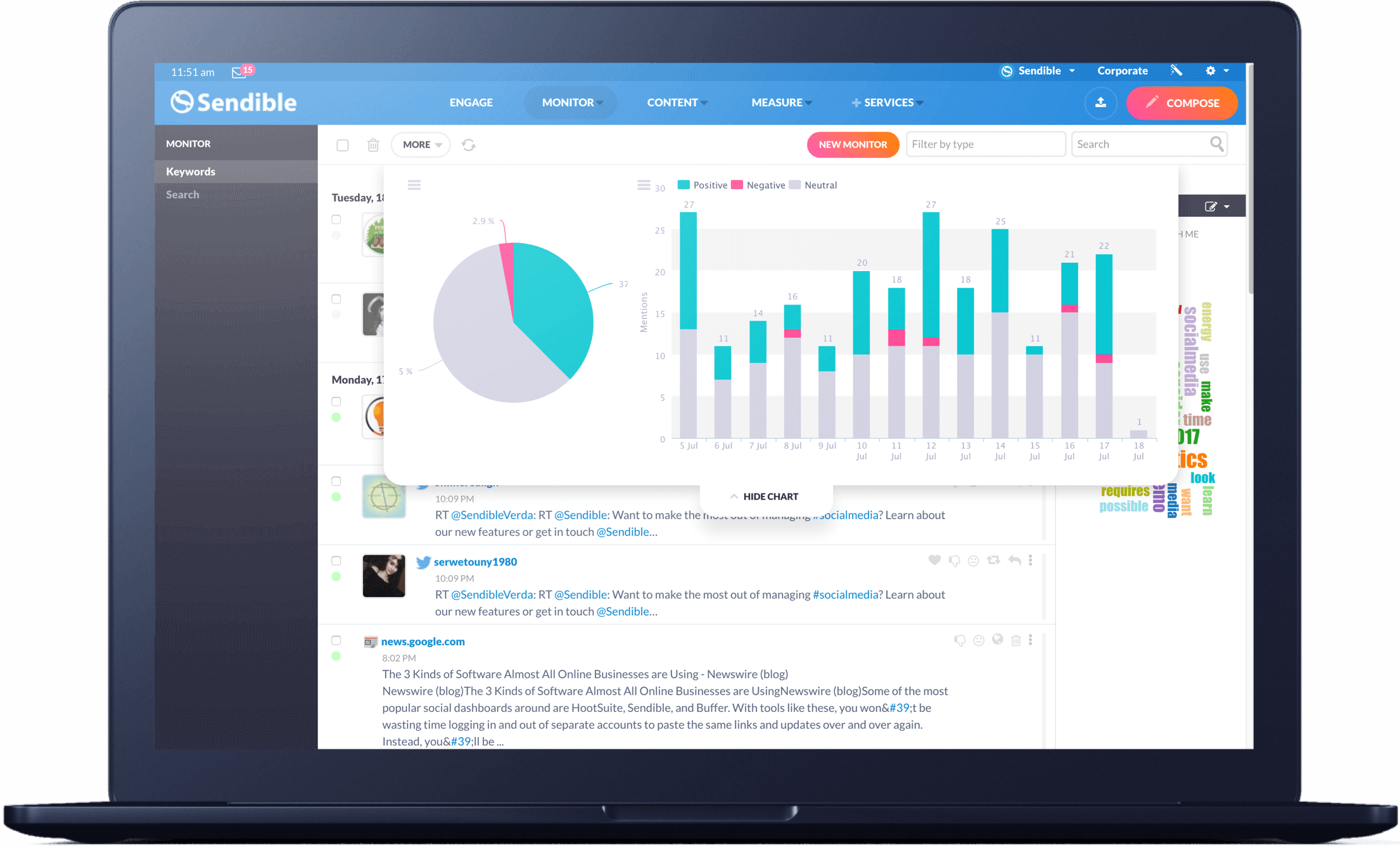 Additionally, your social media tool needs the ability to analyze mentions and tell you whether they have a positive, negative or neutral sentiment.
And if you believe that a negative mention is supposed to be a positive one, you need to be able to change it.
To fully understand customer experiences and brand reputation across the social web, you also need access to online reviews. For example, Sendible integrates with Yelp and CitySearch allowing agencies to easily monitor reviews and promptly react to the issues that arise.
10. Training and support
For an agency, social media management is not like riding a bike - more like driving a Formula 1 car. This means that you need special training and a dedicated pit crew.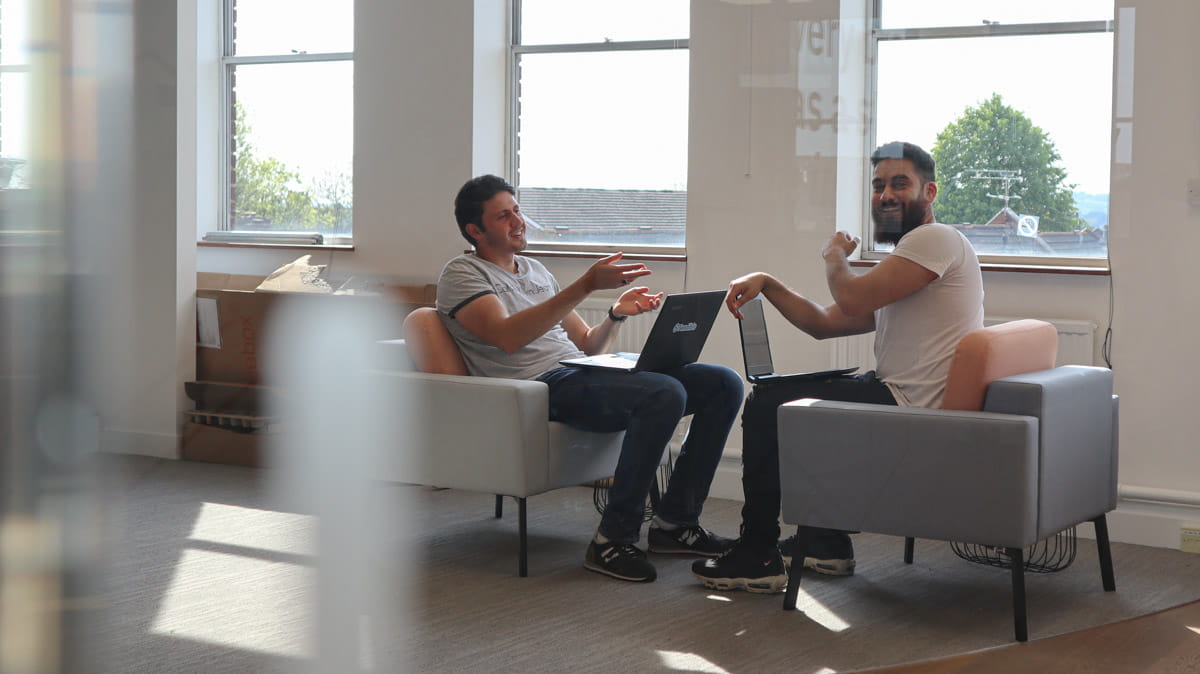 It's okay to buy an off-the-shelf product, but do you have the support from the supplier to make sure it is a success for your company? Remember, you should not be left alone after you've purchased your social media management software. At a minimum, a dedicated account manager should always be on hand to help.
Bonus: All-in-one social media management tool
This might sound like you need numerous social media tools. But, fortunately, Sendible is one of the all-in-one platforms that ticks off all the previously mentioned boxes.
So, if you're still looking for your favourite social media tool, make sure to hop on a 14-day free trial and explore all of the features that Sendible has to offer.
Johnny Costello
Johnny is the Head of Sales at Sendible. He has worked in social media for over 8 years for some of the leading social media brands in the UK. He has developed an in-depth knowledge of the social sphere and the future trends in the industry. Johnny also has agency experience having worked as a media planner/buyer for Mindshare Ireland.