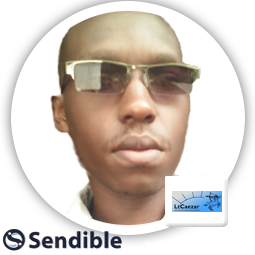 Short description of you and your company
My name is Mutahi Muriithi and I founded LtCaezar Communications. Based in Kenya, my company consults organizations, companies and individuals on how to improve their social media and online presence. We are also involved in managing digital campaigns for our clients.
How and why did you get started in social media?
We used social media to increase reach and recruit content developers for a writing gig. Once we saw the amount of responses we got, we were instantly hooked. We saw that social media has the power to transform the way organizations and people communicate with each other.
Today, we are on social media to use it as an alternative communication channel. We ensure that our clients get the best out of their social media presence.
What do you believe are the benefits of using social media for business?
Social media is relatively easy to control when doing outbound communication. It is useful in building relationships and brand loyalty in a cost effective way. Additionally, we see a lot of our clients increasingly using social media for customer service. Social media is a platform that can bring a lot of positive impact on any type of business.
What are the common mistakes business owners make when building brand awareness through social media?
Pushing too hard, expecting quick results and investing too little in their social media operations.
What qualities do you think social media managers should have?
Patience and being able to keep cool, also, analytical skills for testing different tweaks and user experiences. Strong conceptualization and communication abilities for strategy development and implementation are also important. In order to effectively answer to their bosses, they also have to have good monitoring, evaluation and reporting skills.
How do business owners know if their social media campaign is working?
Monitoring tools exist to measure these parameters. The business owner should set specific targets and indicators of success. For example, measure the increase in the number of interactions, or any difference in growth of audience numbers. All KPIs must set before the campaign, checked during the campaign, and analyzed after the campaign.
How do you see social media evolving over the next 5 years…what do you hope to see?
Social media will take over as the next main channel for communication. Mainstream media as we know it today (radio television and newspapers) will take a backseat. We are also likely to see a decline in the use of emails for marketing due to the more official adoption of emails in official business. This however, depends on social media platforms retaining their allure to the various audiences, and not allowing too much automation.
What do you think are some of the consequences of not getting on-board with social media?
Businesses, individuals and brands that do not embrace social media will miss out on opportunities. Such businesses will also have weaker relationships with their customers in the long run.
What are your thoughts on social media versus more traditional marketing activities?
Social media is a support service for the traditional methods of marketing (for now). However, a gradual takeover will happen. Complemented by advertising on websites, social media will perform better than traditional advertising.
By default, the initial social media platforms that were pioneers work better for marketing (Twitter and Facebook). Sometimes, social media sites gain popularity in a specific country and marketers have to embrace the specific site. So, you really have to go where your audience and potential customers are.
Which one best practice would you recommend about using social media to grow a business?
Being truthful is the practice I recommend. It is better to say nothing than to lie on social media.
Social media management software for agencies and businesses
If you don't have a tool to help you schedule social media posts to multiple social media networks just yet, you can give Sendible a try, completely free for 30 days.