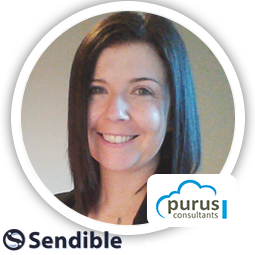 Who are you and what does your company do?
I'm Leanne Harkin, joint Director of Purus Consultants, a Salesforce.com partner. We work with customers to implement their Salesforce platforms, custom development, training and ongoing support. On top of that we also have a desk.com team and just started working with Pardot...a really cool marketing automation system!
How and why did you get started in social media?
The business was formed 2 years ago, so social media was just a natural part of our marketing, in fact it was one of the first things we set up. Its relatively low cost and everyone uses it, so a bit of a no-brainer really.
What do you believe the benefits of using social media for business are?
We use the tools slightly differently. For Purus it's all about brand awareness on Twitter, sharing information and having a presence in the Salesforce community. Each of our projects is different, there is not a one size fits all for business processes and each of our client solutions is tailored to accommodate this...which can be tricky to convey in 140 characters! In terms of revenue generation LinkedIn has been amazing for us with three fantastic clients being recommended to us via our networks. We use Facebook to promote our events via their paid advertising - we love the fact that we can be so targeted with the demographics and we have seen clicks turn into attendees at our events.
What do you think are common mistakes business owners make when building brand awareness through social media?
Buying lists of users. What's the point? We don't have thousands of followers, but they are high quality because they were built organically. Also, on personal note I can't stand tweets where every word is a #hashtag... drives me mad!
What qualities do you think social media managers should have?
I heard someone in the pub once teasing a friend who worked in social media, saying that they get paid to play on Facebook all day...Pah! It's a tough job...you need to have a sense of humour and be personable. The ability to build a following online thorough a few words is an incredible skill. At the same time you need to know your industry and product inside out, have journalistic skills and keep your content fresh and original, across multiple channels.
How do business owners know if their social media campaign is working?
We measure ours through clicks and visits to our website. We are also able to measure our LinkedIn presence through the revenue spent by new customers acquired via this channel.
How do you see social media evolving over the next 5 years…what do you hope to see?
I don't think we will see any major new players enter the market, the ones that are there already will become even more sophisticated. Facebook has recently introduced "live" and profile videos, so I'm sure Twitter will not be too far behind. The younger generation are growing up with social media, for some of them it's always been there, it's already integrated into their lives, so naturally this will be carried into their future careers.
What do you think are some of the consequences of not getting on-board with social media?
I recently read an article where by e-markers have predicated a continued rise in the use of social media, they project that in 4 years social usage will have risen by 33% to 2.4 billion people. That's a huge market to lack a presence in. Not only do you miss out on potential sales you also miss out on retention of your current customers. There is an expectation from customers for companies to have a social presence, they expect to be able to tweet to you or write on your Facebook wall. If companies are not contactable via these channels then their customers will contact someone else!
Which one best practice would you recommend about using social media to grow a business?
Research, formulate a plan, think about who you want to target and what do you want to achieve. We use 3 channels in different ways so that our followers don't see the same content rehashed on different networks. Also invest in an automation tool to spread your key messages, but make sure you compliment this with fresh, daily interactions to keep it real.
Social media management software for agencies and businesses
If you don't have a tool to help you schedule social media posts to multiple social media networks just yet, you can give Sendible a try, completely free for 30 days.