It's news that our team is very proud of. We're delighted to announce we've been recognized as one of Europe's fastest-growing companies for the second year in a row in a ranking by leading business publication Inc. Magazine.
Despite receiving no external funding, and at just nine-years-old, we've been placed at position 2,716 in the prestigious list of Europe's top 5,000 after achieving an excellent 213% of growth.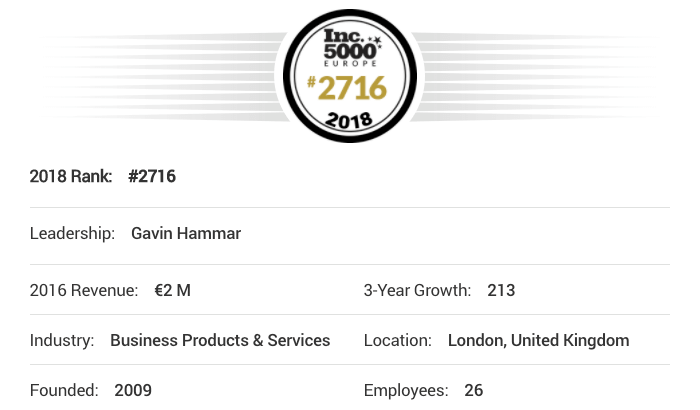 "I'm really proud that Sendible has been included in Inc. Magazine's top 5,000 fastest-growing companies as it just goes to show that companies don't have to take on outside funding to achieve dramatic organic growth," said company CEO and Founder Gavin Hammar.
To be ranked in the same lists that have included Oracle, Microsoft and Intuit just shows how Sendible has grown to become the market-leading social media productivity tool.
"In the ever-increasing and diverse digital marketing marketplace, it's fantastic to be recognized for our achievements.
"We've laid a platform for even more success and innovation in 2018, and we can't wait to help our loyal customers achieve even greater levels of efficiency and productivity this year."
Building on the success of the previous 2 years, which saw our wonderful team (almost) double in size and a continued commitment to productivity, we're proud to have also been previously highlighted by Deloitte as one of EMEA's top 500 fastest-growing companies.
We've also recently been awarded Facebook Marketing Partner status with expertise in Community Management awarded for providing solutions to effectively manage Pages and conversations.
We hope that our renewed focus on productivity, efficiency and time-saving is the springboard for further success and recognition in the coming year.
New York-based Inc. Magazine has ranked the top 5,000 US companies each year since 1979, and is now celebrating its third consecutive year charting the success of rapidly-growing companies in Europe.