Content marketing works.
It helps boost SEO, creates brand ambassadors, and encourages amplification via social sharing. By creating content, you are showing the world you offer more than just a product or service. It also helps to form relationships with your audience and cultivates conversation. According to a study by Aberdeen Group, companies that focused on content marketing saw a six times higher conversion rate than those that didn't.
Anyone can create content - creating successful content is a different story. Consumers are tired of being interrupted by boring content that is neither useful or interesting. Remember, your company is battling with every other company on the Internet for each customer's valuable time. Understanding this helps to explain why you need to take content creation more seriously.
Preparations before creating your plan
Successful content marketing starts with a plan. For it to be successful you first need to understand why you need a plan. Here are the questions you need to answer before developing your content marketing strategy:
Who is your audience? Different types of consumers travel differently along the buyer's journey. Where is your audience most likely to convert? What type of issues matter to them? What do they consider as a deciding factor for making purchases? Put your audience first before creating any piece of content.
What is your brand's voice? A voice is something a consumer should be able to pick up from your content. If your company considers itself professional and trustworthy, the content should match it. If your brand is more about being personable and relatable, your audience should be able to tell.
What makes your brand unique? If you aren't sharing something worthwhile, your consumer has no reason to tune in. To make your content stands out from all the noise, you have to find your niche know what you can offer someone that no one else can.
Once you have a good understanding of your brand and its target audience, it's time to put together a plan. The format is secondary - whether it's a flowchart, a pyramid, or a simple excel sheet - what matters is that your content is organized and purposeful.
4 steps to creating your content marketing strategy
1. Content ideation
Don't expect ideas to simply arrive on a silver plate - all content must be centred around a strong original idea. Set up funnels to simplify the flow of new ideas and ensure consistency.
One funnel is brainstorming. Brainstorming involves your team getting together, sharing ideas and accepting all of them as valid and worth considering. This is important, especially in the early stages of development - fine-tuning can come later. Letting ideas flow and grow naturally will lead to unexpected and exciting developments. Brainstorming works better when you carefully choose a small number of people who share the same goal. Trying to include too many people is likely to cause distractions and be less productive. If your company has a big marketing team, you can try breaking up into smaller groups.
Another funnel is a "swipe file" (Moz has a great blog on creating these). This is a document where you can keep the little things that inspire you throughout the day - it can be an image, phrase or something your colleague has said. These items might seem small at the time, but you never know what else they can inspire, so keep them.
There are a few tools to help you during discovering new ideas, for keywords you can check the Google Keyword planner and Buzzsumo. For top stories and blogs I use Feedly, Alltop and there is always an interesting question and/or answer to be discovered on Quora.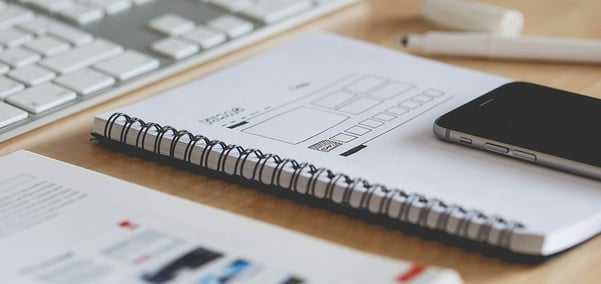 2. Content creation
Find out who is responsible for your content and when it gets to be published, especially when you are part of a bigger team with lots of shared responsibilities. You wouldn't want to find yourself without anything to post on social media or include in your newsletter. So, creating and maintaining an editorial calendar is crucial. No matter how frequently you create and share content, you are still creating a relationship with your consumer. You want your audience to get used to interacting with your new content and then looking forward it - so consistency is key.
Forget about the days when you could create 300-500 word articles with little to no originality relying solely on a keyword in the title. Due to content shock, this strategy is outdated and will not yield significant, lasting results. Instead, focus on creating "Hero Pieces" - in-depth content containing information that isn't available elsewhere. Research content on the topics you want to write about, and look for ways how to improve it to create a resource people can't help but love and share.
3. Content amplification and sharing
No matter how hard you have worked on it, content is useless if no one sees it. Creating the content is only the first step one in the journey, the second is sharing it. To promote your content effectively, you will need to decide which channels are the most effective at getting the word out.
One tactic is to search for shareable quotes within your blog post, podcast and such, and then share them on social media with links to the original content. It's always best to pick messages that will best resonate on each of the social media networks - what works on LinkedIn is unlikely to work as well on Facebook and vice-versa. Always pick something that is short and easy to understand, even outside of the context of the whole post, but still entices the reader to learn more. Remember that there are a number of ways that you can re-purpose your content, for example, you can syndicate your blogs, create downloadable versions of your content (whitepapers) or even host a webinar.
4. Content management and analysis
To effectively assess the performance of your content, you have to have proper monitoring and analytics tools in place. Social media management tools like Sendible can help you better engage with your customer base, schedule posts and view analytics. With all your comments in one place, it's easy for you to see how others are engaging with your content and respond quickly and efficiently. It also helps when you can build reports based on a variety of factors to understand the results of your hard work. You need to know what's working and what isn't for the future content you will create.
Your marketing plan will take time to create and it should be revisited routinely to remain effective. As your company evolves, so should your content marketing strategy. With so many companies competing for your consumer's attention, coming up with a plan can seem overwhelming. Setting up idea funnels, being consistent in your brand's messaging, using the right amplification, and always analyzing your efforts is a good place to start.
Level-up your social media.
Subscribe to our blog to get valuable insights so you can maximise your results.