Social media marketing is one of the most effective ways of promoting your business and getting your name out there.
However, if you fail to create social media content that is relevant and engaging for your audience, it becomes ineffective in the face of growing competition.
With competition on the rise, simply providing valuable information is no longer sufficient. Instead, it is crucial to address your audience's problems while exploring different social media content and formats.
Thankfully, there are several useful tools available to assist you in attracting readers and promoting your content across social media platforms:
Before you continue, make sure to watch our video with agency owner Desiree Martinez on how to create social media content for your clients.
Online tools to generate ideas and titles
Just enter your topic, and voila! An instant list of potential titles appears at your fingertips. A great title can draw in readers, and increase your Retweets and Facebook Likes by over 50%, so let this instant title generator lend a hand.
Stumped on what to talk about in your next blog? Let HubSpot's Blog Topic Generator get you past your writer's block. Simply enter a few nouns to help the generator put some ideas together for you, and you'll quickly get a week's worth of blog post titles to choose from.
It's a simple, but effective way to get you thinking about what to write next. A little inspiration from the Blog Title Idea Generator can start getting the ideas flowing quickly. You'll be given idea after idea of fill-in-the-blank titles to use that can be tailored to any topic. Tip: One way to use these type of social media marketing tools is for tweets instead of blog posts.
The key thing you need are some excellent prompts, and luckily, we have just what you're looking for.
This powerful AI tool is designed to assist you in generating ideas for new short-form videos, repurposing existing content, creating fresh ideas for video and post captions, and so much more.
Content tools to improve writing
This easy-to-use app checks your writing against its database and provides feedback on how to improve your content.
The app can be added to any writing platform you use, It is activated just by selecting the text you want to check and clicking on the Writefull popover. Just like that, better-written content can be yours.
When you've got deadlines to meet, and you just can't seem to get the job done, it may be time to turn to Boom Essays for some assistance.
The experienced writers at Boom Essays can get your written projects done in a timely manner and give you great, well-written content.
This is a handy app for checking the quality of your writing and making it more concise.
Once you have added your text, the Hemingway App will colour-code sentences and judge how difficult they are to read. The tool also checks for phrase alternatives and highlights adverbs as well as unnecessary uses of passive voice. All this valuable feedback gives you hints on how to improve your content. You can use the tool for free online, or invest a small sum to download the app and use it offline as well.
Computers are great for many things, but when it comes to proofreading and editing, having a real-life human doing the job is the best thing.
Automated proofreading tools can't check for context, readability and other writing issues that happen. That's where Wordy comes in – it's real-time editing, done by real people.
Professional writers creating original, relevant content.
EssayRoo is Australia's most reliable online writing service, providing a variety of writing services. All writers are professionals in the fields they write about, so you can rest assured that the content will be top notch, and completely relevant.
Creating social media post descriptions every day for multiple clients can sometimes result in feeling overwhelmed and lacking inspiration. But don't worry, Grammarly's latest AI addition is here to help! With just a few clicks, you can choose the copy you want to enhance, click on "Improve it," and select from a variety of options. It's a convenient tool that will assist you in revamping your content and sparking fresh ideas.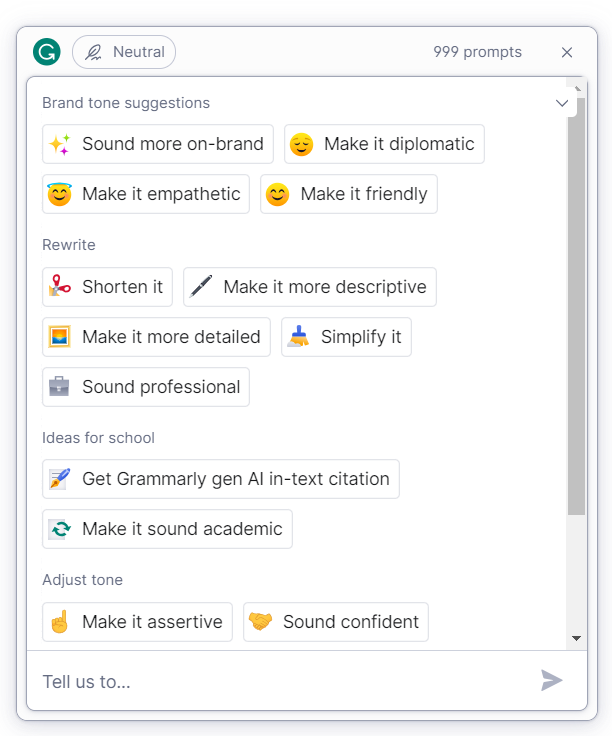 Visual content creation tools
Fotor is a free online photo editor and graphic design tool, that allows you to use editing features on your browser.
By navigating the tool, you can add filters, frames, text, stickers, and other types of effects to your images. Fotor helps you design creative photos and graphics for your social media posts and more - it's super simple to use!
Create great visual designs and documents using Canva's drag and drop user interface.
Best part? It's incredibly easy to use and they even have professionally designed templates for various social media post types. Images, filters, icons, and fonts are all available for you to use in creating your most eye-catching designs. You can also upload your own files or buy royalty images via this social media tool, and you can use it to create engaging videos and Instagram carousels.
Canva also has a great option for team collaboration, creating, and saving templates, building out design profiles for each of your clients, and so much more. This really is a must-have social media tool if you're creating graphic content for your customers or your own brand on a regular basis.
Promo is an online video maker that gives you everything you need to make high-quality professional video clips, royalty-free music, customisable video templates, and more.

With social media platforms becoming more video focused, it's important to get serious about creating both long and short-form videos. And this handy tool can help you create compelling video ads, social media videos, product videos, and explainer videos.
Search through a library of over 720,000 free stock images that you can use anywhere.
You can download, modify, distribute, and use these pictures and illustrations for anything you choose, completely royalty-free, even in for commercial business purposes.
Easily edit your pictures to any size you need, using the free online picture resizer, PicResize.
Not only does it let you resize your pictures, but you can crop them and add a number of special effects.
You don't need to be an expert to create professional-looking videos when you have WeVideo at your disposal.
Intuitive and simple to use, it's a powerful, cloud-based video editor that gives you complete creative control of your video creations.
Infographics are a great way to break down complex ideas into a simple visual format.
PiktoChart is an easy to use infographic creator that lets you put together these graphics without having to hire a professional designer.
Tip: To create even more engagement, you can split your infographic in bits and post them on social media.
The need for images is constant on social media and if your client doesn't get you and images on a regular basis, you will need stock images.
Unsplash is a platform powered by creators, and it is an amazing resource for free images for commercial and non-commercial purposes
The best thing about this image library is that these photos are non-stock-like. In fact, they are much more natural and lifestyle focused, which will make your social media and website content much more relatable.
Kapwing makes video editing smart, accessible, and collaborative. Its easy-to-use interface focuses on creating social videos incredibly easy.
This tool is especially great for repurposing long-form content, creating gifs, and adding subtitles or text to your videos. You can get a free account and non watermarked videos, access to all the tools, and so much more making it incredibly valuable for any social media manager.
When it comes to video production, a service like Storyblocks is an amazing resource.
Content creators from all corners of the globe contribute to this platform that focuses on having a vast library of content for those who want to create high-quality videos. You can find videos for anything, from dentistry to drone footage to cinematic shots, which makes it a very valuable social media tool if you have a versatile marketing portfolio.
Animoto is easy-to-use, drag-and-drop video maker.
This is a great option if you're a content creator or social media manager who's tight with time. This handy video tool has a vast library of templates and stock videos, as well as the ability for you to create your own videos from scratch if you want.
CapCut is an incredible video editing app developed by ByteDance, the same company behind TikTok. It's an absolute game-changer for TikTok content creators, providing them with a user-friendly platform to effortlessly edit and enhance their videos with a wide range of effects, filters, and transitions. This fantastic tool makes it a breeze for social media managers to create captivating and visually stunning content for TikTok, enabling them to stand out from the crowd and attract a larger audience of viewers and followers.
Content distribution tools
Managing all of your social media accounts can be time-consuming and unwieldy. Sendible allows you to control them all from one social media dashboard.
You can also measure your ROI and engage with your audience from here, too. As your image depends on you being able to react instantly online, this tool is essential. The tool integrates with Canva, Unsplash, Pexels, GIPHY, and offer you the option to tailor the size and copy to each social media network directly from the compose box.
Moreover, you have the convenience of bulk uploading and approving content in batches. If you're eager to give it a try, feel free to schedule a friendly chat with our experts who will be delighted to address any questions you may have.
Gloria Kopp
Gloria Kopp is a web content writer and an e-learning consultant from Manville city. She graduated from University of Wyoming and started a career of a creative writer. She has recently launched her Studydemic educational website and is currently working as a freelance writer and editor.