Everyone knows that online purchasing is on the rise: around 1.4 billion people made online purchases in 2018 and 1.92 billion people bought something online in 2019. The popularity of online stores is growing rapidly, more and more people find it more comfortable to shop online without leaving their apartments than in physical stores. According to Selz, consumers will break the $6 trillion mark of online purchasing in the period between 2018 and 2023.
Consumer behavior is changing every year, so to keep up, business owners need to improve their e-commerce sites. This usually involves IT-savvy experts and employment of new technologies to make sites more mobile. Mobile online shopping is currently booming and will continue to be on the rise in the coming years. Based on Statista, 73% of all online sales will be done on mobile in 2021.
There are ways to boost sales with the help of social media, as great customer experience can satisfy existing clients and entice new ones. Social media is great for brand exposure (when done well). And according to eMarketer, 68.3% of the online population used social networks in 2016 (with over 1.71 billion monthly Facebook users). Moreover, the number of worldwide users is reaching 2.95 billion in 2020.
With this in mind, here are eight ways that you can integrate social media into your online store and marketing to boost sales.
8 ways to boost your online store with social media
1. Call-to-action buttons on social media
Social networks are a great medium for sharing. To boost sales, create a "Shop now!" button on your Facebook page that goes directly to a wide range of products on your online store. On other sites, try changing the website link whenever a new collection arrives or an event comes around. You can also add some links in posts, but remember to post great content and engage with your audience, that way they are much more likely to react.
Furthermore, make sure to feature your products in a unique way, share news about your company and outline fresh trends. Let your followers know about the discounts, special offers and giveaways you are organizing.
2. Social media plug-ins and widgets
There are many widgets you can add to your site without the help of an external developer. These can help you track which items are popular and help your customers share their favorite pieces.
If social sharing works for your business, invest the time to build the feature into your existing or new website. Choose two or three of the main networks - Facebook, Twitter, Google+, Instagram or Pinterest and if your product is B2B also LinkedIn. Remember to add a "Like" button to track the number of your social users.
3. Social media authorization
Why not save time for potential customers by letting them seamlessly log into your store using their social media network credentials. This eliminates the necessity to enter personal info for the customer and can give you better insight in where your customers hang out.
4. Skip the hard-sell, start blogging
Instead of pushing the hard-sell and sending your customers to product pages, why not direct them to your business blog instead. As well as boosting your SEO, it allows you to share insights with your customers who can also share their personal experiences of shopping with you.
5. Make it easy to share experiences
Social network users love sharing pictures and videos when they are having a great time. So, it's important to make your company #hashtag clear so that they can easily tag your brand in their posts. Whenever your customers mention your brand on social media, make sure that you interact and share the best of their photos. Remember that providing a great user experience will impact well on visits to your online store.
6. Feedback integration
Often positive mentions, reviews, and comments left by customers can make the difference when converting a prospect. Win their confidence by integrating with a tool that allows you to automatically display social comments in your online store. You can also embed positive feedback from review sites to increase trust.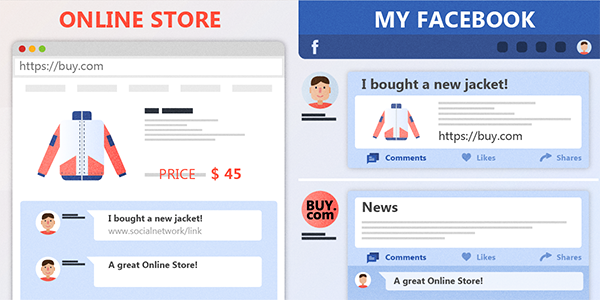 7. Social media videos & streaming
Social media video content is massively increasing in popularity, in particular live video streaming. So why not create some helpful how-to videos for customers, showing your products in action? You can also create videos to describe how easy it is to us your online store, and where to find different types of products. Another idea to consider is to film early arrivals, behind-the-scenes action or interview employees to raise brand awareness. And all of these can be shared on social media (e.g. Facebook Live), your blog and relevant product pages.
8. Gamification & promotional games
One way to attract new customers and drive loyalty is to gamify their experience by rewarding them with exclusive content or points for being loyal. For those with bigger budgets, you could also create games or an app based on or around your products. But do bear in mind that game creation is not for the faint-hearted, as it is time-consuming, complex and expensive.
9. Basics of running an online store
Before you run off promoting your products on social media, make sure that your online store follows these simple rules:
Target audience: Remember to meet the needs of every targeted group, paying attention to certain characteristics: gender, age, social status, profession, etc. Such factors become even more important when you have an array of e-shops for different brands.
Metrics and estimations: You can't manage what you can't measure. The easiest way to track consumer activity is to use dashboard statistics either from the CMS your store is built on, or even Google Analytics. But to get a thorough understanding of social media behavior, you will find it useful to use a social media management tool.
Reviews: Tracking and managing your online reputation is worth the time. Respond to mentions of your online store, especially the negative ones - deal with them in a constructive manner.
Security: Integrate a secure payment gateway to reassure your customers that the payment process is safe, whilst also facilitating payment via credit and debit cards, and other popular online payment methods like PayPal, Authorize.net, Intuit, Dwolla.
Conclusion
Managing an online store is no easy task. If you want to truly optimize your online store, it's worth consulting experienced software development company from Silicon Valley before making any big changes. I hope that these basic tips will help you to make the most of your online store.