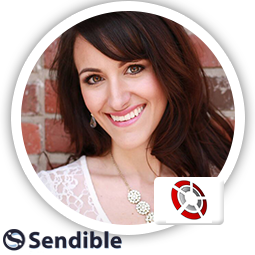 A short description of how and why you got started in social media.
My name is Destiny Johnson and I am the Social Media Manager at On Target Media in Las Vegas, Nevada. I was in college and I was looking for an area in marketing where people would be at the forefront, where businesses were going to be spending more money. I didn't want to do traditional marketing because it was something we were moving away from. So I was looking for something more cutting edge and social media presented itself to me naturally because my generation grew up with technology.
What do you believe are the benefits of using social media for business?
Social media is the new age word of mouth. People will take their best friend's advice over a business or billboard anytime. So social media is word of mouth online, it's about presenting yourself online as a business. It ties in different strategies together, it's inexpensive and limitless.
What are the common mistakes business owners make when building awareness on social media?
Business owners think they can do it themselves even though they have no marketing experience. They run campaigns on Facebook without looking for professional advice. They jump into social media and waste money as a result, so looking for professional advice is always key.
What qualities do you think social media managers should have?
I think social media managers should be able to adapt to different industries. All strategies are very unique, so there is no one strategy that works for all industries. An e-commerce site will have a huge advantage because of the nature of where the business lives versus getting people to attend a local restaurant. Social media managers need to research the industry so they can succeed for their clients.
How do business owners know if their social media campaign is working?
I encourage my clients to set up goals. First, we explore how we can measure ROI by finding out what's important to them. The next step is set up ways to track these goals. So it's different for everyone.
How do you see social media evolving over the next 5 years and what do you hope to see?
I see social media evolving every day. It's interesting to see how it accommodates different generations, for example Snapchat is very popular among teenagers. It's about adapting to emerging channels that become popular and working with the limitations they might have.
It bothers me that you have to be a big company like McDonalds to access special advertising campaigns on platforms like Twitter and Instagram. It should be a fair playing ground that local businesses and the economy can benefit from. That's what I'd hope to see.
If you can share a best practice about social media to grow a business what would it be?
A best practice would be to touch every social media channel available and have two main channels as a focus. So it's about having a presence everywhere but placing all your efforts into the most successful networks for you.
What are your favourite platforms for social media marketing?
Facebook has made it very easy for marketers but I don't like their customer service. Their platform is easier but Twitter has great customer service, they really work with you. Those are my 2 favourite right now.
Name 5 other tools you can't live without.
Google Trends, Google Analytics, Cloudfire. We use Google Drive, Photoshop and PicMonkey.
Describe a social media campaign that went really well.
I worked with Nevada Ballet Theatre setting up a social media campaign for their production of The Nutcracker. They had eight shows throughout December with high ticket prices and they wanted to sell out every show. We ran social media contests and promotions that saw a 400% ROI. They were excited from all the sales driven to their website and the money made from social media.