Humble beginnings
The last 13 years have been the most challenging and rewarding of my life. Sendible started as a little Windows application that I developed on the side to help my dad schedule emails to his employees on their birthdays.
After spending a few months hacking it together in my spare time, I started to notice more and more social networks cropping up. Whenever I saw a new platform start to gain traction, I would integrate it into the software.
Soon, it became much more than just an email scheduler. It made SENDing any type of message possIBLE: Facebook, Twitter, LinkedIn, MySpace (RIP 💀) – you name it!
In the middle of 2008, I decided I wanted the world to try it. So, I bought a second-hand server for £10, plugged it into my home router, and boom – Sendible.com was born.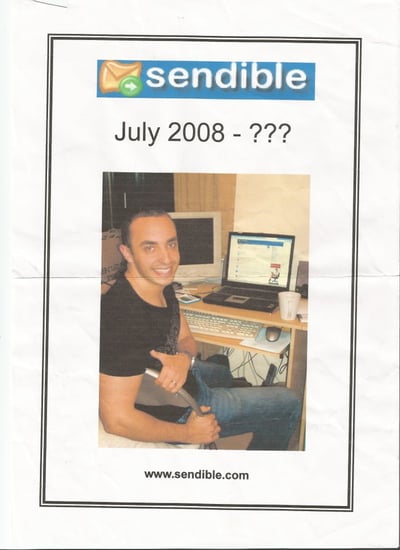 Since then, we've seen:
Over 300 thousand people try the platform
Over 2 million social profiles connected
Over 200 million posts published
Watching Sendible beat the odds as a bootstrapped company in a hyper-competitive space and go on to become a market-leading social media management platform has been the highlight of my career. And this is still the beginning.
Reaching my limit as a founder
When I was first getting started, I distinctly remember pitching the idea to an investor and them telling me, "Anyone can create scheduling software. No-one's going to pay for this. This will never be a business."
But, I didn't give up. That kind of feedback only fuelled my fire and made me want to prove them wrong.
I had seen how social networks were starting to compete for people's attention and I knew there would come a time that businesses would need software to help them maintain a presence on each platform in an efficient way.
Since then, I've thrown my entire being into Sendible. Not a day has gone by that I haven't thought about the business and how I can help our team bring more value to our customers.
Today, Sendible is growing faster than ever before, with record new customers signing up each month. We have a fantastic product that just keeps getting better, and our team of all stars is executing at an efficiency I've never seen before. Sendible has simply been a dream company to lead and is well-poised for even more explosive growth.
🚨 Humblebrag alert🚨

We've once again made @G2dotcom's Best Marketing Products for 2021 list! (Along with 3 other lists too)💪

A massive THANK YOU to our wonderful customers for your reviews over the last year!🤗 pic.twitter.com/bg6CrhkkKB

— Sendible (@Sendible) February 8, 2021
But with all this growth, I've found myself needing to take a step back in order to empower our incredible team to move Sendible forward. I recognise this is what has enabled us to scale, but for me personally, it has meant moving further away from where my passions lie as an entrepreneur. As someone who loves to get his hands dirty and "break things", I found myself having to hold back for the good of the company.
One of our core values at Sendible is authenticity. In the middle of 2020, I noticed the enthusiasm that fuelled my work was starting to fade and I realised I wasn't being my authentic self.
It quickly dawned on me that I may have been the right leader to get us to where we are today, but I'm not the right person to take Sendible to the next level. Sendible had become bigger than me and I realised that I had reached the limit of what I had to offer the company as its CEO.
Finding ASG and Traject
Around the same time as I had this epiphany, I was being inundated with emails from investors and potential acquirers. Where previously, I would receive one or two emails per week, suddenly I was receiving 5 emails per day. I had never planned to sell the company, so historically, whenever I received an email like this, I would politely skim it, smile, then hit delete.
But, this time, I decided to explore the idea and see what an exit could look like. One of the emails was from the Alpine Software Group (ASG) representing Traject, a suite of innovative digital marketing tools that includes Grade.us and PLANOLY.
As deep experts within the marketing technology space, and with the ability to help us accelerate towards our mission, I quickly found that Traject stood out from all the others as the best place for Sendible.
Their values are almost identical to ours, they have a complementary culture, and most importantly, they are committed to ensuring that Sendible will remain Sendible – both for our exceptional team and the thousands of customers that depend on us every day.
Following a process that began more than 6 months ago, I'm proud to announce that Sendible has been acquired by ASG and is now a part of Traject.
I can't express how happy I am that we found the right company to continue my legacy. Our new CEO, Katelyn Sorensen, is the perfect leader to usher Sendible into an exciting future.
Meet Katelyn
I've had the privilege of getting to know Katelyn over the past few weeks. Katelyn has so many amazing qualities, but the one I admire most is her courage.
She is not afraid to speak her truth and brings her authentic self to everything she does. Katelyn is genuine and real and has already slotted into Sendible's culture perfectly.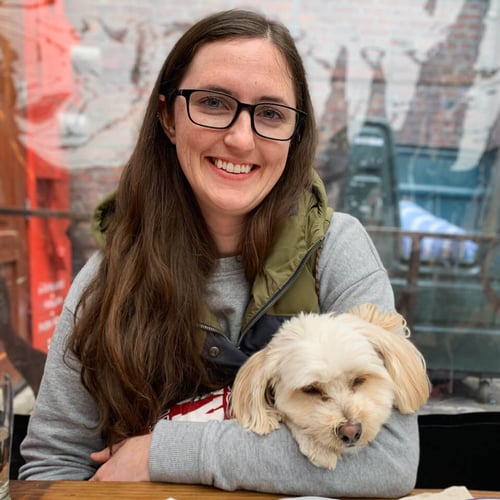 Meet Katelyn Sorensen and her pup, Theo 🐶
Having worked in marketing for most of her career and as a former VP at Traject, Katelyn brings a thorough understanding of the MarTech landscape with strong expertise in social media.
Katelyn is also an exceptional leader, operator, and communicator and I'm excited to welcome her to the team!
If you'd like to connect with her, feel free to reach out to Katelyn on LinkedIn and Twitter.
What's next for Sendible?
Katelyn is joining Sendible at an exciting time. The company is extremely healthy with a growth rate that consistently exceeds our targets and a solid foundation to build upon.
Although we're part of a larger group, we'll be operating independently and our team will remain the same. Our relentless focus on product innovation and customer service will continue and the Sendible brand that you've come to love and depend on will remain unchanged.
But we've always felt we could do more. And now, under Katelyn's leadership, with Traject and ASG's backing, Sendible will only get better.
I'm eager to share with you what's next for Sendible, but I don't want to take away from Katelyn's upcoming announcements. We're currently working on our roadmap for the next 12 - 18 months and we'll be sharing more exciting news in the coming weeks.
What I can say is that in the short-term, we're looking forward to leveraging the expertise from the Traject team to help us realise the vision I have for Sendible.
A sincere thank you
One of our operational principles at Sendible is "Think like a customer". You, our customers, are at the heart of everything we do and if it weren't for all of your support over the years, we wouldn't be here.
You made us. You shaped the company we are today. From the bottom of my heart, I want to thank you for giving my little bootstrapped company a chance.
There were hundreds of other well-funded social media tools you could've chosen, but you picked us. And it's been an absolute privilege to serve you.
Although we're no longer bootstrapped, our mission to help elevate your brand story on social media remains the same. And now, with the additional support from Traject, we will be able to take much bigger strides towards achieving that goal.
I often refer to Sendible as my third child. I've literally thought about Sendible every single day for more than 13 years. That's over 4,745 days and many sleepless nights on top of it.
But I've realised that for Sendible to reach new heights, it's time for me to step aside and let it fly. It feels like Sendible is only just getting started, and I can't wait to see my little creation continue to flourish for years to come.
Thank you for coming on this journey with me.
Oh, and what's next for me?
For the next six months, I'll be working closely with Katelyn to ensure a smooth transition for the company. After that, I'll be getting some much-needed rest before launching my new venture.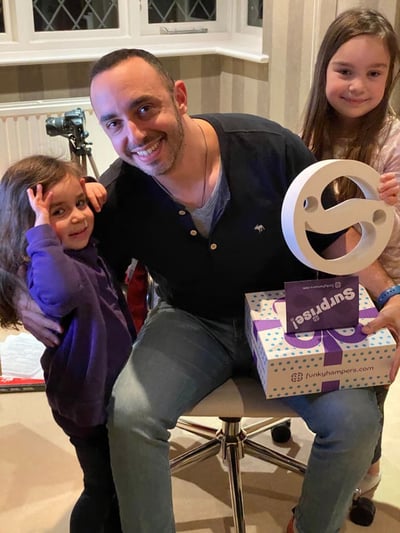 Me and my girls 💜
If you'd like to follow along as I get my new startup, StoryPrompt off the ground, join the Early Access list here.