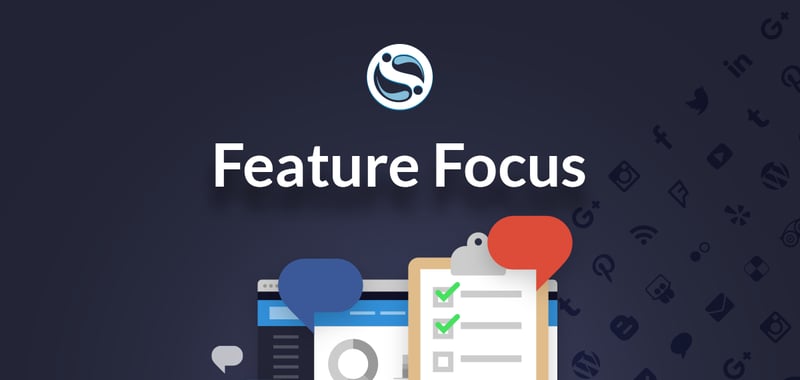 Video is booming on social media. Businesses are using it to add more personality to their brand (especially in B2B), to increase engagement with their target audience and extend their reach beyond it. In this blog, we explain how you can now upload social media videos in Sendible and also look at some data as to why you should invest more in your video marketing.
Users are often visual creatures, who are happier watching a video than reading an article on your website, particularly if you have a complex product. The great news is that if they do watch your video, there is a 74% chance they will make a purchase (source: Wyzowl).
If you haven't introduced video to your marketing strategy yet, consider this: when compared to non-video brands, those using video saw an increase of 27% in click-through rates and a 35% increase in web-conversions (source: Vidyard).
With this in mind, we've introduced a brand new Sendible feature that allows you to attach videos to social media posts via your Compose Box. Saving you time when managing your social media profiles, and hopefully garnering more engagement, leads and conversation.
Layout improvements for ease of use
Firstly, we've updated the Attach button slightly in Compose. Note the new paper clip icon and color.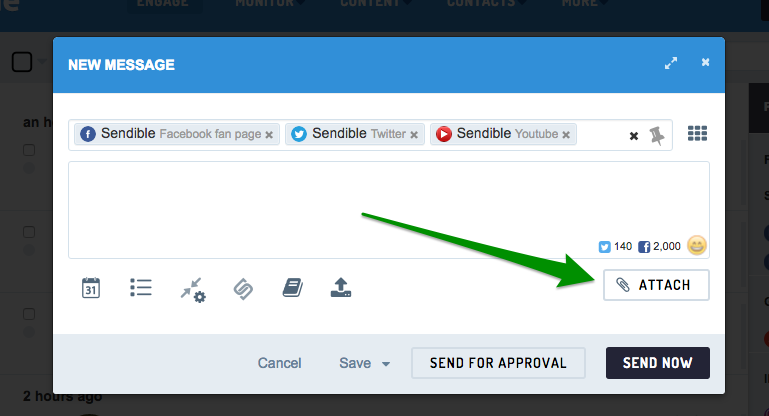 Clicking 'Attach' opens a window where you can attach images, files - and now videos. You can either drag and drop your file or click 'Browse Files' to find it manually.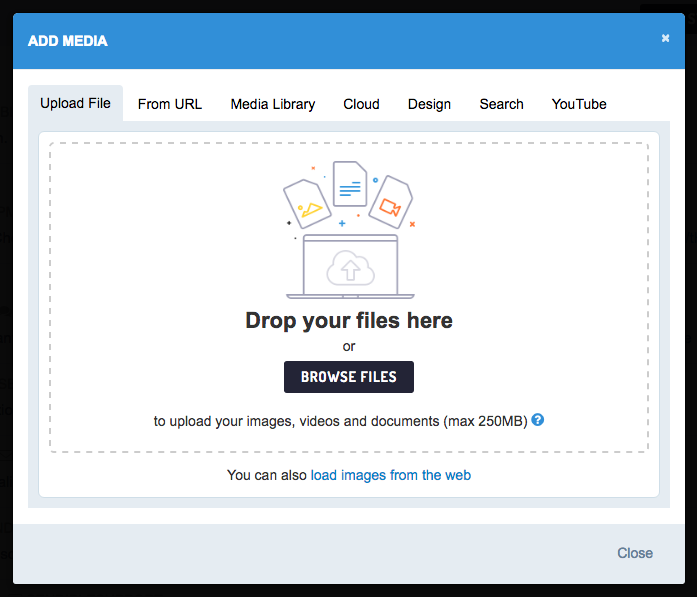 Supported social media networks
Sendible fully supports video uploading to Facebook, Twitter and YouTube services, these will display as if they have been uploaded using the social network itself.
Uploading to your videos works in the same way as scheduling a regular message with an attachment. The user can send, schedule, draft, or send the message for approval. The text you write in the Compose box will be your video description. Below you will see the field for your Title and two additional fields (category and tags) for YouTube.
Users can still upload a video to non-Facebook/Twitter/YouTube services, however, the video will appear as a link preview instead.
Clicking on the link preview opens the video in a new tab. This is also how the video will display on your post if it does not meet the full specifications of each network.
How to upload a social media video via Sendible
Click Compose
Select a service (Facebook, Twitter or YouTube)
Click the 'Attach' button
Attach the video - it must be under 250 MB in size or 1 hour long (for Twitter, it's up to 2 minutes and 20 seconds)
View the video loading
Enter the description for your video in the compose box and add the title
Preview your video in Compose or go fullscreen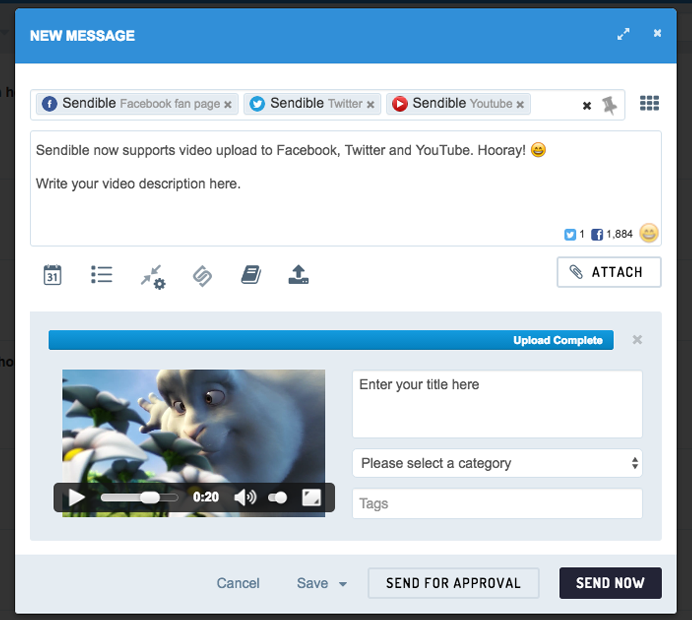 Note: Once the video is loaded, another attachment can't be added. If you do select multiple attachments, it will only upload the video.
If you change your mind and want to add a different video, you will be instructed to delete the current video. Find out more in our step-by-step guide on how to upload videos on Sendible for Twitter and Facebook and limitations.
We have also developed some useful guidelines for optimizing your YouTube channel and shared top 10 strategies for Facebook video.
Social media management software for agencies and businesses
If you don't have a tool to help you schedule social media posts to multiple social media networks just yet, you can give Sendible a try, completely free for 30 days.