It's tough to create engaging social media posts.
90% of businesses use some form of social media marketing to reach their target customers. That could be millions of posts your audience need to sieve through before reaching yours.
How can you break through the noise and create something unique—while also being in with the chance of finding new clients?
The answer: An employee advocacy program.
What is employee advocacy?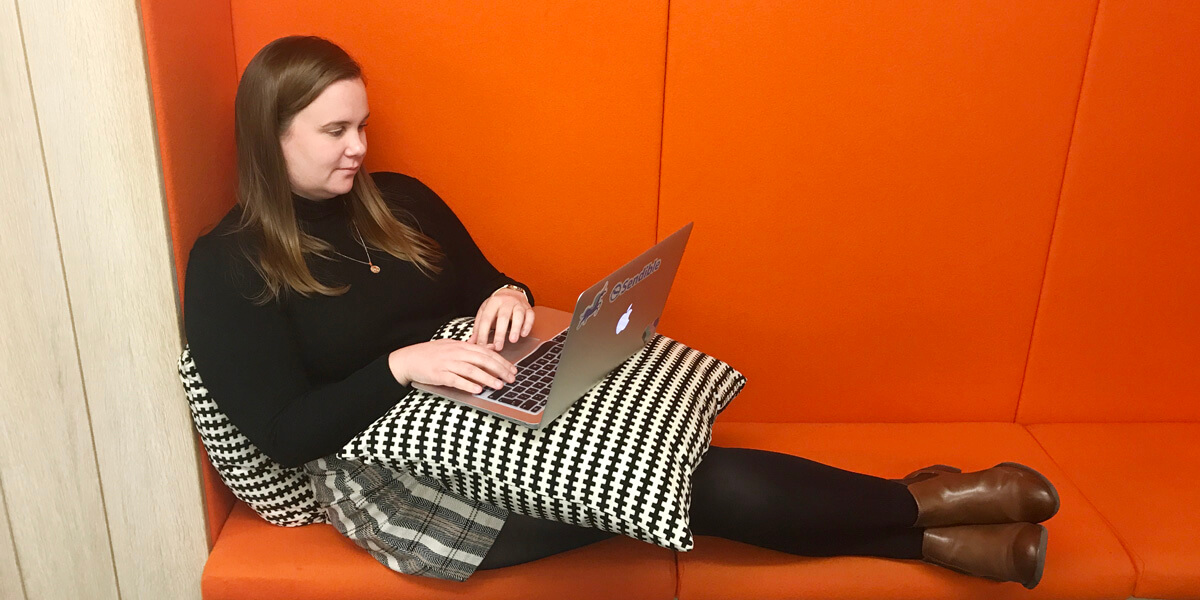 First things first, let's quickly iron out what employee advocacy means.
The goal of an employee advocacy program is to get your employees to promote your place of work.
You can run your program using social media—either posting from your accounts or their own. It doesn't have to be complex; an employee advocacy social media post can be as simple as snapping a photo at their desk (and tagging your brand's account).
Why is it important?
Now you know what employee advocacy is, you might be questioning why it's important.
Here's the simple answer: The more effectively your employees can advocate for your brand or the brand they work for, the more attractive it will appear to potential customers. This will improve your likelihood of gaining new customers.
Why? Because a company's employees are its most trusted resource—which could explain why nearly 31% of high-growth firms have a formal employee advocacy program. That's more than double the average of all other firms.
Plus, running an employee advocacy programme helps with staff morale and engagement. You're involving them in the process of running your business! This can be a competitive advantage—especially when just 15% of employees are said to be engaged in the workplace.
How to set up your social media employee advocacy programme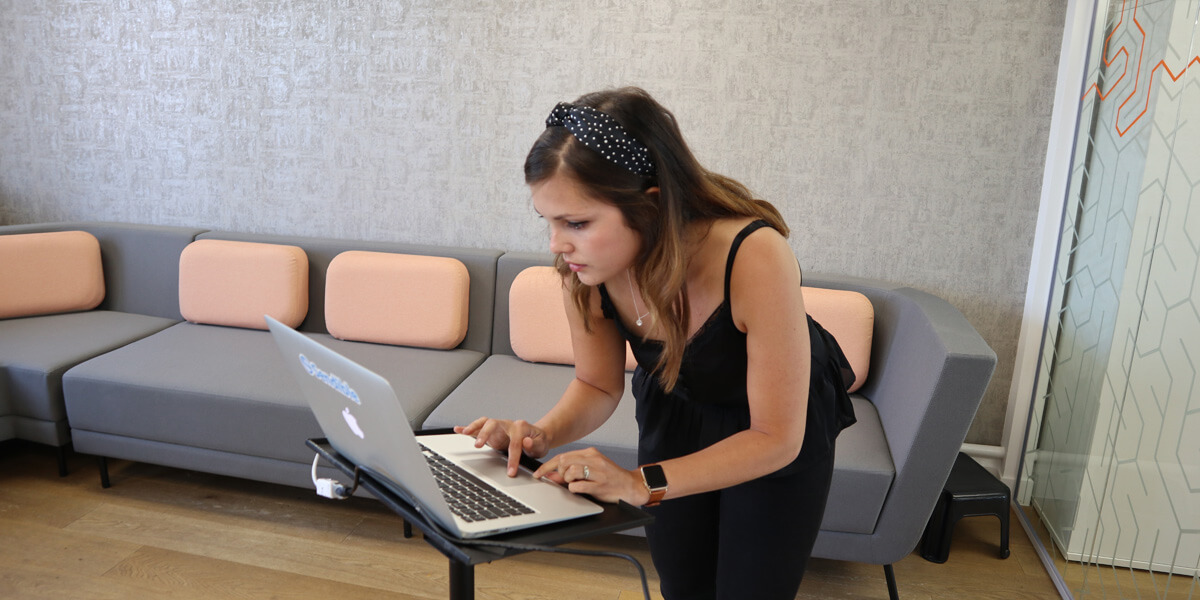 Are you ready to take advantage of an employee advocacy program?
Before giving your employees free reign over the content they post, here are a few quick tips to make sure your program runs smoothly.
1. Create guidelines for your team to follow
Chances are, you'll already have brand guidelines for your team to reference. These typically include things like brand colours and logos. But you'll need to make sure your brand voice is clear, too.
To do this, create brand guidelines that include things like:
The words you do/don't use

The "vibe" you're trying to put across

Your brand morals
Ask your employees to take a look at these guidelines before they tag your brand in any social media content. It's the best way to make sure your branding is consistent—something that could increase your revenue by 23%.
2. Start small
It's tempting to go full throttle with your employee advocacy program. But don't make the mistake of getting too many people involved when you're first starting out.
Start small—maybe with just a small selection of employees in the mix—to test which strategies get the most engagement before inviting everyone. That way, you don't place as much risk on the program before knowing whether it works.
3. Incentivise your employees
What will your staff get out of your social media advocacy program? It's important to think about this—and communicate that with staff—before you get them involved.
For example, you could explain that the program gives them the opportunity to:
Build their personal brand

Position themselves (or their employer) as a thought leader
Almost 86% of employees involved in a formal advocacy program say it had a positive effect on their careers. Try to make that possible for your team by communicating the value it will have, should they take part.
4. Give social media training
It's important to give your employees some pointers before putting them across your brand's social media profile—especially if they don't use it themselves.
For example, you could:
Tell them

Instagram Stories

only last a few seconds

Make sure their Facebook videos are clear enough to understand without sound

Show them how to tag people in Instagram posts
This pre-posting training is a win-win: Your team learn a new skill (social media), and you don't need to waste time recreating social media posts that won't work on the platform you're posting on.
5. Set your KPIs
Why are you running your employee advocacy program: To get more customers, website traffic, or reach more people? The answer will determine how you'll measure the success of your employee advocacy program.
Let's say that your goal is to reach more people, for example. You could set these KPIs for your employee advocacy program:
Reach

Impressions

Video views
Just like any marketing campaign, it's crucial to understand how you'll measure the success of your new social media posts before publishing employee content.
6 bonus tips for creating great employee advocacy posts
You've got the foundations laid for a perfect social media advocacy program.
But if you're still unsure on how you can nudge your staff to create content that promotes their place of work, here are six bonus tips you can use.
1. Do employee takeovers
An employee takeover is as simple as the name suggests. It works by asking your employee to take over your social media account.
During that time, they could:
Share a "day in the life"

Answer common questions that your customers have

Publish one of their best tips they've found when using your product
Take a look at this employee-created post on Starbucks' Facebook Page, for example: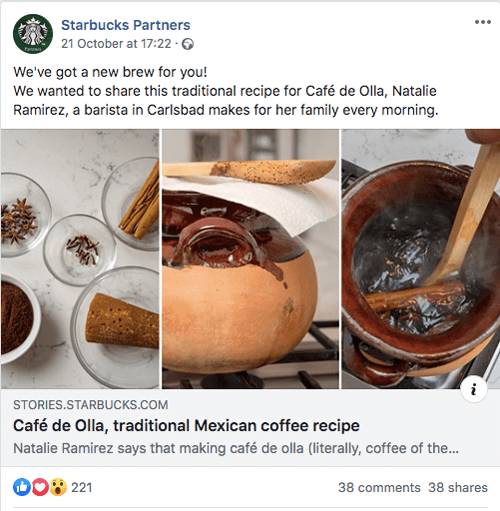 (In fact, Starbucks are so pro-employee content that they also have their own published guidelines for social media advocates.)
Followers of their Page get to see a new face behind their account, and give them a chance to form another relationship with someone new from their business—rather than a faceless brand.
2. Make it fun
Remember how earlier, we mentioned that the vast majority of businesses use social media marketing? With all that content, nobody wants to see boring posts on social media—so your employee posts won't stand out.
You could inject some fun into your posts by using:
Humorous content

Funny filters

Emojis

Polls
Here's an example from a Lush employee that shows how being fun and helpful can really pay off: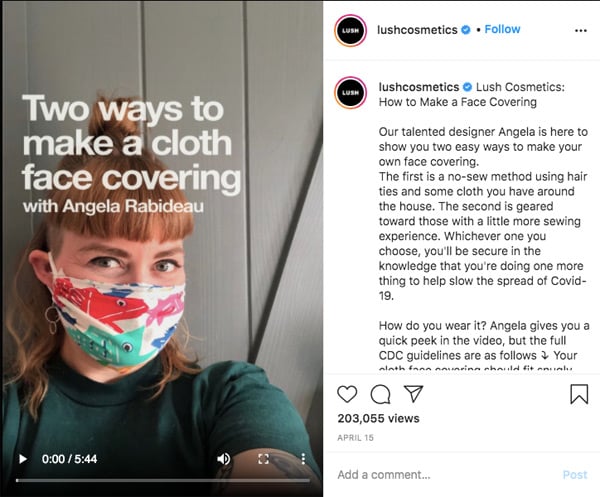 Source
Remember: Keeping your employee-created content light-hearted is a superb way to stand out from the masses of social media content published everyday.
(Plus, this can help get followers engaged—which is ideal if that's your main KPI.)
3. Create serialised Stories on Instagram
You've likely felt the grip of a TV series. One episode turns into six, and you're left waiting a whole week for the next one. You can't get enough.
Why not create a similar feeling with your employee's social media posts?
Serials make people check back every day (or week) for more updates. For example: Every Monday, you could ask your team to share a product tip.
The Stories feature on Instagram is a great way to do this. Save the Story to a highlight, and people visiting your profile can instantly find out about the mini-series—and tune into the next one.
It's a great way to build engagement with followers, and build a loyal community of followers who are genuinely interested in what you have to say.
4. Use Facebook Live to do interviews with the team
Did you know that the number of Facebook Live broadcasts reached 3.5 billion last year?
You can use this for your employee advocacy program by interviewing your team using Facebook Live. You could ask questions like:
How did they get into the industry?

What's the most fun thing they've worked on?

Who's their favourite co-worker?
Again, this idea focuses on the fun aspect of your advocacy program. Your followers can get to know your team—without forcing them to consume a piece of content that doesn't really interest them.
5. Weave your cause marketing into it
Cause marketing builds trust and raises awareness on important issues.
But instead of planning an extravagant campaign, you can get your employees' face involved so people will take notice—rather than standard branded content.
Let's say that you're touching on the importance of education for women, for example. You could ask your female team members to share what education means for them, why they think it's important, or where they think they'd be without it.
This ties real-life back into your cause, while also getting your staff involved with your social media schedule.
6. Create a branded employee hashtag
Your employees don't have to advocate your brand on your profile.
They can (and should) do it on their own—especially since employee posts can generate 8 times more engagement than when that same content is shared through a brand handle.
A superb way to keep track of your employee-created social media content is to use a hashtag related to your company name, such as:
A holiday moment with some very amazing #zapponians❤️🎄
⛄️
❄️
🤩
😉#zappos #companyculture #vegaslife #preciousmoments #corevalues #cctr @zapposculture #happyholidays #xmas #merrychristmas #lasvegas #ryo #ryoadventures pic.twitter.com/RMYUGrQVoc

— R¥O HANALEI ZSUN (@islandgecko) December 20, 2018
This kills two birds with one stone. Firstly, you get to reach a whole new audience when you're posting on an employee's social media account—rather than your own.
Plus, you'll start to build brand recognition when people who view your employee's content and click the hashtag. (On some platforms like Instagram, people can even follow this hashtag without following your branded account.)
How we do employee advocacy at Sendible
We recently decided to introduce an employee advocacy programme here at Sendible.
For us, it was really important to get our culture and values across to our followers on social media, and we felt that the best way to do this was to get the team involved and active in creating content for the company.
We started by holding a company-wide meeting to discuss the initial plan and gauge the interest of those who wanted to get involved. The programme began on a voluntary basis and was called the Social Media Committee.
Next, we needed to make it possible for everyone to post from our main social media accounts, so we set up Sendible accounts for each internal team and shared the services.
We gave guidelines on the kind of content we'd like to see and used Sendible to create posts. The great thing about using Sendible to create our posts is that they can be sent for approval before they are scheduled. This means that every post can be fully vetted before its sent out - and we can even see a mock-up of what posts will look like with the clever Post Previews feature!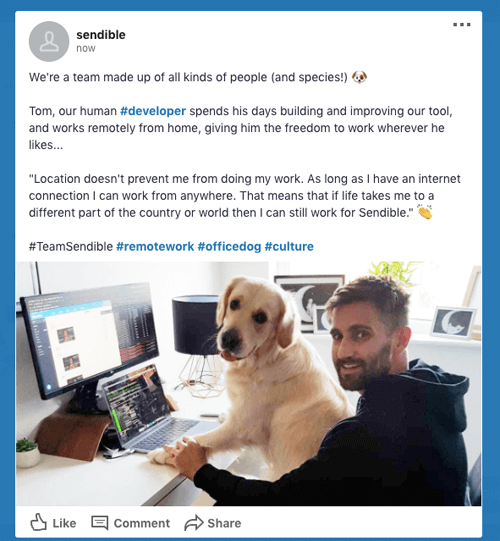 Our employee advocacy programme has allowed team members from all over the company to become content creators and copywriters alongside their day-to-day roles. So, as a team, we're upskilling all the time.
Employee advocacy is really important to us at Sendible because we're proud of who we are and what we do, so we want to share this with our followers!
Final thoughts
As you can see, running an employee advocacy program on social media can be hard work—but it will be worth it.
Remember to keep your content fun, incentivise your employees to get involved, and give your staff some basic training before giving them full control.
You'll soon start to see the benefits first-hand!
Level-up your social media.
Subscribe to our blog to get valuable insights so you can maximise your results.