Analysis is crucial for measuring the success of your social media campaigns and proving their ROI. Without reporting on results, marketing lacks direction, becoming 'hit and hope', rather than a targeted, well thought out process.
We have developed a tool that not only lets you schedule your posts in advance and engage with your audience but also helps to measure your social media success.
How to use social media reporting tools in Sendible
The Reports Hub (also known as Quick Reports)
As the name suggests, these are ideal for quick insights as no set up is required on the user's part. The data will be pulled as long as you have connected your social networks and services to Sendible.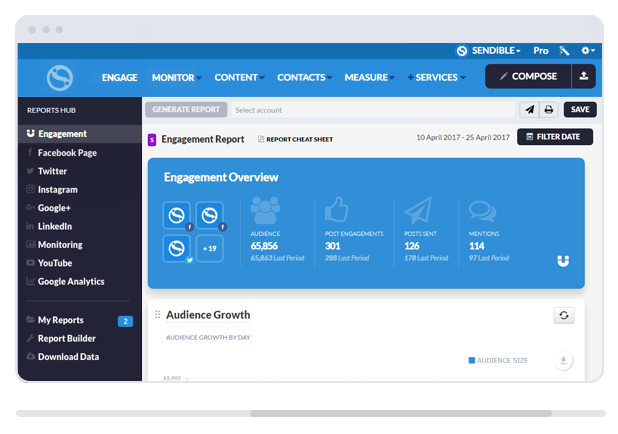 Social media reports currently available in Reports Hub include:
You may find these additional resources useful when using our quick reports:
Report Builder
This is where you will find our comprehensive report builder tool that allows you to build reports tailored to your (and your company's) needs. There are a lot of options to choose from: from choosing a layout, to hand picking the exact report modules you require.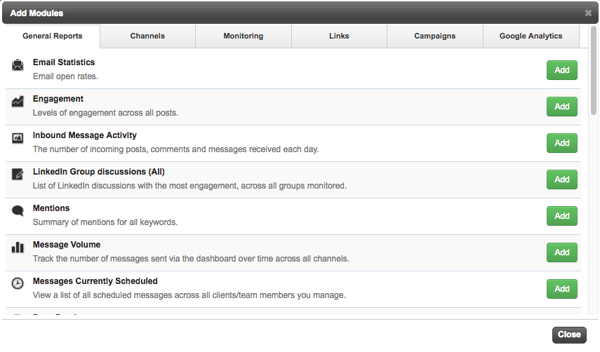 Most popular modules
While there are a number of modules to choose from, below are the essential ones for all marketing professionals and business owners.
Facebook
- Page Engagement
- Page Fans by Gender and Age
- Page Fans
- Page Fans by City
Twitter
- Followers
- Reach
- Mentions
- Retweets
Google+
- Activities and comments
- +1's
- Followers
Score cards
Google Analytics (requires permission from GA)
It's up to you whether you create separate comprehensive reports for each social media network, or specialize them by themes, such as engagement or clicks. You can personalize your reports by adding a logo, custom header text and titles. Users can add up to 20 report modules per report.
Sharing and scheduling your reports
Once your reports are set up and you are happy with their structure, you can share them with others. Send an email with an embedded report, or better yet, schedule them to be sent to your team or clients on a daily, weekly or monthly basis. This feature is a great timesaver for SME's and invaluable to agencies with a large client base.

It's also possible to share the individual reports with a link - this is handy when you need to share data quickly. You can also share reports with other Sendible members, who can either store them or use them as a template. Please note that both of these features are available for custom-built reports only.
Exporting your data
Sendible stores all of your analytics data on a rolling 90 day period. This should be enough for quarterly reports, but if you want to store this data for longer, simply export it and save it on your computer.

Need to know more about reporting within Sendible?
You may have more questions in regards to reporting, like what the definition of 'reach' is, or whether your data will be pulled even if you don't post with Sendible. You will find our Support Forum is a great place to find answers to these questions and more.
Recent social media report updates
We regularly enhance our social media management tool with new modules for reports. You can see the most recent additions below.
Response Time Reports
There is a growing need for managers to be able to measure the efficiency of their team's social media responses. With this in mind we've added four new modules to allow you to create Response Time Reports.
Now you can measure how many tasks are completed by your team as well as how quickly they were completed by day, hour or weekday.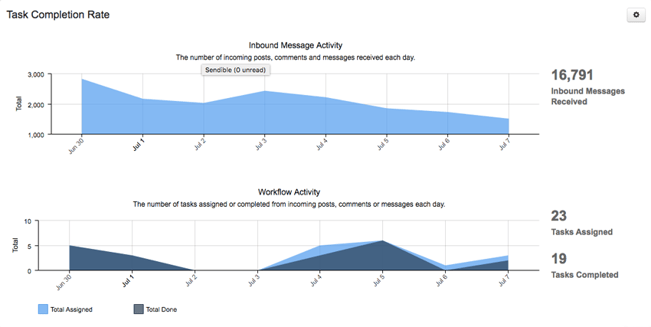 Follower demographics on Twitter and Facebook
To be able to tailor your content effectively, you need to understand what your followers need and when they need it. To help you with this process we have Follower Demographic Reports. They detail everything from timezones, gender and audience influence to location.
Social Scorecards
Summary of engagement, audience, mentions and message volume across all networks. Perfect for a quick overview of how you are doing overall.
Have a suggestion what we should add next? Get in touch at marketing@sendible.com and we might just add it to our feature map.
Social media management software for agencies and businesses
If you don't have a tool to help you schedule social media posts to multiple social media networks just yet, you can give Sendible a try, completely free for 30 days.